Following is an extensive list of products that represent the trends in setting materials, tools and sundries that we'll see at Coverings and beyond. Coverings exhibitors include booth numbers. For details on up and coming technical trends, stay tuned to the second annual TECH issue of TileLetter, planned for fall, 2016.
---
Shower Systems
Mark E Industries
Booth #7345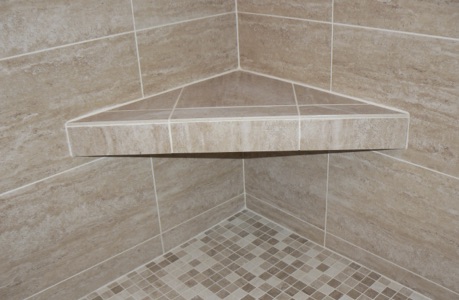 For new or retrofit installations, the company's Goof Proof Shower Seat is a heavy duty, stay-in-place molded plastic form that is easily installed and can be tiled in the same day. The standard 30"-wide seat has guide marks on the top surface to make it easy to trim the seat to 24" wide. The front face has a 3/16"-wide tile support ledge for easier tile alignment and full tile support. Two leveling vials are integrated to maintain the proper built-in minimum water drainage slope of 1/4" per 12" run. Screws, anchors and shims and illustrated installation instructions are included. www.goofproofshowers.com
The Noble Company
Booth #8236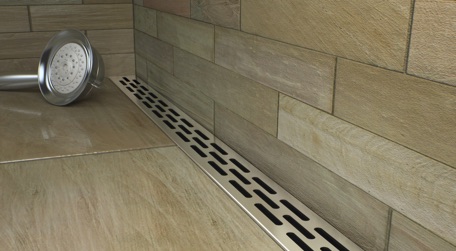 The FreeStyle Linear Drain allows for the use of large format tile in showers. A clamping collar ensures a waterproof connection of waterproofing membrane to the drain, and the waste pipe is solvent-welded to the drain. The low-profile and high-drainage capacity make FreeStyle ideal for barrier-free showers and aging-in-place applications. Waterproof shower Niches and Benches from The Noble Company also install in minutes and are ready for tiling. www.noblecompany.com
LATICRETE
Booth #8145
Hydro Ban Shower System products such as the Linear Pre-Sloped Shower Pan, Linear Drain, Bonding Flange Drain, Pre-Sloped Shower Pan and Pre-Sloped Ramp are products that can help solve barrier-free/zero-entry/aging-in-place challenges. Whether used on the surface or over recessed wood or concrete floors, these Hydro Ban Shower System products can be installed to create a safe and easily accessible barrier-free or zero-entry shower. www.laticrete.com
Schluter Systems
Booth #7742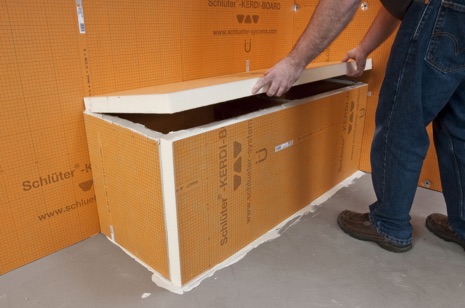 The Schluter-Kerdi-Line drain is now available in lengths up to 72". Five new drain lengths mean the drain is now available in 4" increments from 20" to 72". Kerdi-Line is a low-profile alternative to traditional shower drains. It suits many shower designs, including barrier-free showers. Two-inch thick Kerdi-Board (pictured here) can be used to quickly create flat, plumb, square and waterproof shower benches, an alternative to moisture-sensitive wood and gypsum board. A Kerdi-Board bench can be assembled using thin-set mortar or Kerdi-Fix sealing and bonding compound. Kerdi-Board gives tile setters more control over projects, allowing them to create perfect covering, whether using mosaics or large-format tiles. www.schluter.com
Tile Redi
Booth #7139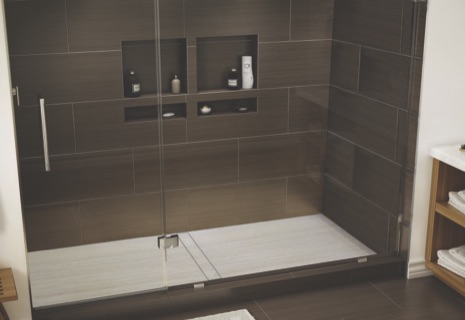 Tile Redi's new award-winning Redi MegaShower Pan is a one-piece, ready-to-tile shower pan designed for larger, luxury shower applications. The Redi MegaPan is available in a 42" x 96" size with single and multi curbs available. Tile Redi's patented and UL-listed shower pans and other innovative tile ready products are manufactured as pre-formed, one-piece shower modules. Shower pans are complete with fully integrated drains, curbs and splash walls, each leak-proof and mold free unit is pre-pitched for easy drainage and immediately ready for tile. By solving water intrusion problems, Tile Redi® shower pans inhibit the growth of mold and mildew. www.tileredi.com
USG
Booth #7148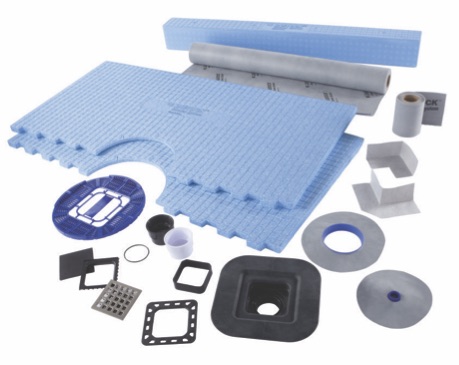 Ideal for both new construction and repair or remodel projects, the USG Durock Brand Shower System is a fully-bonded waterproofing system for tiled shower installations. It controls moisture independently of the tile covering while creating a solid base for a long-lasting shower. Available is a proprietary tray program – exclusive to USG – that allows for a limitless number of shower configurations. Using optional benches and niches that deliver added flexibility, this system makes it possible to create a completely customized shower. www.usg.com
wedi
Booth #8351
wedi has received a great response to its new "LEAN" curb design. Recently it launched the wedi Curb Foam LEAN in a 2"x 8' x 3-1/2" design to use in conjunction with larger wedi shower bases. LEAN curbs offer a clean, modern design element to the shower with a lower step-over height and additional 3" of shower floor space compared to a standard curb. www.wedicorp.com
---
Membranes/Underlayments
Blanke Corp.
Booth #8037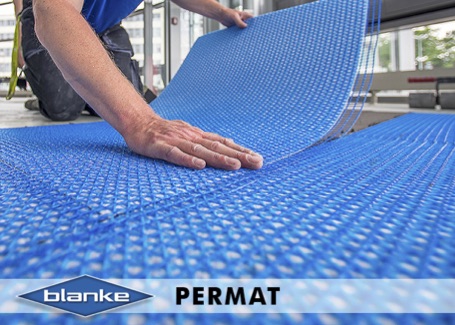 The thinset method dominates today's tile installation landscape with a variety of underlayments to choose from like backer boards and rolled plastic mats. Blanke•PerMat is a premiere choice of underlayment offering best in class properties: structural support, point-load, shear, and tensile strengths. www.blankecorp.com
Bostik
Booth #7541
Bostik recently introduced 12 surface preparation products for 2016. This includes four new self-leveling underlayments, two new repair patches, a new deep-penetrating substrate primer and a new reinforcing fiber matrix. Cement-based self-levelers offer flooring
contractors many benefits and advantages including a range of price points, robust formulations that are easy to mix and apply, and Bostik self-curing technology that enables the material to be walked on soon after it is poured as well as the ability to install tile, stone, resilient, wood and other floor coverings directly over them. These rapid curing products will result in less downtime in the installation process, which translates into greater profits. Products include a hybrid, gypsum/cement-based underlayment, Self-Leveling Tool kit and a Collomix Self-Leveler Mixer, engineered with the input of Bostik's German affiliate. www.bostik-us.com
Keene Building Products/Dependable LLC
Booth #7346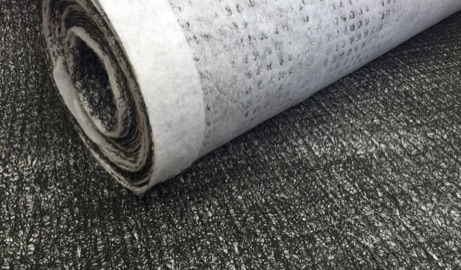 Noise and cracking represent two of the greatest challenges for tile setters. KeedeRoll MT from Dependable creates a system to control both these challenges in one roll. By using MT "Muffling Technology" fabric with Dependable's KeedeRoll products, the company says it has created a revolutionary new way to install tile in noisy environments. The MT technology adds a 19-point delta in IIC ratings on construction products. This combination of uncoupling technology and MT allows installers to protect their tile and create a quiet living environment for the end user. www.floorprep.com
LATICRETE
Booth #8145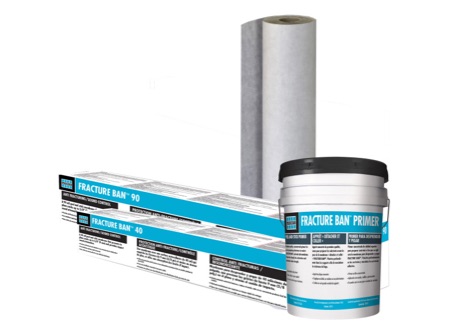 Strata_Mat is a next generation uncoupling mat for use under ceramic tile and stone in residential/commercial applications. It's designed to replace traditional underlayment materials such as cement backer board and plywood. The patented design of Strata_Mat provides for an enhanced mechanical bond and faster drying of the adhesive mortar, allowing for shorter time to grout. Also from LATICRETE is Fracture Ban, a lightweight peel-and-stick membrane designed for use under thin-bed adhesives for ceramic tile, stone and other hard-surface installations. This reinforced membrane performs as an anti-fracture and an acoustical underlayment system that eliminates the transmission of stresses from the substrate. The Fracture Ban Primer is a concentrated water-based primer designed for application prior to the installation of Fracture Ban membrane. This primer may be broom, roller, or spray applied and can be used on the same range of substrates as the Fracture Ban membrane. www.laticrete.com
NAC Products
Booth #8042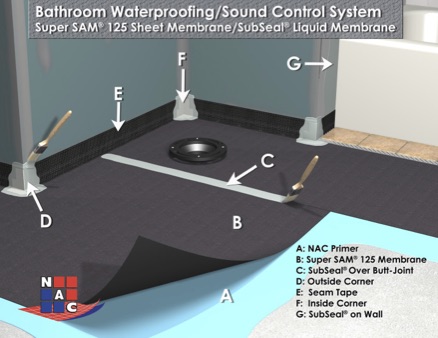 For bathroom surfaces that require waterproofing with impact and audible sound reduction, the Extreme Bathroom System from NAC offers a variety of installation options. SubSeal Liquid Waterproofing membrane combined with an NAC sound control membrane provides an easy-to-install solution that provides a watertight seal with some of the best sound numbers in the industry. NAC sound membranes have the added benefit of providing up to 3/8" crack isolation protection, making the Extreme Bathroom System the most effective system on the market. www.nacproducts.com
Noble Co.
Booth #8236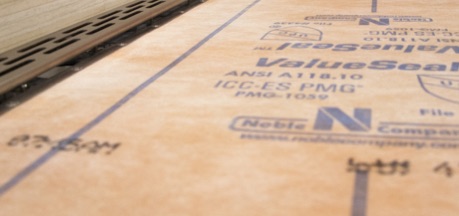 More specifiers and contractors are using TCNA standards to select waterproofing, crack-isolation and sound-reduction membranes best suited to their project requirements. For example, "System Crack Resistance" is the performance element of the Crack Isolation Standard. A crack isolation membrane must bridge movement of at least 1/16" (or 1/8" for a "High Performance" rating). Sound Isolation membranes must improve IIC by at least 10 in order to meet minimum requirements. To ensure your membrane meets your needs, use NobleSeal and ValueSeal membranes to satisfy these requirements. www.noblecompany.com
Pliteq
GenieMat™ RST is a flat, resilient underlayment that is used directly under a variety of floor finishes. A robust reduced sound transmission mat made from 94% recycled rubber content used when superior sound control is required in multifamily housing, high-rises, or commercial buildings. www.pliteq.com
Siena/Omega Products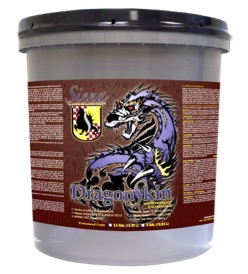 Siena Dragon Skin is a liquid-applied, fast-drying, high-performance, easy-to-use water-proofing and crack-isolation membrane, formulated to produce a high-quality elastomeric barrier. It is easily applied using a trowel, roller, paintbrush or sprayer. It changes color from light purple when wet, to a dark purple when dry. Dragon Skin is IAPMO Certified and complies with the requirements of ANSI A118.10 and ANSI A118.12. www.siena.omega-products.com
USG
Booth #7148
USG Durock Brand UltraLight Foam Tile Backerboard offers a strong, waterproof and vapor retardant tile base for tub, shower and steam room areas and an underlayment for tile on floors and countertops. The board is readily applied over wood or steel framing and does not require washers for installation. It is also idealfor use with the USG Durock Brand Shower System. www.usg.com
---
Equipment and Education
The Best of Everything
Primo Tools/Sponga USA/Omni Sealers
Booth # 8143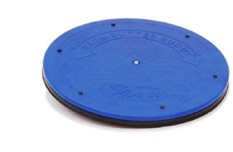 Our industry continues to show that large format tiles and plank tiles are still the choice of designers and installers alike. The Back Butter Buddy tool was designed to make back-buttering of large format tiles simple and safe. To assure a secure a good bond to substrates it is highly recommended that the tiles be "back buttered" with the setting material. With its 360 degree spinning capability, the Back Butter Buddy makes the back buttering process simple, safe, and effective. This tool increases production and reduces "wear and tear" on the installer. www.BOE-Companies.com
Bellota
Booth #8139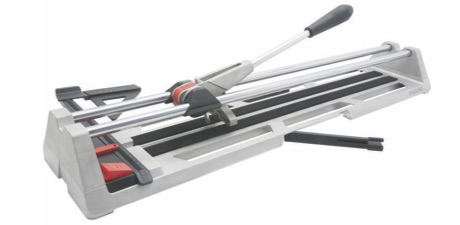 Bellota POP series manual tile cutters cut ceramic and mosaic glass tiles efficiently with maximum precision. Durable, lightweight construction makes it easy to transport and use at the job site. A wide reinforced cast aluminum base provides added rigidity and stability, while solid steel, chrome-plated rail bars, deliver smooth scoring. Bellota's patented, universal forged steel scoring wheels are made of high-quality tungsten carbide for maximum strength and durability. They last up to 25% longer than standard wheels and are designed to fit on other makes of tile cutters. The POP employs a heavy-duty breaking system on ceramic and glass tiles, which breaks tile easily with exceptionally clean cuts and keeps the mesh backing on glass tiles intact for quick installations. POP cutters feature a three-year warranty and are available in 21" and 25" cutting capacities. www.bellota.com
European Tile Masters
Booth #8353
European Tile Masters saw the need to design a full line of tools for handling and installing mammoth large thin porcelain tiles (LTPT) so that installers could take on jobs involving LTPT with confidence. For example, the ETM-Table and other accessories illustrated in the photo are only one part of ETM's complete installation system. www.europeantilemasters.com
Ceramic Tile and Stone Consultants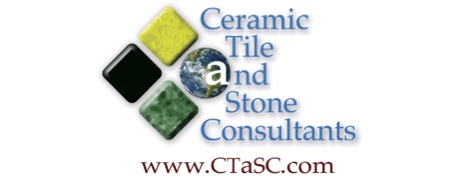 Ceramic Tile and Stone Consultants (CTaSC) provides forensic failure investigations and inspections, expert witness services, architectural specifications and quality control services, quality assurance and product testing, market research and business planning consulting to the tile/stone industries. CTaSC educates tile installers and sales professionals, plus specifiers of tile and stone, architects and interior designers, through its online University of Ceramic Tile and Stone (UofCTS).  NTCA has endorsed UofCTS training courses and offers discount rates to its members. UofCTS offers courses on the basics of ceramic tile and natural stone. www.tile-assn.com
---
Mortar
Siena/Omega Products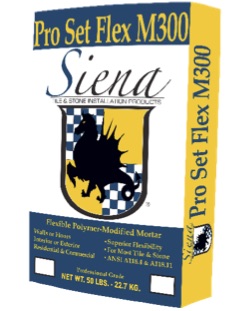 The company's Pro Set Flex M300 is a premium modified, high-performance mortar with exceptional bond strength, high flexibility, open time and coverage, used to install porcelain and other types of high-density, non-porous tiles and stones. Used as a flexible mortar for interior and exterior applications, it can be used on floors and walls, in residential and commercial projects. The product will span cracks up to 1/16" (1.6 mm) in substrates with limited vibration/deflection. Available in white or grey, and complies with the requirements of ANSI A118.4, A118.11 and A118.15. www.siena.omega-products.com
TEC/H.B. Fuller Co.
Booth #7739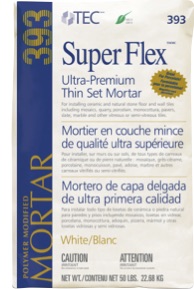 TEC's Super Flex Ultra-Premium Thin Set Mortar is polymer modified with a patented bonding formula for any kind of tile – including glass and porcelain. The flexible, one-part mortar absorbs in-plane movement over plywood, cementitious surfaces or other substrates. Super Flex can be used to install UL-approved TEC In-Floor Heat mats, the latest TEC innovation that supports the luxury residential flooring trend. Super Flex comes with a limited lifetime warranty when used to install TEC In-Floor Heat. www.tecspecialty.com
Texrite
Booth # 8347
Texrite's Totalcontact is a large-and-heavy-tile mortar. It can bond all tile types and offers non-sag vertical and non-slump horizontal applications. Use it for tile-over-tile projects, or tile over concrete or over EGP plywood substrates. Made for bonding larger tile, plank tile and large thin porcelain tile, Totalcontact is a multi-fit latex/polymer-modified portland cement bonding mortar. It is tough enough for interior or exterior, heavy-duty service installations, yet creamy trowel characteristics reduce physical effort while increasing work productivity. Totalcontact supports critical bond interface between tile and substrate when setting bed becomes 1/8" to 3/4" thick. www.texrite.com
MAPEI
Booth #7733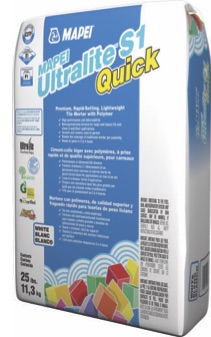 MAPEI Ultralite S1 Quick is a single-component, thin-set mortar that can also be used as a large-and-heavy-tile mortar for non-sag, non-slump applications of large-and-heavy-format tile and stone on walls and floors. It is rapid-setting, lightweight and easy to apply. MAPEI Ultralite S1 Quick is a FastTrack Ready product, allowing grouting in three to four hours. Thanks to its Ultralite Technology, MAPEI Ultralite S1 Quick provides twice the coverage of a standard thin-set mortar per pound/kg; in addition, the product's Easy Glide Technology makes application easy for installers. www.MAPEI.com
---
Grout
Ardex
Booth #7539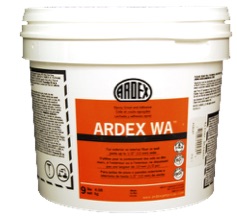 A solvent-free, two-component epoxy grout and adhesive with a creamy consistency, Ardex WA Epoxy Grout and Adhesive (pictured) is designed for installations in swimming pools, showers, bathrooms, food processing facilities, industrial settings, restaurant kitchens, hospitals or any installation requiring high standards of hygiene and chemical resistance. Its key features include cleaning with water only, interior/exterior floor and wall applications, and waterproof and frost resistant characteristics. Another product, Ardex X 77, is a polymer-modified tile/stone mortar formulated for very large, thin tile applications. It offers unmatched sag resistance – double the ISO standard – true 60-minute open time, creamy consistency, use over in-floor heating systems, use in wet areas, and water/frost resistance. Intended for large-and-heavy tile (medium bed) applications and for interior/exterior installation of floors and walls. www.ardexamericas.com
Siena/Omega Products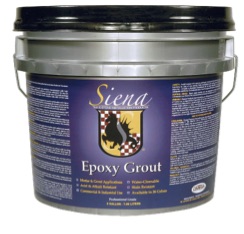 Siena Epoxy Grout produces a high-strength, 100% solids material that is impermeable, stain and shock resistant. It has high chemical resistance to many acids, alkalis, solvents and stains, making it ideal for usage in areas such as commercial kitchens, hospitals, countertops, floors and walls, interior and exterior, residential and commercial applications, and any area where the use of strong chemicals cause erosion and damage to traditional cementitious grout joints. It can also be used as a mortar and conforms to the requirements for chemical resistance, water cleanability, tile setting and grouting with epoxy found in ANSI A118.3/ANSI A108.6. www.siena.omega-products.com
Texrite
Booth #8347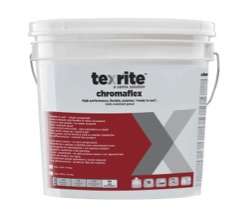 Texrite Chromaflex eliminates the portland cement component in grout, and blends stabilized, color-fast quartz aggregate/sand with specialized co-polymer resin technology and other proprietary additives to create a pre-mixed, ready-to-use grout product that uses water for clean-up. It requires only air-cure drying and has no color shading. The advance Chromaflex formula has no efflorescence, has a built-in sealer and maintains flexible resin properties to resist minor movement or fine cracking. Installers can also store and save any unused Chromaflex grout material for another job and/or repairs. www.texrite.com
---
Floor Warming
CMX Radiant Corp.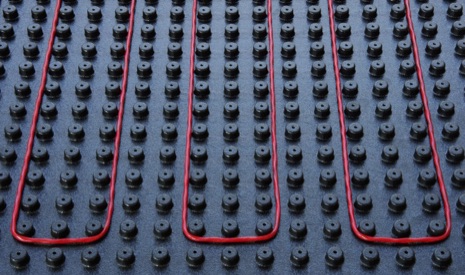 For the past 10 years, RPM Mats, "The Original" electric heat wire installation mat system, have been used as a backerboard replacing, anti-fracture membrane, designed specifically to protect the wire and ease the installation process for all brands of electric in-floor heat wire. A unique stud placement and design offers numerous benefits, such as a thinner installation, easy cement leveling over wire, fast wire layouts and adjustments, light weight and, cuts with no dust. The mats are made in the USA from 80-90% recycled materials and available in two thicknesses. www.rpmmats.com
Schluter-Systems
Booth #7742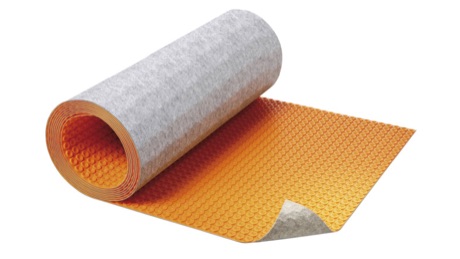 Schluter-Ditra-Heat-TB is the first electric floor warming system with an integrated thermal break. Located on the underside of the membrane, the break allows the system to warm tiled floors up to 70% faster over concrete substrates by directing heat to the tile, not the subfloor. The system means faster installation as the membrane, heating cables and break are combined in a single layer. To minimize construction height, the total assembly is only 5/16" thick. The company has also doubled the number of cable lengths available for its Ditra-Heat system—from 17 to 34 lengths. www.schluter.com
Suntouch
Booth # 8517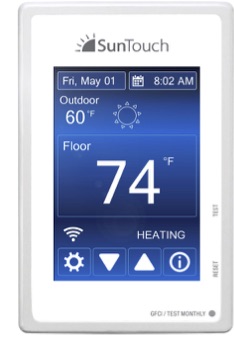 The advanced SunStat Connect Wi-Fi thermostat typifies the home automation trend by allowing remote access to an electric floor heating system via a mobile app or web browser. By measuring floor and air temperatures, it provides both homeowners and businesses easy access to the comfort of in-floor radiant electric heating. Easily integrated into a home automation system, the Connect provides many energy-saving features, including Warm Weather Shut-Down and a patent-pending Weather Compensation mode. The thin-profile thermostat includes a floor sensor, built-in relay and GFCI to safely control 120 or 240 VAC electric floor heating systems. www.suntouch.com
Warmup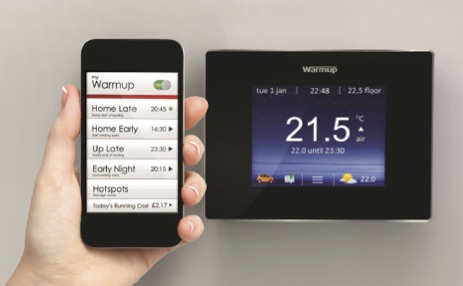 Controlled from a smartphone, tablet or computer, the 4iE Smart WiFi thermostat learns how you use your heating and the unique way your house reacts. It automatically suggests ways for you to save energy, like what temperature you should set when you're not home and times you can turn the heating off early. The 4iE finds smart ways to heat your home more efficiently thanks to the smart geo-fencing application that knows where the customer is located and what he or she is likely to do next. www.warmup.com
---
Profiles and transitions
Blanke Corp.
Booth #8037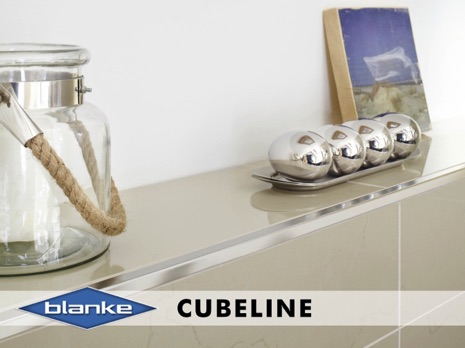 Blanke has been manufacturing tile trims for over 40 years. Tile trims protect the outside edge of tile from damage and offer a great alternative to traditional bullnose. With modern design moving in the direction of large-format tiles and increasingly-sleek designs, tile trims have become an integral part of this trend. With a broad range of shapes, sizes, and color finishes, Blanke offers a multitude of stylish and elegant tile trims that will protect tile and stone projects for years to come, such as the Cubeline trim pictured. www.blankecorp.com
Ceramic Tool Co.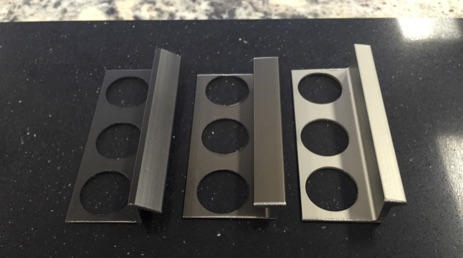 Colored and anodized finishes are trending in the profile and trim world, and Ceramic Tool Company is offering several options. Whether installing an "L" angle, a carpet trim or a reducer, the finishes of floor transitions seem to be trending toward warmer tones. CTC offers on-fashion tones of Light Bronze, Medium Bronze and Dark Bronze as well as the standard Aluminum finish. These finishes blend in with floor coverings of a neutral palette. www.ceramictool.com
Emac
Booth #836
Emac's aluminum profile is installed as an edge protector to protect and decorate the edges of tiled walls. It is also useful as skirting to top off or to finish medium-height tiled walls. It is available in 10mm and 12mm, and trendy finishes such as matte silver, bright mirror, brushed mirror, chrome and white. The company also manufactures an industrial-style aluminum profile to complete corners and worktops, which is available in 8-10mm and 12-15mm. www.emac.es
---
Sealers, cleaners and maintenance products
Aqua Mix
Booth #8339
Interior and exterior natural stone surfaces are exposed to food, beverages, weather, moisture, grease, oil, dirt and other harmful stain-causing elements on a regular basis. Sealing these surfaces with Aqua Mix Sealer's Choice Gold will prevent stains and permanent damage. It is a premium, no-sheen, natural look, water-based, penetrating sealer designed to maximize protection against stains without hurting the tile. In fact, Sealer's Choice Gold incorporates high-quality polymers that penetrate into the pores of tile, stone and grout so stains can be cleaned off the surface before causing permanent damage. www.aquamix.com
LATICRETE
Booth #8145
As natural stone surfaces continue to be a popular choice amongst commercial and residential segments, so too is proper sealing and maintenance. Trending stones such as quartzite – also known as "the new marble" – are less resistant to etching and chemicals, and like most natural stones still require sealing. LATICRETE's StoneTech BulletProof Sealer is the solution to stain-proofing natural stone surfaces including quartzite. Solvent-free and easy to use, StoneTech BulletProof Sealer offers maximum protection against water and oil-based stains all while maintaining the natural look of the stone. www.laticrete.com
MAPEI
Booth #7733 
The company has added three products to its UltraCare line of care/maintenance products for stone, tile and grout. UltraCare Penetrating SB Stone, Tile & Grout Sealer is a solvent-based sealer that provides protection against most water- and oil-based stains. It's safe for use on all interior/exterior natural stone (marble, limestone, sandstone, slate, granite, travertine), unglazed porcelain and ceramic tiles, masonry, quarry tiles and cementitious grout. UltraCare Sulfamic Acid Crystals granular powder, when dissolved in water, produces a cleaner for nonporous, acid-resistant tile and natural stone. The solution removes cured cement grout haze, mortar residue, rust stains and mineral deposits. UltraCare Grout Release is a water-based, temporary pre-grout coating that enhances the cleanability of ceramic, porcelain and natural-stone tiles while providing protection to the surface from grout and mortar staining. The product is suitable for use with cementitious, acrylic, urethane and epoxy (reaction resin) grouts in interior/exterior applications. www.MAPEI.com
Miracle Sealants Co.
Booth #7348
For as long as people can remember there has been a double-edged sword in the industry; acid is needed to remove portland cement grout haze, efflorescence and mineral deposits, but acid also strips natural stone of its factory-applied polish. Miracle Sealants believes it has come up with the solution.
Miracle Heavy-Duty Cleaner is a water-based industrial cleaner designed to remove grout haze, built-up grease, dirt and stains from all natural stone, marble, ceramic, porcelain, grout, masonry and concrete surfaces. It will not hurt or remove the finish or polish on acid-sensitive surfaces, including marble. This product is a ready-to-use, no VOC cleaner and is stable in both hot and cold climates. www.miraclesealants.com