Thin tile makes maximum impact on Florida homeowner's accent wall
By Cris Bierschank, MAPEI Technical Services consultant
When a resident of South Florida recently purchased a townhouse, one of the key features he was excited about was vaulted ceilings, which gave his home a more spacious feel. However, this meant that he had a 29' long wall that met the peak of the roof at 17' with a diminishing slope down to 10'. His dilemma? What to do with this large, blank canvas.
He wanted a finished covering that would really make an impact on this 400 sq. ft. of wall. The capability of the new, thin-bodied porcelain tiles to deliver a bold statement was just what he was after. The variety of patterns are nearly limitless with new printing and finishing techniques that mimic virtually any surface found in nature – even metallic looks.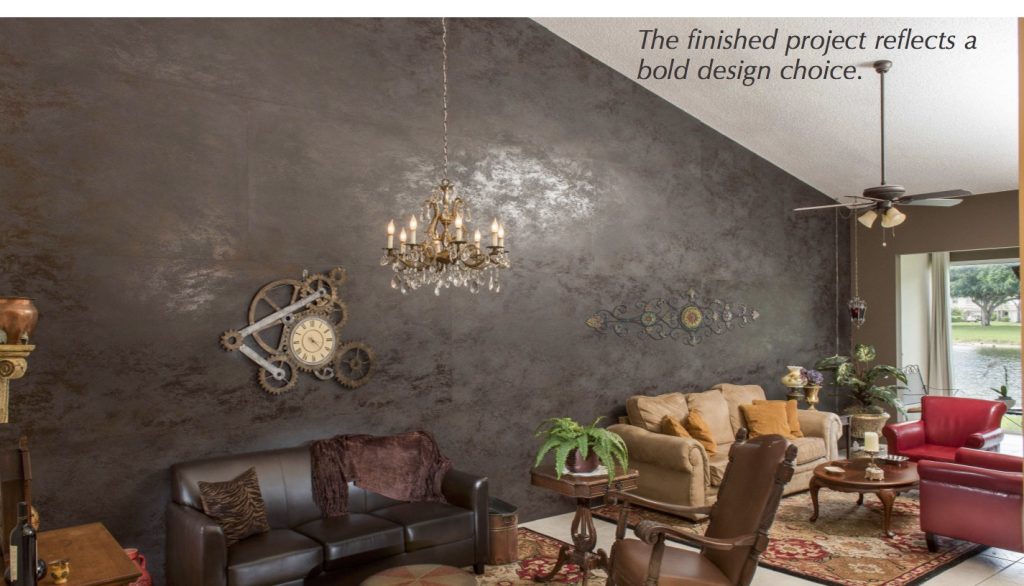 Since his décor would include a lot of copper, metal and wood pieces, he decided on a more industrial look and chose Crossville's Laminam porcelain Oxide series (Nero) in 3' x 10' thin slabs, to be set in a horizontal brick pattern.

The installation crew from Bryant Tile and Marble, Inc., West Palm Beach, Fla., did a superior, professional job. The homeowner chose them because they had been trained by Crossville for large thin porcelain tile (LTPT) installations. Since these thin-body large format tiles are relatively new to the marketplace, many consumers are not aware of all of the steps required to ensure that a tile of that size is flat and aligned with the adjoining tiles.
A 24" x 24" tile used to be considered to be a huge tile, but it would take approximately 100 of these tiles to set a 400-sq. ft. wall compared to only 13 or 14 3' x 10' pieces.
There's very little room for making adjustments for a wall with many high or low spots when working with tiles of this size and thinness. Depending on the type of substrate the installer is working with – in this case painted drywall with patching compound residue left on the surface – it is vital to provide a surface that the mortar can bond and grab to both chemically and mechanically. MAPEI's ECO Prim Grip, a synthetic resin-based primer with bond-promoting silica aggregates suspended in a dispersion, was the perfect primer for the wall.
When tile installation began, it was apparent how important the ledger board row of tiles is in ensuring a true reference point for installing the rest of the tiles. It gives an aesthetically pleasing finish to the entire project. It was also important that the MAPEI Ultralite S2 Mortar was troweled on the entire surface, both the wall and tile, to maximize the contact from the back of the tile to the substrate without any voids under these large tiles.
Even something that might seem simple, such as cutting in an electrical outlet or fitting each tile to a sloped ceiling that started at 17' high and ended at 10', takes great expertise when working with LTPT. All accommodations had to be figured into the overall 50% offset brick pattern, while maintaining consistent grout joint lines and ensuring no lippage from tile to tile while setting.
Since a major feature of these tiles is a more seamless look, the installers created a minimal joint size (1/16"). Filling the grout joints with MAPEI's Flexcolor CQ (in Cocoa) gave the project a polished look, tying all of the tiles together.
The homeowner has received many compliments from friends about his "bold design choice," and he feels that he has increased the appeal and potential resale value of his home. "But I don't plan to move anytime soon!" he said.
Key factors for LTPT installation
Innovations in lightweight, large thin porcelain tile technology have changed the face of the construction industry—significantly reducing the overall dead load weight of a building without compromising strength and durability. It is important to remember that LTPT is relatively new to the marketplace, being markedly different than standard body tiles due both to the larger format – up to 3' x 10' (1M x 3M) – and decreased thicknesses of 1/8" to 1/4" (3mm to 6mm). This has required all key players in the installation process to re-think how to install these tiles – from the surface preparation to mortar selection, tools and application method.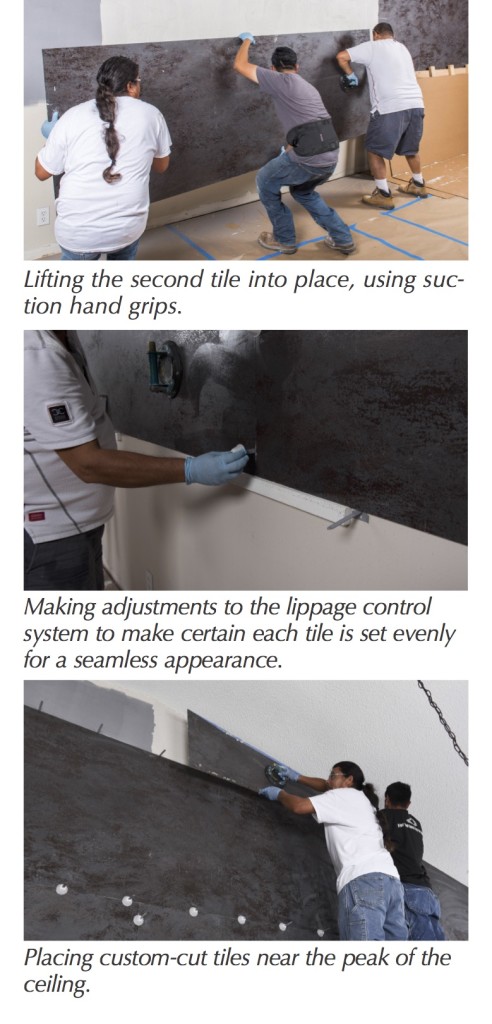 Due to reduced tile thickness and increased size, it is critical to establish a baseline when installing these tiles on the floor. Using the TCNA service rating (based on the ASTM C627; Robinson test method), a series of baselines, referred to as "service requirements," have been established and published in the most current TCNA Handbook for Ceramic, Glass and Stone Tile Installation. The categories are: Extra Heavy; Heavy; Moderate; Light; and Residential. Always consult the LTPT manufacturer for the service rating, specific area of use and limitations prior to installation.
In addition to establishing the proper tile to be used according to the service requirement, there are four key areas to address during installation:
1. Surface preparation
The substrate should have a permissible variation of no more than 1/8" in 10' (3 mm in 3,05 m) from the required plane; nor more than 1/16" in 24" (2 mm in 60 cm) measured from high points on the surface with a straight edge. Floor flatness is best achieved using a self-leveling underlayment and primer prior to tile placement.
2. Proper mortar selection
Once a flat surface has been achieved, it is important to choose a mortar that will give maximum coverage to both the back of the tile and the substrate, thus ensuring a strong bond that can perform to the service rating that has been designated for the installation, e.g., residential.
MAPEI supplies a number of mortars that achieve the level of coverage performance necessary for LTPT, including the Granirapid® System, the Kerabond/Keralastic™ System, the Kerabond T/Keralastic™ System, Ultraflex ™ LFT™ Rapid, Ultraflex LFT, Ultraflex RS, Ultralite™ Mortar.
The company's newest offering, Ultralite S2 Thin Tile Mortar (ISO 13007 classification C2ES2P2) is the first mortar specifically designed to install thin tile, solving many of the challenges associated with large-format thin porcelain tile. Ultralite S2 takes this installation technology to the next level through its superior transfer properties, extended open time and wet-out characteristics – optimizing coverage.
3. Proper trowel selection
It is important to use a trowel configuration that maximizes mortar coverage between the substrate and the tile, minimizing air pockets and voids. Often, this means using a non-traditional Euro Notch or slant notch trowel to achieve maximum coverage.
4. Use of a lippage control system
Using a mechanical system, with either straps or wedges, enables the installer to apply equal pressure on the tile, pulling it down into the mortar and locking the entire system together. Once the mortar has dried sufficiently – typically 24 hours – the lippage control system can be removed. This installation system provides improved contact between the tile and substrate while reducing the chances of lippage.