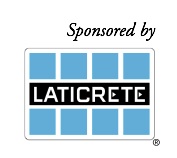 QUESTION
We were wondering if you could advise us as to whether we should install support brackets for our granite countertop and breakfast bar. The overhang is 4' W x 1' D x 1" thick.
ANSWER
It is always a good idea to have more than "sufficient" support for overhangs. Corbels are the easiest solution, and can be made in almost infinite styles and out of almost any solid material, including the stone you are using for your countertops. Plate steel, bolted to the top of the bar framing, is also a good solution. Some installers say additional support is not needed, but I have seen many, many failures in unsupported countertops, usually because a person (like an electrician or painter, or the homeowner changing a light bulb) has climbed up there.
– Michael K. Whistler, presenter/technical consultant NTCA
QUESTION
I am installing .197" thick ceramic penny-round tile over cement backer board on a bathroom floor. I am having trouble with too much thinset oozing up through the grout joints. I am using a 1/4" x 1/4" square notch trowel. Can you recommend the proper trowel size and technique for this application? Once the thinset has been applied and scraped, should I flatten the ridges to minimize the thinset oozing up?
I saw a reference to your standards about flattening the ridges when using small mosaic tiles less than 3", but I want to make sure I am applying the right amount of material. I have not been able to get any recommendation from the manufacturer.
ANSWER
You are absolutely correct that flattening the notch trowel ridges is the way to stop squeeze-up in the joints while still getting full coverage on the tile. Make sure you comb the notches all in one direction before flattening. You will also find that beating in the sheets with a beating block, wood float or hard rubber epoxy float will help in this process. Not only will this help eliminate squeeze-up, you will have a flatter installation.
Be careful when using a v-notch trowel, as most do not provide sufficient thinset between the tile and substrate. Maybe try a "worn" 1/4" x 1/4" and flatten the ridges, or a 1/4" x 3/16" trowel.
– Michael K. Whistler, presenter/technical consultant, NTCA
QUESTION
I live in Orange County, Calif.,  and want to start a tile business. I'm not sure what licenses are needed. I have not gone to school for tiling and have no experience. I want to know how to go about this please.
ANSWER
A tile contractor in California needs to have a C54 State Contractors License. You must demonstrate that you have previous experience to be eligible to apply to take the test.
The best and most common route to becoming a tile setter is to find a job working for a tile company as a helper where you will learn all the basics of the tile trade. If, after a time, you prove yourself as a dependable helper, most companies will allow you to advance to apprentice status, whether formal or informal, and will begin letting you install tile and teaching you proper methods. After several years, you can usually advance to journeyman tile setter where you will be responsible for installing projects from start to finish.
If at this point you decide to take on the business part of the job – in addition to the installation side – then it's time to study for and take the C54 test. Once acquired, you need only get a business license from the city where you work and find some clients.
After you are properly trained, it would also be a good idea to take the Ceramic Tile Education Foundation test to become a Certified Tile Installer. This positions you as a purveyor of qualified labor and builds your customers' trust in your skills and what you can offer them. And of course, you may want to consider joining and becoming active in the NTCA to keep your knowledge of products and methods sharp, as they inevitably change and evolve over time.
– Michael K. Whistler, presenter/technical consultant, NTCA