Vesta Tile & Stone, LLC (https://vestatile.com), based in Louisville, Ky., is a leading regional contractor in the commercial tile and stone market since 2010. Vesta quickly evolved as a respected regional contractor by inspiring the commitment of its employees and doing the right thing for its customers, which are two of its core values. As tile products and installation technologies evolve, it has continued to invest in the resources to deliver high levels of responsiveness along with consistent and reliable performance every day.
In fact, as demand for large format porcelain tile continues to grow, a concerted effort has been made to train Vesta mechanics and employ the most advanced installation techniques in this product category.
Vesta joined the NTCA in 2019 for two reasons: First, for the appealing resources available to members for education, problem resolution, and standards development. Second, the commitment to collaboration with the entire tile industry – contractors, distributors, and manufacturers – was compelling, as well.
"To date, we have enjoyed the benefits of participating in regional training programs along with the manufacturers' material support offered for training," said Louis Cristofoli, President of Vesta Tile & Stone. "In the future, we plan to make better use of the business management, technical advice, and marketing tools offered."
Vesta Tile & Stone, LLC is one of the most recent contracting firms to gain NTCA Five-Star Contractor status. Cristofoli explained that "after significant research and due diligence, we determined that the NTCA's Five-Star Contractor Program offered the optimal combination of resources that could best support our efforts to address and resolve the constraints often faced in today's dynamic construction environment. The specification community has shifted more emphasis to ensuring qualified subcontractors are selected for their projects and the NTCA Five-Star designation is becoming a key selection qualifier. In summary, we believe the broad assortment of benefits offers a unique opportunity to strengthen our foundation and fortify our brand reputation."
One of the requirements for the NTCA Five-Star Contractor credential is having Certified Tile Installers (CTIs) on staff. Vesta Tile & Stone has two employees who passed the exam, held at Louisville Tile in January 2020. "We intend to continue having additional mechanics take the exam and ultimately hope to have all mechanics achieve the CTI designation," Cristofoli said. "The preparation for the exam was enlightening and attaining the CTI designation will be a mechanic benchmark for progression within our company." Vesta Tile & Stone takes a tremendous amount of satisfaction in its work. "We are extremely proud of the impact we have on the projects we complete," Cristofoli said. "The ability to elevate the experiences of our direct and indirect customers in the spaces they live, work, and play provides tremendous satisfaction to everyone in our organization."
Historic Lexington Courthouse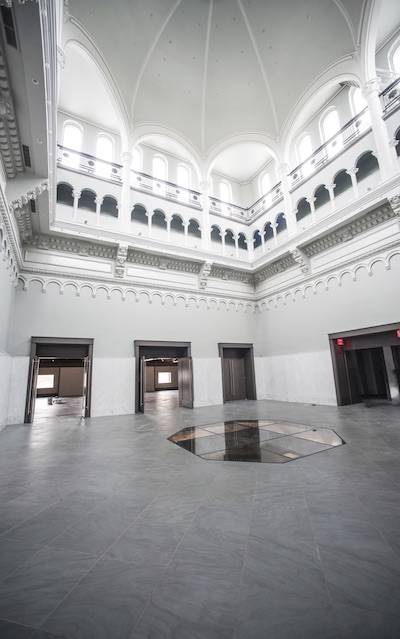 This renovation project in Lexington, Ky., presented a unique combination of installation challenges. The products and applications involved included:
15,000 sq. ft. of 24" x 24" porcelain floor tile – 14 common areas and two elevators.
2,000 sq. ft. of 12" x 24" porcelain floor tile and 4,900 sq. ft. of 2" x 2" mosaics – eight gang restrooms.
2,200 sq. ft. of 6'3" x 2 cm marble wall panels – atrium.
350 sq. ft. of 3 cm marble tread and risers – atrium.
The first challenge was designing a logistics plan to efficiently accommodate the delivery, receipt, and disbursement of the materials. There was no elevator available in the four-floor building so Vesta orchestrated the material distribution throughout the building with a crane and operator utilizing the windows on each floor for material receiving.
Next, surface preparation had to be completed prior to the installation of the 24" x 24" floor tile with multiple elevation variances up to 3 inches. The elevation challenges were successfully addressed with both traditional mud bed and self-leveling approaches.
A third difficult situation related to the 24" x 24" tile installation included the layout of two special event rooms involving 2,000 sq. ft. in each room laid on a 45-degree angle pattern and flowing into an 8' octagon shaped floor. An extensive effort was exerted to use plan layout in conjunction with laser technology to meet this challenge. The project was completed fall, 2018.

Republic Bank Foundation YMCA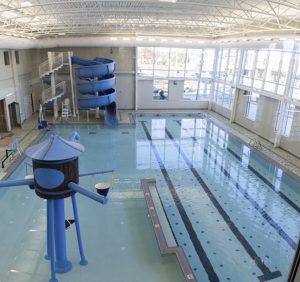 This was a new 77,000-sq.-ft. YMCA facility in Louisville, Ky. Selected as the project of the year by Louisville Business First, the doors were officially opened in December 2019. The tile products included:
6,200 sq. ft. of 39" x 39" porcelain tile panels – three locker rooms
4,500 sq. ft. of 2" x 2" unglazed ceramic mosaic tile – five pool areas including deck and three locker rooms
700 sq. ft. of 8" x 24" ceramic white body wall tile
300 linear feet of 1/2" x 12" ceramic wall tile liners
2" x 2" glass wall tile
The project entailed multiple installation method challenges involving substrate preparation, wet area waterproofing, and elevation transitions.
All pool area and locker room floors were mud set. With the specifications for mud-set applications declining over the last several years, Vesta relied on its experienced project manager and crews to lead its younger mechanics and finishers to deliver an excellent substrate on time, ready for tile.
The locker room walls were concrete block and presented significant planar challenges for the installation of the 39" x 39" panels. With all mechanics having received prior training on large thin porcelain tile handling and installation, Vesta was prepared with the tools, equipment, and mortar product to meet the stringent substrate flatness required.