As a next step in honoring outstanding installation and design using tile, natural stone and mosaics/glass, the TileLetter Awards – now in its ninth year – has evolved into the Coverings Installation & Design (CID) Awards for 2012. The competition honors achievement in the outstanding use of materials and the synergy between installation and design, and will be sponsored by its founding publication, TileLetter, and the new NTCA quarterly publication, TADA: Tile for Architects, Designers and Affiliates.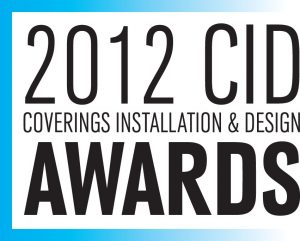 The CID Awards competitions are open to architects, designers, builders, contractors, distributors, retailers, installers and other professionals whose project demonstrate design and installation excellence in residential and commercial projects, giving special recognition to stunning natural stone, ceramic tile and mosaic tile/glass.
To be eligible, projects must have been completed within the past two years (Jan 2009 – Dec 2011) and be located in the U.S. Both the installer and designer of the project will be recognized. Multiple entries are accepted and encouraged; each entry requires a separate set of entry materials. Entries must be received no later than February 1, 2012 by National Trade Productions, the company that manages Coverings. The competition is free to enter.
Projects will be judged on their levels of creativity, craftsmanship, and outstanding use of ceramic tile, natural stone, and/or glass and achievement within residential and commercial project categories. Of particular interest are projects that demonstrate an original or unusual use of materials, incorporate an innovative technology, reflect installation excellence or successfully combine aesthetics with function in a unique and interesting way.
An independent panel of judges for all award categories will evaluate entries using a blind format based on Excellence in Execution + Installation, Inspiring + Original Use and Overall Design + Purpose.
The installer and designer of the Grand-Prize-winning project will receive $1,000 each. Additional cash prizes in residential and commercial categories will be awarded as follows:
Residential Tile, Natural Stone, Mosaic Tile/Glass ($500 each)
Commercial Tile, Natural Stone, Mosaic/Glass ($500 each)
Winners must attend the awards reception during Coverings on Thursday, April 19th, 2012 in Orlando, Fla. If winners are unable to attend, the project will be disqualified and a new winner will be awarded.
For entry information, visit www.covering.com and click on the CID Awards link at the right or visit www.tile-assn.com.