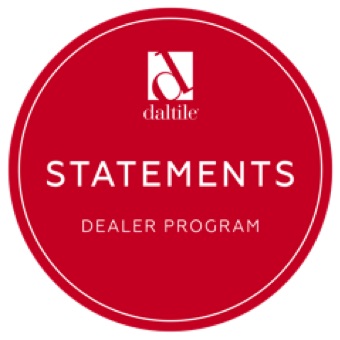 Dallas, TX – June 29, 2017 – Daltile recently held its biannual meeting with key customer advisory board members to ensure the "Daltile Statements Dealer Program" continues to be a fresh, relevant, and effective tool for retail partners. The 4-day event took place in Nashville, Tennessee and included a tour of Dal-Tile's new state-of-the-art production facility in Dickson, Tennessee.
Daltile Statements Dealer Program
"The Daltile Statements Dealer Program is designed to give the end-consumer a 'complete shopping experience'," said Brian Smith, Daltile marketing manager. "Dealers who have joined this program are equipped with specialized merchandising, rebate programs, elite placement on our website, and unique displays that showcase the entire Daltile product line. We believe our nationwide network of Statements Dealers is providing the ultimate Daltile shopping experience for retail customers nationwide. Last week's bi-annual meeting with our advisory board members helps keep Daltile in tune with Statements Dealer needs, so we can continue providing a stellar program that exceeds their expectations."
"A key strength of the Daltile brand is the breadth and depth of product that we offer," said Kim Albrecht, senior manager of brand marketing for Daltile. "The displays, merchandising, and unique features of the Statements Dealer Program play to this strength, equipping dealers with premiere tools to help maximize the shopping experience and help customers select the Daltile product that most perfectly fits their needs. The ultimate goal is to equip our retail partners for success with our products and increase retailer sales. Our Statements Dealer Program very effectively does just that!"
Importance Of Our Advisory Board
"Members of the advisory board were carefully selected based on their prowess in the industry and
because they offer an ideal cross-section of retailer types," said Jeremy Sax, general manager of
dealer sales for Daltile. "We have small retailers and large retailers from across the country
represented. Some of our board members are strictly retail only, while others also sell to trade
customers such as builders and commercial. This ensures we get feedback from every angle,
allowing us to put together the strongest possible program for our nationwide network of 245 Daltile
Statements Dealers."
"Our advisory board members are extraordinary!" added Sax. "Their knowledge, feedback, and
insight are incredibly valuable. We intently listen to what they have to say and are continually
improving our program based on their feedback. We want to maintain Daltile's leadership position as
a premiere shopping experience and highly value the input from our advisory board members."
Advisory Board Members
Advisory board members for the Daltile Statements Dealer Program include: Steve Dalene (Dalene Flooring), Dan Huffman (Tile Expo, Inc.), Phil Koufidakis (Baker Bros Area Rugs & Flooring), Kelly Taylor (Ambassador Floor Company), Steven Chesin (Carpets N More), Daniel Kennedy (PS Wholesale Floors), Rick Murray (Rusmur Floors Carpet One), and Michael Longwell (Airbase Carpet & Tile).