Green issue focuses on sustainability, eco-friendly and pro-health issues in our industry
Welcome to the August GREEN issue, where we focus on the sustainability, eco-friendly and – especially now – pro-health issues in our industry.
To that end, NTCA Technical Director Mark Heinlein explores the current state of OSHA's Respirable Airborne Silica regulation, and how to adhere to the regulation and safeguard your lungs from irreversible silicosis.
Bill Griese, TCNA Director of Standards Development and Sustainability Initiatives, has contributed a story that examines the role ceramic tile floors, walls, and countertops play in green building and health initiatives. He discusses how disinfectants play into the picture, as well as the addition of antiviral testing to the suite of services offered by TCNA's Product Performance Testing Laboratory.
In our A&D Corner, we talk about demands from the marketplace for products like ceramic tile and quartz surfacing materials that support easy sanitization and contribute to cleaner settings, especially in the pandemic era.
This issue offers a second technical article for your consideration – Joseph Mattice of On The Level Flooring in Greenville, S.C. has penned an article about the travails of using hybrid shower systems. You may be tempted to concoct a Franken-shower, but it could turn out to be more of a monster than you bargained for.
In our Training & Education section, we explore a learning opportunity you may not know about on Facebook: one-to-one mentoring. NTCA member Brad Denny of Nichols Tile & Terrazzo in Joelton, Tenn., who is a mentor in both NTCA Members Only and Tile Geeks Facebook groups, discusses how the programs work and how to take advantage of industry mentors to support your business.
Did you notice something different on the cover of TileLetter? Last month we added a new selling/tag line: "The industry's leading tile installation magazine." This official statement proclaims TileLetter's prominence and strength among installation-related publications in our industry. When it comes to all things installation, TileLetter is YOUR magazine!
How have you been faring through the pandemic? Do you know contractors and suppliers are sharing their thoughts in our Contractor Perspective and Supplier Perspective stories, posted regularly on tileletter.com? This is a collection of first-person musings about business conditions, work challenges, and the emotional roller coaster the pandemic has been for many of us. Chances are, whatever you are feeling and experiencing, you're not alone. Visit the site for some online camaraderie – and share your own stories with us by emailing [email protected].
As summer is winding down, take some time to enjoy the long, warm days and catch your breath before the challenges of autumn arrive.
God bless, Lesley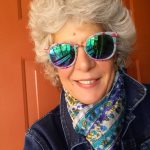 Editor for TileLetter, TileLetter Coverings, TREND and TECH publications.
Lesley Goddin has been writing and journaling since her first diary at age 11, and drawing and sketching since she could hold a pencil. Her penchant for observation led to her becoming a paid professional as a trade journalist, publicist and is editor for TileLetter. She has also written for Guideposts, Walls, Windows and Floors, Floor Covering Weekly, and Low Carb Energy.