Emphasis on eliminating lippage grows along with tile formats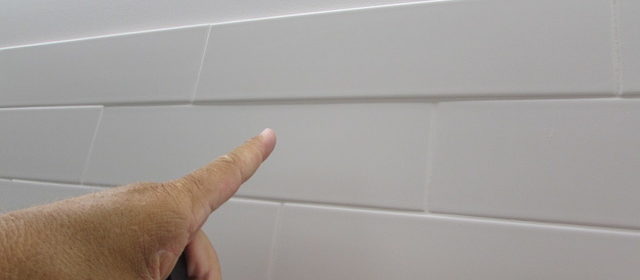 With the increased popularity of larger tile formats in recent years, the necessity for an efficient system to manage lippage issues has grown as well. Lippage is the condition where one tile edge is higher than an adjacent edge, resulting in a finished surface having an uneven appearance. This is a major concern for property owners, as it can be a safety or tripping hazard, as well as being unsightly.
Inherent bowing of tiles can add to the lippage problem, especially the wood-look plank offerings. And increased weight associated with larger tiles can cause tiles to slump.
An effective tile leveling system should be strong enough to align and support large-format and heavy tile surfaces, and have the ability to apply enough force to effectively eliminate bowing while securing tiles in place as the mortar bed dries.
With the advancements in porcelain and compact-surface manufacturing available today, the industry is seeing an enormous increase in the popularity of "thin" tile or gauged porcelain tile panels (GPTP), noted Steve Sprung, Product and Marketing Manager, RTC Products. Installing these panels or slabs not only requires extensive knowledge, but also a certain amount of training and/or certification. The common skill set for standard tile installation may apply, however current tooling will not suffice. 
"This introduces our craftsmen to an entirely new segment of tools and installation products," he explained, "as well as a new standard specification, which can be found within ANSI A108.19 Interior Installation of Gauged Porcelain Tiles and Gauged Porcelain Tile Panels/Slabs by the Thin-Bed Method bonded with Modified Dry-Set Cement Mortar of Improved Modified Dry-Set Cement Mortar. With this written standard, installers now have access to information on methods and best practices to install a material – that until recently – had many unknown factors."
---
Lippage Control Systems
1 Miracle Sealants/Rust-Oleum
Preventing lippage is designed to be fast and easy with Levolution. This all-in-one system promises perfectly spaced and level tiles. With 1/8", 1/16", and 3/16" spacer size options, it fits all standard or large-format tile up to 1/2" thick – including warped or flexible tiles. rustoleum.com
2 Progress Profiles
The company's Proleveling System is a patented laying system that is designed to allow quick and easy work. It is composed of only two practical and easy-to-use elements. A leveling base allows it to separate and join ceramic,
marble, natural stone or thin tiles. The transparent polyethylene pommel cap, inserted in the centrally threaded stem of the leveling base, allows regulation of pressure on the surface and to align tiles' grout lines with precision. progressprofiles.com
3 RUBI Tools
The Delta Tile Leveling System prevents lippage on floor and walls, stopping the tiles from moving while the adhesive sets and reducing the number of corrections to the position of the tile itself. The system of wedges and flanges, designed for formats of 30 x 30 cm or greater, presses down on the highest piece until it is evenly positioned with the adjacent
tiles. The system's pliers are designed to be used in floor and wall tile installation applications to apply the necessary pressure to the wedge to allow the leveling of the tile. Once the installation is complete, the elements are removed by impact (kick or mace), striking the flanges in the direction of the joint. rubi.com
4 Russo Trading Company (RTC)
The company's Spin Doctor is designed to be a quick and convenient solution to reduce tile lippage. The 1/32" Spin Doctor Kit has been developed for the installation of gauged porcelain tile panels (GPTP) and complies with the ANSI A108.19 standard for installation in accordance with spacing and lippage tuning systems. The Spin Doctor 1/32" Pro Kit includes
200 Caps, 500 Posts, 200 Clear View Shields (shields must be used when installing GPTP), and is available in 1/16", 1/8" and 3/16" post sizes. rtcproducts.com