Category embraces high-tech advancements to increase effectiveness
With the advent of technology and the latest state-of-the-art products, cleaners, sealers and anti-slip treatments have become more effective and efficient than ever before, making the job of professionals easier.
Company executives also agree that sealers require enough power to prevent oil and water-based stains, while cleaners require gentleness for daily use to clean dust, dirt, spills and light stains. 
"Manufacturers have developed new sealer and cleaner products that aid in the preservation of the material's original appearance, lacking harsh chemicals that can harm or dull the surface" noted Arthur Mintie, Senior Technical Advisor for LATICRETE.
---
Cleaners, Sealers and Anti-Slip Treatments
1 Custom Building Products
The company's Aqua Mix® Sealer's Choice® Gold is a penetrating sealer formulated to provide maximum stain protection. This low VOC, water-based sealer provides a no-sheen, natural look, recommended for use on food preparation and serving areas. This sealer was designed for penetration into dense, low-porosity surfaces. It's rapid-curing to protect in less than four hours, while still allowing moisture vapor transmission. Designed for both interior and exterior applications, Sealer's Choice Gold can be used as a sealer or grout release on a variety of surfaces, including natural stone and textured porcelain tiles.
custombuildingproducts.com
2 FILA Solutions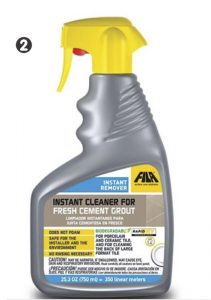 The company's patent-pending, Instant Remover is designed to act as an "immediate cleaner" for fresh cement grout used with porcelain, ceramic, glass mosaic and quarry tile; including large-format. It can be used for both removing grout haze on the surface of the tile (avoiding the picture frame effect) and, for cleaning the back of tile prior to installation. There is no need for rinsing, and the product can be used indoors and out, for floors and vertical surfaces. Developed to be effective enough for grout with additives, Instant Remover eliminates residue during installation before it has cured. It is safe for the environment, as it does not emit harmful fumes. Instant Remover will not damage grout joints or corrode metal trims, such as steel or aluminum. filasolutions.com
3 Miracle Sealants/Rust-Oleum
Miracle Sealants 511 Anti-Slip Formula was developed as a penetrating sealer designed for the anti-slip protection of all tile and stone surfaces, such as granite, travertine, ceramic tile, and porcelain tile, marble, natural stone, grout, slate and limestone. Miracle Sealants 511 Anti-Slip Formula is a protective treatment that dries without altering the look of the tile. It's safe for food areas and weather resistant. rustoleum.com
4 LATICRETE
The company's StoneTech® Quartz & Porcelain Tile Sealer is designed to protect quartz, porcelain tile and medium-to-dense surfaces from oil, water and most stains, while preserving the natural look of the surface. StoneTech can also be used as a pre-grout sealer to prevent potential staining on porcelain tile. The ready-to-use product is low odor, non-flammable and meets state and federal VOC requirements, making it safe for installers to work with and environmentally friendly. laticrete.com 
5 MAPEI
The company's UltraCare Cement Grout Haze Remover is a professional-strength product designed to effectively remove cement grout haze from tile, concrete and stone surfaces. The water-based formula is low-odor, easy to use and meets all Environmental Protection Agency (EPA) and South Coast Air Quality Management District (SCAQMD) standards for volatile organic compounds (VOCs). mapei.com
6 Progress Profiles
Procare Clean is a cleaning spray that comes ready-to-use and is suitable for the cleaning of stainless steel, brass and aluminum profiles, from residual surface oxides and lime. It is formulated to deposit a protective film that prevents the deposit of lime and soap residues. Its use allows for bright and cleaner surfaces for long periods. Procare Clean is suitable for glass, mirrors and bathroom fittings. progressprofiles.com