Tile Competition Comes to CEFGA SkillsUSA Competition
CEFGA has record-breaking participation with over 7,000 attendees
NTCA took part in an important set of career events in Georgia last month – the CEFGA Career Expo and SkillsUSA, both held at the Georgia International Convention Center March 23 and 24, 2017.
The Career Expo, hosted by the Construction Education Foundation of Georgia (CEFGA), links students directly to professionals in the areas of construction, utility contracting, highway contracting, electrical contracting, mechanical contracting, energy, tile setting mining and more. The Career Expo consists of hands-on displays that allow students to engage with industry leaders, equipment and materials in order to tap into their unique skills and interests.
Rod Owen, Jr., of C.C. Owen Tile Co., Jonesboro, Ga., — a NTCA Five Star Tile Contractor, and Technical Chair for CEFGA – has involved NTCA in this event for the last several years, and this year was able to get a tile test included. One the test was established, Owen placed CEFGA in the very capable hands of Woody Sanders, D.W. Sanders Tile and Stone.  Sanders, along with the help of many local manufacturers and tile reps were present to explain to prospective tile installers what their jobs could entail.  Thanks to donations from Interceramic, Dal-Tile, and Schluter, Sanders arranged a hands-on area for attendees to lay out their own mosaic tile and adhere it to a board that they could take home.  Sanders also incorporated some ideas into the exhibit, such as a TV display with photos of the tile installation process, finished tile projects, and an art tile display with CEFGA spelled out.  Once the CEFGA piece was complete Friday afternoon, it was given to CEFGA for future use. Becky Serbin, NTCA training and education coordinator, was also assisted at the events.
CTI-style test for
SkillsUSA participants
For the test, Owen worked with several local contractors, manufacturers, and Scott Carothers of CTEF to develop a study guide, tile layouts, written/open-book, and hands-on tests.  The hands-on test was based on a simplified version Certified Tile Installer (CTI) exam.
Since this was the inaugural event, it was unknown how many students would take the test, how well it would be received by those attending CEFGA, or how well participants would do.  Sanders developed the plans, Carothers developed the study guide and written test, and Steve Young of nearby Steve Young & Associates (and NTCA's 2016 Tile Person of the Year), was in charge of working with manufacturers to donate supplies for the test, which included Dal-Tile, Schluter, Johns-Manville, LATICRETE and Barwalt..  The hands-on test started Thursday afternoon with three participants and finished Friday afternoon with five participants.  Even though two students missed the first day, they were still able to finish their work with the allotted time.  Participants were: Martin Sanchez, Griffin High School; Timothy Crawford, Statesboro High School; Logan Conyers, Lee County High School; Trebeon Sales, Northside High School; and Cristian Mendoza, Kennesaw Mountain High School.  None of these students had extensive knowledge of setting tile.  Some of these students had been setting tile for two weeks while others started at the beginning of the semester, but none had ever been on a job before where they set tile.
Three local people with tile-installation experience were asked to judge the practical portion of the competition.  Judges were Phil Canto, LATICRETE International, Inc., Eric Shaddix, Specialty Tile Products, Inc., and Stephen Key, Key Tile, Inc.  Judges also mixed thin-set mortar for participants as they worked to allow students to focus on the actual setting of tile itself.
Once the written and hands-on scores were tabulated, first place went to Conyers who received $150, second place went to Mendoza who received $75, and third place went to Crawford who received $50.  The awards were presented Saturday morning, March 25.
Based on all of the questions from teachers about the test, at least 10 kids are expected to participate next year.  Owen, along with NTCA plans to continue to the growth of the program and work with contractors in other states to get tile into the national SkillsUSA test.
Images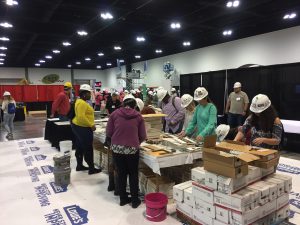 Attendees create their own mosaic design. Many female students gravitated to the tile section of the Career Expo.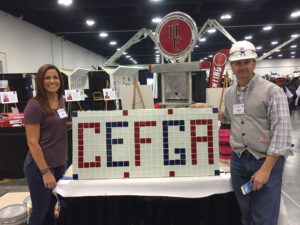 DW Sanders employees Janice Hill (l.) and Woody Sanders (r.) showing off CEFGA art piece that was given to CEFGA. Not pictured is Omar Trujillo who was still working with the students.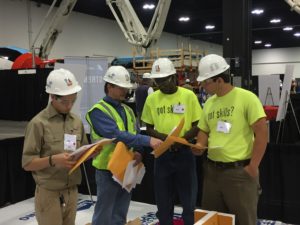 NTCA's Rod Owen (second from left) with day one competitors (l. to r.) Martin Sanchez of Griffen High School, Timothy Crawford of Statesboro High School and Logan Conyers of Leesburg County High School.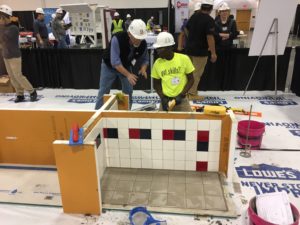 Judge Stephen Key (l.) of Key Tile answers a question from participant Timothy Crawford. The test modules were derived from the Certified Tile Installer exam modules used by CTEF.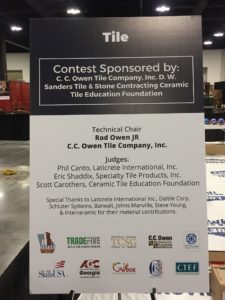 The tile-setting competition was sponsored by C.C. Owen Tile Company, D.W. Sanders Tile & Stone Contracting, and The Ceramic Tile Education Foundation.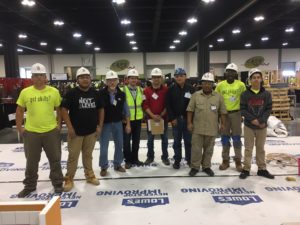 Left to right: Conyers, Mendoza, Stephen Key, judge, Rod, Eric, Phil, Sales, Crawford, Sanchez
Awards were given to top three finishers in the test during a ceremony on Saturday, March 25. Woody Sanders (c.l.) and Rod Owen (c.r.) were present to recognize recipients with prizes and medals.