Tech Talk – April 2017
A tour through NTCA's "Innovative Tools" Coverings 2017 presentation
An array of tools that make tiling easier, safer and more efficient will be on display
By Lesley Goddin
This year, at Coverings '17 (taking place as this book is going to press), NTCA technical trainers/presenters Mark Heinlein and Robb Roderick are conducting a Coverings Conference session called "Innovative Tools in the Tile Industry." In addition, the session will be presented in Spanish by NTCA technical trainer Luis Bautista, and David Allen Company's Marcos Castillo. NTCA training and education coordinator Becky Serbin will also be on hand at the session.
The session explores a number of tools available in the industry right now and their benefits. For our Tech Talk section this issue, we are presenting a synopsis of the tools that will be presented in this session, along with photos and the URL, so you can research them on their own and see how they might enhance your installation experience or efficiency.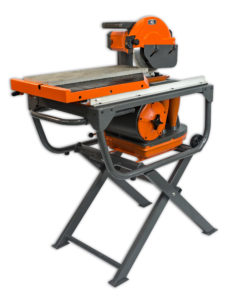 Several of the products selected for the session offer tremendous innovation in the ability to remove dust, especially in light of OSHA's new requirements for limiting the amount of crystalline silica in the workplace. These new safety standards are to go in to place this summer. These include the iQTS244 dry-saw, and Alpha Tool's HEPA Dry Vacuum and Ecoguard series of dust collection devices.
The iQTS244 10″ tile saw from iQ Power Tools is a dry-cut saw with a vacuum attached on the bottom. This saw makes precise cuts in a dust-free environment without the use of water. NTCA technical trainer/presenter Robb Roderick said, "Traditional wet saws have a tendency to spray water around the jobsite, which is why they are normally set up outside or in a garage. This saw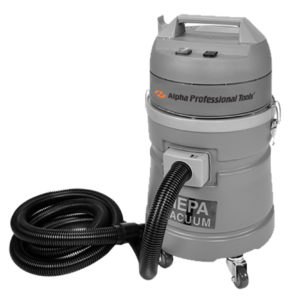 works great in freezing temperatures where wet saws would have difficulty." www.iQpowertools.com
Alpha Professional Tools offers the Alpha® Hepa Dry Vacuum, with an extra-large capacity HEPA filter system and a power 2-hp motor. The drop-in HEPA filter is individually certified to have a minimum efficiency of 99.97% at .3 microns. Alpha is updating this vacuum, and a new model will be available in the near future.
In addition, Alpha offers the Ecoguard series of dust collection devices (pictured is the Ecoguard EG, an Economy Grinding Dust Collection Cover for larger grinders, fitting most 6" to 8" grinders). When connected to an industrial vacuum the Ecoguard EG moves easily and creates a virtually dust-free grinding experience. Roderick said, "Cutting and grinding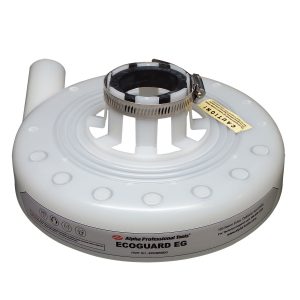 creates a lot of dust which can have adverse effects in the user, and require extensive amounts of efforts cleaning up the mess. These products help eliminate those issues." www.alphatools.com
When it comes to mixers, the RUBITOOLS' Rubimix -9 electric mixer offers a configuration that is more comfortable to the user for mixing thin-set and grout than that offered by traditional  drills, Roderick said. It also has adjustable speed setting allowing you to use it to mix multiple types of products with one mixer. The versatile mixer allows mixing adhesives, resins, paints and other materials by changing the mixing paddle. Its double grip with bi-material handles has improved ergonomics and greater user comfort.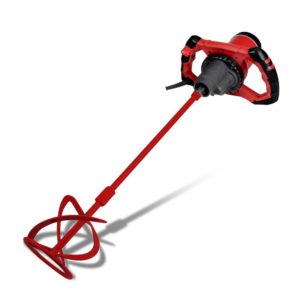 RUBI also has developed a rubber graduated RUBI-KANGURO "ITALIANO" bucket, which is easily cleaned and has greater longevity. Roderick noted that traditionally tile installers have used plastic buckets to mix thinset or grout. "To be used again, the buckets must be cleaned daily," he said. "Because of the rigidity of the plastic after thin-set or grout hardened, the dried materials are nearly impossible to removewithout damaging the bucket. These buckets are rubber and much more easily cleaned when setting materials have dried in them." The buckets have reinforcing ribs and a base and mouth which are designed to make the bucket very structurally robust. www.rubi.com.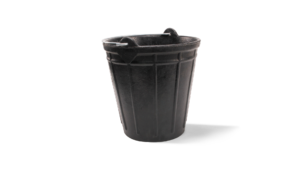 Gundlach is distributing a new Montolit Masterpiuma P3 cutter– and it's Montolit's #1 bestselling cutter. "This cutter has gotten rave review on several tile-related Facebook sites, because  of its ease of use and its ability to cut virtually every type of tile available," Roderick said. "Many of our members are amazed at how well it works."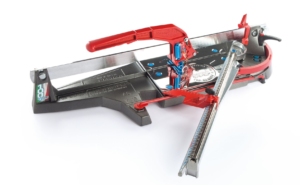 It can cut all types of tile quickly and accurately, ranging from thicknesses of 0-22mm. It even makes cutting on a diagonal safe and simple. It features an accurate, powerful and effective ergonomic push scrib handle, a self-adjustable patented scoring system and easy, fast set-up, transport and storage due to the patented foldable design. Adaptable for large-format tiles as well. www.montolit.com
Not every tile line offers bullnose pieces for finished edges. But the Raimondi Bull Dog™ bullnose machines,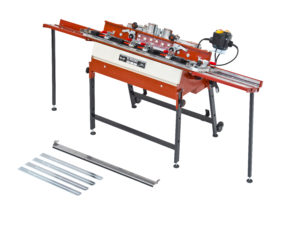 made by Raimondi and distributed by Donnelly Distribution LLC, allows installers to make custom bullnose pieces of porcelain or stone easy. The pump-cooled machine bullnoses and bevels, offering rough, finished and polished levels of finishing. www.raimondiusa.com
Another product from Raimondi is the Raimondi Maxititina Multi-Functional Floor Machine with Grouting Paddle. While this is not a NEW machine, it is innovative in that it allows contractors to grout a floor without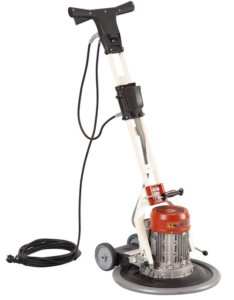 kneeling, clean a floor, or grind/scarify or prepare subfloors to improve the bond. It allows installers to level out high spots on concrete, and power grout a job at 55 rpm, spreading the grout and packing the joints full. It also can seal floors in a jiffy, and polish them to a desired level of shine, at 110 rpm.
Also useful is the Berta by Raimondi which has a large replaceable sponge drum which rotates to clean freshly-grouted floors, which is a major time saver on large floor installations.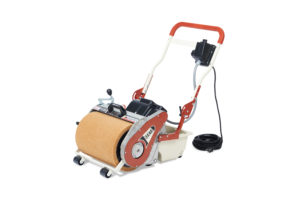 Finally, with dimensions of tile growing larger and larger, the ETM Grip by European Tile Masters facilitates handling and back-buttering of gauged porcelain panels. It has 12 fully-adjustable suction cups and four adjustable handles, can be configured to multiple lengths (up to 10') and multiple shapes (including U and Z shapes), and can be tilted from 90 to 15-degree angles. The ETM Grip allows two people to move and manage today's larger format tiles with ease. www.europeantilemasters.com