NTCA Benefits Box – April 2017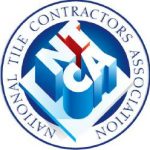 NTCA's State Ambassador program – 132 strong at last count – has evolved over the last few years from its State Director program.
These "ambassadors" represent the NTCA and assist trainers at local NTCA Tile & Stone Workshops, recruit and recommend contractors for membership, work with local distributors in circulating NTCA brochures, applications and posters in their locations, and welcome and support new members. They also provide current industry news from their local area, which is often covered in TileLetter magazine or at tileletter.com online.
The intent of this group is to form a strong, supportive web of NTCA members that support the tile trade and all NTCA members in the local area. They also positively promote qualified labor, certification, the NTCA, and the tile industry as a whole.
Many of the State Ambassadors are installers themselves, but some are manufacturer reps who cover more than one state. Active in this program are: Ardex Americas, Bostik, Daltile, HB Fuller, MAPEI and wedi.
State Ambassadors are also NTCA's eyes and ears in the local market, and gather information and ideas that can help NTCA better serve local contractors.
Visit NTCA at www.tile-assn.com and search for "2017 State Ambassadors" or use this shortened link to take you directly to the list of State Ambassadors: http://bit.ly/2o8gmLe.