Thin Tile – July 2016
Update on ANSI product installation standards; recent projects featuring gauged porcelain tile panels/slabs
by Lesley Goddin
In our continuing quest to bring you useful information about the surging use of large thin porcelain tile, we bring you some news from the ANSI meeting concerning proposals for ANSI A137.3 (product standards) and ANSI A108.19 (installation standards) that was held during Coverings in Chicago this past April. In addition, we have a collection of projects below that show some of the ways large thin porcelain tile is being used on a range of projects.
The meeting
To start, a very productive ANSI meeting took place during Coverings in Chicago. The proposed draft standard under discussion for ANSI A137.3 has tables providing properties for three tile types: Nominal Thickness 5.0 mm to 6.5 mm (Table 4), Back-Layered with Nominal Thickness 5.0 mm to 6.5 mm (Table 5), and Back-Layered with Nominal Thickness 3.5 mm to 4.9 mm (Table 6). The Committee discussed the properties developed through lab testing and real world applications, but consensus was not reached. The proposed standard also allows for future tables to be included for additional tile types such as thicker tiles for raised flooring (and other) applications.
A proposed draft installation standard was also presented for tiles with properties in Table 4, with further work on the standard in progress.
Discussion turned to how to label, name and describe these tiles in the standard, depending on their thickness, size, and various marketing terms. TCNA explained that the name in a standard should not be conflated or merged with how tiles are labeled, but how the tiles are described should be sufficiently neutral to allow companies to market and label them however they choose to brand their products. Any effort to mix individual company marketing needs with the labels in a standard would be unlikely to achieve true consensus.
To this end, the proposed standard was labeled, "American National Standard Specifications for Gauged Porcelain Tiles and Gauged Porcelain Tile Panels/Slabs." The standard is so named because the properties in Tables 4 – 6 are based on a narrow (i.e. gauged) range of thicknesses. Further, it allows manufacturers to choose how to label their products depending on their marketing, i.e. either as panels or slabs.
The next ANSI A108 Committee meeting will be held at Total Solutions Plus, Hyatt Indian Wells Resort near Palm Springs on Friday, October 21, 2016. In the meantime, many groups of stakeholders and interested parties are meeting separately, and with TCNA, to work towards further understanding and consensus.
The projects
Following are a number of recent projects that use gauged porcelain tile panels for interior and exterior application. As was described in the Laminam by Crossville entry, installers trained in the handling and installation of these products were employed on the job. NTCA recommends working with only contractors who have experience, certification or training in installing these products, for the smoothest installation process and best ongoing performance of the tiles themselves.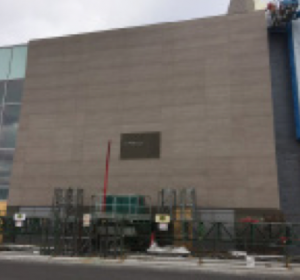 Laminam tile was supplied by Stone Tile International for the Sherway Gardens Expansion in Toronto, Ontario, Canada, which is presently underway and due to finish in fall of 2016. This high-end mall has a total expansion of 100,000 sq. ft. One of the highlights of this project is the installation of some very large 1 m x 3 m porcelain veneer in an exterior setting. Maple Group of Toronto installed 3,000 sq. ft. of large, thin tiles with MAPEI's Granirapid with Ultracolor Plus grout after MAPEI's Mapelastic 315 was used to waterproof over concrete. The gauged porcelain panels were installed around the large entryway and two smaller entrances. The tile was also cut into pie-shaped wedges to form large tile circles on the ceiling of the mall's interior.
Inalco Slimmker – 1,800 sq. ft. of Inalco Slimmker, a Tile of Spain brand, was installed in October 2014 by Belcor Builders of Plainview, N.Y., in a high-end Spanish furniture showroom in Midtown Manhattan. The 6mm Slimmker Foster Blanco Plus Natural tile measures 40" x 40". www.inalco.es/en/collection/foster
Laminam by Crossville – LaFayette Junior/Senior High School in LaFayette, N.Y., was renovated by Ashley McGraw Architects in October 2015 with materials engineered to perform long and hard to accommodate the wear and tear of the space, keep maintenance simple, and provide a look that fits with the grander scale of the renovated space. The school auditorium called for wainscoting along the walls, with a monolithic appearance and minimal grout joints. Enter Crossville's Laminam Travertino Avorio 3+, supplied by Vestal Tile Distributors and installed by Integrated Industrial Services of Syracuse, N.Y., in a vertical orientation above the handrail. The installation team at Integrated Industrial Services had learned the techniques for proper installation of Laminam by Crossville porcelain tile panels by attending an in-house seminar held by distributor Vestal Tile in January 2016 that included representatives from adhesives manufacturer ARDEX Americas, European Tile Masters, and Vestal Tile. www.crossvilleinc.com
Lea Ceramiche – Shinberg.Levinas Architects recently won a Ceramics of Italy Competition Residential Award for the Turnberry Residence in Rosslyn (Arlington), Va. The project features 5,000 sq. ft. of Slimtech Basaltina Stone in Sabbiata and Naturale colors by Confindustria Ceramica manufacturer Lea Ceramiche. Jud Tile from Vienna, Va., installed the 3' x 9' tile in a complete interior renovation of the bedroom, bathroom, kitchen and exterior balcony in 2013. Flooring and walls for all living spaces were also covered with the Slimtech Basaltina tiles, which are available in 3mm and 3.5 mm, and created a smooth continuous flow from interior to exterior, with minimal joints that almost disappear, reinforcing the idea of an open loft space. www.leausa.us
Florida Tile – On St. Patrick's Day 2015, the DLR Group's Chicago office was scheduled for a lunch-and-learn session with Mid-America Tile, who was introducing Florida Tile's new Thinner large-format thin porcelain tile. As it turned out DLR Group showed a lot of interest in the product, not for a client, but for its own use for the lobby floor, which had suffered a previous failure due to the original tile and gypsum-based underlayment used. DLR Group principals liked how Florida Tile's Thinner Aventis 19.5" x 39" tile made a seamless transition with existing finishes, and the 3.5mm thickness posed no problem with the minimal clearance of already-installed entry doors. MAPEI technical services and Krez Group came in to review the substrate, which they subsequently shotblasted and leveled with MAPEI M20. Architectural Contracting installed 1,200 sq. ft. of tile with MAPEI Ultraflex LFT mortar, creating full coverage and MAPEI's stain-resistant, premixed Flexcolor CQ grout. The MLT System was also used to create a flat, lippage-free surface, finished with Blanke stainless steel transition strips. The project won a 2015 Crain's Coolest Office award. www.floridatile.com