Qualified Labor – August 2016
Jeremy Waldorf: owner/operator Legacy Floors
Certification offers customer extra value, bolstered by education and experience
By Terryn Rutford, Social Structure Marketing
Jeremy Waldorf, owner/operator of Legacy Floors in Howell, Mich., recalled setting wall tile with a slice of pizza in one hand during his Certified Tile Installer (CTI) exam at the end of 2015. "There was absolutely no room for breaks, at least in my case," Waldorf said. "[The hands-on test] was pretty stressful, and much more challenging than I thought it would be."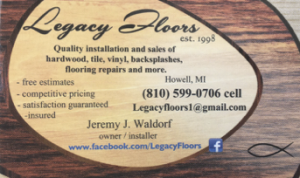 The context of the CTI hands-on test might be intimidating as described by Waldorf, "In a room with seven other guys, with seven other tool setups, methods, and approaches…I was tempted to peek over and see what kinds of things other guys were doing." But now that he's certified, Waldorf has more confidence that he will make the right choices. "With the manuals, resources, and most importantly, the industry connections I now have, I am always able to get answers from more experienced and more skilled tile setters and industry representatives," Waldorf said.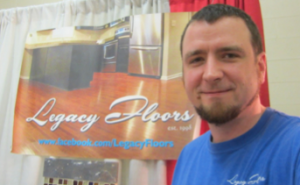 In fact, becoming a CTI gave Waldorf an unexpected gift. Since getting certified, Waldorf said, "I am a lot more active in networking with other professionals, and attending clinics and workshops to stay educated about the tile industry. [And] I am plugged into the TileGeeks Facebook group, where I am regularly inspired by absolutely amazing craftsmen, and also get to laugh at the things we all come across in our work days."
Although Waldorf was certified only six months ago, he was raised in the industry and has been a hard-surface specialist for 18 years. Early on in his career Waldorf committed himself to education. "My company philosophy has been to educate myself in my trade whenever possible, and to deliver the absolute best job I can give them," Waldorf said.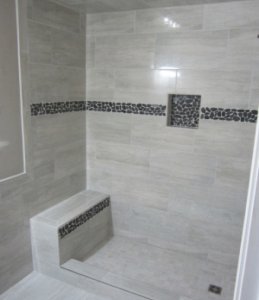 According to Waldorf, certification is an opportunity "to really understand how much you have to learn. If you're willing to take correction and listen to others so that you can brand yourself better, offering your clients advantages that most of your competition won't, then certification will be an amazing step for you to take." In addition to humbling you, Waldorf emphasizes that "certification will give you confidence in your abilities and help you make connections with others that can make you a better tile setter."
Since becoming a CTI, Waldorf completes every tile installation under the assumption that it will be subject to inspection just like when he took the hands-on exam. "I naturally consider what it would be like to have someone take apart my finished work, examining every aspect of it," Waldorf said. And as a result, Waldorf believes every project he completes is the absolute best he can give. According to Waldorf, certification allows you to "offer your customers more value because you're not just hands that use tools. You are selling them your education and experience, and that is more important than anything else in this business. That's how you will build your reputation."