New Products – July 2016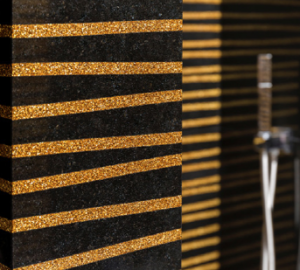 Antolini's Black Absolute Gold Design is a fusion of modern and classical worlds. Lavish golden threads run seamlessly through dark polished granite in a captivating fashion. This detailing evokes a regal sense of modernism that both elevates and inspires. The stones of the Natura Collection add timeless exuberance and style to any project. www.antolini.com
The Tile Shop introduces a new website for its Pro customers called "Pro My Account," a go-to source for everything needed to get the job done. Pro My Account enables Pros to keep track of all orders from anywhere via mobile devices, tablet or computer. Pros can register for free at https://www.tileshop.com/category/pro.do?. Pros can watch a brief tutorial video at https://www.tileshop.com/category/pro-my-account-registration.do? and easily navigate the site, which provides email access, the ability to view and print current and past orders, track open orders, make payments on orders, view credit balances, make payments to credit accounts, view and print statements and download other relevant forms. Visit www.tileshop.com or phone 888-398-6595 for more information about the benefits of The Tile Shop's Pro Network and Pro My Account.
Legrand offers the Adorne™ Under-Cabinet Lighting System (right) to streamline lighting without disrupting a beautiful tile mural or backsplash design. The modular LED Lighting track fits under kitchen cabinets to discreetly deliver light, power and bluetooth music to the space, including mobile charging cradles and USB ports. Its hidden-from-view location enables the tiled backsplash to be clear of outlets, enhancing the style and decluttering cords to free up counter space. Its configuration is easy to update at any time by popping out any module and replacing it with a new insert. www.legrand.us
Creative Edge Master Shop has introduced TERRAZZO TEK™, its new line of trademarked luxury terrazzo techniques, a veritable tool kit to enhance artistry, improve efficiency, and expand options in terrazzo installations, both large and small.
TERRAZZO TEK™ is a series of novel techniques:
JETFORMZ™ uses waterjet technology to cut the metal material dividers from brass, aluminum, and bronze. This method adds to detail, complexity, and accuracy of metal dividing strips.
TRANSFORMZ™ is the layout system that faithfully transfers architect, designer, and artist patterns to the floor to be covered in epoxy terrazzo.
ACCUFORMZ™ is the technique of templating for layout letters, logos and emblems accurately and positioning these elements for the terrazzo pour.
NOFORMZ™ is a technique of fabricating intricate art and pattern with no metallic joints, creating striking and colorful detail in artwork and lobby identity pieces.
Creative Edge Master Shop has developed waterjet techniques that supplement and enhance the decorative potential and artistry of terrazzo. Creative Edge terrazzo projects are custom designed, and a large library of previously designed projects, entries, borders, accents, and medallions are catalogued to provide inspiration for new installations. www.cec-waterjet.com

Scodd Industries introduces The PorcelainPlus Speedbit, specifically designed for drilling through hard surfaces such as porcelain tile, granite, marble, quartz and ceramic tile. It features a specially formulated carbide spear tip with Four Point Cross Step Design for greater durability and speed, making installations quicker, easier, and more profitable. The Speedbit has an average of 25 seconds per hole and 5+ holes per bit (based on PEI 4 porcelain tile). Order your risk-free TRIAL PACK today: five Speedbits, pay only delivery. Check out a short video of the Speedbit in action at www.porcelaindrillbit.com.