By the Book – May 2016
Electric floor warming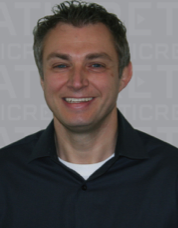 By Arthur Mintie, senior director, Technical Services, LATICRETE International, Inc.
Electric radiant floor warming continues to be a growing trend in the tile and stone industry. There are multiple details/methods in the TCNA Handbook for Ceramic, Glass and Stone Tile Installation that relate to electric floor warming, such as RH115(A), RH116(A), RH130, RH135, RH140, and more.
Here are some basics, to begin with: heat energy, emitted from an electrically warmed floor, warms people and other objects in the room rather than directly heating the air within that space. Because of this, the temperature of the internal air within radiant-heated spaces is generally lower than spaces heated via conventional methods. Yet, the same degree of body comfort is achieved, so the temperature perceived by those in the room is actually the same. As a result, the amount of electricity used to warm a room equipped with radiant floor warming is much less than one would expect, making the system very energy efficient.
Electric floor warming is designed to be installed directly under the tile or stone flooring for both new construction or remodeling projects. Installers may simply thin-set this material down to the substrate, while adding virtually no height to the floor (roughly 1/8" [3mm]).
The installation of an electric in-floor warming system does not require any special tile installation procedures. The substrate / subfloor should be prepared as for any conventional tile installation according to applicable standards. Very importantly, it should be clean of any debris or sharp objects that could damage the heating element. The heating system should be installed over a smooth and even surface. Concrete, mortar beds, exterior glue plywood, existing ceramic tile and stone, cement terrazzo and cement backer board provide ideal substrates for electric radiant floor warming installations.
For the most part, electric floor-warming components consist of a heating mat with cables (or loose wire cables), which is installed right beneath the tile and stone surface, and a wall-mounted thermostat. Today's simple-to-use, digital and programmable thermostats generally have been designed for installation in conjunction with the same company's floor warming cable mats. It makes sense to use a heating element as well as a thermostat from the same firm, as well. That way, users have the confidence of purchasing a product with components covered by a "single source."
Installing the system
Surprisingly to many, the entire installation process is easier than you might think. To begin with, one should make a scale drawing of the floor plan, mapping out the "walking area" where the heating mat will be positioned. It should not be placed under or closely adjacent to cabinets, tubs and showers. Additionally, it should be at least 6" (150 mm) away from wax toilet seals. If needed, technical assistance is quickly available from key manufacturers, whose support staff generally can determine the optimal layout and quantity of the heating mat. There are software layout tools available, as well. For example, some select radiant heat manufacturer engineers have created simplified software layout tools, which makes adding radiant floor heating virtually effortless, allowing even a beginner to complete a floor heating layout in minutes.
The radiant heat system should be checked at various times during the installation process to ensure that no shorts, cuts or other damage has occurred to the heating element. Some manufacturers include a fail-safe element that will warn the installers if a short has occurred. Make sure to follow the manufacturer's step-by-step installation process to ensure that the integrity of the system is maintained from start to finish.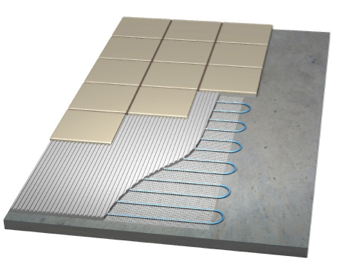 Once the heating mat is put in place and all electrical work is complete, what comes next is the tile installation. While most electric floor-warming systems on the market today are compatible with any tile finish, there are certain installation products that work better than others. In particular, high performance ANSI A118.15-compliant latex thin-set mortars are designed for optimal performance when used in conjunction with electric floor-warming systems (ANSI A118.4 compliant latex thin set mortars are allowed when an appropriate membrane is used). In addition, the use of self-leveling underlayments (e.g. TCNA Methods RH 116(A) & 140) can also be used to encapsulate electric floor warming systems when the substrate requires attention. Finish off the tile installation with an appropriate ANSI 118.6 or better cement-based grout or an ANSI A118.13-compliant epoxy-based grout for even better performance and ease of maintenance.
Cautions with electric flooring-warming installations
Cure time – Allow at least a 3-to-7 day cure period after the final grouting period before activating the floor-warming system. This will allow all of the installation components adequate time to cure out and reach sufficient strength. If there is any doubt on this matter, consult with the electric heat and tile installation materials manufacturer for their guidance. Typically, the cure-period question arises during installations that require quick return to service times (e.g. bathroom or kitchen remodeling).
Expansion joints – Since the heating and cooling of floors occurs at more frequent intervals with heated floors, the inclusion of movement joints is mandatory. In fact, in many cases, placing the movement joints in accord with the exterior recommendations of TCNA EJ171 is a good idea.
Troubleshooting – In addition to manufacturer-specific instructions on troubleshooting electric radiant heat system, the National Tile Contractors Association (NTCA) includes a troubleshooting section in its NTCA Reference Manual on this topic that can be consulted for common issues that might occur. The chapter is titled "Radiant Heat Issues for Tile & Stone Installations," located on pages 159-160 of the 2015/2016 manual. As is the case with many sections in the publication, valuable and practical guidance is provided to assist installers with these applications.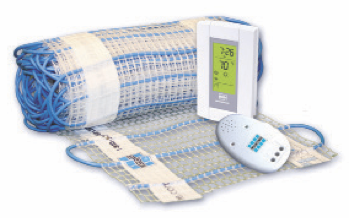 It is important to the end user to select an electric floor warming system with comprehensive warranty coverage that includes both labor and materials.
Electric floor warming (both in mat type or loose wire configuration) is a cost-effective warming solution upgrade that creates a comfortable environment Keeping your customers warm and content results in positive feedback, great referrals and ultimately, repeat business.
Arthur Mintie serves as the senior director of Technical Services for LATICRETE International, Inc. LATICRETE INTERNATIONAL, Inc. is a proud sponsor of the Ceramic Tile Education Foundation and is actively involved in global training efforts of the tile and stone industry.
Photos: Courtesy of LATICRETE International, Inc.