April 2016 Feature – Merkrete Systems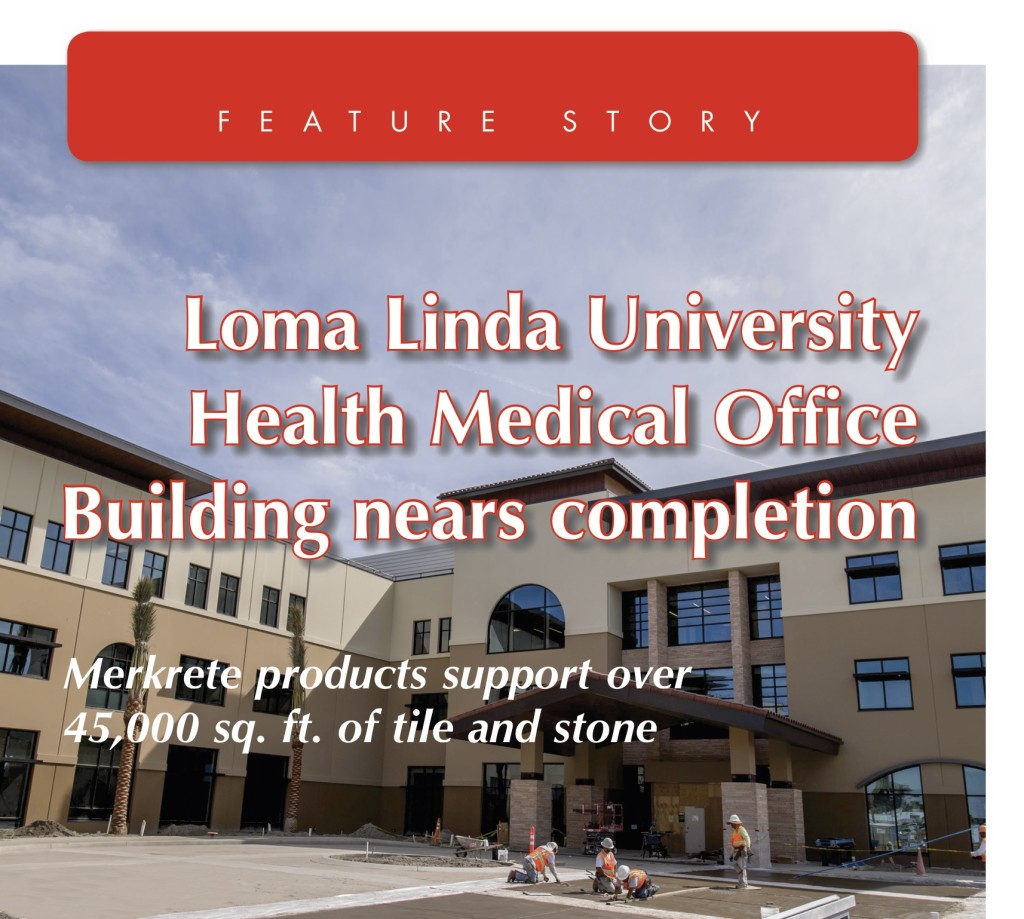 Construction of the Loma Linda University Health Medical Office Building and Campus, a San Bernardino clinic and healthcare trade school, is nearly complete, bringing a vision for low-cost medical care and training closer to reality. The three-story, 152,000-sq.-ft. project located next to San Manuel Stadium is expected to open in July 2016, where it will be able to accommodate 200,000 patient visits each year.
Layton Construction Company, LLC is the general contractor leading the construction of this $68 million dollar healthcare facility, which includes a training center for San Manuel Gateway College and is being built by Loma Linda University Health. It will be one of the few places trade students will train alongside physicians in a certificate program. Approximately 80% of the building will be devoted to clinic use, while the remainder will be used for youth educational programs. There are plans for a community dental program, pharmacy, lab and operation room simulators, as well as a restaurant on the ground floor. The facility will service hundreds of thousands of visitors and patients per year, putting the performance of the tile installations to the test.
Merkrete 200/211 System creates excellent results for challenging exterior façades
Van Nuys, Calif.-based City Tile & Stone, Inc., known for its interior and exterior tile and stone expertise, was responsible for the complex tile installations. Guy Tzur, president, and his crew installed over 25,000 sq. ft. of large-format porcelain tile and plank on the floors and about 15,000 sq. ft. on the walls, including 32 restrooms. Additionally, about 7,500 sq. ft. of natural stone veneer were applied to the exterior, providing an elegant accent on all pillars and entryways to the building.
"For those types of exterior installations, we always use the Merkrete 200/211 System," said Saul Henriquez, site superintendent. "This easy-to-use, two-part system has excellent physical properties in adhesion, resiliency, water resistance, and shock and weather resistance." Pedro Torres, site foreman, added, "The 200/211 System from Merkrete has excellent results when used in challenging exterior façade installations. For most projects, particularly this one, we relied on Merkrete for their technical expertise."
Merkrete meets jobsite challenges
Healthcare installations tend to present many interesting challenges for the designer and installer to overcome. These applications place tremendous stress on the tile or stone application, creating a challenging environment not only for the finished tile or stone, but also for the installation system materials. City Tile & Stone, with technical assistance from Merkrete, assessed the job requirements and provided the proper installation system for each specific application throughout the build.
The specifications called for crack isolation and waterproofing in nearly all of the interior parts of installation combined with an aggressive project schedule. Work began using Merkete Hydro Guard SP-1. A liquid-applied, fast-drying product, Hydro Guard SP-1 combines crack isolation up to 1/8" and a waterproof system to enable crews to prepare the substrate for setting tile at a faster pace. Hydro Guard SP-1 offers excellent elongation, adhesion and high-strength properties, providing a 100% waterproof membrane that also prevents the transfer of substrate cracks to the finished ceramic or stone tile surface.
"Merkrete's liquid membranes have been a staple in the industry for many years and we rely on their performance," said Henriquez.
With a properly prepared, crack-prevention-and-waterproofed substrate to work on, the installers began setting various sizes of large porcelain tile and planks. Most of the entryways, hallways and lobby areas contained 12" x 24", 6" x 24" and 24" x 24" porcelain tile requiring a flat surface and a proper setting system to maintain a flat and level installation.
There is no doubt that large tile and planks present their fair share of installation challenges. Planks in particular demand tighter tolerances to maintain the beauty of the tile and overall aesthetic of the installation. So, selection of the setting material is critical, especially when installing "Large and Heavy Tile (LHT)." LHT mortars are not for leveling or truing the substrate. Instead, they are intended to help fill the irregular space between the tile and the underlayment. City Tile & Stone's preferred mortar is Merkrete's 735 Premium Flex for these types of applications. "The smooth and creamy material makes for easy spreading, especially when speed is a factor," said Torres. "735 Premium Flex works great for both floors and walls and offers high strength and flexibility."
"We have been using Merkrete products for over 20 years," said Tzur. "As a matter of fact, we use Merkrete on just about all of our projects because we have the trust in the performance of their materials, job after job."