Lessons from creating the labyrinth at Grace Episcopal Church in St. Helena, Calif.

Stone Feature – February 2016
Fr. William MacIlmoyl at Grace Episcopal Church had a secret dream. With retirement around the corner, he wanted to give his congregation lasting gift of silence. "Modern life is so stressed, so busy, we all need a way to bring more silence into our lives," says "Fr. Mac."
He felt the best way to do that was to build a labyrinth in front of the newly renovated sanctuary. "I walked my first labyrinth years ago," Fr. Mac says. "I look at it as a yoga, a contemplative technique not unlike saying the rosary. For 20 minutes you allow your mind to sink into silence, to get away from the business of the day and come to center."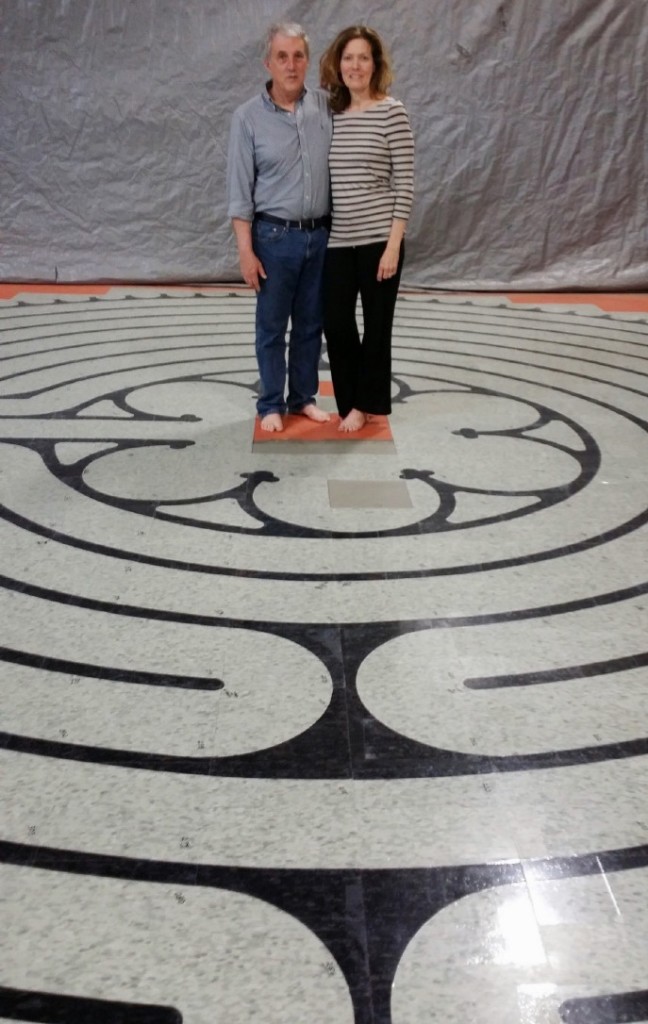 Steve and Joan Heller also had a dream. Before Steve retired from General Mills, he and his wife purchased an 11-acre vineyard near St. Helena. After relocating there, they took a leadership position in the parish. Fr. Mac asked if they would make a donation as seed money for a labyrinth. To Fr. Mac's surprise, within a week Steve and Joan not only agreed to use their donation for the labyrinth, but also to spearhead its construction. Steve immediately assumed the role of labyrinth construction coordinator and Joan lent support by setting up a labyrinth website as a way to create an open communication with the congregation about the project.
Robert Ferre recommends Creative Edge
While researching labyrinth construction design and techniques, the Hellers discovered the work of Robert Ferre, president of Labyrinth Enterprises and one of the founders of the Labyrinth Society. Steve contacted Robert by email and asked if he could recommend a company to construct the labyrinth. Robert replied: "If you want extraordinary work, go with Creative Edge Master Shop in Fairfield, Iowa, the country's largest and oldest fabricator of architectural floors and landscapes using water jet technology."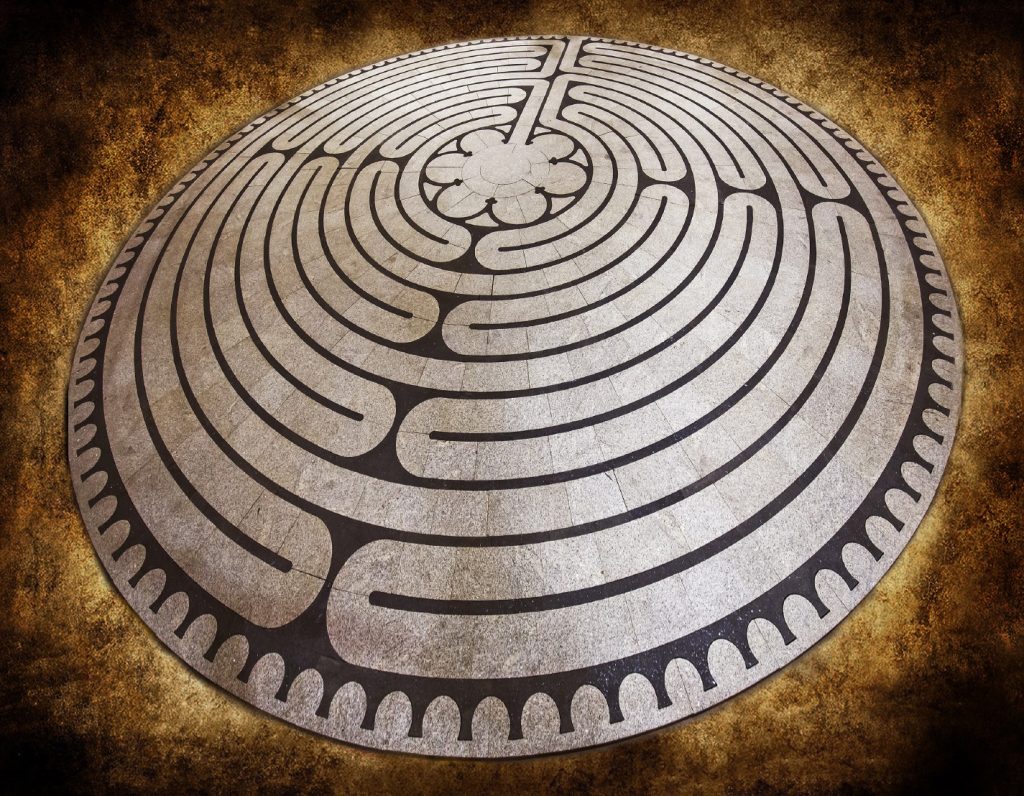 Creative Edge's Ron Blair was in charge of the fabrication of the Grace Episcopal labyrinth. "This was my first labyrinth project, although Creative Edge has fabricated many labyrinths using a wide variety of materials, from granite to stone to vinyl and carpeting," Blair said. "I learned early on that Fr. Mac wanted to replicate the Chartres labyrinth, making the project nearly 43' in diameter."
As a comparative religion major at the University of California at Santa Barbara, Blair studied the sacred geometry of the Chartres cathedral in France. It helped that Robert Ferre had already measured the Chartres labyrinth down to the 1/16". In his generous way of making the labyrinth available to everyone, Ferre had given his perfectly measured CAD diagram to Creative Edge, so the design was already completed.
Creative Edge President/CEO Jim Belilove and his wife, Ginger, traveled to St. Helena to meet Fr. Mac and Steve and see the site. Fifteen months after the initial meeting, the ground was prepared and the granite was cut by Creative Edge waterjet machines into the curving shapes that fit together like puzzle pieces, creating a perfect replica of the mystical Chartres labyrinth at Grace Episcopal Church.
Reaching consensus on stone and color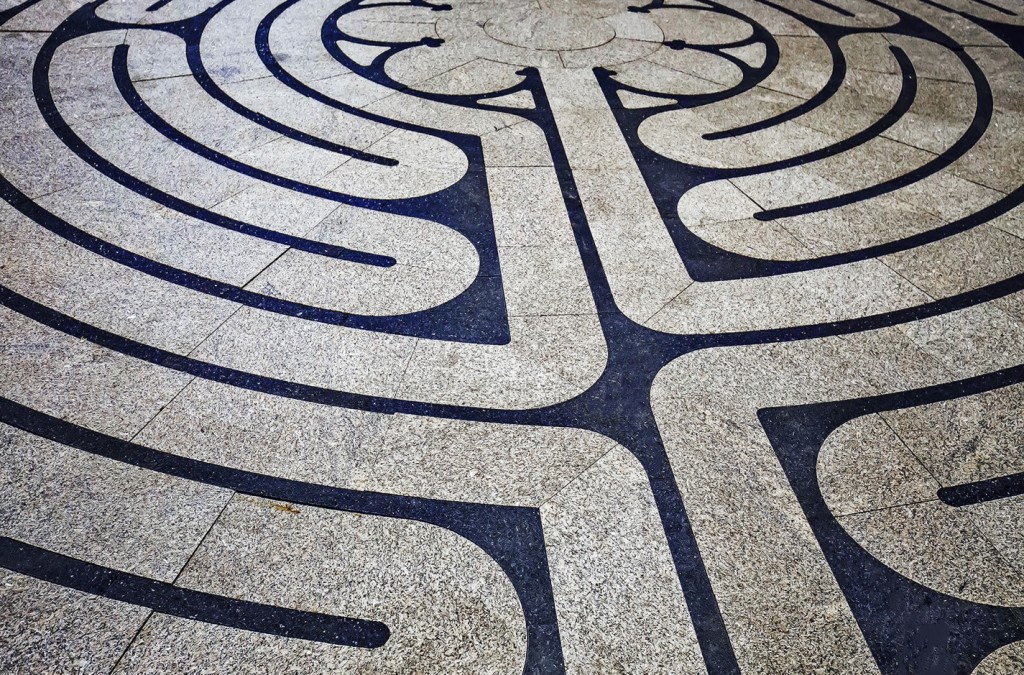 From the start, Fr. Mac and Steve wanted to reach consensus with the entire congregation. "One of the things you learn as a church pastor – you have to collaborate," says Fr. Mac. "We didn't want a single member of our congregation to feel uncomfortable with the colors or materials we'd chosen. And when we started, probably 98% of the congregation didn't even know what a labyrinth was."
Getting an entire congregation to make color and stone choices – rather than one or two decision-makers – made Blair's task as project manager more complex. Steve handled communications with the congregation, but it took three or four rounds – nine months – to come to a consensus.
That brings us to the next principle of the labyrinth: Go at your own pace. When walking a labyrinth, it's not a race to reach the goal. As in any spiritual pilgrimage, it's an inner journey that unfolds as slowly or quickly as it needs to.
Steve said, "For starters, the Grace Episcopal Church is a beautiful structure dating back to the 1800s, made of tufa, volcanic rock. In the process of tripling the size of the sanctuary in recent years, the congregation chose, with great care, to keep true to the original architecture. They even located the original local tufa quarry where the original building stones were sourced. "Now, with the labyrinth, we are adding 1,400 square feet of hard-scaping within 10' of this cherished building, almost touching it. So we didn't want the labyrinth colors to be too starkly contrasting or too contemporary. We wanted it to look organic.
"Tufa is a golden color with rose and brown tones. So there were some members who thought an earthy, golden limestone labyrinth would match the beautiful golden tufa of the building. This is where the experience of Creative Edge saved us from making an expensive mistake. Ron gently steered us away from that choice, explaining that in their experience, limestone is easily stained. For durability, he suggested granite.
Guidance from Creative Edge ensures walking safety
"But polished granite can be slippery when wet," Steve continued. "Ron explained that for safety reasons, the surface had to be roughened by applying a high-temperature flame treatment to create tiny chips in the stone. Though necessary, this process takes away some of the beauty of polished granite. So to get some of the beauty back, a high-pressure water treatment is applied to smooth it out a bit.
"So every time we chose a sample on a website, we had to have the granite supplier apply these treatments," Steve explained. "It would come back to us looking quite different than the web photo due to the treatments, sometimes for the better, but sometimes for the worse. We also learned that granite comes in two thicknesses – 3 cm and 2 cm – but only the 3 cm granite would work for our project."
Blair also narrowed granite choices to North American quarries, since nobody wanted to wait several years for the granite to be shipped from overseas. The quarries had to have sufficient amounts available so all the slabs could come from the same lot, ensuring that they would match each other.
Steve added, "We knew there would be two colors, one light and one dark, and once we had selected three samples for each color, I'd place them at the entryway of the sanctuary. Then I'd wait for 10 people to gather, and I'd write down their reactions. After about 10 of these gatherings, I'd have enough information to choose the next round of samples. "
Steve's process was one of listening for consensus. "It was subjective. We went through three or four evolutions of samples before we got what we wanted: two beautiful colors of granite, Crystal Gold for the path and Masabi Black to outline the edge of the path. It was a great feeling, because by the fourth round, 90 to 95% of the people said 'you've nailed it.'"
A joyful experience
Blair stated, "Even though this process certainly took a lot longer than normal, working with Steve and Fr. Mac and seeing the process unfold was a joyful experience. There was something special about having the entire congregation take part in the process. They did a marvelous job and came up with a wonderful palette."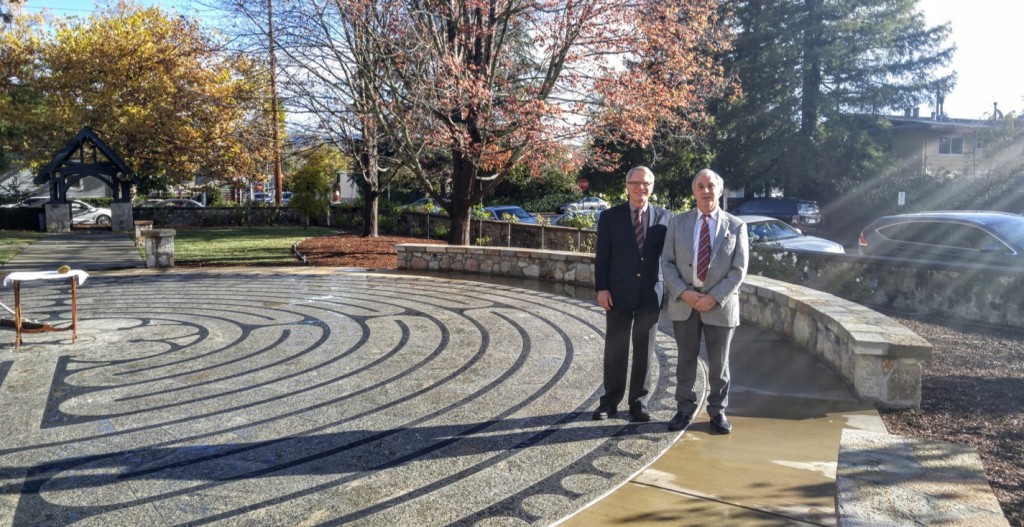 Even the fundraising was easy. With the generous seed money from the Hellers, the rest of $250,000 came almost immediately. One member of the congregation, Jonathan Plant, donated the services of his landscape architecture company to position and landscape the labyrinth.
Fr. Mac says that when he walks a labyrinth, he stays in the center until it's time to go. "It's a time of receiving, of divine union," he said. "We remember who we are at the deepest level, which is God." He continued, "The labyrinth is a great teacher. Every time there are different lessons. Every time I go into the center and offer myself to God in whatever ways are useful. Some of them are conscious and some unconscious, but I come away with insights and answers."
When asked to share his hopes for the labyrinth at Grace Episcopal Church, Steve said, "I hope it's a place where people find spiritual safety, relaxation, and peace. I see it as a prayerful place, a place where people can learn about meditation." Steve also wants to encourage people to move ahead with their labyrinth plans no matter what their budget. "I first walked a labyrinth made of canvas," he said,"I saw one that was made of old shoes. You can buy kits to make a labyrinth out of patio pavers. Money does not have to be a barrier. It's up to your imagination."
"At Creative Edge, we are happy to help anyone build a labyrinth," concluded Belilove. "Our waterjet machines can cut intricately curved designs out of costly granite or marble, medium-cost paving stones or terazzo, low-cost vinyl or carpet. In other words, no matter what your budget or materials, we can create it.
As for Fr. Mac, he is a happy man. By the time he retires next May, he will have experienced the joy of walking the labyrinth at Grace Episcopal Church many times – a "cherished dream coming true," he said. He will have witnessed the members of his congregation enjoying the peace and stillness that a labyrinth journey brings.
And, he is hoping, the community will have unlocked its secrets as well. "Grace Episcopal Church has built this labyrinth as much for the community as for our congregation," says Fr. Mac. He recently received a call from a fifth grade teacher asking if she can bring her class once the labyrinth is finished, and says they welcome schoolchildren, seniors, veterans – anyone and everyone in the community. Father Mac says, "We are looking forward to sharing this beautiful experience with people who have never walked a labyrinth before, who may arrive without a clue of what to expect and yet can experience sacred moments of awakening and peace."
---
Institute memberships approve MIA+BSI two-year joint  venture
In December 2015, it was announced that the memberships of the Marble Institute of America (MIA) and the Building Stone Institute (BSI) have voted to enter into a two-year joint venture. Effective January 1, 2016, the combined organization, MIA+BSI, the Natural Stone Institute, began operating as a consolidated organization. Each organization will also maintain its individual identity during the two-year period.
2015 BSI president Rob Barnes (Dee Brown, Inc.) remarked, "This joint venture, with its combined equity, will provide additional value to the industry and its members. MIA+BSI will ensure our continued relevance as we work together to become the world's premier natural stone association."
2015 MIA president Dan Rea (Coldspring) agreed, "I believe this is tremendously important for the stone industry. The time is right for likeminded people across the industry to join efforts to defend and grow the use of natural stone."
In 2016, MIA+BSI will focus on five key initiatives, in addition to the myriad of ongoing programs underway for each organization:
Introduction of Dimension Stone Design Manual, Version 8, which includes additions pertaining to restoration and maintenance. Technical committees will be formed to expand references to thin stone and flagstone paving in the manual.
Addition of safety programs for quarriers (in addition to extensive current offerings available for fabricators, installers, and stone distributors).
Launch a Natural Stone Promotional Campaign.
Development of industry advocacy groups.
An expanded legislative outreach program.
The Board of Directors and staffs of both organizations are reviewing and combining operations and are excited to begin putting plans to action immediately. More information regarding the MIA+BSI joint venture will be available soon. The first joint presence occurred at TISE West in Las Vegas.
Learn more at www.marble-institute.com and www.buildingstoneinstitute.org.