Mosaics and robots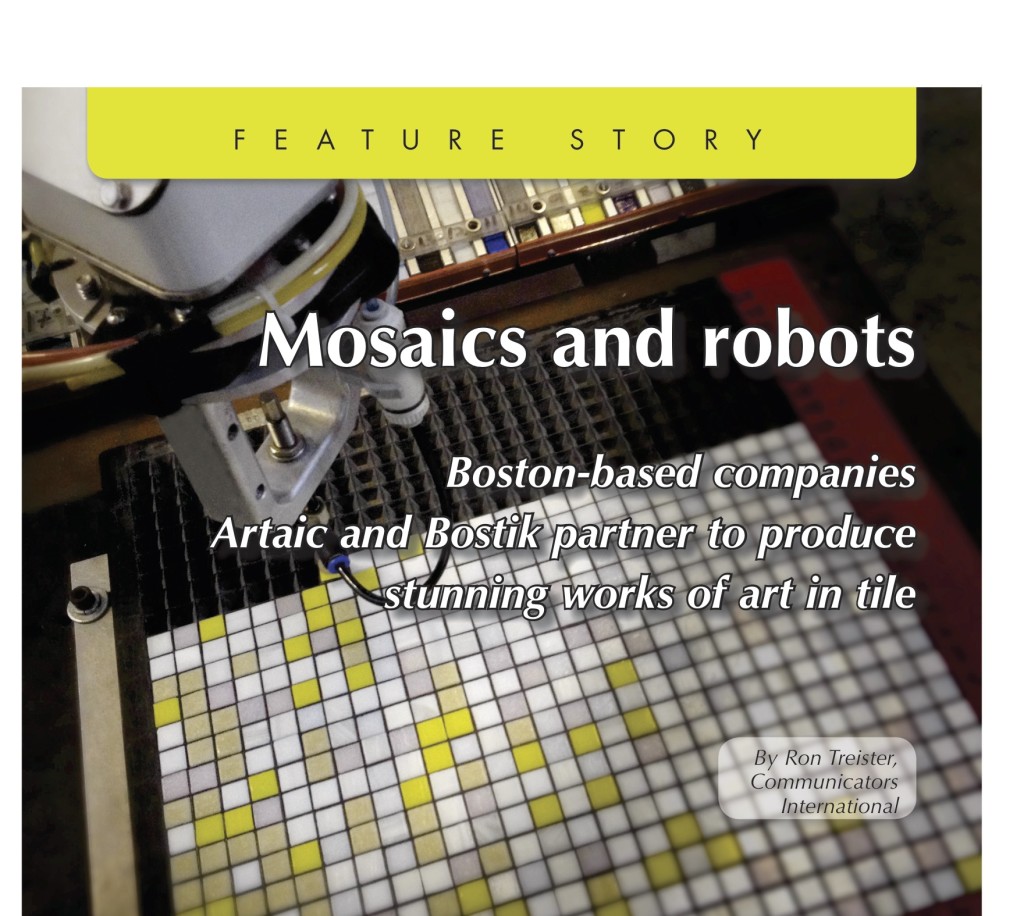 (And you thought the movie title "Cowboys & Aliens" was an oxymoron?)
Seemingly forever, too many people, including venerable art cognoscenti worldwide, continue to envision mosaic art solely as ancient history. That's unfortunate, when, in actuality, this time-tested art form has a solid place in both neoclassic and contemporary environments being created by today's leading architectural designers. The time has come to bring this ancient art form into modern times.
The rise of mosaic art
Described as "artfully designing surfaces by incorporating small, closely-placed pieces of hard material," mosaic design has been traced back to Mesopotamia in the fourth millennium B.C. Archaeologists also uncovered exquisite mosaic designs in Greece circa the fourth century B.C. Two hundred years after that, the conquest of Greece by the Romans resulted in this art process morphing to an entirely new level, adorning churches and other religious buildings with stunning, timeless, and enduring Christian art. During the golden years of the Byzantine Empire, the evolution of mosaic artwork took a huge leap, showcasing gold, silver and an endless palette of bright glass (tesserae) tile pieces, setting them at diverse angles and depths, creating lighting properties that were almost dreamlike.
The ultimate example of Byzantine architectural mosaics is the "church of gold," Saint Mark's cathedral in Venice. From the 11th century on, this masterpiece building was known worldwide by its nickname, Chiesa d'Oro – "church of gold" – because of its elaborate gold mosaic domes and beautifully designed fascia. Unfortunately, as global fascination with Byzantine art declined, so did the golden age of mosaics.
Bringing mosaics into the 21st century
One Boston-based businessman, who just happened to have a penchant for both mosaics and contemporary computerized technology, had a clear vision. He wanted to preserve the time-honored, handmade attributes true mosaics from around the world have always offered, such as having the glass, ceramic and stone still being curated and individually selected by a master craftsman. He wanted to provide Renaissance-quality mosaic work, but produce it using 21st century technology. He decided to make this vision a reality.
Meet Dr. Ted Acworth, scientist and engineer by trade, as well as an award-winning entrepreneur. Holding an MBA from the Massachusetts Institute of Technology, a PhD in mechanical engineering from Stanford University and an MS and BS from Columbia University, all combined with his uber-focused interest in mosaics, Acworth pondered ways to bring back the majesty of mosaic design to today's world. The result was the development and implementation of Artaic, a firm offering a highly unique robotic fabrication system, which assembles custom mosaics with rock-star computerized precision and amazingly quick turnaround, ensuring that the highly artistic mosaic component of any building project will not slow down any agreed-upon overall construction deadlines.

And because the process is totally computer-driven, perfectly-manufactured exact copies of any creative Artaic piece will always be available. "For retail or hospitality roll-outs, this is so important," explained Acworth, "Architectural designers, building managers and owners want to continue their 'look' from one of their buildings to the next. Using our process, they now have the confidence this will be done. And our robotic production regimen is fast, accurate, and cost-efficient." Acworth proudly added that his firm's work is "Made in America."
Artaic's work embellishes many signature, highly focal architectural projects. These include the Hyatt Waikiki lobby fountain, a floral floor pendant for Hilton Costa Mesa, custom murals for multiple Legal Sea Foods locations including Boston's Logan Airport, a pair of matching lobby walls for Vertex Pharmaceuticals, a photorealistic wall mural for Bay Area restaurant Spice Kit, and many more.
Enter Bostik
Artaic's work did not go unseen by major players within the commercial construction sector; one being Bostik, one of the world's largest producers of adhesives and sealants, and manufacturer of Dimension™ RapidCure™ Glass-Filled, Pre-Mixed, Urethane Grout. Dimension contains micro-glass beads and a translucent, urethane binder that both reflect light and allow it to pass through. In particular, this adds an illuminating sparkle, creating one-of-a-kind, three-dimensional effects within glass tile installations.

"When I first was introduced to the Artaic robotic mosaic production process, I was blown away," stated Scott Banda, director of marketing for Bostik's Consumer and Construction Business Unit.
"One of our primary business goals is for Dimension to be the grout product of choice within the commercial construction arena, especially for glass mosaic projects. Already, today's top architects and designers are referring to Dimension as 'another great design component,' which is absolutely unheard of in the grout world. We are now partnering with Artaic as we successfully move towards this goal. We believe Artaic's futuristic technology combined with the inimitable characteristics of our Dimension grout, together will ultimately bring back the high levels of architectural awareness, acceptance and specification which unique mosaic design that dominated hundreds of years ago."
Bostik and Artaic partner in Apple Store Workshops
Some of the planned initiatives of this Bostik-Artaic partnership for 2016 will include co-sponsorship of Apple Store Workshops. In the past, Artaic has hosted "Public Art in the Digital Age" workshops in major-market Apple stores. Apple, Inc. sees Artaic's proprietary mosaic design software as fitting closely with its creative brand position. The purpose of these events was to bring architects and artists together to integrate artistic mosaic installations into building practices.
Bostik recognized these to be progressive and visionary technical exercises and thus, will be tag-teaming with Artaic in similar programs beginning early in 2016 in New York, San Francisco, Chicago, Boston and other metropolitan milieus.
The iconic American architect, Frank Lloyd Wright once stated, "The architect must be a prophet…a prophet in the true sense of the term…if he can't see at least 10 years ahead, don't call him an architect."
"We've studied the 4,000-year, chronicled history of mosaics," concluded Acworth. "We learned where it all began, where it evolved to, and where it came to a standstill. Our M.O. to offer the architectural world a way to resuscitate and invigorate the acceptance of it, is in our way, a bit prophetic, too. We want to incite a strong mosaic movement that will result in world-class mosaic design being specified for signature design projects, for decade upon decade to come."