Tile industry standards: essential tools for sale and installation of ceramic tile

BY THE BOOK – January 2016
Innovation in ceramic tile and installation materials manufacturing has revolutionized the tile industry. Tile is now available in very large and slimmer formats (thin porcelain tile and panels), and multiple size options, utilizing many different materials such as ceramic, porcelain, glass, metal, stone, etc.
This variety in format and manufacturing has created multiple creative opportunities for design and specification, opening the way for our products to be used in interior and exterior spaces that were traditionally considered unsuitable for tile or stone. Indeed, there are many reasons that the future is bright for our industry, and we have technology to thank for this. But this same innovation is creating our greatest challenge as well, as we swiftly have to develop standards for these products and properly communicate this information to the tile industry.
The Tile Council of North America (TCNA) and the National Tile Contractors Association (NTCA) offer essential industry standards, guides and reference materials to help you stay current with the industry. That being said, standards are developed after products have a proven track record of success, so it is also important to work closely with manufacturers and distributors when new technology is introduced. Decisions to specify, sell or install products without standards should be closely examined, and specific product recommendations and warranty information should be documented and followed.
Any company involved in the sale or installation of ceramic tile and natural stone tile should make sure they have these materials available to them. Both associations offer their resource materials at very affordable prices, and spend thousands of dollars annually to maintain the documents to keep them current.
Many people are unaware of the incredible value and information these documents offer. Knowledge is power, and in many instances, it is also money. Many installation failures and tear outs could have been avoided if people paid attention to the standards available to them or used the information to their advantage when navigating through a problem that may or may not have been their responsibility.
Although reference materials can be complex, there are three basic elements they were created to address.
Specification and design considerations
Installation requirements and recommendations
Building and construction requirements and preparation by other trades
Each document or standard has a specific purpose, and it can be challenging to understand what materials you should order. The following information is a guide to available resources to assist you in deciding what you need. Some of the materials are available in book, CD or digital download options, so pay close attention to that information when you visit the website
stores.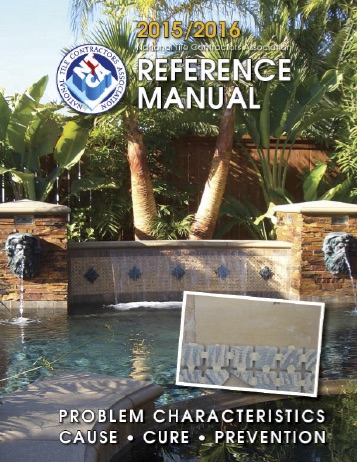 National Tile Contractors Association Reference Manual
Use to prevent failures and troubleshoot problems in the field
This problem-solving manual is a comprehensive culmination of knowledge, and research and development of the NTCA Technical Committee members, ceramic tile contractors, distributors, manufacturers and others allied to the ceramic tile industry. Letters and templates used to communicate and document jobs are included. The NTCA Reference Manual is essential for distributors, manufacturers and retailers who are asked to look at project complaints, as well as tile and flooring contractors. The NTCA Reference Manual was designed to complement the TCNA Handbook and ANSI Standards.
TCNA Handbook for Ceramic, Glass, and Stone Tile Installation
Clarifies and standardizes installation specifications
This guide details installation recommendations – or methods –required for a given set of products and applications. It explains the properly-designed, -constructed, and -prepared substructure using materials and construction techniques that meet nationally-recognized material and construction standards.
Included are:
Product selection guides for ceramic, glass, and stone tiles
Guidelines for wet areas
ISO mortar and grout specifications
Information on substrate flatness requirements
Information on grout joint sizes and patterns, and workmanship standards excerpted from ANSI installation standards.
ANSI A108-A118-A136.1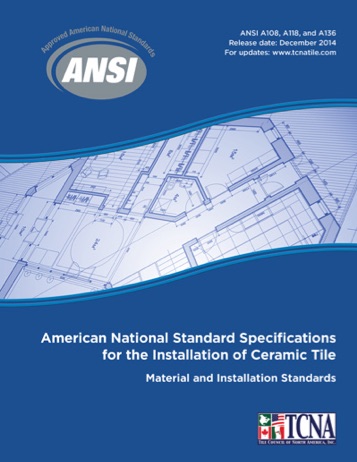 American National Specifications for the Installation of Ceramic Tile 
Provides voluntary standards for the installation of ceramic tile 
American national standard specifications A108.01, .02, .1A, .1B, .1C, .4, .5, .6, .8, .9, .10, .11, .12, .13, .14, .15, .16, and .17 define the installation of ceramic tile.
A118.1, .3, .4, .5, .6, .7, .8, .9, .10, .11, .12, .13, .15, and A136 define the test methods and physical properties for ceramic tile installation materials.
These standards are intended to be referenced or included in the ceramic tile sections of project specifications.
ANSI A137.1-2012 American National Standard Specifications for Ceramic Tile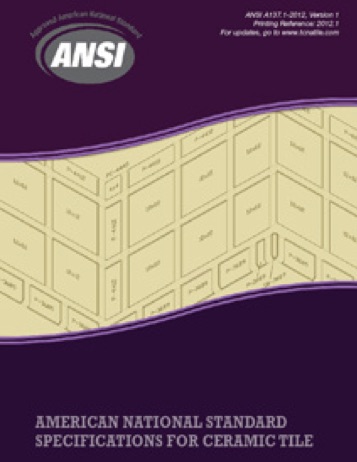 Details voluntary standard specifications for ceramic tile
This publication lists and defines various types, sizes, physical properties, and grading procedures for ceramic tile, including mosaic tile, quarry tile, pressed floor tile, glazed wall tile, porcelain tile, trim units, and specialty tile. This standard provides quality criteria for buyers, specifiers, installers, manufacturers, and the public in general. It is intended for reference or inclusion in the ceramic tile section of project specifications and contracts.
Note: This standard includes the new testing method and requirement for dynamic coefficient of friction (DCOF).
ANSI A137.2-2013 American National Standard Specifications for Glass Tile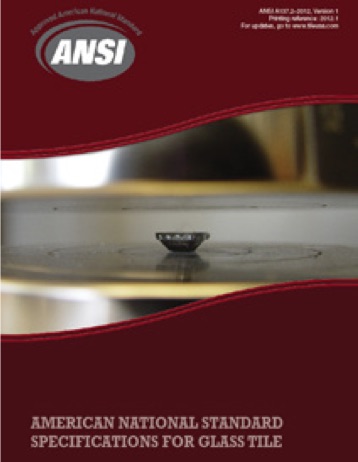 Lists voluntary standards and definitions for glass tile
This voluntary standard lists and defines various types, sizes, and physical properties for glass tile. Some of the key issues addressed by the standard are:
Methods of manufacture
Categorization by size
Mounting criteria for mounted glass tiles
Definitions and test procedures for measuring translucence
Strength criteria
Thermal shock resistance using real life temperature ranges
Levels of recycled content
This standard provides quality criteria for buyers, specifiers, installers, manufacturers, and the public in general. It is intended for reference or inclusion in the glass tile section of product specifications and contracts.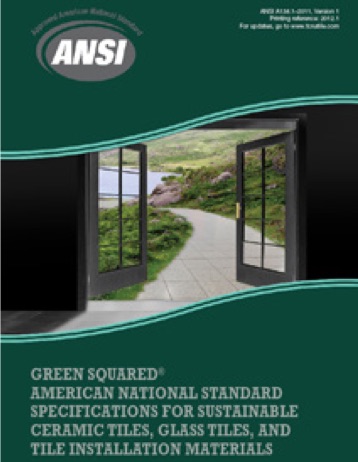 In addition to these materials, the TCNA released versions 1 and 2 of ANSI A138.1, which addresses Green Squared (the industry standard for sustainable tile and installation products). Also in development is both a product and installation standard that will address Thin Porcelain Tile and Thin Porcelain Tile Panels.
For more detailed information on ANSI standards and the TCNA Handbook, go to www.tileusa.com. For information on the NTCA Reference Manual, visit the NTCA website and store at www.tile-assn.com