TCNA Handbook: new methods for curbless showers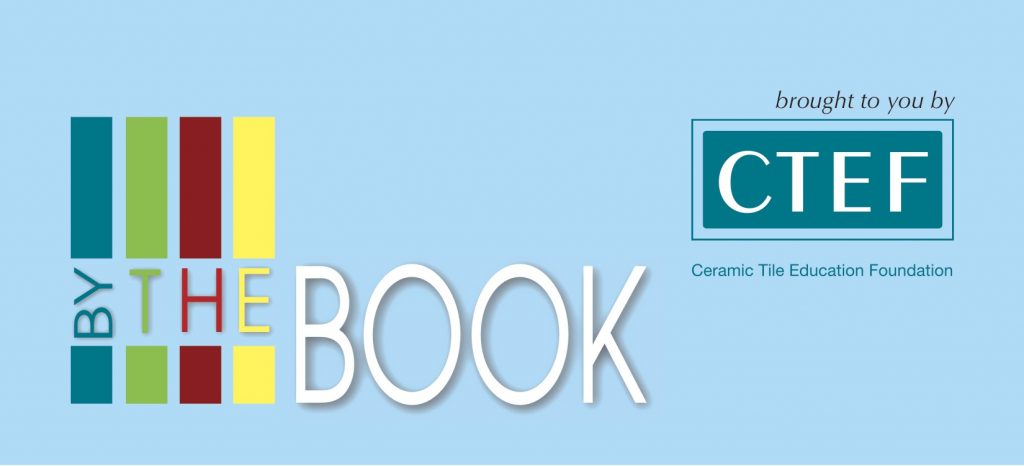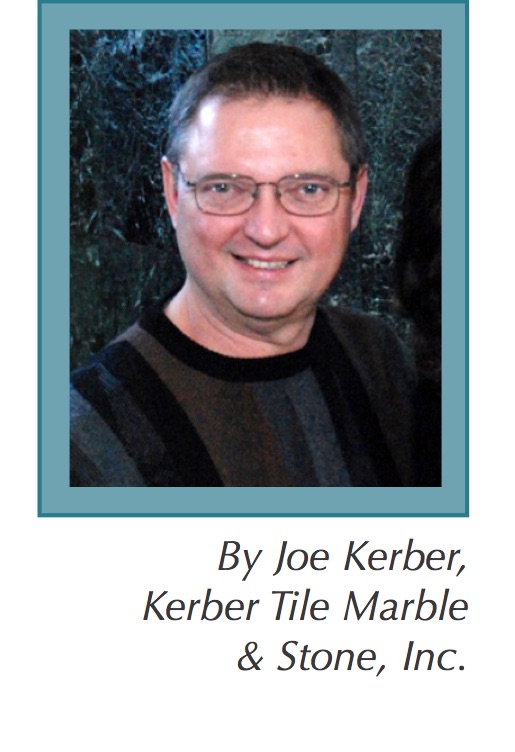 "They just don't build them like they used to."
You've all heard that before, and most of the time that's a good thing.
With our never-ending desire to have the "latest and greatest," or the "biggest and best," we continue to develop new ideas and challenge ourselves to help meet our customer's wants and needs. Some of these ideas are thinner floor systems, and larger, curbless showers. Our manufacturing partners in the tile industry have been developing new products over the years to help us make this all happen.
There are three products that stand out in my mind as great inventions that have really advanced the tile industry: cement backer units, thin-set mortars, and today's subject, topical waterproofing.
I was first introduced to topical waterproofing in the 1970s. I remember the old guys at the time saying, "What the hell is that crap?" Being the forward thinker that I am, I would say, "I'm going to try this stuff." So I did. My wife Wendi and I were just starting to build our first new house. The building inspector at the time was an acquaintance of mine and when I approached him with the idea of a tiled tub in my house he said, "It's your house, go ahead." So we did. The many tiled tubs from that era are still in service today. I have been using topical waterproofing ever since. It is the one product that has really changed our design criteria.
Next challenge: if we can slope enough floor space on a bath floor so that the water from a shower runs toward a drain, do we need a curb? The answer is no. The issue that we had is that according to the IPC (International Plumbing Code) there had to be a "dam" outside the shower area in order to contain the water. However, in an ADA-compliant shower there is no dam or curb so the actual code does not apply. When talking with plumbing inspectors they agreed that a curb was not necessary as long as the water ran to the drain and did not affect any of the other surfaces. That is just "common sense."
Let's say you are ready to start a tile project that you were awarded. It has several ADA showers. You know the floors have to have a specific slope to the drain in the shower compartment area. You get there and find that the plumber has the drain too high or the concrete company has not placed the concrete correctly, or both. Now you have an issue with the pitch of the floor to the drain. What do you do?
You look at the tool that GCs, architects, lawyers and judges consult for answers to tile issues: the TCNA Handbook for Ceramic, Glass and Stone Tile Installation. It has many methods for showers that give you all the criteria and information for proven installation methods.
But wait – as of 2014 there was no method for a curbless shower! So we needed to develop one.
This should be easy, right? Let's just take an existing proven method from the Handbook and expand on it. We'll remove the curb and waterproof the bath floor area. We will then get a consensus from the Methods and Standards Committee so that we can move this method forward.
STOP!!!
The plumbing inspectors will not approve this method for our members without a curb because of the code about the dam. But wait: tile installers have been building curbless showers successfully for quite a while, and inspectors are approving these installations, so let's push forward. After some changes, the Methods and Standards Committee gives its blessing on this method, so now it has to go to the TCNA Handbook Committee. Here the Handbook Committee – made up of tile installers, manufacturers, consultants, expert witnesses, and people in the know – have the task of making changes and either approving or disapproving the method.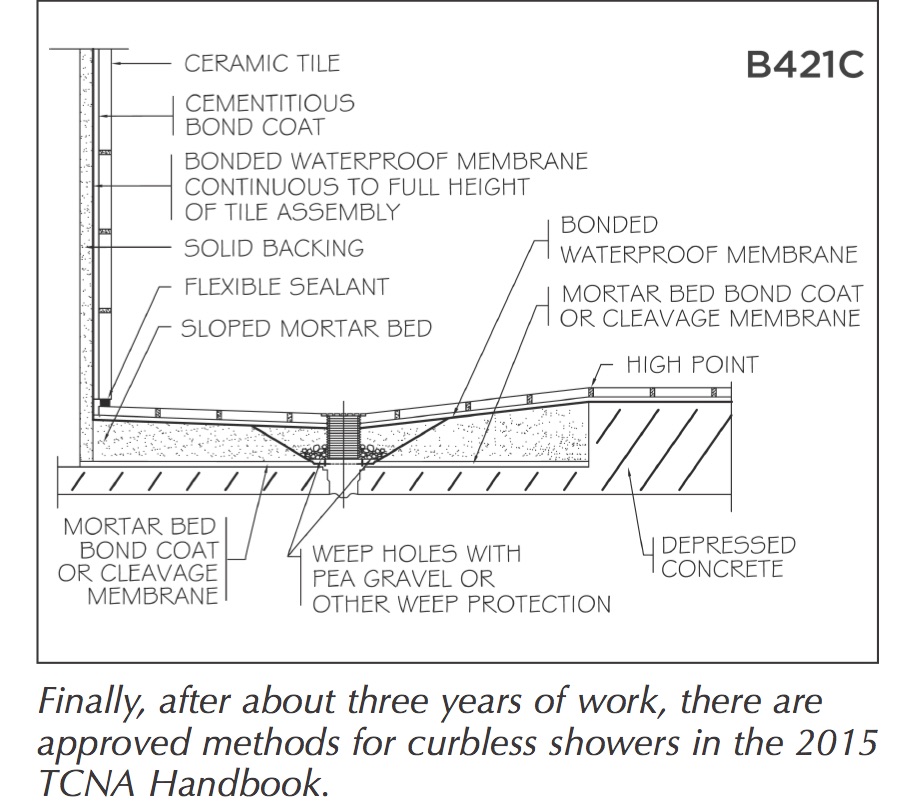 Finally, in the 2015 Handbook, after about three years of work, there are approved methods for curbless showers, and you have information to show your GC how those showers need to be constructed before it's too late.
It is a long, tedious and sometimes frustrating process to develop a new method in the Handbook. But it is well worth it because of the information it gives the tile installer.
I hope that everyone has a new TCNA Handbook and uses it. It has been developed for you, the tile installer.
––––––––––––––––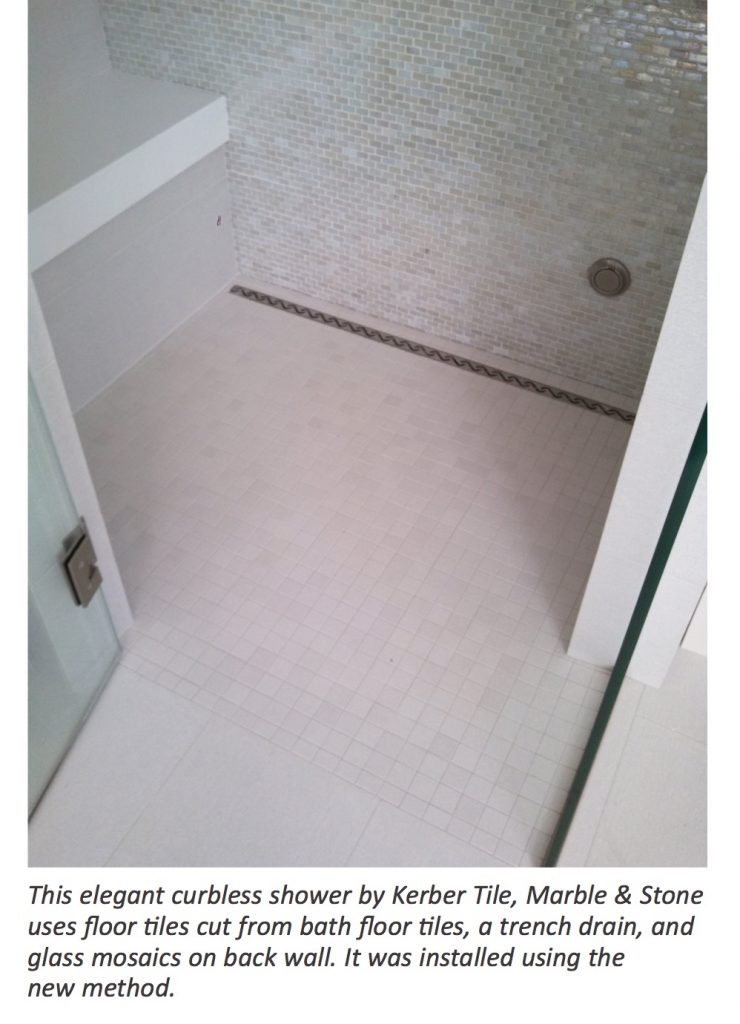 Joe Kerber is president/CEO and co-owner with wife Wendi of Kerber Tile, Marble & Stone, Inc., in Shakopee, Mn. Kerber has been in the tile industry since 1969, and began his business in 1973. He has served as president and chairman of the board for the Independent Ceramic Tile Contractors Association (ICTCA), renamed CASTA (Ceramic and Stone Trade Association), and he is a member of the NTCA board, serving on the NTCA Technical Committee and Methods and Standards Committee. Kerber also is regional director for NTCA, which encompasses seven states. Kerber Tile, Marble & Stone, Inc. is a NTCA Five-Star Contractor, and employs CTEF Certified Tile Installers. Kerber was awarded a NTCA Best Practices award at Coverings in April 2015 for his Barrier-Free Shower Installation method, which is included in the 2015 TCNA Handbook for Ceramic, Glass and Stone Tile Installation.