Today's trends and fashion direction in tile
Direct from the designers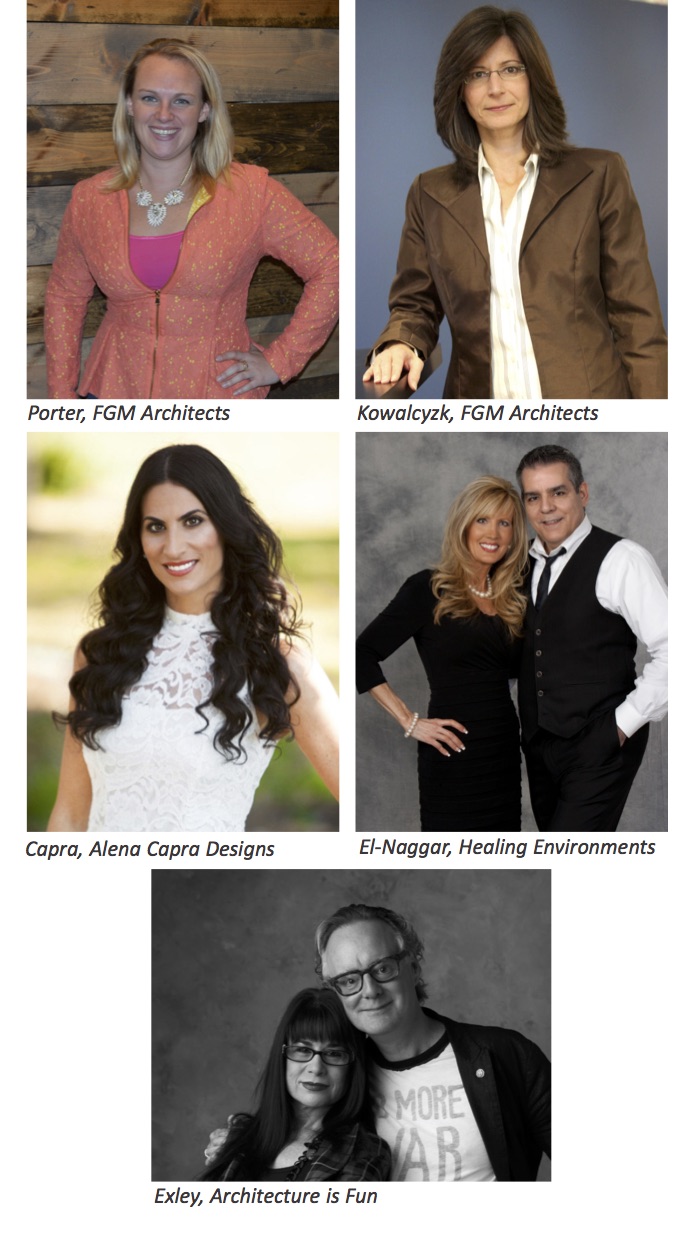 How are design professionals viewing today's trends and fashion direction in tile? We asked the four design professionals who are participating in the Installation Design Showcase about their views on what's hot in our industry, as well as their thoughts on partnering with suppliers and NTCA Five Star Contractors in the Installation Design Showcase (IDS), being built in real time on the show floor at Coverings. For information about the vignettes and the teams, see Coverings Industry Ambassador Alena Capra's welcome on page 8 of this issue.
Participating in this Q&A are:
Raegan Porter IIDA, LEED AP ID+C/
Louise Kowalcyzk, AIA, LEEP AP, FGM Architects (FGM)
Susan El-Naggar, ASID, NCIDQ, LEED Green Associate/Tarik El-Naggar, Healing Environments (HE)
Alena Capra, CKD, CBD, Alena Capra Designs (ACD)
Sharon Exley, MAAE ASID/
Peter Exley, RIBA, Architecture is Fun, Inc. (AIF)
The accompanying sidebar gives more information about our design professionals and their work.
– Lesley Goddin
---
TRENDS: What is the most dynamic trend you see emerging in tile today and in the foreseeable future? How do you incorporate this trend into your work residentially and/or commercially?
FGM: Large porcelain slabs vs. tile or planks would be what we see as the most dominant trend at the moment.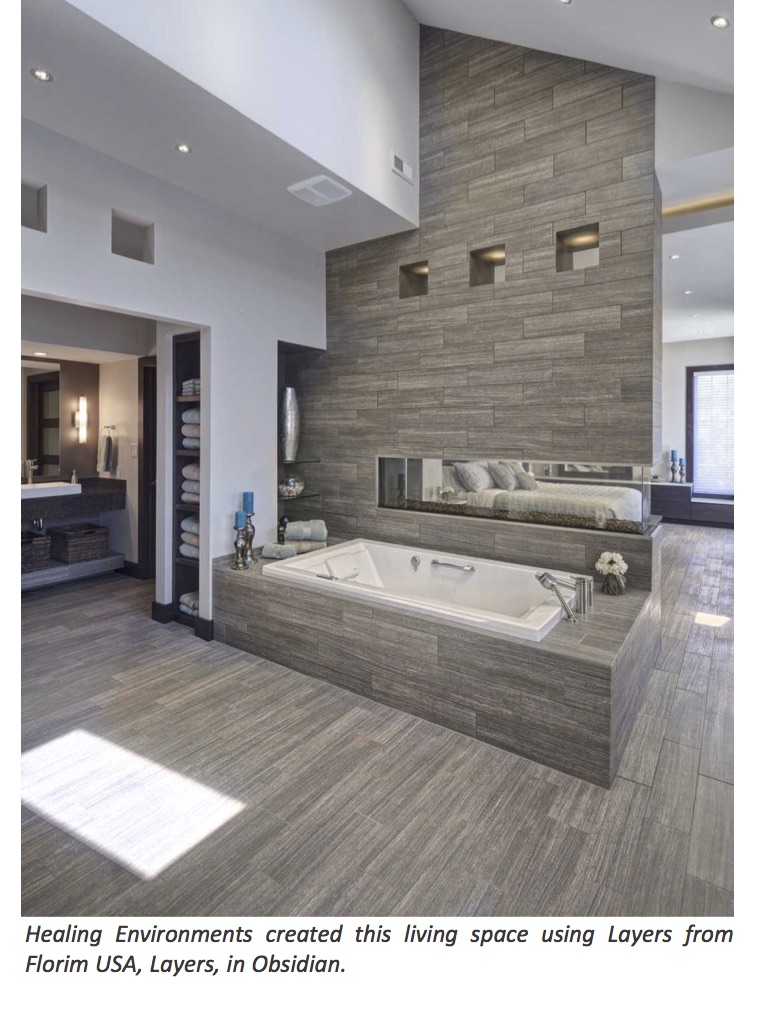 HE: The wood-look plank tile is still very popular, but this year we will see it utilized in creative ways such as painted patterns, distressed look, and interesting cross grains. The brick-look tile is also "in" this year. It will give an Urban Metro feel on floors, and can appear painted and also aged. The concrete-look tiles are great because they come in large sizes and are versatile for a traditional look or can be used in contemporary spaces to give a sleek look. All of these trends can be incorporated into residential and commercial spaces to give an updated look.
ACD: I believe the wood tile trend has become more than a trend, but a staple in the industry. Every year since this type of tile has been introduced, the printing technology has gotten better, and the style choices and cool offerings have really become quite broad. With many of my projects being located in south Florida, I incorporate wood tile in flooring throughout the entire home, as well as for accent walls, bathroom walls and/or floors, etc. For commercial flooring this is also a great choice, due to the high traffic areas, and the durability of this tile. Everything from the new colors – right now I'm loving more of the taupe, washed-looking woods – to the textures and patterns keeps the product fresh and exciting. I cannot design without it!
AIF: We are excited to have the opportunity to play with scale and shape. Manufacturers are developing product that allows designers to think about tile in more than 4" x 4" or 12" x 12" units. We can be complex or simple. We can clad walls using super-sized tile – super clean sets, and juxtapose that against small jewel-sized tile. Or we can go BIG or little. For designers, this new trend of scale and size options allows us freedom to tell stories of home or work that begin with tile and end with the client's comfort and delight.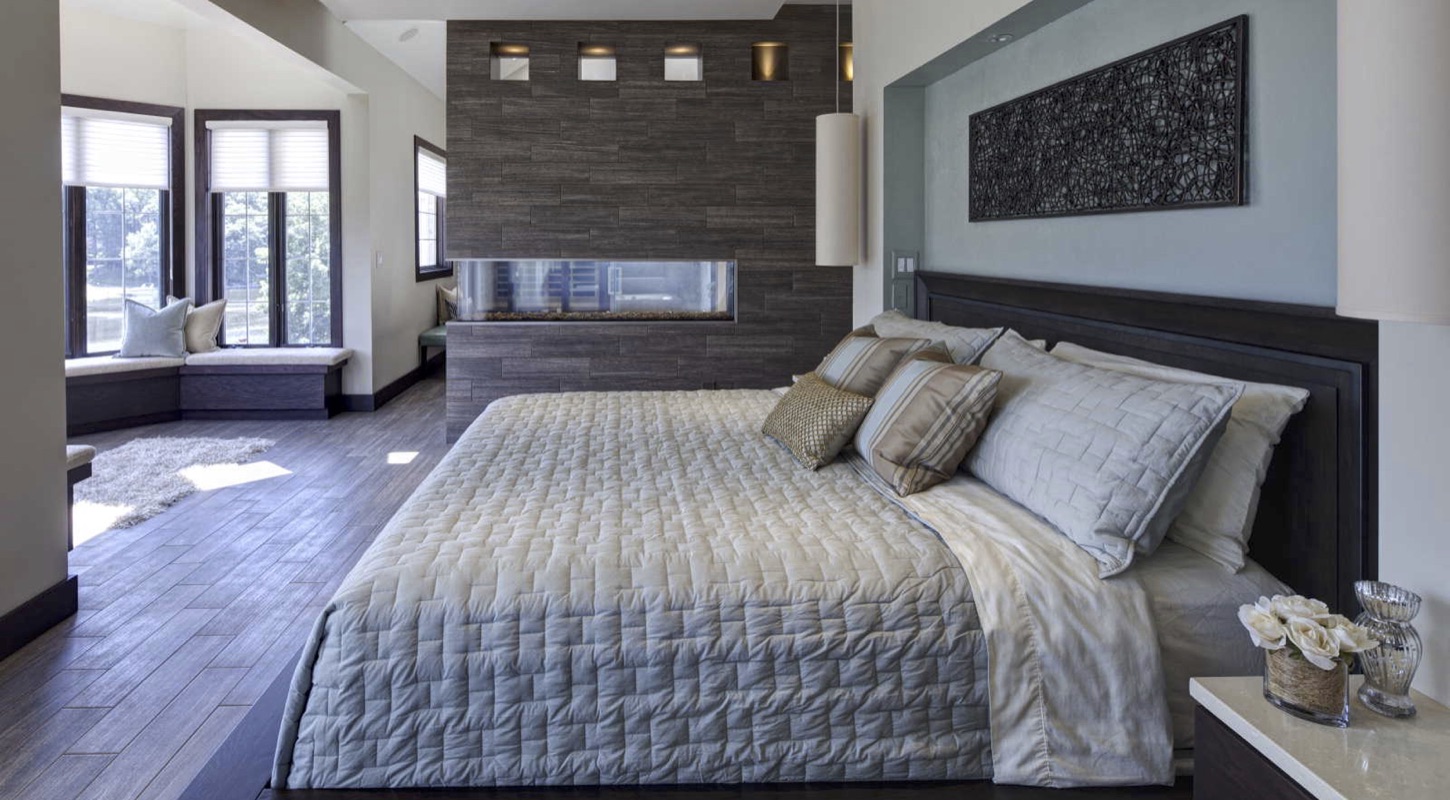 TRENDS: How are new products and designs expanding the application for tile other than traditional kitchen/bath/foyer applications?
FGM: Tile feature walls are being incorporated more and more. The thin porcelain veneer can also be used in lieu of traditional wall protection products to create a more modern/ minimal look.
HE: In the past, we traditionally saw tile in wet areas e.g. bathrooms, locker rooms, and kitchens. Tile is now expanding into luxury areas e.g. the master bedroom, living room, and commercial applications such as waiting rooms. Tiles are being used in these luxury areas on the floor, as well as on the walls to replace paint and wall covering. Darker shades on the wall create a dramatic effect, which many consumers are looking for. Metallic tiles are still trending and look great as an accent tile. 3D designs are big this year in a neutral palette which will add texture to the walls.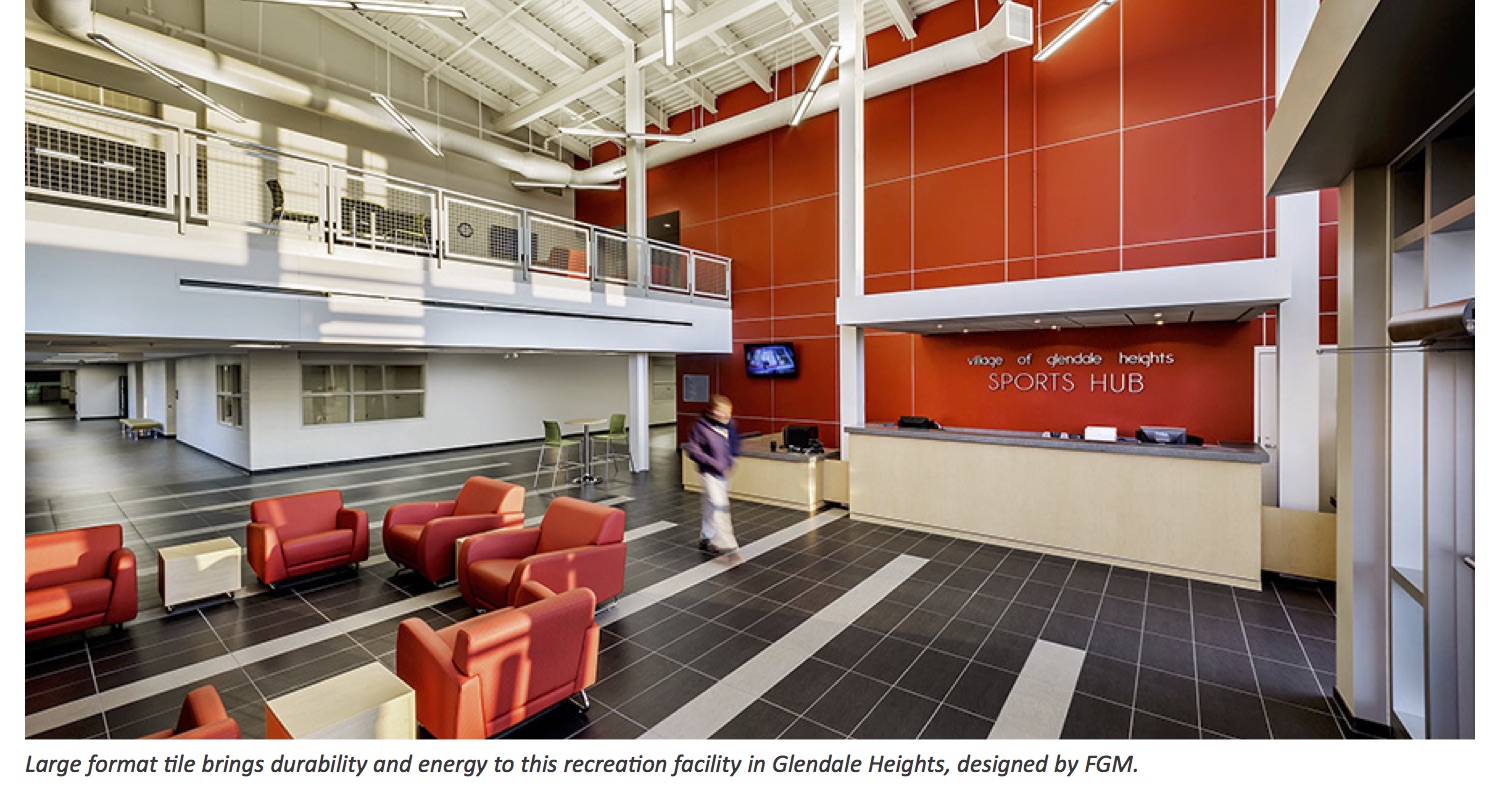 ACD: Some of the amazing new 3D tiles, stacked stone, and even some of the wood tile have allowed me to work tile into other areas of my clients' homes. I love using tile to clad columns, or as an accent wall in a family room or entryway of a home. It's more durable than a wallpaper, and some of the new prints actually look like fabric and wallpaper prints! With the increased technology of the digital printing, this has made tile an easy choice for that type of application.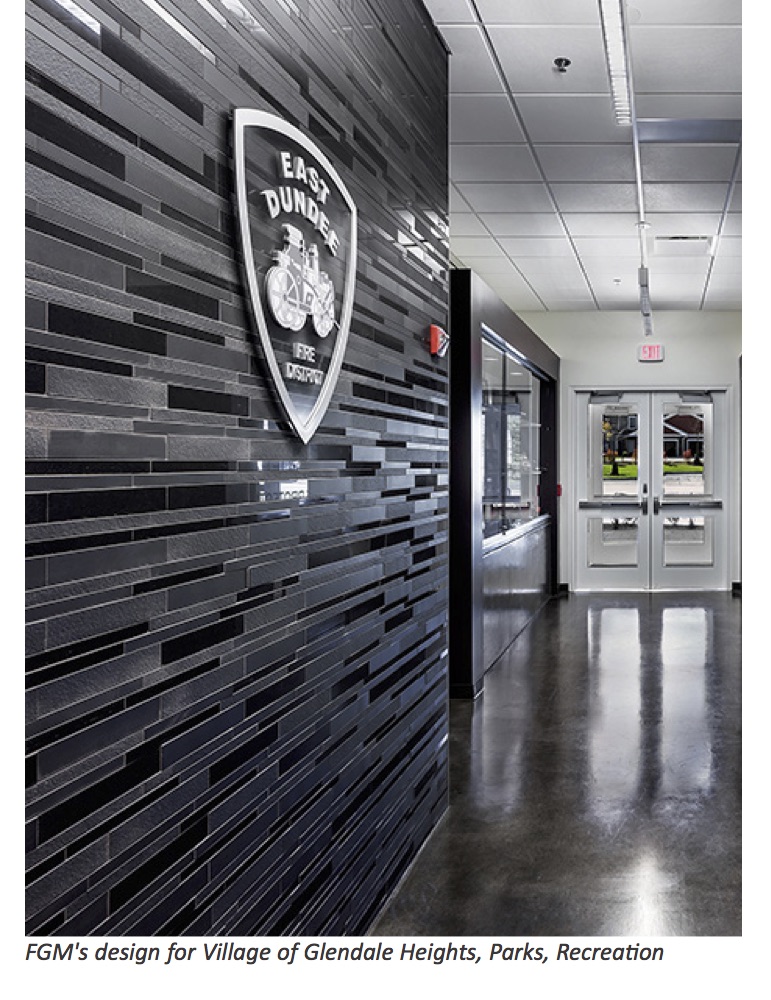 AIF: Once you play with tile, you understand it can enrich, enhance, and envelop spaces other than the norm. For example, the open kitchen is living space that can be informed by tile reaching out into the public space from the backsplash. Tile can become the unifying element – adding color, form and beauty throughout. Tile can also call attention to treasures, adding contrast and curiosity to a special collection.
TRENDS: Please speak to the state of sustainable design as relates to tile. Has demand increased? How have EPDs/HPDs made tile a more viable product selection? How often do you seek Green Squared Certified® tile products in your work?
FGM: Sustainable design is a best practices for us. We feel like it has just become a standard in the design industry.
HE: Sustainable tiles are becoming more popular as consumers are becoming more educated about their environments. Many are seeking "healthy spaces" since we spend 90% of our time indoors. As a company that creates "Healthy Environments," we are continually seeking Green Squared Certified® tile products. Lifecycle assessments (LCAs) study the impact of a product on the environment from sourcing through manufacture, distribution, use, removal/disposal and renewal (through recycling or other means). Environmental Product Declarations (EPDs) are individual product summaries, similar to nutrition labels on foods, that present a snapshot of key information gained from LCAs to allow designers and architects to clearly evaluate the sustainability of a particular product over its entire life cycle. Together, these two tools help standardize sustainability reporting across industries, and make the process of choosing eco-responsible products simpler, smarter and more transparent.
We are currently working with Crossville. Crossville is the first manufacturer to earn Green Squared® Certification – the highest sustainability standard in the industry – across all of its U.S.-manufactured porcelain tile product lines and its entire production process.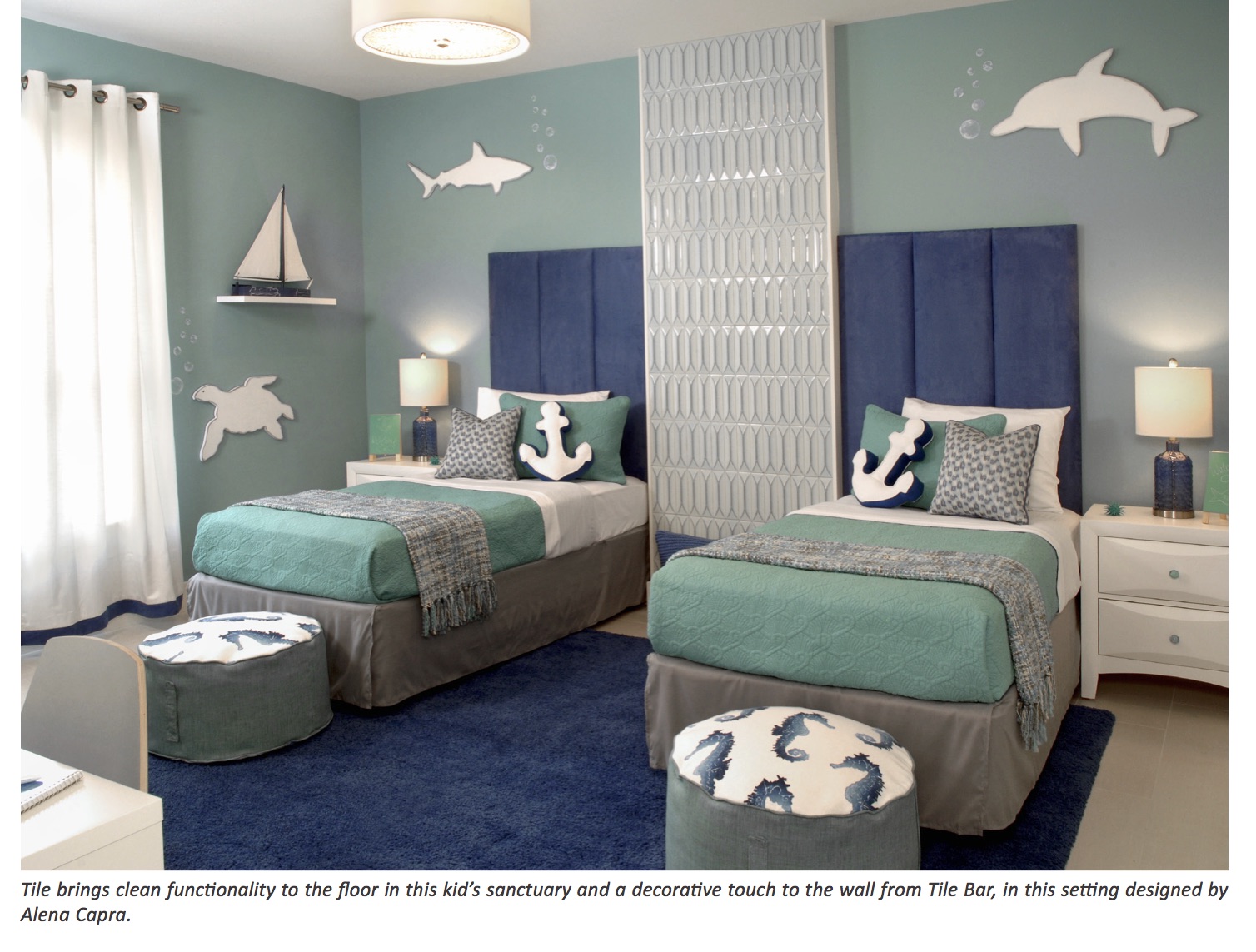 ACD: As mostly a residential designer, I do not get asked as often about the sustainability of the tile or products from my clients. Although, if a tile has that feature, I do point it out, and definitely try to use them if I can. Most of my clients' choices in tile for residential application still revolves around look, durability, size, availability and price point.
AIF: While many clients are still not motivated by "green" product, or feel over "greened," it is always important to design responsibly. Certified product makes sourcing healthy and sustainable products easier and provides access to information.
TRENDS: Qualified labor language has been incorporated into the Master Spec. Why do you think this is important and how do you incorporate qualified/certified tile installers/contractors into your projects?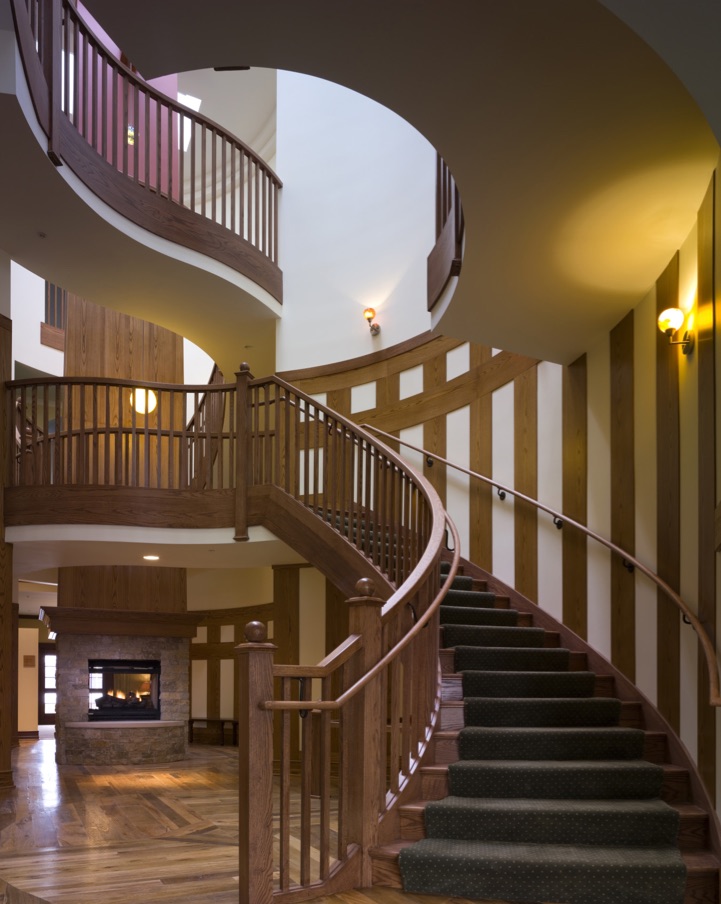 FGM: All of our specifications are written utilizing Master Spec and maintaining the language requiring qualified/certified tile installers/contractors is language we keep in all of our projects.  We have been requiring a qualified/certified installer/contractor on our projects resulting in a better final product for our clients, as these contractors have gone through the manufacturers' training programs on how to properly install their tile product. 
HE: The "qualified labor language" is important when bidding a project so that we are selecting high-quality tile contractors who have experience and are committed to their craft. Instead of going with the lowest bid, it is important to select the tile installer that is the most qualified for the scope of the work. A portfolio and references that show the installer's experience, along with a bid, will help to determine if the installer is qualified for the project. A short interview is also helpful.
ACD: It is very important to me to have qualified installers in my projects. So much time and detail goes into the design planning and materials selection that it is imperative to have the right execution of the installation. My install team knows my work well, and is very talented in their craft, so there are never any surprises. We keep in constant communication throughout the jobs, which is also key.
AIF: We often work on publicly bid projects where we actively advise clients to pre-qualify certified installers. For us, that means that the "gene" pool is knowledgeable and experienced and can meet or exceed the standards and installation criteria we specify. Highly trained, experienced installers are essential to the success of our projects as poorly installed work reflects upon our design and opportunities to specify preferred, high-performing products in future.
TRENDS: Concerning the IDS project, why did you choose to participate? What do you hope to learn from this experience? What do you hope to express with your design and collaborative work with contractors and sponsors? How's the experience so far?
FGM: The experience has been great. We thought it would be an interesting experience and a great way to collaborate with contractors and manufacturers that not everyone has had the chance to do. We hope to express the variety of ways that you can use tile through our Golf Club Bar/Lounge. The challenge we saw is how to design a space that incorporates a great deal of hard surface tile and still make it warm and inviting. We use a lot of tile in our regular designs, but that (warmth) is always the challenge, so we wanted to take it to the extreme here and see what we could do.
HE: We chose to participate in the "Coverings '16 Installation Design Showcase" because it is North America's largest and most prestigious event for the tile and stone industry. We felt it was a great opportunity to showcase a "healthy environment" that promotes healing and inner peace to the mind, body, and spirit by focusing on a sustainable and highly versatile material.  We are enjoying collaborating with the team to create a high synergy for the "Spa Lobby."
ACD: This is exciting for me to once again participate in the IDS. I was a designer in the inaugural showcase years ago, and loved the experience. I am also fortunate to be paired with the same installation team who was absolutely wonderful to work with, as well as Ceramics of Italy. The collaborative experience of design and installation in the showcase is wonderful. I get the opportunity to work with some of the best tile installers in the nation, and to see my design come to life in just a few days!! Nothing better than that!
I am very excited about my design for this year. I am working on a boutique space, incorporating a mix of many of the tile trends that are emerging this year. I wanted to showcase many of the trends such as 3D tile, tile that resembles fabric, graphic prints, as well as lots of the turquoise blue shades that we will be seeing a lot of at Coverings. As the Industry Ambassador for Coverings, I'm presenting about tile trends at several A&D events in the Chicago area leading up to Coverings. I thought it would be fitting to try and incorporate as many as possible into my IDS design. I am so excited to be working with the same amazing team!
AIF: Architecture is FUN. Materiality has always played a big role in the aesthetic and functionality of the public and private spaces we create, for home, for culture and for play. Coverings is an opportunity for us to play with material goods, disrupting the norm and showing how our partner's tile and stone can reflect a playful spirit. Within our mock boutique hotel lobby, we want guests to "stay and play." Great public spaces are those you can claim as your own, where you can be rebellious or not, creative or calm and they are always a destination. Our partner and the products we're selecting will help support Hotel X's vibe and vice, while shaping an aesthetic that says – this is for you. Come. Stay. Play. Return. Often.