Trends – not just for tile and stone anymore
Developments in setting materials create options that are functional, fashionable and enable quicker installation of high-performance projects
By Lesley Goddin
If you've been paging through this magazine, you've seen many beautiful finishing materials of ceramic, porcelain, glass, metal and natural stone, and have gotten a sense of many of the hot styles. Hopefully by now, your brain is buzzing with new possibilities about how to enliven, enhance, refresh and transform your clients' projects.
But beneath every beautiful project is a support system of underlayments, mortars, grouts and the tools and technologies that make the project secure and long-wearing. And behind this system is an installation contractor who knows best how finishing materials – as well as setting materials – will behave under a range of conditions. You'd do well to hire – or for our contractor readers: become – an industry-certified tile installer through the Ceramic Tile Education Foundation Certified Tile Installer (CTI) program or the Advanced Certifications for Tile Installers (ACT)program. Comprehensive written and hands-on testing for both programs assures competent grasp of basic skills for CTIs and advanced skills like large-format tile installation, mud floors and showers, membranes and more for ACT- certified installers. Find out more at www.tilecareer.com for CTIs and www.tilecertifications.com for ACT installers.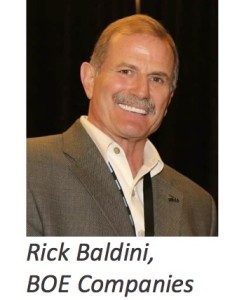 ALL installers today have access to a range of ever-evolving products, many with high-tech properties that help speed or facilitate tile and stone installation. In the words of Rick Baldini, of BOE (Best of Everything) Companies, "the best products often come from the installers themselves" – and BOE is investing in 'contractor-inspired' products, from methods of back buttering tile, removing surface stains, cleaning buckets, controlling the level of stone enhancement, achieving desired tile spacing, and more."
In this section we take a look at some of the trends we are seeing in the technical side of tile and stone installations today.
Underlayments, backers and membranes 
With tiles becoming larger – and thinner in many cases – flat, level support is a must for proper installation.
"We currently estimate that between 60-80% of tile installed on floors today is large-format tile, which means it is at least 15˝ on one or more sides," said Custom Building Products' Tony Pasquarelli. "This includes wood-look plank shaped tiles, popular 12˝ x 24˝ contemporary rectangular size tiles, as well as oversized and thin tile options. It is critical to begin with a level subfloor before installing large-format tile," he said. "Self-leveling underlayments should be used to ensure the substrate has less than 1/8" variance in 10'."
Backer boards are growing lighter, easing the burden on contractors who have to haul them as well as the load on the building structure itself. These lightweight boards offer "contractors speed and ease of installation," said Lisa Shaffer, Fin Pan. "The technology allows a contractor to carry a whole shower's worth of backer board to the second or upper floors in one trip without straining the back or knees. Waterproof, strong and lightweight, this newest class of backer board is gaining popularity and use."
In fact, underlayments, backers and membranes aren't just about accommodating large-format tile. Water migration in wet areas and showers is the nemesis of tile and stone. Another important material beneath the installation is the membrane, which can come in sheet or liquid-applied forms. These membranes can protect against cracks, waterproofing or noise.
Dave Hanna of NAC Products observed that "it is no longer sufficient to just provide waterproofing for bathrooms. We have received requests from customers, architects, specifiers and others looking for a solution that can provide sound control AND waterproofing in bathroom installations," so double-duty materials are definitely in demand.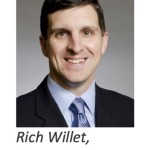 At USG, director Rich Willett has observed the growing trend to use a fully bonded waterproof membrane with a traditional backerboard. "This controls moisture independently of the tile cover, providing added security against damaging shower leaks. Additionally, a waterproofed foam tray is used for the shower base as an easier-to-install alternative to a traditional mud bed system. Custom trays, benches, and curbs provide design flexibility."
Keeping dry and going curbless
Indeed, modular, customizable systems provide fast waterproofing and structure in shower settings. wedi Corporation's Bastian Lohmann sees a solution in "development of complete and modular, yet customizable, systems to build shower and wet room substrates prior to tiling. Substrates and installation systems in this application today should be naturally and entirely waterproof, mold proof, lightweight and easy and clean to work with," – and, he said, adding strong adhesion through the use of cement-based mortars is key.  Success with these systems depends on R&D and engineering as well as enthusiastic acceptance of "new consumer trends such as accessible showers or linear drainage – and by a strong hands-on educational service program for our trades."
Growing in popularity for aging populations, and openness of design as well as safe footing when using steam showers (no slippery curb to step over) as well as ADA compliance for commercial spaces are curbless showers. "10,000 people a day turn 65 and that will continue for the next 15 or so years," Fin-Pan's Shaffer said. "Technology has made barrier-free curbless showers easy to install, affordable and beautiful."
Linear drains
Linear drains are now flooding the market (figuratively), bringing clean new looks and increased functionality to shower settings. "From a performance and reliability perspective, linear drains need to also be sturdy, functional, and compatible with contemporary installation and waterproofing methods," said The Noble Company's Dean Moilanen. "As the popularity and usage of linear drains continues to increase, architects, specification writers, and designers are starting to realize all linear drains are not created equal. As a result, linear drains are not being specified and installed, strictly on appearances. Functionality, durability, and performance are placed at premium. "
Moilanen recommended selecting beautiful drains and also paying attention to drain construction and how effectively they carry water out of the system. He suggested troubleshooting any possible waterproofing issues that might arise from a particular design, the nature of the tile installation and the required level of waterproofing. Choosing to work with a linear drain supplier who manufactures its own hardware may provide more flexibility in connecting the pieces of the system, he said.
Many drains today are also tileable, creating an invisible drain option for trench, traditional center or linear configurations.
Mortars
No matter what your installation, you're going to need an adhesive to stick the tile or stone down to the substrate.
There's been a lot of development at all the setting materials manufacturers for creating large-and-heavy tile mortar (previously known as "medium bed mortar") to support larger, heavier tiles that are in vogue – as well as larger tiles with reduced thicknesses.
"Adhesives that offer optimum physical performance such as high bond strength, non-slump performance and full bedding properties along with exceptional workability characteristics are desired by professional tile contractors," said Ron Nash of LATICRETE.
"We continue to see a trend toward very large-format, thin, denser tiles with a variety of backing types requiring higher-performance polymer and cement technologies to improve bond, flexibility, open time, sag resistance and fast-drying properties," added Harrison Gardner, ARDEX Americas Tile & Stone Installation Systems business manager.
MAPEI's business manager for Tile & Stone Systems Brian Pistulka said these specialized mortars need to wet out the back of porcelain tile as well as the substrate, and offer "superior bond strengths while delivering the deformability to accommodate a higher degree of expansion and contraction experienced as the size of the [large thin porcelain tile] becomes larger and larger." Other important properties are lightweight and easy-to-trowel formulations that offer extended open times for movement and placement of tile while the product is in the fresh state to accomplish the installation, attaining coverage without voids."
CUSTOM's Tony Pasquarelli is clear that these developments are necessary to minimize the risk of lippage, for safety on floors as well as for aesthetics. "From flowable mortars that reduce the need for backbuttering to rapid-setting, flexible and lightweight options, it is important to consider the right large-format tile mortar relative to the overall performance requirements of the job.
"In the end, the design professional wants to deliver a smooth, even, monolithic visual aesthetic that comes from an exceptionally even tile installation," he added. "You need the right mortar in order to accomplish that goal, so design professionals and contractors should always consult together for the best results.
Another consideration for all building materials are LEED requirements for products that are healthier and kind to our planet while doing their job. Nash said that "the use of both pre and post-consumer recycled content" is receiving a lot of attention at LATICRETE to "yield the best balance between performance and ease of use.
Grout
Grout has grown from being a purely utilitarian substance to fill joints to one that offers color, sparkle and many degrees of style. While still a setting material, it's a highly visible one, and offers aesthetic enhancements.
Curt Rapp of Tile Doctor said that grout is really becoming more of a "fashion choice rather than simply a utility decision. There is lots going on in the chemistry side of grout to produce higher-quality products with greater ease of application and more colorfast grout.
"Designer grouts have been evolving in Europe for years now, with many choices such as brighter colors, metallic effects and glass grout," he added. "Embracing what is happening in grout can provide you fuel for growth in your business. I like to say, 'Have you ever met a homeowner who loved their grout?' It's long been the most underserved product in our industry and was always the weakest link, but not any longer!"
And as a setting material, it's got a functional job to do – likely spurning stains and sealing and being easy for contractors to work with and clean up. "End users want a grout that is stain proof and doesn't need to be sealed or resealed from a maintenance standpoint," said CUSTOM's Pasquarelli. "Tile contractors want a grout that is smooth, with creamy, color consistentency, and is easy to install while drying very hard. When matched with the right selection of colors, the design community can specify tile confidently knowing that that the tile and grout will look great now and perform successfully over the long term."
Profiles, trims; sealers and maintenance
Metal trims have long been used to enhance, protect and provide smooth transitions for tile and stone installations. From Schluter's new SCHIENE-Step that provides multipurpose transitions for counters, walls and floors to more widespread use of trims, profiles that can add functionality, a finished look and glamour to the project.
"Stainless steel is trending not only in residential kitchens but also in commercial settings," said Peggy Heuler of Ceramic Tool Company. "More and more we see stainless as the metal trim of choice for commercial projects – for function and design. Harder than aluminum, it can handle heavier loads with fewer scratches and dents. It is more hygienic and less susceptible to damage from harsh cleaners so it is ideal for restrooms, commercial kitchens, hospitals or wherever critical environments exist." And stainless can be formed into custom shapes, she said.
Once the project is installed, how does one ensure it keeps looking beautiful for a lifetime? Porcelain tile rarely needs sealing, but stone surfaces still often require some TLC.
"The high-end light-colored limestones require special treatment to avoid contamination from hard water, grout and other construction perils," said Jeff Moen, sales and marketing director for Fila Chemicals USA, Corp. That involves pre-sealing and a grout release, as well as post-grout clean-up with a neutral cleaner followed by a post-installation sealing with a natural-look, penetrating stain protector. Ongoing routine maintenance should also be carried out with a neutral cleaner, he recommended.
"The full-treatment cycle gives the end user – and the stone retailer – peace of mind that the stone system will perform as promised, for the lifetime of the project/home," Moen said.
And Nash, speaking for STONETECH® by LATICRETE said his company is investing in sealers and cleaners for tile, stone and outdoor veneers, with "high-performance products to clean, protect and enhance the increased usage of large heavy and porcelain tile. New tile materials and designs are requiring that materials used to maintain them are formulated accordingly and are compatible."