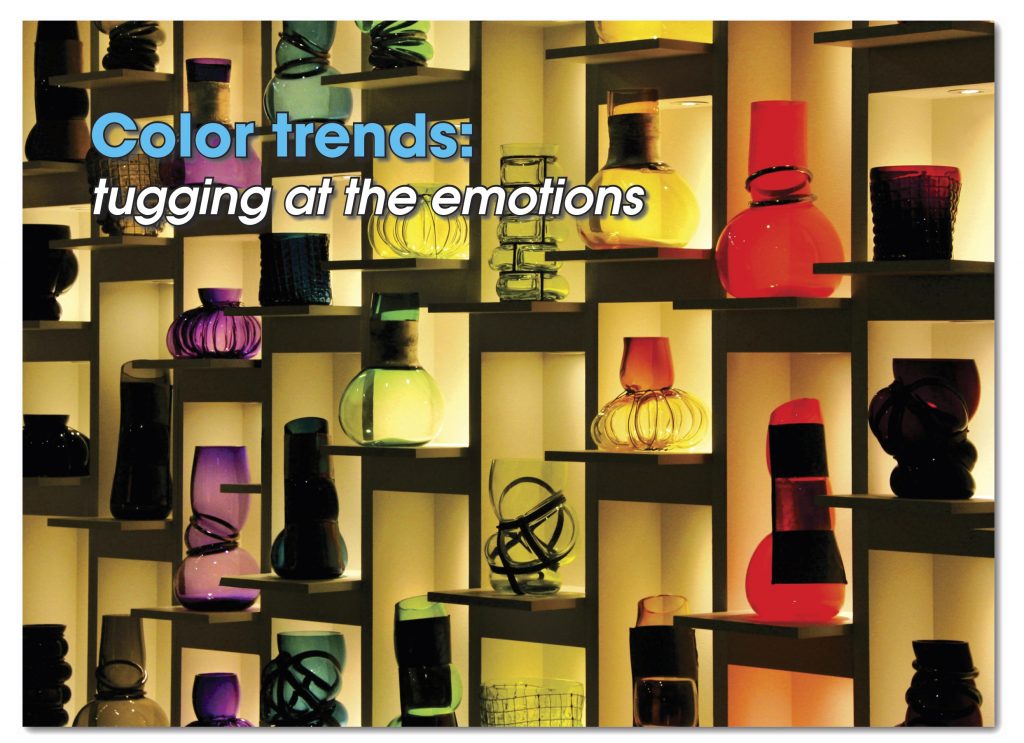 You can't talk about trends without talking about color. Color is a way to both evoke and express emotion, to make feelings visible.
"After a recession, the first indicator of recovery is color," said Lindsey-Ann Waldrep, vice president, marketing for Crossville, Inc. "Next comes designers taking more risk."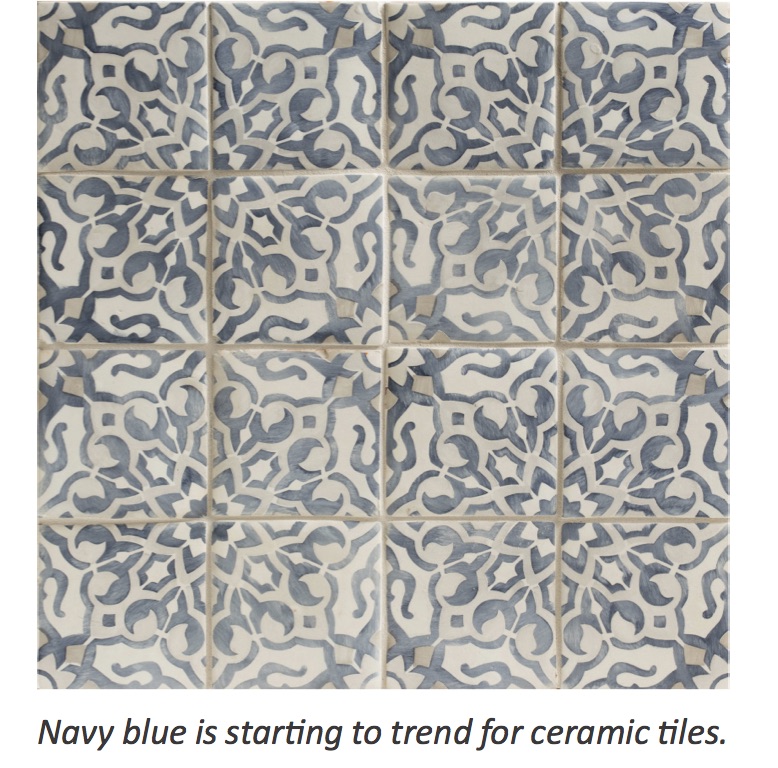 Over the last few years, color choices have been starting to brighten and deepen and form a bridge into more inventive uses of hues.
"2015/2016 appears to be a period of some transition, as warmer colors are starting to creep into what has been a pretty cool, white world," said Jared Becker, vice president of design and marketing for Walker Zanger. "Specific to tile and stone, this means that white marble will still be the most popular color, but that greys and warmer beige and cream tones are beginning to trend," added Becker. "One can see this in the fixture world as well, with brass starting to trend for bathroom fixtures. Navy blue is becoming popular in ceramic tiles, and can be combined with both white and or beige for classic looks."
As color has grown more daring, from last year's brilliant and vibrant Radiant Orchid PANTONE® Color of the Year (COTY), to 2015's deep, earthy, grounded Color of the Year, Marsala, color is literally on everyone's lips – from cosmetics to clothing, to – of course – home furnishings and finishes like tile and stone.
"Color is a huge trend," said Cindy Haley, store manager for the Albuquerque, N.M., Tile Shop, which boasts over 50 vignettes that showcase a range of tile and stone in classic and contemporary materials, applications and colors. "We are seeing a return back to green-blues, sky blues and red reds. "
PANTONE VIEW: 9 palettes that sizzle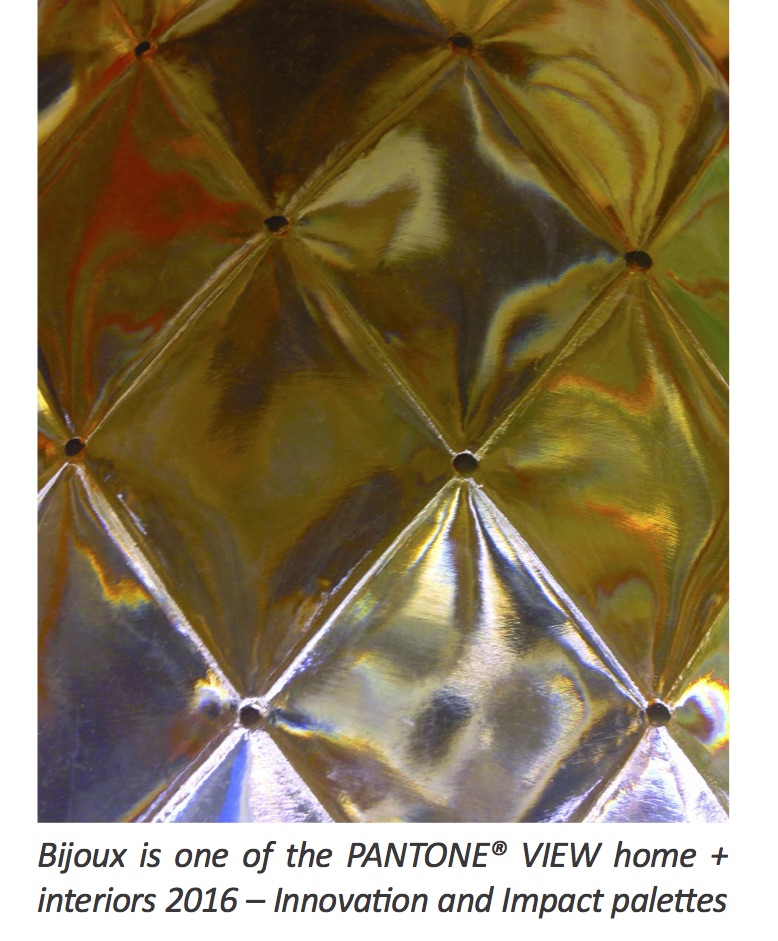 The fascination with color is why there's excitement bubbling around The PANTONE® VIEW home + interiors 2016 – Innovation and Impact, a trend forecast highlighting color trends for the home and interiors marketplace in 2016, that was unveiled at the International Home & Housewares Show 2015 last month in Chicago. These nine palettes are predicted to impact color and style directions in all facets of interior design into 2016 and beyond.
"As media continue to move toward more evocative, imaginative and innovative uses of color to woo consumers, unexpected color stories are emerging," said Leatrice Eiseman, executive director of the Pantone Color Institute. "To capture attention and keep product lines relevant in the consumer's eye, it's important to understand the impact that this always-morphing innovation will have on color and design trends for 2016."

The nine palettes for 2016 are: Natural Forms, Dichotomy, Ephemera, Lineage, Soft Focus, Bijoux, Merriment, Footloose and Mixed Bag.
Unambiguous colors, including shades that are plumbed from natural sources such as warm rosy clay and sheepskin beige, give us Natural Forms.
Dichotomy reinforces the concept that opposites do and can attract as silver metallic, sunny yellow and bright cobalt blue combine with calmer versions of the hues.
Pastel-focused Ephemera blends delicate shades of wan blue, pale peach and tender yellow.
Lineage is a palette where shades of navy, black, tan and regimental green co-mingle with touches of brighter colors.
Soft Focus reveals subtle and/or muted colors, sometimes being described as "smoky" and always versatile.
In the French language, Bijoux means "jewelry" – a fitting title for this palette that gleams with drama and intensity across many jewel tones.
Merriment is full of joyful shades including vibrant greens and yellows contrasted with pinks and oranges.
Capricious color combinations with vacation-destination blues and blue-greens create Footloose – a palette that supports the idea of throwing off the constricting scheduling of everyday life and simply enjoying the freedom of the outdoors.
Mixed Bag is an assortment of eclectic patterns and prints, with exciting and unique colors like pirate black and mandarin red as well as violet and florid orange.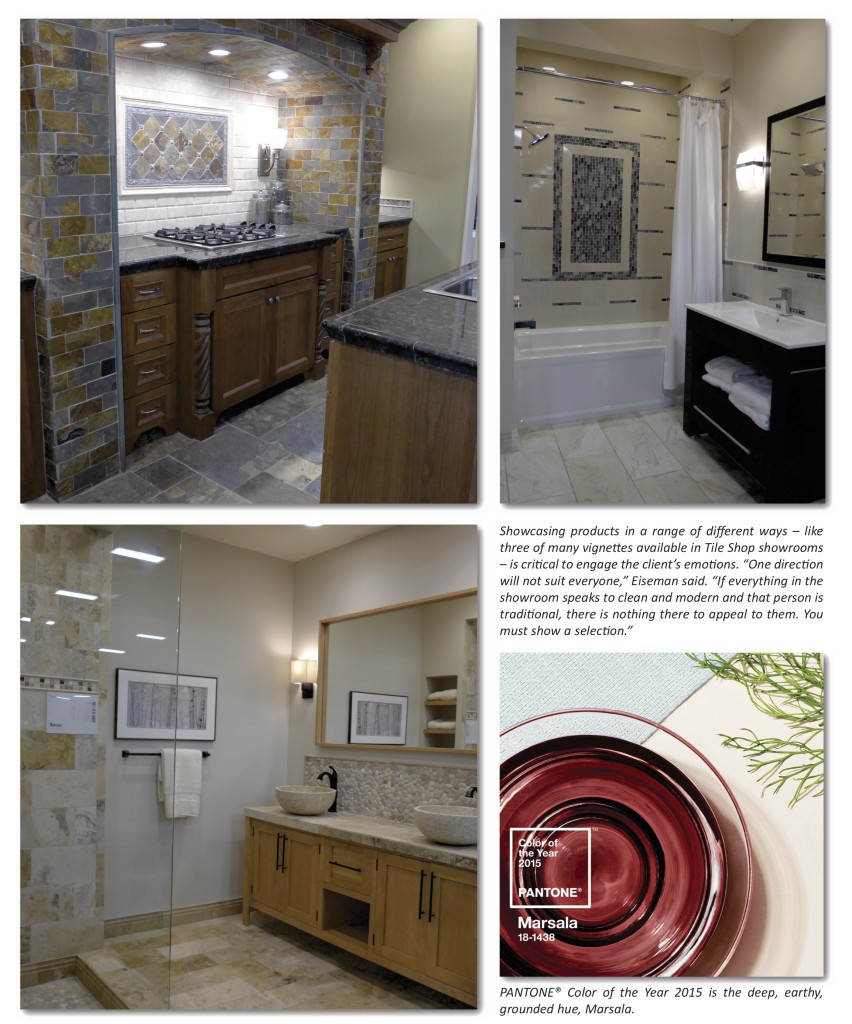 Color: enlivening the classics – inspiring choice
In an exclusive interview with TileLetter TRENDS, Eiseman told editor Lesley Goddin the forecast takes color influences and prevalent lifestyles and paints a macro picture that inspires, spurs emotion and generates fresh new ideas.
"What trends do is to help inspire you, and allow you to bring something in that might be a new touch – at retail level and display," Eiseman said. "Maybe the customer will buy the grey slab again, but they might be able to use a pattern or new shade of yellow-green. It's about how to engage your customer. "
Trends blossom from a myriad of sources – natural landscapes, flowers, cultural influences, said Eiseman, explaining that in addition to copious travel in the U.S. and Canada, she also travels to other countries where her group "gleans information from several levels of the marketplace and we try to relate that to lifestyle."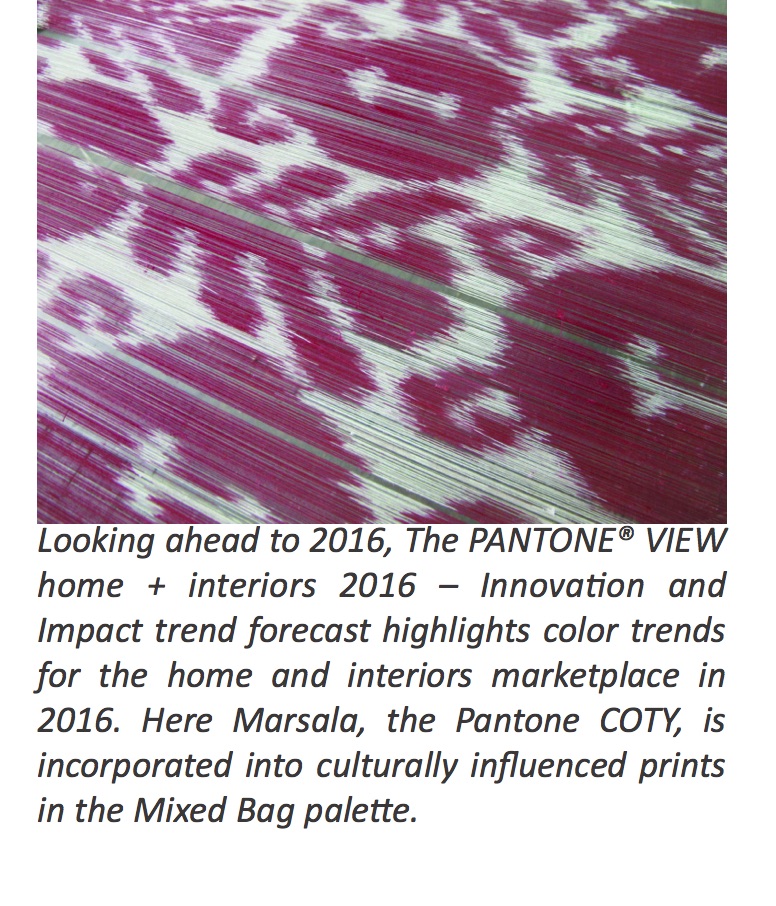 For instance, in one of the 2016 palettes – Dichotomy, which juxtaposes opposites for stunning effect – there is the concept that "you can combine ancient artifacts with a pendant light on the interior that is very modern, but the colors are the same and tie the whole palette together," she said. "Trends are inspired by nature, architecture, hot travel destinations – what colors are inspired by that location or even worldwide events celebrating sports, like the host country of the Olympics. People see the way colors are used in that area of the world."
It all comes down to providing a range of choices that engage the emotion in a customer. "One direction will not suit everyone," she said. "If everything in the showroom speaks to clean and modern and that person is traditional, there is nothing there to appeal to them. You must show a selection."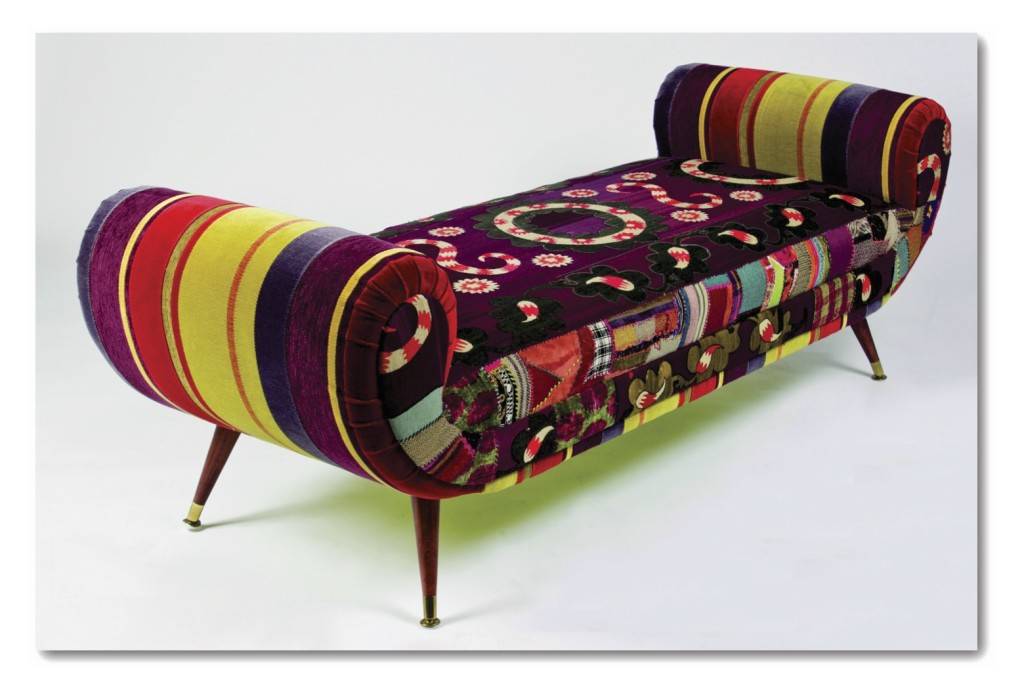 Showrooms that offer a range of vignettes – like the 50+ vignettes this writer recently experienced at a visit to the local Tile Shop – offer a fertile field of ideas, colors, shapes, sizes and combinations to tantalize the imagination and excite the customer into trying new blends of materials to enliven their surroundings.
"People won't walk in and do a sweep with their eyes and decide this isn't me," Eiseman said. "If you have vignettes – there is something there that will give the emotions a tug."