Thin Porcelain Tile Installation: the newest Advanced Certification for Tile Installers
By Scott Conwell, FAIA, LEED AP BD+C,
director of Industry Development &
Technical Service, International Masonry Institute;
and Lupe Ortiz, NCTI Apprenticeship coordinator
This is an exploration of the new Thin Porcelain Tile Certification in the Advanced Certifications for Tile Installers program that was introduced at Coverings in April. In addition to the efforts of TCAA, BAC and IMI mentioned by the author, open shop tile contractor association NTCA – in conjunction with Scott Carothers, training director of CTEF – has been spearheading development of this certification, kicking off talks and discussion to provide a realistic, accurate and complete testing program for TPT, even in the absence of published standards. Information about ACT certification can be obtained by visiting www.tilecertifications.com, emailing NTCA's Bart Bettiga at [email protected] or CTEF's Scott Carothers at [email protected]. 
– Lesley Goddin
The certification for Thin Porcelain Tile (TPT) installation made its debut at the Coverings international trade show held in Orlando, Florida, in April 2015. Thin porcelain tiles presently range in sizes generally 1 M x 3 M (39-3/8" x 118-1/8") and 1.5 M x 3 M (59" x 118-1/4"). Custom sizes: 1M x 1M, 1.5 M x 1.5 M are spectacular and impressive to architects and designers, but practical considerations in installing this material continue to challenge tile contractors. Tile Contractors Association of America (TCAA), International Union of Bricklayers and Allied Craftworkers (BAC), and International Masonry Institute (IMI) are at the forefront of solving these challenges through their involvement in the Advanced Certifications for Tile Installers (ACT) program.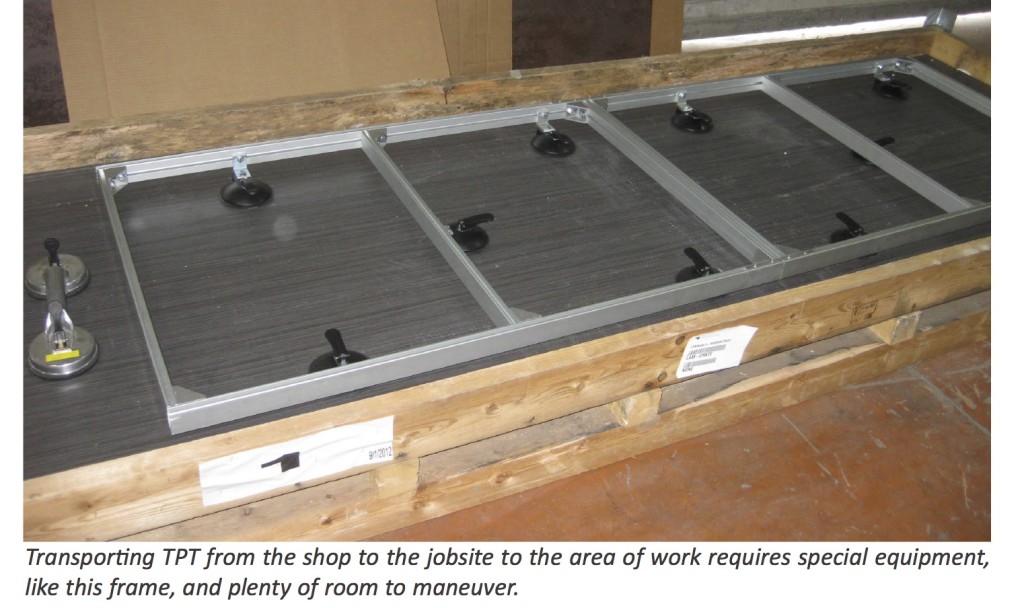 ANSI A137.3
One major factor limiting the use of TPT until now is the absence of an ANSI standard for this material and the resulting reluctance of some designers to specify a material that had no standard. The accredited standards committee, with representation from TCAA, BAC and IMI, has been working since 2013 to develop a standard and, at the April 2015 meeting, the committee circulated a first draft of the new ANSI A137.3 American National Standard Specifications for Thin Porcelain Tile and Thin Porcelain Tile Panels. The standard defines "thin porcelain tiles" as units up to 1 square meter, and "thin porcelain tile panels" as units greater than 1 square meter. The draft standard has a well-defined purpose and scope but much of the actual data such as methods of manufacture, test methods, and performance criteria remain to be debated, discussed, and agreed on. The committee acknowledges the importance of installation issues and is considering the input of the ACT work group in the development of this new standard.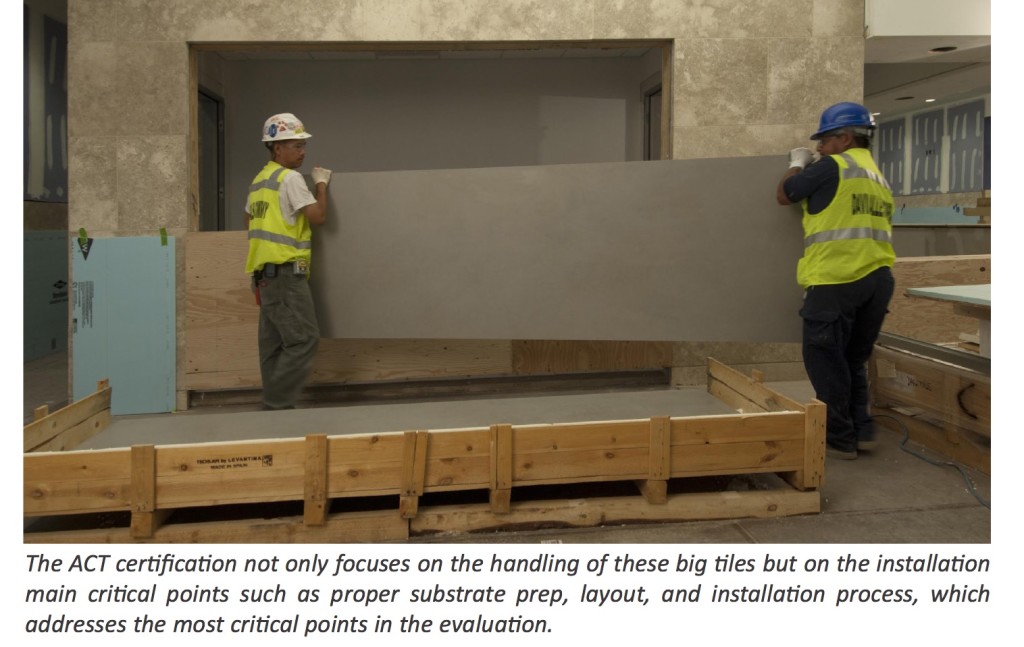 Best-practice certification
With respect to the TPT ACT certification, the ACT advisory group acknowledges that without the benefit of tile industry accepted ANSI standards and methods, the ACT program has developed the TPT curriculum to educate the installer with currently available best practices and to provide a mechanism to certify his or her skills and knowledge of the TPT products that is derived from manufacturers' recommendations and adaptation of other ANSI standards for items like proper substrate prep, mortar coverage, grout joint variation and lippage. The decision to move forward with ACT certification came about with input from TCAA contractors, BAC leadership, and IMI tile instructors as a strategic tactic to claim this work for our trade.
Material handling
Even before installation, a tile contractor is faced with many challenges just handling a material of such great size. Transporting it from the shop to the jobsite to the area of work requires special equipment and plenty of room to maneuver. Consider the limited elevator ceiling heights and confined work areas of some projects, and physical constraints immediately become apparent. Having an adequate crew is critical. Fortunately for the ACT installers, the ACT certification not only focuses on the handling of these big tiles but on the installation main critical points such as proper substrate prep, layout, and installation process, which addresses the most critical points in the evaluation.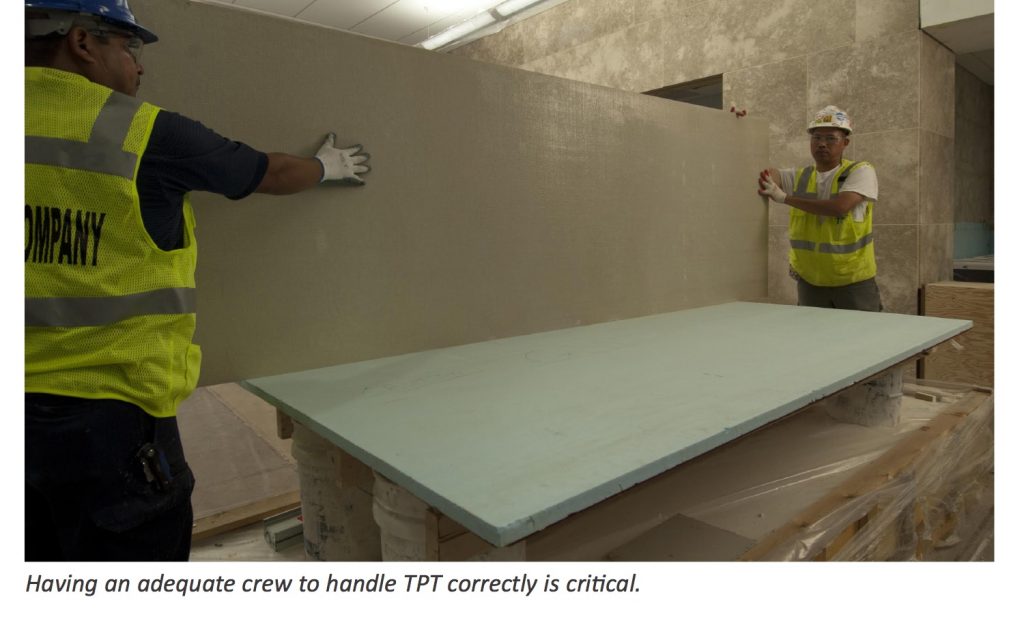 Mortar coverage and cure time 
The proper application of mortar is critical to the success of a TPT installation. Thinset mortar with an extended open time is usually appropriate, as the process of applying the mortar to 10, 30 or 50 square feet of wall or floor and back buttering an equal area of tile can take some time. The mortar at the center of the tile, far from any grout joints, is likely to take a very long time to cure. For this reason the ACT advisory board has specified tiles no larger than 1m x 1m for the ACT certification, and is considering formalizing a statement cautioning designers on sizes greater than 1m x 1m. Such a position statement by labor would be similar in nature to the position statement issued two years ago cautioning designers not to use TPT thinner than 6mm in flooring applications due to the absence of standards on minimum breaking strength and resistance to impact loads.
Because TPT is not only large but also very thin (3+ mm – 6mm), the installers must apply mortar to full coverage to avoid potential breakage due to point loads after the installation is complete. "Full coverage" is defined in ANSI to mean 80% minimum coverage for interior non-wet areas, and 95% coverage for exterior and interior wet areas. What is expected out of the ACT Installers? Again, without the benefit of tile industry accepted standards, the installers are held to 60%-70% mortar coverage on walls and 95% or greater on floors with the goal of 100% coverage, especially on all outside edges walls and floors.
The quality of the substrate can greatly affect the mortar coverage. For example, a floated mud wall provides greater flatness and stiffness than cement backer board on studs. Also, the absorptive qualities of the mud bed will help speed up the setting or curing time of the thin-set mortar. The ACT advisory group has communicated these findings to the ANSI accredited standards committee currently developing the new ANSI A137.3, American National Standard Specifications for Thin Porcelain Tile and Thin Porcelain Tile Panels. Because of our unique insights as the installers in the industry, TCAA, BAC, and IMI are playing a vital role in the development of this important standard.
ACT certifications
It is the goal of the ACT advisory group to make ACT certifications as accessible as possible. The 2015 TCNA Handbook recognizes by name all the installers certified to date in each of the five initial ACT certifications. IMI and International Masonry Training and Education Foundation (IMTEF) are currently delivering certifications at training centers in all major markets, and they offer the certifications several times each year at the John J. Flynn International Training Center in Bowie, Maryland. For more information on scheduling ACT certifications for your key installers, call Terry Hays, Deputy Director, BAC/IMI International Training Center at 301-291-2120 or via email at [email protected].