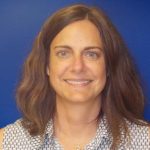 By Becky Serbin, NTCA training and education coordinator
This month we will be reviewing two Apprenticeship courses: the History of Tile, and an Introduction to Trims and Profiles.
History of Tile
The History of Tile course was very interesting to create, and it may not have been finished if we didn't have the help of the Tile Heritage Foundation in putting the timeline and content together.  The course starts with an overview of world history and the creation of the tile industry as we know today by Herbert Minton in 1843.  The course then moves into reviewing tile styles and trends through different periods of time in U.S. history.  These include the Victorian Era, the Arts and Crafts Movement including American Bungalows, the Hispano Moresque Style – Byproduct of Spanish Colonial or Mediterranean-style Architecture, the Lean Era (a.k.a. Depression Years), the Utilitarian Era (a.k.a. Postwar Period) and finally, the Modern Era.  Within each time period, we take a look at how tiles were being made and have plenty of pictures to highlight the style.  The course then moves into predictions about  where the tile industry could go next.  Even though this course is part of the Finisher Apprentice program, it is beneficial for anyone who wants learn about the history of tile.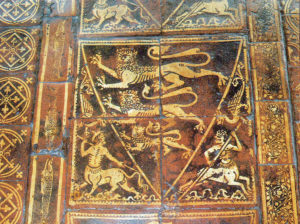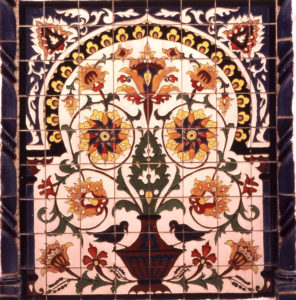 The History of Tile course is a travelogue through world history and the creation of tile. Photos courtesy of The Tile Heritage Foundation.
Trims and Profiles
The trims and profiles course is also good for anyone who is new to the industry.  The learner is taught about the different types of trims and profiles, where each is used, and why.  It also reviews the different types of official names and job site names for these products.  For example, I learned that a "cove base" is well known as a "sanitary base" and there's a need for this product to meet health department or building code regulations.  Once all of the ceramic trims and metal or plastic profiles are introduced, the course moves into how to make your own bullnose or trim pieces.
Trims and Profiles reviews the various ways to finish a tile installation, and how to make your own bullnose or trim pieces. Photos courtesy of Schluter and Crossville.  
Coverings courses
If you are planning a trip to Coverings this year, Mark Heinlein and I will be presenting a course on using online education and apprenticeship to improve company performance on Wednesday April 5th at 3:00 pm.  If you haven't seen NTCA University, this is your chance to see how to use it and the courses that are currently available.
Remember, you can purchase your all subscription access by visiting the NTCA store.  Make sure that you are logged in to get your introductory pricing.  If you purchase this subscription, you will have access to all of the learning content, including anything new that is created through December 31, 2017.  If you have any questions, please feel free to contact me at [email protected] or 770-366-2566.