By Becky Serbin, NTCA training and education coordinator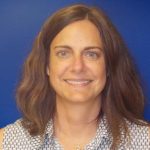 We have had several members asking why they should purchase NTCA University.  Here are a couple of testimonials on how others are finding it valuable.  Both Mike, a business owner who has registered some of his employees on his site, and Dan – who is relatively new to the industry – are looking for education. Here's what they have to say about NTCA University:
Mike Degiusti, Terra-Mar, Inc., Oklahoma City, Okla., a NTCA Five Star Contractor
"For those of you who are looking for more knowledge of the tile trade and business, I encourage you to look at the NTCA University. After months of procrastinating I finally started the program…and was surprised at how much info there was. The program covers a lot of topics. I will say maybe every module is not for everyone but there are definitely some topics for everyone.
"The beauty is one cost for as many employees you have and you can do it as you have time. In fact while I was watching one of the modules yesterday two of my people came in saw what I was viewing and said they wanted to do it.
"Just a side note for those that don't know me, I am not saying you have to do it to be a good tile setter. I just think you should check it out. I have been in the tile business in every aspect for over 50 years and I learn all the time. It takes a lot to impress me and this program does. Thank you for reading this and I hope everyone has a great year."
Dan Heinlein, apprentice for Kerber Tile, Marble and Stone, a NTCA Five Star Contractor in Shakopee, Minn.
Heinlein, who happens to be the son of Mark Heinlein, NTCA technical trainer and presenter, recently entered the tile industry after working in the culinary field. He's been working as an apprentice since December 2016.
Heinlein explained, "I decided to go into tile setting because it's a field of construction/measuring with decorative/artistic application. To me it seems like a reasonable balance of the two aspects. I decided to take the NTCA courses simply to have a credible background with working experience, and to keep the wheels churning off the clock.
"I've been studying NTCA University online, and these certificates are available at the end of each section for the apprentice stages (0-6 months)," he added. "I've taken the 0-6months courses, and the other part I'm getting ready to engage in. The first section of courses was really helpful when confronted with the application of grouting knowledge."
Dan Heinlein proudly displays all the certificates he's earned in NTCA University for the 0-6 month courses.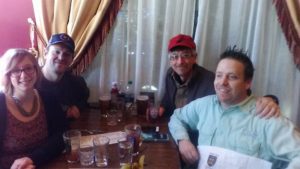 Dan Heinlein (far right) with father Mark Heinlein (center right) during a recent visit. Also pictured at left are Dan's sister Megan and her fiancee Colin Pugh.
No matter your skill level or number of years in the business, there is always something new to learn, something you may have for gotten, or you could just be looking for a refresher on a topic.
Interested in NTCA University? Click on NTCA University at the NTCA webpage, www.tile-assn.com, or contact me at [email protected]