Tile of Spain, the international brand representing 125 ceramic tile manufacturers belonging to the Spanish Ceramic Tile Manufacturers' Association (ASCER), announces the launch of the Tile of Spain Quick Ship Collection, a select group of tile products that are available for immediate purchase in the U.S.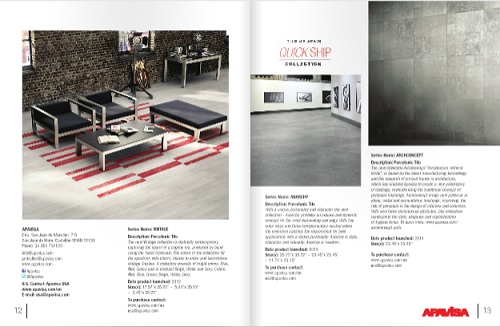 Available online at www.tileofspainusa.com/quickship, the Quick Ship Collection is presented in a sleek, 68-page color online catalogue that highlights products from Spanish ceramic tile manufacturers that are in stock and available within 4 to 8 weeks. It serves as an inspiration piece and simplifies the purchasing experience for consumers, retailers and design professionals alike by putting customers in direct contact with tile distributors.
"The new Tile of Spain Quick Ship Collection is a tremendous resource for sourcing the distinctive and limitless world of Spanish ceramic tile," states Rocamador Rubio, Director, Tile of Spain. "It provides product and where to buy information for design professionals and consumers enabling them to make the perfect choice in selecting interior or exterior tile."
Each dynamically structured page in the Quick Ship Collection online catalog includes the tile series name, color image, detailed description of each pattern, available sizes and uses, and contact information to make purchasing easy.
The program will be an ongoing platform for Tile of Spain, and will continue to expand as more innovative new Spanish ceramic products are added.
To view the Quick Ship Collection, visit www.tileofspainusa.com/quickship/.