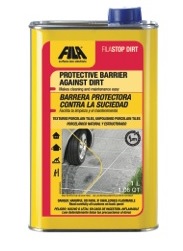 Fila, the natural surface care specialist, will be launching two new high performance treatments at Coverings 2014 (April 29 – May 2).  FILASTOP DIRT, the new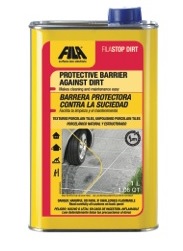 protective dirt-barrier, is designed to create an invisible dirt-repellant barrier on textured and unpolished porcelain, and FILANO DROPS is a dual-purpose glass cleaner and protector. 
Designed for indoor and outdoor surfaces, FILASTOP DIRT chemically bonds to surfaces, providing resistance to foot traffic and general wear.  It also protects against water and oil stains, and limits water retention; this has been demonstrated by lab tests conducted on surfaces that were laid in accordance with UNI 11493. FILASTOP DIRT is UV-resistant, will not yellow, and it will not alter the material's original degree of slip resistance, as proven in tests conforming to the B.C.R.A. and ASTMC 1028- 2007 methods.  FILASTOP DIRT's ready-to-use formulation also features Micrometrics technology* – tried-and–tested science that respects the end user and the environment.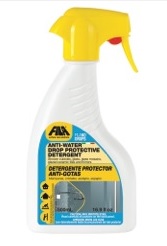 FILANO DROPS is a new addition to Fila's Green Line.  The no-rinse spray treatment cleans without streaks, and creates an invisible hydrophilic film – similar to water molecules – so water droplets slide off surfaces without leaving lime scale residues.    It is solvent-free and its non-acidic formula is ideal for showers, mirrors, glass mosaics and glazed ceramics.  It can also be used to clean faucets, stainless steel and Plexiglas, and plastic.
For more information about any of Fila's surface care solutions products, please contact Fila Chemicals USA Corp on tel. +1 305-513-0708, visit us at our website  [email protected] , or stop at Coverings 2014 Fila's Booth # L15027 
Editors' Note: 
Established in 1943, Fila is a global, eco-focused company.  It specialises in surface care solutions for marble, natural stone, porcelain, terracotta and wood.   Combining the traditional values of a family-run firm with innovative product development, Fila products are recommended by over 200 floor manufacturers throughout the world.
*Like all FILA products, FILASTOP DIRT contains micrometric particles that are the same size as stone/ceramic pores – between 10-3 and 10-6 μm – so they are able to penetrate a tile's pores effectively.  Unlike new nanotech-sized particles – which are more reactive and small enough to enter cells and tissues – tried-and-tested micrometric particles pose no risk to the environment, or public health.