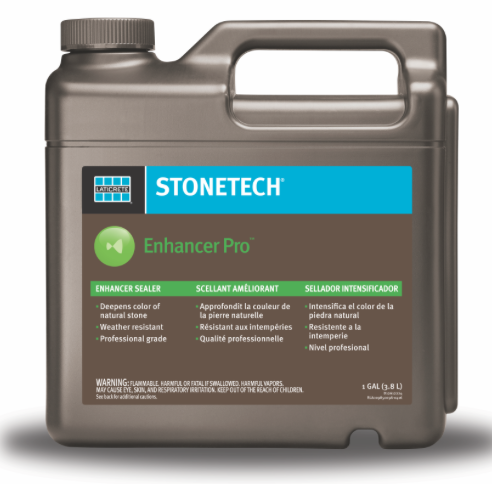 LATICRETE® STONETECH® Enhancer Pro™ Sealer is a heavy duty sealer that seals and enhances the surface to a deep rich color. Part of the STONETECH Professional line of tile and stone care and maintenance products, the innovative, easy-to-use solution is made up of a solvent-based formula that deepens color, provides heavy duty protection against most stains and deepens color.
Additionally, STONETECH Enhancer Pro Sealer is weather and UV-resistant making it the perfect transforming product for both interior and exterior use to help ensure the beauty of natural stone and tile countertops, floors, stair, ceilings and other installations. Suitable substrates include but are not limited to limestone, slate, flagstone and travertine.
STONETECH Enhancer Pro Sealer is available in a 1 pt (473 ml), 1 qt (946 ml), 1 gal (3.8 L), 5 gal (18.9 L) and 55 gal (208 L) containers. For more information visit, www.laticrete.com.