One of the hottest trends seen at the Cersaie show in Italy and Cevisama in Spain is the emergence of thin tiles. These thin tiles start at thicknesses of about 2.5 mm for walls up to about 6 mm thick for floors. Manufacturers tout a range of advantages, including installation over existing floor or wall coverings, eliminating the need for ripping out existing finishing materials in renovation projects, saving time and money in labor costs. The tiles are strong and lightweight, and reduce material consumption which benefits the environment. They can also be easily cut with a wet saw, and in some cases (easier with non-reinforced slabs) with a glass cutter.
According to Eric Astrachan, executive director of the Tile Council of North America (TCNA) there are currently three technologies used to manufacture thin tile: the Lamina process using Italian-made System equipment (System itself manufactures Laminam tiles); the Continua process using the Italian-made Sacmi equipment; and double-pressed or dust-pressed technology that loads powder into the press to produce a thin tile.
Typically, Lamina-made tiles are 3mm thick – largest slabs being 1000×3000 mm and 1200×3600 mm in size; Continua process tiles are equal or greater than 3 mm thick for walls and equal or greater than 4.6 mm thick for floors; dust-pressed tiles typically are 4.8mm thick, and not less than 4.5 mm thick. Most of these processes can be available with or without reinforcing mesh on the back.
Standards: in development
In terms of thin-tile installation, Astrachan said, "There are no nationally-recognized installation standards for thin tiles anywhere in the world of which we are aware. This is a problem because opinions abound on how to install it, and failures have resulted."
Efforts to develop ISO standards for thin tile and installation standards are afoot, and TCNA is working in conjunction with the international body to provide input. TCNA is also collaborating with labor to quickly develop installation standards for North America to reduce incidents of performance failures due to incorrect methods or materials.
Most recommendations right now are for installation on concrete – when considering thin tile installation on wood frame construction even more variables arise. "The TCNA lab has developed a massive research program to evaluate thin tile installation and minimum physical properties," Astrachan said. "We are trying to get that funded and hope to have more definitive guidance sometime next year."
Here are some of the important factors Astrachan said must be considered in thin-tile installation:
Lippage must be virtually non-existent to avoid chipping damage to the thin edge.
Coverage must be 100% at the edges to prevent edge cracking.
Generally people say coverage should be 100% everywhere but we have seen successful installations with less than 100% coverage – however, performance will depend greatly on the thickness of the tile and type of reinforcement.
The amount of extra tile needed for a job can be much more than a regular project if the pieces being installed are large. It is easy to break a piece and then another large piece (several square feet) would be needed.
Astrachan said that in general, reinforced thin tiles are being installed on floors in new construction as well as in renovations over existing tile. "One of the popular wall tile applications is to go over existing tile in showers to create a very clean and uninterrupted appearance," he said.
The NTCA Technical Committee has addressed thin tile in its 2010 NTCA Reference Manual on page E4 "Tile Not Manufactured to Industry Standards." It's also being discussed at the upcoming meeting this month during Total Solutions Plus in a committee headed by TCNA's Bill Griese.
In the field
Artcraft Granite, Marble & Tile's James Woelfel has installed Kerlite 3 mm, 16″x40″ thin tiles in about 10 new construction projects of about 100-200 square feet each. Woelfel said the material was very easy to handle, but the reinforced backing created cracking problems when scoring with a glass cutter, so the Mesa, Arizona-based, NTCA Five-Star contractor used a wet saw instead. There were also tile waste problems when the scored tile cracked, and when at least one box of crushed or broken tiles came in each shipment.
Woelfel had good success with MAPEI's Kerabond/Keralastic mortar system, which was recommended by the manufacturer. MAPEI's Granirapid can also be used for vertical large thin tile installations, as well as MAPEI Ultralite, a high-performance, deformable, one-part cement adhesive with zero vertical slip and longer open time.
"MAPEI recommends a trowel with slanted teeth to allow the mortar to lay down more easily without sliding the tile to comb over the trowel ridges," Astrachan said. "Unlike traditional tiles, it is very difficult to slide large thin pieces." In addition, LATICRETE® 255 MultiMax® thin/medium bed mortar, 4-XLT® non-sag mortar, and Sure Set® medium-bed mortar can be used for thin tile installations.
For setting floor tiles, Astrachan observed a practice which goes against the grain of traditional tile installation: walking on the tile to embed it into the mortar. "This tile is flexible…stepping on it pushes it into place." Not so much for beating the tile into the mortar with a rubber hammer, which can lead to breakage.
Astrachan stressed the importance of leveling the floor first, since mortar can't be used to build up irregularities in the subfloor beneath – and Woelfel cautioned contractors to fully level the substrate and ensure flatness. "It's like setting vinyl tile on walls," Woelfel said. "It will telescope anything beneath it." Woefel recommended the tile contractor conduct taping of drywall; in some cases, the wall may need to be mudded for a flat surface.
Following are some new thin-tile products: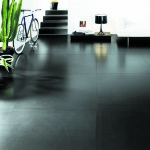 Cotto d'Este: Black-White, from the Kerlite collection, is manufactured to a slim 3mm thickness using the Lamina process. Sleek and contemporary, Black-White comes in 3×1 meter and 1×1 meter in black and white. Eco-friendly manufacturing is earmarked by reduced emissions and 25% natural gas consumption, plus recycled materials for packaging. Large porcelain stoneware slabs above 3.5 mm thick are reinforced with fiberglass mesh. www.cottodeste.it.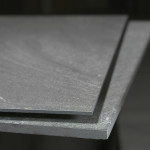 Fondovalle: Bi+Fusion technology used in Light 4 Fusion allows the production of large, lightweight, double-pressed 4.8 mm thick slabs with multiple loading and colored pastes, offering great technical performance.  www.fondovalle.it.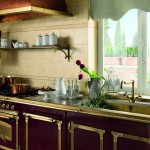 Gardenia Orchidea: Crete di Pian-della Fornace is the latest innovation from the Crystal Ker brand, which uses traditional press technology in a new way to produce extra fine, extremely thin, very white porcelain stoneware in 2.5 mm thickness for the wall covering and 4.5 mm for flooring. www.gardeniaorchidea.com.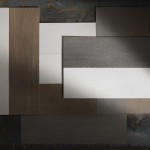 Laminam: Linfa ceramic slab features Lamina technology to produce a 3 meter-long, 3 mm-thick tile with surface effects that imitate various types of wood such as cotton, hemp, bark and coconut. Linfa is made with up to 48% recycled content. www.laminam.it/eng.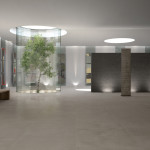 Lea Ceramiche: Slimtech Re-Evolution 3mm porcelain now comes in sizes as large as 40″x118″, in a new resin-like texture created by Lamina technology. www.ceramichelea.it.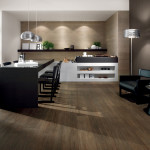 Panaria: The Doghe 0.3 collection is part of the new ZER0.3 line, which uses Lamina stoneware technology to produce large, thin, lightweight ceramic slabs. Doghe 0.3 offers a wood effect in three modern colors in 3mm-thick planks. www.panaria.it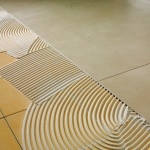 Refin: Skin is the brand-new, 4.8 mm slim porcelain stoneware. Using dust-pressed technology, Skin offers the same technical and resistance features of standard thickness porcelain stoneware tiles, with added benefits offered by thin tile. www.refin-ceramic-tiles.com.