Tech Talk – September 2013

The most "rainfall" a home sees each year is NOT on the roof — it's in the shower– so plan waterproofing for your projects accordingly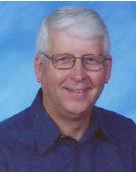 By Don Halvorson, CTA, CTC, CMRS, Forensic Tile Consultants
Forensic Tile Consultants has performed thousands of site inspections and intrusive tests over the past several years as an expert witness for construction-defect investigations. After many years of bathroom inspections, it has become vividly clear that residential showers are a major source of water entry into the structure, due to type of wall construction, improper construction practices and availability of proper construction details.
While the typical homeowner complaint that drives a construction-defect lawsuit tends to be roof and window leaks, a major source of water entry into the structure is located in the bathroom or bathrooms of the home. This specific area of water intrusion leads to structural damage, mold growth and health issues. While architects and contractors are aware of the weather issues associated with roof and window installations, very little emphasis is placed on properly constructing a shower to eliminate water leaks into the building envelope.
Two feet of rain falls for every shower
In 1997, Cecil Hunt, owner of Hunt For Tile, a tile contractor in Chula Vista, Calif., performed a basic test to determine how much moisture was occurring inside the shower during a typical personal shower. He simply placed a glass inside the shower, on the receptor in the water spray pattern, and tracked the amount of time required to fill the glass with 6" of water. This occurred in three minutes. Using 12 minutes as a typical shower time, Mr. Hunt calculated that 24" of rain fell during that shower, which amounted to 8,760" of "rain" in a one-year time frame. This figure has been used for several years in the industry by tile experts.
In an effort to justify this figure, or provide a more realistic figure, a review of the shower environment with respect to water or moisture is required. Currently, much emphasis has been placed on water conservation with reduced water-flow showerheads. This is due to The Energy Policy Act of 1992, a Federal law that placed requirements on the manufacturers of showerheads after January 1, 1994. This law established the National Water Efficiency Standard at 2.5-gallons per minute, at a water flowing pressure of 80 PSI, plus meeting the requirements of ANSI A112.18, 1M-1989, 7.4.3a for all showerheads except a safety shower showerhead.
Obviously, the water flow is going to vary with showerhead design and water pressure, plus the fact that there are probably more residential houses with water pressures around 60 PSI, than 80 PSI. That reduction in pressure would reduce the showerhead water flow to about two gallons per minute.
Expert opinions vary on how long a "normal" shower lasts and how much water is actually used. In August 2000, the GAO (United States General Accounting Office) published a report to Congressional Requesters on "Water-Efficient Plumbing Fixtures Reduce Water Consumption and Wastewater Flows." In this report, reference is made to a comprehensive study conducted by the American Water Works Association's Research Foundation where 1,200 homes were studied to determine the end use of water in residential homes. That study reports the Mean Daily Residential Water Use for a shower is 11.6 gallons per person.
A showerhead sprays water in a constant pattern; in other words, it does not fall in a random pattern like natural rain. This fact does not lend itself to using a rain gauge to measure the water amount. The actual shower size also varies, along with the spray zone and splash effect of a moving body.
Therefore, a base line flow rate would simplify any analysis undertaken and give a standard by which to judge the results. For this analysis, the showerhead flow rate used in the calculations will be 2.5-gallons per minute as depicted by the National Water Efficiency Standards.
The only other item that is constant and can be utilized in this analysis is the size, or footprint, of the shower unit. The analysis will compare the typical shower sizes found in residential houses. The water flow rate, calculated for a 12-minute shower, will be figured as covering the floor surface without draining away. This amount will then be added up for a one-year time frame.
The following standardized units will be used: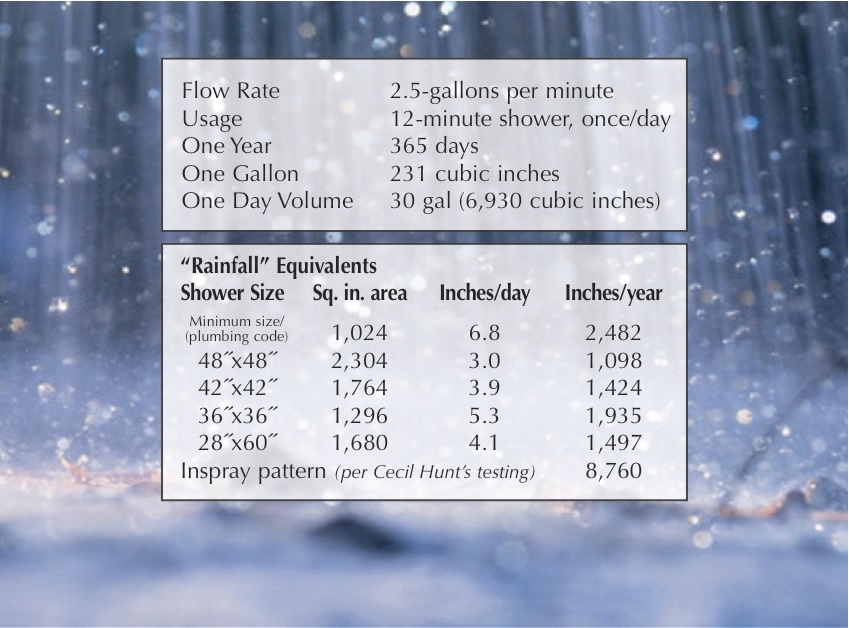 Conclusion
Assuming the annual rainfall in Southern California in 2001 was 6" and other areas of the world receive over 200" of rain per year; we can compare the highest and lowest figures from the above chart (1,098/2,482) with those rainfalls (6/200) and quickly realize that the moisture inside a shower can be from 5.5 to 414 times more "rain" than on the roof.
If we use the 2-gallon per minute flow rate, the moisture inside the shower changes to 4.4 to 329 times more than on the roof.
If we use the Mean Daily Residential Use Per Capita" figure of 11.6 gallons, the moisture inside the shower changes to 2.2 to 156 times more than on the roof.
From all the studies and variables reviewed, the range of moisture in the shower environment varies from 2.2 to 414 times the annual rainfall experienced on the structure's roof.
The calculations and conclusions shown here are strictly meant to point out the fact that we have more moisture occurring inside a shower during normal use than on the roof during rainstorms. It is, therefore, necessary to design and construct a shower with equal or better care than the roof of a house.
Common sense tells us that any water occurring inside the shower area must go to the drain, not into the structure.
––––––––––
This article was printed with permission from Don Halvorson, CTC, CTA, CMRS, CRMI, Forensic Tile Consultant; email: [email protected]; cell 818-606-8431, office 805-492-5552.