Working with electric heat under tile floors
By Tom Meehan, Cape Cod Tileworks
About 10 years ago when I wrote an article for Fine Homebuilding magazine about electric heat mats under tile floors, I was going to start the article with a rather funny opening line that went like this:  "Every time you step onto a heated tile floor, your feet say 'ahhh.'"
As silly as that may sound, I have to say that after 10 years of having heated tile floors in my baths and kitchen, there is not a day in the fall and the winter that I do not notice the warmth every time I step onto the tiles. Living in New England, as I do – or anywhere in the northern part of the country – makes this system a nice bonus to have in a house. It is one of the very few things in construction that is simply not taken for granted.
There are several different companies with radiant heat systems on the market, and more are getting into the game each year. All of the systems work well when properly installed and, as usual, each claims to be a little better than the rest. They all seem to provide an equal amount of  heat.
Most can provide adequate warming for a bathroom and use only as much electricity as three or four 100-watt light bulbs. With large floors, such as a large kitchen, the heated floor mat systems can be made with 220-volt electric feed.

Warming the floor, heating the room
At one point, electric heat mats were known just for supplying comfort heat, but now manufacturers are claiming that heat mats can be used as primary heat sources in tiled rooms. The great advantage to this is that you can heat the area you chose without affecting the heating system in the rest of the house. This is great for a three-season room or a basement.
One of the best advantages of these heating systems is that they have their own heat control unit that can be timed to turn the heat on according to your schedule. For instance, you can set it to come on at  5:00 a.m. and to go off four hours later after everyone has gone to work or school. Why pay for the heat when no one is home to use it?
The two most commonly-used electric heat mat systems are the flat mat made of woven polyester fabric in which the heat wires are embedded, and the roll-out mat. Only a couple of companies have the flat-fabric mats (that I know of), but many companies have the roll-out mats. I use both, and they both have their pros and cons.
Flat or roll-out mats: pros and cons
While I find the flat mats to be the quickest and easiest heating mats to install, there are a couple of drawbacks to keep in mind. The flat mats cost a little more than the other models, and once purchased and on the job site, the one-piece mats cannot be altered. The advantages of the flat mat are that it goes down very quickly, is easy to work with, and does not build up the height of the floor as much as the roll-out mats.
Roll-out mats can be customized to fit any size room. Once you have purchased the correct amount of square footage, they are completely adjustable left to right and back and forth. They also can be easily purchased at most tile stores and big box stores. They do take more of an effort, more time to install, and do in most cases take up more height because it is hard to keep the wires perfectly flat, since the coiled wires have some roll-up memory.
Here are some important tips to always keep in mind. Even though the mats are different in application, almost all rules apply.
Wires can never be cut NO MATTER WHAT. The mats should be ordered to a size smaller than the actual size of the room, and NEVER go under the toilet, vanity, or any other built-in furniture.
Every system has a thermostat probe wire that must be installed in the floor with the mat. The probe must be positioned a couple of feet into the room but must not cross over the heating element wires. So, the probe wire will go down one of the channels in between  the heating wires. Use a glue gun or tape to help hold it in place.
Check the electrical current with a voltage meter or a warning alarm device provided by the manufacturer. This MUST happen before installation, during installation, and when the job is complete. I leave the alarm device hooked up during the entire installation.
Once installed, the heat mats MUST be protected when being worked on. Even though the products are pretty rugged, a sharp knife or chisel will cut through the wires very easily.
Before installation, PLEASE read the manufacturer's requirements and instructions. Each unit can be different. Proper setting materials must be used or the complete job may fail. For instance, woven mats have to be installed with latex-modified thin-set mortar and the tile being applied to them must be installed with latex-modified thinset as well.
Here is the biggest tip of all. With 95% of the heating mats I put in, I install a stress-, crack-isolation or uncoupling membrane (like Schulter® DITRA) over the heat mat before I install the tile. The membrane strengthens the floor, but more than that, it provides a buffer in case a tile ever has to be changed. Avoiding damaging the wires is a key factor. Also, the heat rising up through an uncoupling membrane provides better distributing of the heat. Using these membranes increases the price of the job and it also increases the height of the floor, but if figured in the early stages, it's the best way to go to avoid any problems (and allow you to get to sleep at night).
Here are some electric floor warming systems to consider: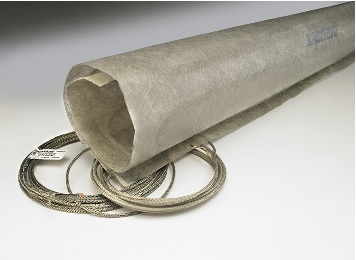 EasyHeat's Warm Tiles Elite Mats™ are designed for fine residential and commercial floors. They are available in both standard rectangular sizes and custom layouts ranging from six to 120 square feet for areas with irregular shapes. Adding to their versatility is that the mats can be ordered in either 120V or 240V with high power output, so floors heat faster and more efficiently. www.emersonindustrial.com

WarmlyYours Radiant's TempZone™ Flex Rolls and Custom Mats add luxurious comfort to any room. With an industry-leading 15 watts per square foot, they provide powerful floor heating options. WarmlyYours supports its easy-to install TempZone™ products with planning and design services, unparalleled 24/7 installation and technical support, and a 25-year No Nonsense™ Warranty. www.warmlyyours.com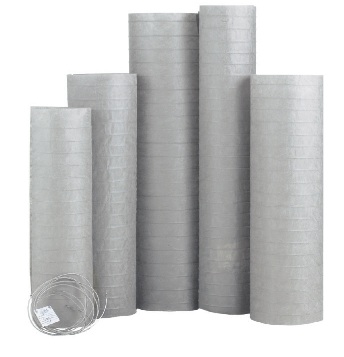 The Nuheat Floor Heating System heats tile, stone and laminate/engineered wood floors. Built like an electric blanket, Nuheat manufactures pre-built electric radiant heating mats available in over 60 standard sizes. For oddly-shaped rooms with curves and angles, Nuheat will manufacture a custom mat built to the exact specification of any space in only three days. The pre-built nature of the heating system creates an extremely easy install while still providing a viable heating alternative to electric baseboard heaters. www.Nuheat.com
Warmup offers the exclusive 3iE™, the world's first fully interactive, touch-technology and energy monitoring thermostat for heated floors. Temperature can now be regulated with ease and precision, and it can be programmed in under 10 seconds. Visit www.warmup.com to learn more about the 3iE™ and The World's Best-selling Floor Heating brand®! See how to install Warmup floor heating systems by visiting this YouTube at http://goo.gl/Txk96a.  www.warmup.com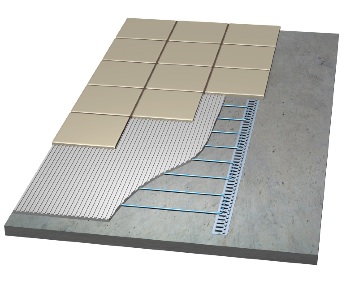 LATICRETE® has expanded its radiant heating offering by introducing Floor HEAT Wire. Floor HEAT Wire is a heating wire that is unattached to a grid mesh mat, offering unprecedented flexibility especially in tight areas or around furniture or fixtures that make it difficult to position a heating mat. Floor HEAT Wire is part of a comprehensive, lifetime warranty system for tile and stone applications, allowing contractors the simplicity of single-source supply. The LATICRETE Lifetime Warranty covers the floor warming system and its components, and thin-set mortar, grout and surface preparation products. www.laticrete.com
———
Tom Meehan is a second generation installer with over 30 years experience. He is also a state director for the NTCA. Tom is a long time writer for a number of different magazines and is the author of the book Working with Tile, which combines both design and installation techniques.