Cold weather tiling
By Lesley Goddin the NTCA Reference Manual
December means cold weather for most of our 50 states, so this month's Tech Talk literally takes a page out of the NTCA Reference Manual to discuss the particulars and cautions that surround setting tile in cold weather.
The NTCA Reference Manual is an essential industry guide that references real-world, in-the-field situations, in most cases with a cause-cure-prevention format. It also contains letters that can be customized to various parties in the project to legally communicate problems to keep tile contractors harmless in a dispute. This indispensable publication is now available to the entire industry. Visit https://store.tile-assn.com/p-63-20142015-ntca-reference-manual-non-member.aspx or click on the "store" link at NTCA's website www.tile-assn.com, and select books and periodicals to get your copy today.
Following are the recommendations for successful cold weather tiling: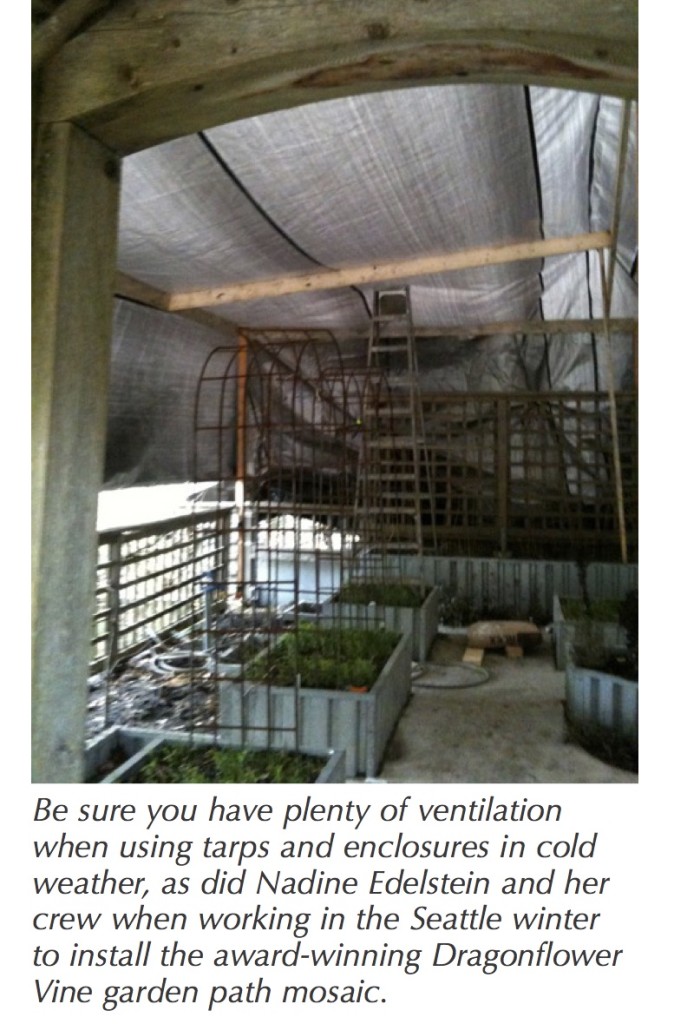 General
The professional installation of tile in cold weather presents a number of problems. The best results will be obtained when the environment and the products are about room temperature. Each bonding material will require specific precautions.
Tile bonding and grouting materials must not be applied to surfaces that contain frost. Tile must not be installed in areas where the substrate is not maintained above 50° F (10 C) or where the substrate is above 100° F (38 C). Temperature of the substrate shall be 60° F (16 C) and rising for application of epoxy and furan unless otherwise specifically authorized by its manufacturer. Maintain epoxy and furan at a stable temperature between 60° F (16 C) and 90° F (32 C) during the curing period.
Industry specifications do not recommend setting tile below 50° F. If work below that temperature is unavoidable, common sense procedures and precautions should be observed. Be aware that it is the temperature of the tile products, bonding materials and substrate which count – not just the air temperature of the room.
Cold weather slows cement hydration (curing)
It is recognized that cold weather slows the strengthening of cement mortars and grouts and allowances must be made for the resulting risks.
As the temperature drops from 50° F to 35° F, the strengthening of cement slows concurrently, until at 35° F it almost ceases. When these conditions occur, additional time must be allowed for the cement bonding materials to sufficiently harden before traffic is allowed. If the water in fresh cement is allowed to freeze solid, particularly near the surface, the small ice crystals expand, separate the sand and cement, and destroy the strength of the mortar, resulting in a bond failure.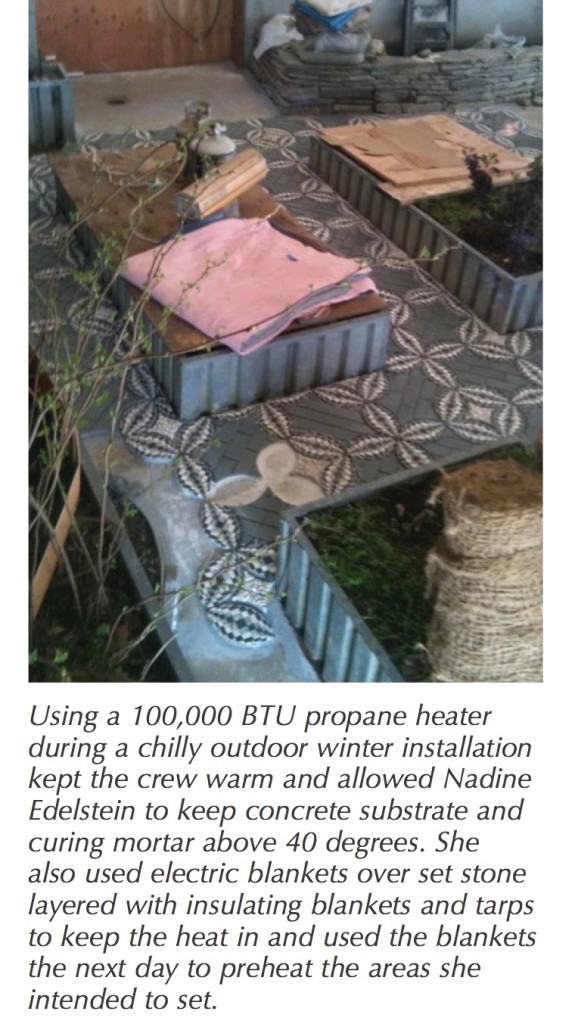 In cold temperatures, grouting done before the bonding material is strong enough to accept traffic, will cause movement of the tile resulting in irreparable bond failure. When the temperature is below 50° F, grouting should be done immediately after the tile is set or wait at least two to three days. No traffic should be allowed during this period. When continuing a job, special precautions must be taken to keep all traffic off the tile that was set the previous day.
When using blower heaters to protect tile from freezing, caution must be taken to avoid rapidly drying out the tiled area directly in front of the heaters. There is a risk of drying out the air in heated areas preventing proper curing of mortar and grout. It is advisable to damp cure under these conditions.
The use of electric heat is preferable to oil or gas-fired temporary heaters that can cause chalking carbonation and weakening of fresh mortar or grout.
Cover ungrouted surfaces during the initial setting period for protection against drafts and freezing temperatures. Fast-setting mortars, although susceptible to freeze damage, may reduce curing time if the manufacturer's recommendations are followed.
Epoxies and urethanes
Epoxies require special cold weather precautions. The most likely conditions to occur because of cold temperatures are:
1. A thick stiff mix.
2. Difficult application.
3. A very slow cure and strength gain.
For these reasons, most epoxy products are recommended for use between 70° F and 80° F. Low temperatures can cause epoxies to become so stiff they are unworkable and curing time is extended beyond practical limits. Epoxies should be stored at room temperatures at least 48 hours before mixing. Most epoxy problems result from improper and insufficient mixing.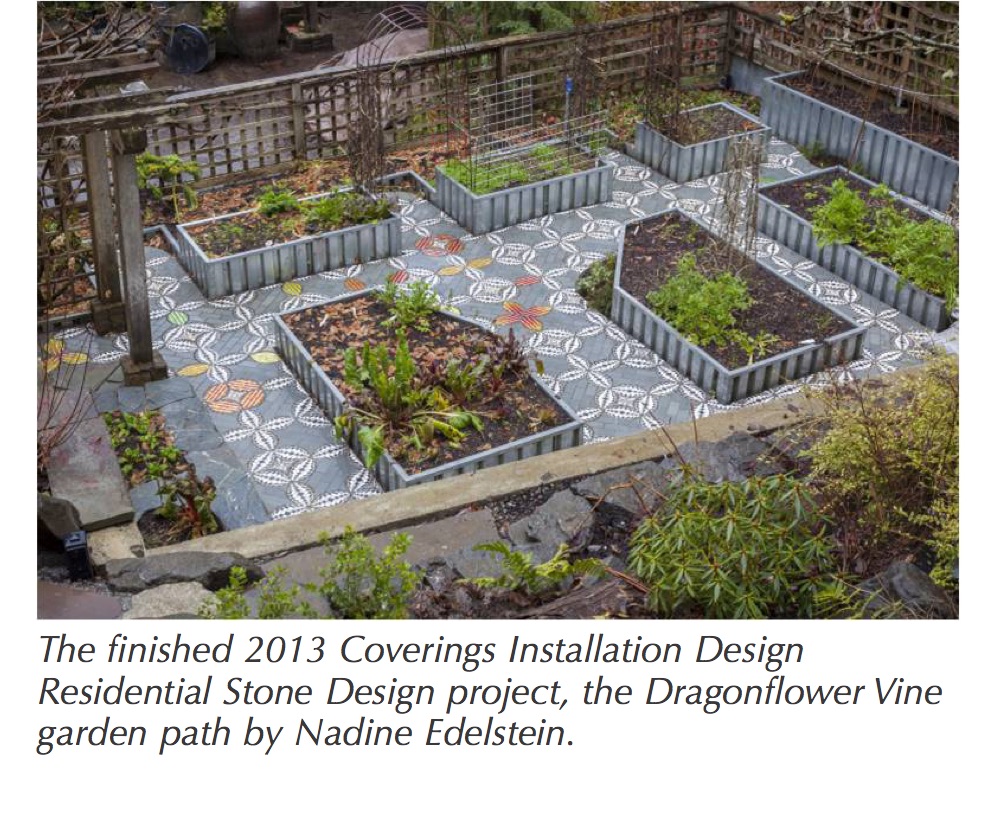 Cold weather tiling tips
Nadine Edelstein, winner of a 2010 TileLetter Tile Design Award for the slate strip mosaic in the Maury Island residence outdoor entryway and a 2013 Coverings Installation Design Residential Stone Design Award for the Dragonflower Vine raised-bed garden pathway in Seattle, Wash. Edelstein installed both winning projects during the during the cold northwest winter.
Conditions for the Maury Island project included temperatures in the 30s and wind whipping through the space. The crew bundled up to stay warm and took measures to keep the concrete substrate and curing mortar above 40 degrees. Edelstein said she "used electric blankets over the set tiles layered over with insulating blankets and tarps to keep the heat in. The next day we used the blankets to preheat the areas we intended to set."
For her 2013 Dragonflower Vine project, elaborate measures included a framed enclosure built over the entire 500+-sq.-ft. garden. "This was covered with heavy-duty tarps that were secured with full five-gallon buckets hanging off the sides!" Edelstein said. "This kept us dry and provided enough ventilation so that we could use a 100,000 BTU propane heater, which kept the chill off of us while we worked. We then employed the same electric blanket technique to help our mortar cure."
A note of caution from industry expert and ceramic consultant Dave Gobis, CTC – be sure to provide plenty of ventilation – as Edelstein did – when tenting a project. "A tented installation or the cement could kill you from either carbon monoxide or dioxide. Be sure you have plenty of air moving through the enclosure."