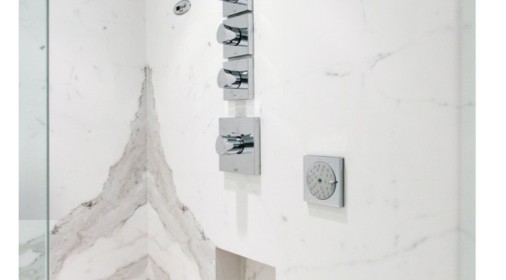 Large thin porcelain tile update, part 2
Manufacturers share wisdom about successful LTPT installation; contractors counsel caution
By Lesley Goddin
Last month, we looked at the burgeoning new category of large format thin porcelain tile (LTPT) from the contractor's perspective. This month, we get the low-down from manufacturers of the products themselves – and tips on how to ensure a successful installation, with some words of caution with several more contractors who have had first-hand experience installing the materials.
Training – and experience with the product – cannot be emphasized enough! As an introduction to the product, NTCA has been offering training on LTPT all year at its Tile & Stone Workshop Programs, presented by Gerald Sloan and Michael Whistler at host sites around the country. Sloan and Whistler have attended trainings at various suppliers and setting material manufacturers to get up to speed on what these parties are advising for successful LTPT installation.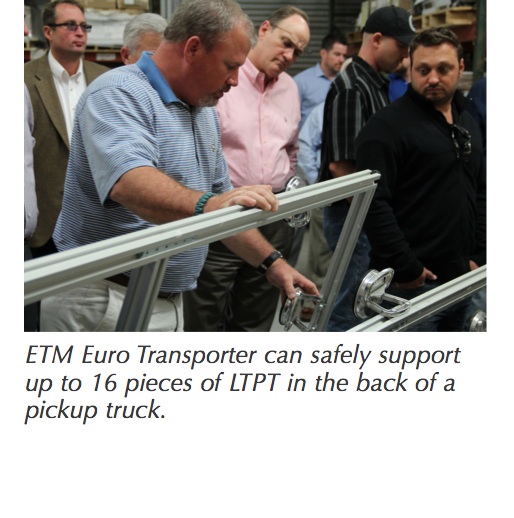 Training reduces fear factor
Crossville, Inc. has been very big on the scene with its Italian-made Laminam by Crossville LTPT – and has been at the forefront of conducting trainings for contractors to familiarize them with the products and the best way to work with them.
"It is not a big learning curve – the material is easy to work with –but without proper tools and training on the job, learning could be not so fun and maybe even expensive," said Noah Chitty, director of technical services for Crossville.
StonePeak Ceramics, who manufactures Plane 5' x 10' LTPT in 6mm thickness, has been conducting twice-monthly, packed-to-the-limit classes at its Tennessee facilities to train installers on using the material. And it also sends a team to distributor locations and invites installers in to witness a live installation for a showroom vignette.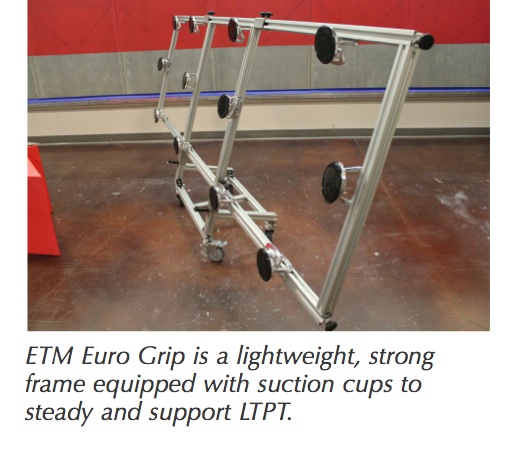 Todd Ward, vice president of national accounts and director of StonePeak Ceramics' Plane program says, "Don't over think it. We are still dealing with porcelain tile – it's just a bigger size." Ward points out that 25 years ago, the typical tile size was 8" x 8", and then it grew to be 12" x 12", 24" x 24" and larger. With training and familiarity with the product and the new installation methods required for the larger tiles, installers became proficient at working with this new material, he said.
These training opportunities are important, said Ben Szell of European Tile Masters (ETM), a company that has pioneered a number of different tools and pieces of equipment to simplify working with LTPT. They "equip the contractor to stage and choreograph the jobsite before the material are transported to minimize breakage, loss of time, and frustration."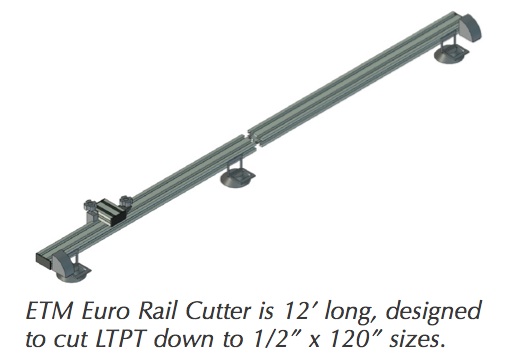 Daltile, which supplies fiberglass-backed 1m x 3 m 3.5mm SlimLite™ tile for wall use, has developed a CEU unit for the A&D community that "we are trying to coordinate with our architectural reps, to increase knowledge level and exposure," said Gregg Link, product director for glazed wall/ceramic mosaics. And Daltile holds clinics at its local Sales Service Centers near projects where SlimLite will be used, to educate the installing contractor on information about the material, including handling, back buttering, and hanging it, so they go into the job feeling confident.
Crossville's Chitty said that obtaining training can be a real feather in the contractor's cap, offering "a way to be able to do something their competition can't." He recommends selling the tile simply as "large porcelain tile" to the end user, but with the caveat that it "requires qualified labor and specialized equipment if used in full sizes."

And confidence is important, because several suppliers have seen skittish contractors overbidding jobs rather than rejecting them – "maybe 200% – 300% more than what a realistic labor rate would be – up to $25/sq. ft. to install," Link said. "Which is really the same as saying 'I don't want to do it.'"
Chitty said that out-of-the-ballpark bids "aren't good for anyone," – it's best to just step away gracefully or send the client to the supplier so they can help.
The right tools make or break the job
ETM's Szell called LTPT "user-friendly," since the virtual lack of tension in the product allows contractors to cut and drill very close to the edge. Tools that are specifically designed for this material are essential, Szell said, starting with proper transportation, and suction cup-based equipment to remove LTPT from crates and A-frame racks, cutters, tables and lippage-control systems, as well as trowels designed for full thinset coverage and an edge-finishing machine for beveling, mitering and bullnosing.
Adequate staff is key when handling the tiles, said Jim Whitfield, product manager for Florida Tile. The company will supply fiberglass-reinforced Thinner 1m x 1 m and 1m x 3m tile in 3plus (3.5mm) and 5.5mm thicknesses in 2015.
"The size of these large thin tiles requires at least two people to properly handle the tile from the container to the table for back buttering and also to the installation," Whitfield said." This is best accomplished by an aluminum frame with suction cup mounted on it to grab the finished side of the tile."
And Daltile's Lynn Mantha, product manager, glazed wall tile, suggested setting up a staging area with a large table ahead of time to handle the material. "You need a stable table for cuts and back buttering," she said.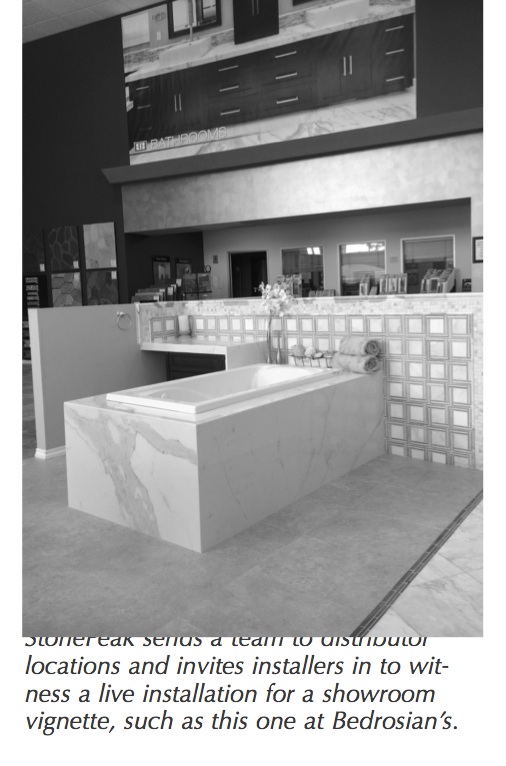 Though LTPTs are usually too large for typical jobsite wet saws, they can be cut by a good straight edge and glass cutter, Whitfield said. "There are also scoring tools on rails that can be mounted right on the face of the tile, making a cut precise and allowing for continuous pressure of the scoring wheel."
Follow directions!
Florida Tile's Whitfield emphasized that contractors need to know the specifics of the thin tile they are working with, since LTPTs run the gamut from 3mm to 7mm in thickness, different sizes and with or without fiberglass reinforcement.
"Careful attention should be paid to the manufacturer's technical manual or installation instructions," he said, particularly, "areas of use, tools needed, mortar recommendations and detailed installation recommendations."
Whitfield noted that, "Mortar coverage at all of the edges and corners is critical. The substrates will commonly require a self-leveling underlayment, mortar bed or wall float to meet the industry requirements of substrate variation not to exceed 1/8" in 10' (3mm in 3m) and 1/16" in 24" (1.5mm in 60 cm) when measured with a straight edge from the high points of the substrate."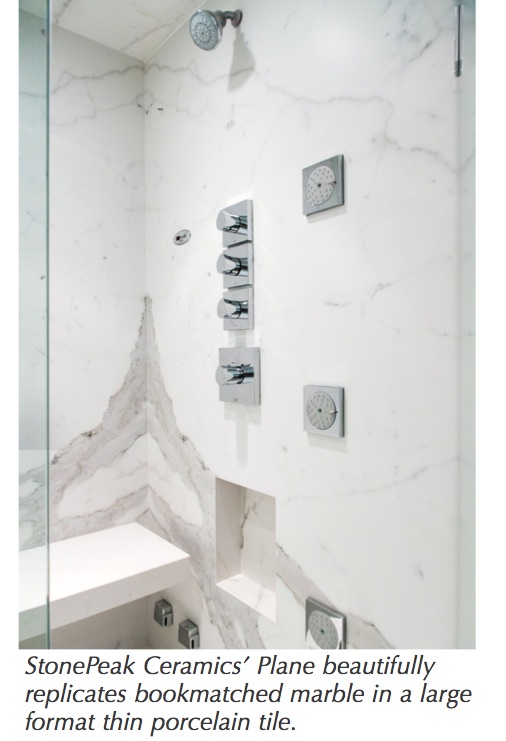 The thinset is keyed into the substrate and back of the tile then notched with unique trowels like Raimondi's slant "flow ridge" trowels, which increase the coverage of the mortar between the tile and the properly prepared substrate, he said.
In terms of setting the tiles, Whitfield said that "most mortar manufacturers recommend that thin large format tile floor installations not be walked on within the first 72 hours after installation. A rapid-setting mortar may allow the floor to be opened to light traffic quicker." Whitfield emphasized that installers and other trades follow these recommendations to a "t."
Caution counseled by contractors
But some contractors contend that a day or two of training really doesn't provide all the necessary information to deal with the material successfully – and that there are still a lot of unanswered questions about working with LTPT.
James Woelfel of NTCA Five Star Contractor Artcraft Granite, Marble and Tile, Mesa, Ariz., NTCA 1st vice president and head of the NTCA Technical Committee, asked, "What are the thermal expansion/contraction rates? What are the deflection or torquing rates? How am I – in Phoenix – going to spread 100 sq. ft. of mortar without the mortar skinning over? Mortar manufacturers advised mixing my thinset on the high end of water content. But with that formula, what is the chance that I'll over-water my mortar to install a 50-sq.-ft. tile 30 feet in the air?"
He continued, noting that the jury is still out about how setting materials can fully support these new LTPTs. "When we discussed the manufacturer's wish list of standards, including 1/64" in lippage maximum, the question was raised to mortar manufacturers as to what their shrinkage rates for the recommended medium-bed mortar were. Were they more or less than 1/64"? Unfortunately, they didn't have an answer, nor did they have an answer about how to measure 1/64". However, that 1/64" was insisted upon so that so the edges will be protected."

NTCA Five Star Contractor Nyle Wadford and past NTCA president added, "This is tailor-made for professional contracting firms, especially Five Star contractors. If the product is brought to market the wrong way, failures will increase and the demand will evaporate due to lack of successful installations. We need for this to be successful, but other organizations from around the world are having reservations about installation methods. We just want to see this done correctly."
Martin Howard of NTCA Five Star Contractor David Allen Company and NTCA 2nd vice president feels more product development is needed on the part of the manufacturers before the product is fully ready for market. "In my opinion the manufacturers have only completed half of the product development process," Howard said. "Until they have developed a consistently reliable and reproducible system of installation with defined criteria, this product is not market-ready and should not be sold to the unsuspecting public without some warning of the potential risks."
Standards
As stated in part I of our story in the July issue of TileLetter, standards for LTPT are currently under development. Florida's Whitfield makes the point that it's not new in our industry to have products in use in the field as standards are developing, as is the current case with premixed grouts, uncoupling membranes, and sealers.
But NTCA's executive director Bart Bettiga emphasizes that though standards don't yet exist, there IS some consensus about the materials that is critical for contractors to heed for their own protection.
"Most manufacturers haven't produced test results that lend confidence to install for any material thinner than 5.5mm for the floor," he said. "LTPT is groundbreaking technology. We don't want to get careless and start using this material in a risky way, or in thicknesses less than 5.5mm on the floor until more testing is done and a new consensus is achieved. The tile contractor accepts all the liability in a LTPT project, so we want to be sure contractors are installing tested and approved materials using tested and approved methods and recommendations. "
In fact, a "Thin Tile Position Statement" has been issued by the National Tile Contractors Association (NTCA), Tile Contractors Association of America (TCAA), International Masonry Institute (IMI) and International Union of Bricklayers and Allied Craftworkers (IUBAC). In it, all these organizations "recommend that tile contractors not install thin porcelain tile panels in any thickness less than 5.5 mm for floor installations until standards are developed and consensus is reached that thinner materials may be used on floors. It is our assertion that installations of thin porcelain tiles that are no less than 5.5 mm thick may be successfully accomplished in properly-prepared floor applications with the proper care and processes.
"The tile contractor should be aware that significant training and education are required to successfully install these products and that an investment in tools and equipment is necessary," the statement continues. "The manufacturer of the tile and setting materials recommendations should be secured in writing prior to installation and the contractor should follow these instructions carefully or potentially be exposed to increased risk and liability."
Obtaining training, taking care with installations and following manufacturer recommendations set the stage for the greatest success with these new products. And that's important, because there are many factors that make LTPT an attractive product with a great future: thinner tile; fewer raw materials; lower temperatures and shorter length of time in the kiln vs. traditional porcelains and much less weight to ship, Whitfield said. Plus, "owners like the fewer grout joints, ease of maintenance, and most important the look and thin profile of these tiles," he said.
Stay tuned for part III later in the year, which explores the topic of LTPT from the setting-material manufacturer viewpoint.