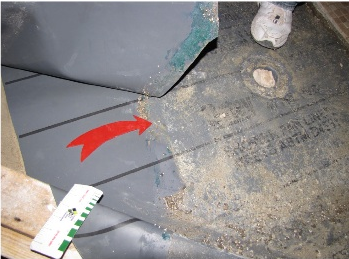 Installing ceramic tile, glass tile and stone in interior wet areas
Slope, weeps, and flashing are key to managing water and avoiding failures
By Donato Pompo, CTC, CSI, CDT, MBA,
Ceramic Tile and Stone Consultants (CTaSC),
University of Ceramic Tile and Stone (UofCTS).  
Exterior decks and balconies, and interior showers and bathrooms have historically been problematic areas for the installation of ceramic tile, glass tile, stone tile and other stone products. Typically problems are due to installer error, such as not using appropriate materials for those applications, or not having clear enough specifications. In each case it is the result of not following industry standards. Exploration into the intricacies of exterior decks and balconies can be an entire article in itself, but for this story, we will focus on interior showers and bathrooms.
Industry standards are created by industry consensus groups consisting of installers, producers, and industry experts through organizations such as ANSI (American National Standards Institute), TCNA (Tile Council of North America), ASTM (America Society for Testing and Materials) or ICC (International Code Council).  These consensus group members combine their many years of experience with science to establish standards so problems and failures can be avoided and not repeated.  Thus if standards are not followed then known potential problems can't be avoided.
As a forensic investigator for over 11 years, I have investigated many failed interior showers and bathrooms. I have found that the common denominators to tile and stone failures in these applications were the lack of proper slope, plugged weep holes, and inadequate flashing to contain or manage the water that resulted in various types of damages.
Managing water volume

First, consider the volume of water that showers are subjected to on a daily basis. Since these areas are likely to be subjected to more water than a typical roof is subjected to annually, it is imperative that extra care and attention are spent on specifying and constructing them. This is accomplished by properly managing the water so it is controlled and safely evacuated from those areas.
Lack of adequate slope is a common problem in interior wet horizontal applications such as shower floors, shelves and seats. It is very clear in the tile and stone industry standards, as well as in the Uniform Plumbing Code (UPC), and in the IRC (International Residential Code) or IBC (International Building Code) building codes, that the slope to drain, or away from the building, should be a minimum 2% slope. That calculates to 1/4" per foot (6 mm per 305 mm). UPC says the slope to drain in a shower must be a minimum of 1/4" per foot (6 mm per 305 mm), but not more than 1/2" per foot (13 mm per 305 mm).
Not only is it important for that slope to drain to be at the surface of the tile or stone, but it is critical that the minimum 1/4" per foot (6 mm per 305 mm) slope to drain is at the surface of the waterproof membrane or drain plane. Drains come in two sections. Where the drain clamps down on the waterproof membrane below the surface of the tile assembly, there are weep holes in the drain assembly, so that any water that migrates to the waterproof membrane can then evacuate into the drain through the weep holes.
Problem #1: Improper slope to the drain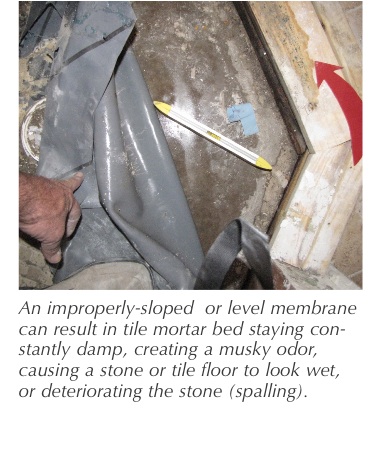 There are  three common problems that we run into. First, the waterproof membrane is not properly sloped to the drain. In a shower this can result in the tile mortar bed staying constantly damp, which creates a musky odor in the room, or it may cause a stone or tile floor to look wet. Excessive moisture might result in the stone spalling (deteriorating) and/or staining.   Sometimes we find that the waterproof membrane is flat or even negatively sloped away from the drain, or that there are low spots on the membrane surface where water collects.
Problem #2: Plugged weep holes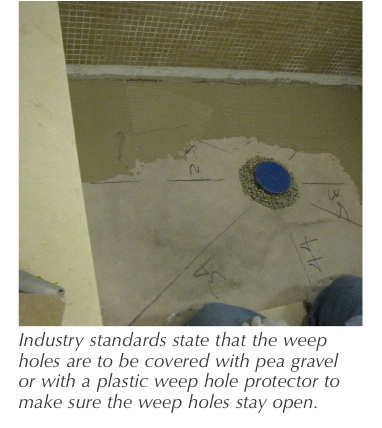 The second common problem is drains with plugged weep holes.  Industry standards state that the weep holes are to be covered with pea gravel or with a plastic weep hole protector to make sure the weep holes stay open. Often this weep hole protection is left out, and mortar is placed over the weep holes, plugging them. Thus, if the waterproof membrane is properly sloped to drain, the water cannot escape into the drain. Again, this can result in the tile mortar bed staying constantly damp, which results in the musky odor in the room, a wet-looking floor or stone spalling or staining.
The term "spalling" refers to the deterioration of the surface of a stone. It is the symptom of a stone being subjected to excessive moisture over time. Spalling is typically caused by moisture migrating from the stone's underlying substrate up through the stone to its surface where the moisture evaporates. As the moisture travels from under the stone through the cementitious materials, and through the stone itself, the moisture picks up various minerals (salts) which dissolve in the moisture. When the moisture reaches the surface of the stone it evaporates and the minerals precipitate into a solid again.  This expansion or crystallization of the mineral, referred to as efflorescence, causes the surface of stones to deteriorate to some degree.
Whether it is a shower or an exterior deck or balcony, the waterproof membrane surface must be sloped to drain or away from the building. Shower pans or receptors are supposed to have a pre-sloped mortar bed installed over the base substrate before installing the waterproof membrane. The pre-slope needs to have a minimum slope of 1/4" per foot (6 mm per 305 mm).
Problem #3: Membrane breaches

That brings up the third common problem that we find in showers: waterproofing or vapor retarders that are not complete or continuous. They tend to lack flashing at transition areas. Considering the potential collateral damages a defective balcony can develop, it is important to construct it like a big shower pan. Assuming that the deck has been properly pre-sloped, the waterproof membrane must continue, or be flashed, up the wall at least 3″ (76 mm) above any thresholds to prevent water from causing any potential collateral damages. All seams, penetrations and transitions must be properly waterproofed, flashed and sealed with a sealant. These are the areas that are most vulnerable to having problems, so they need to be given the extra attention to ensure they are installed correctly. The waterproof membrane should never be penetrated, unless it is unavoidable, and then the penetration has to be properly flashed and sealed with the appropriate sealants to ensure it will never leak.
Often we find that decks are sloped to their outer edge without any type of gutter or drain. The water drains over the side of the balcony and eventually results in staining along the siding, or staining and spalling the stone if there is stone siding. The latest trend is to use trench or linear drains that work very well and can be installed at the perimeters of decks or showers.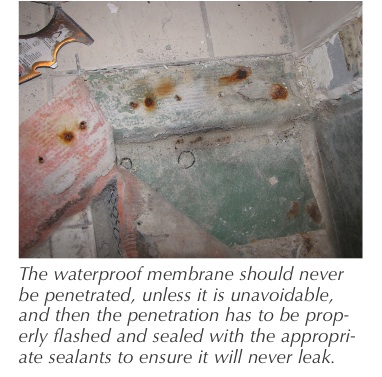 So how can a tile installer make sure that showers are given the attention they need to avoid failures? It is the same old answer.  Follow industry standards and manufacturers' directions. It doesn't matter who is at fault when there is a problem; everyone ends up paying – either in time to defend themselves, money to fix the problem or with their reputation. So it is in everyone's best interest to make sure that tile and stone installations are done properly. (Editor note: please visit www.tileletter.com for the full text of this story, which also addresses exterior installations).
Ceramic Tile Consultant, Donato Pompo, CTC, CSI, CDT, MBA, is the founder of Ceramic Tile and Stone Consultants (CTaSC), and of the University of Ceramic Tile and Stone (UofCTS). Donato has over 35 years of varied experience in the ceramic tile and stone industry. CTaSC provides services in Forensic Investigations, Quality Control Services for products and installation methods to include writing specifications, training programs, testing, and on-site quality control inspection services. CTaSC is a professional consulting business comprised of accomplished ceramic tile consultants, stone consultants, ceramic tile and stone installers, architects, engineers, general contractors, construction scientists and other industry specialists and experts conveniently located throughout the US and Canada. You can reach Donato by visiting the company website at www.CTaSC.com, emailing [email protected] or calling 866-669-1550.