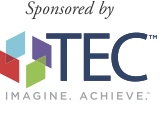 Tiling commercial kitchens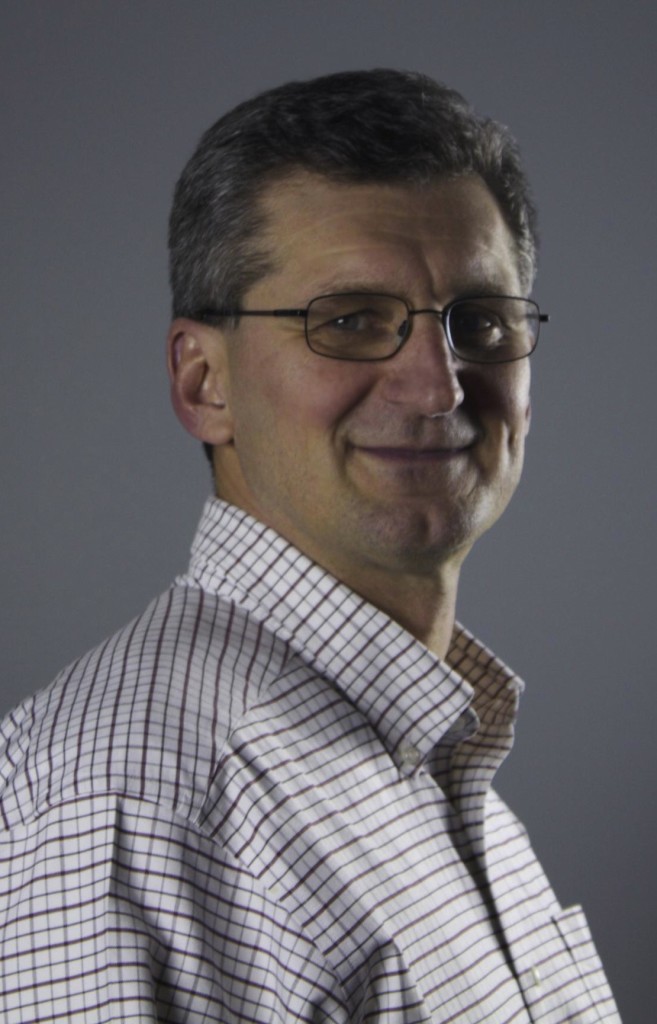 By Tom Plaskota, Technical Support Manager, H.B. Fuller Construction Products
In a typical commercial kitchen, chefs stay on their feet for hours as they hurry from station to station, waiters race to get food out to eager patrons and, inevitably, hot food, drinks and raw ingredients slosh onto the floor – all in a space that must be sanitized frequently to ensure the safety of both employees and customers. Tile installations in commercial kitchens must hold up to these unique demands, because a temporary closure of a restaurant can be costly. Carefully considered product selection and installation strategies will help you create safe, long-lasting and beautiful commercial kitchens.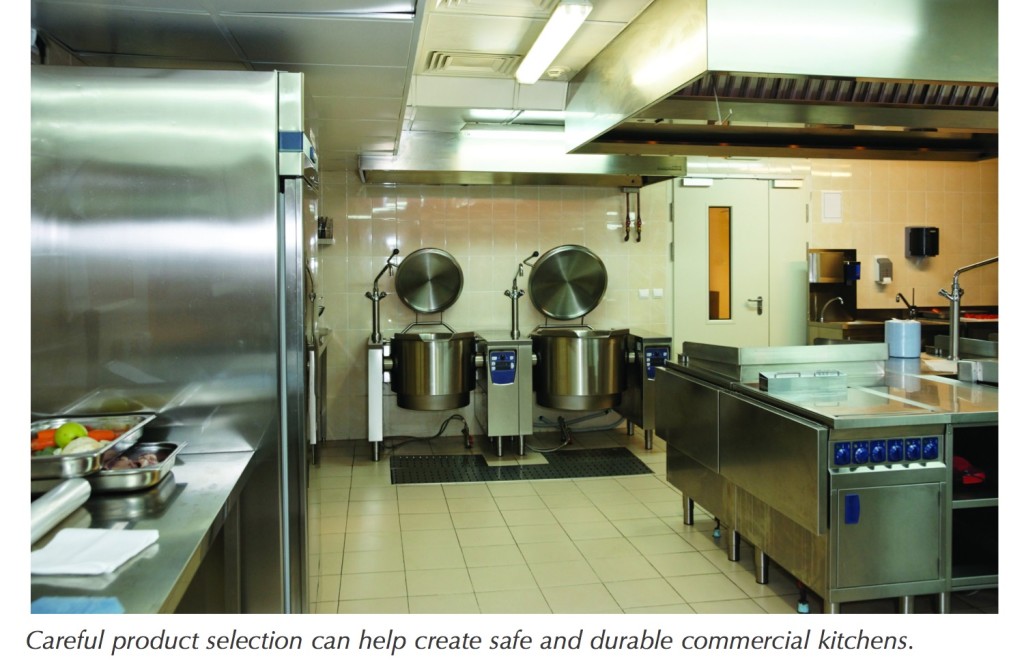 Tile selection
For commercial kitchens, look for unglazed tile rated for extra heavy or heavy use. Durable tile with nonslip characteristics will help keep fast-moving restaurant employees on their feet. The tile should also have low porosity and chemical resistance, since these areas will be frequently exposed to moisture and cleaning agents. Select tile that has been tested according to ISO standard 10545-13, which evaluates resistance to chemical interaction. Quarry tile often meets the requirements of commercial kitchen environments.
Substrate preparation
Subfloor requirements for commercial kitchens vary by state. Some states dictate the installation of floor drains, and require that the floor slope toward the drain, going so far as to specify the exact degree of slope. You should familiarize yourself with your state's codes, and the general contractor or specifier on each commercial kitchen job should clearly communicate whether achieving the required slope is the job of the concrete contractor or the tile installer. If the concrete contractor is responsible for sloping the subfloor, check that they have correctly done so before beginning tile installation.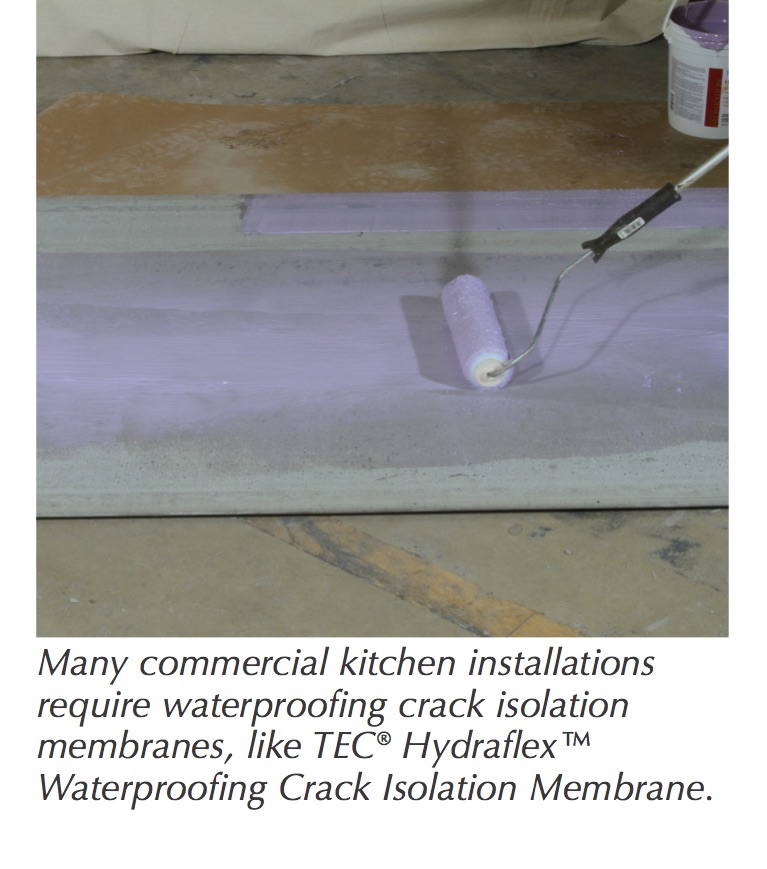 If creating the proper slope is your job, use a mortar bed up to 2" in thickness to facilitate accurate slopes or planes, as per the TCNA Handbook. In wet areas, the use of a mortar additive in the mortar bed is recommended. Be sure to create the mortar bed before the application of a waterproofing membrane. The NTCA Reference Manual notes that, "If the proper slope to drains is not already established in the substrate, it should be established prior to the application of the membrane. Failure to slope the membrane results in moisture or water collecting in the mud bed or setting material."
Following this recommendation is often essential, because many commercial kitchen installations require waterproofing crack-isolation membranes. These membranes protect the substrate from the repeated moisture exposure that occurs in commercial kitchens and help prevent the growth of mold and mildew. They also prevent in-plane cracks in the subfloor from telegraphing through to tile. In commercial kitchen environments, a cracked tile – beyond being a tripping hazard – can foster the growth of bacteria. For these reasons, waterproofing crack-isolation membranes are recommended.
Setting material selection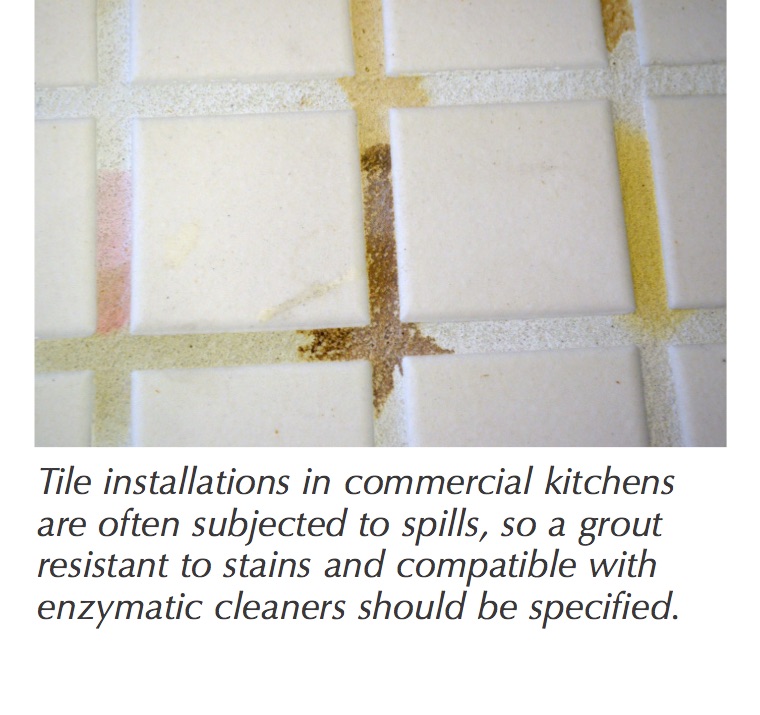 Tile can be bonded directly to some waterproofing membranes, including TEC® Hydraflex™ Waterproofing Crack Isolation Membrane. However, for any installation, you must confirm that your mortar and membrane are compatible. Also, ensure that you select a mortar that will hold up to the unique demands of the commercial kitchen environment.
Very busy commercial kitchens – such as those in fast food restaurants – are often exposed to harsh cleaning agents. For these spaces, an epoxy mortar might be the best choice. Epoxy mortars offer high chemical resistance and are also extremely durable and impact resistant.
For all commercial kitchen installations, bond and durability are critical factors. Specific recommended mortars will vary for tile size and type, but for all tile, bond strength is essential. In kitchens, disbonded tiles can be both costly and dangerous. With this in mind, look for a premium polymer-modified mortar specifically formulated for your tile. For example, if the design requires large-format tile, opt for a premium mortar with non-slump and non-slip characteristics to meet the requirements of both the tile and the installation environment.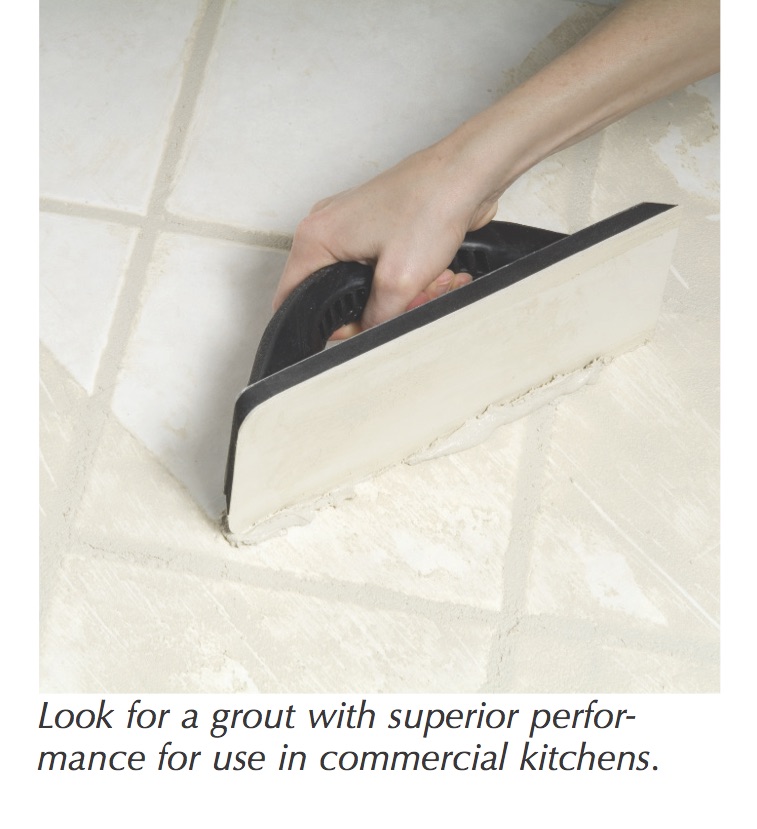 The grout must also hold up to heavy commercial use and frequent cleaning. Look for a grout with superior performance – like TEC® AccuColor EFX® Epoxy Special Effects Grout. TEC® AccuColor EFX® was tested for use in food service environments and found to be resistant to food soils and compatible with enzymatic cleaners. Enzymatic cleaners are often used to break down food soils and accumulated grease, and no loss of grout occurred when TEC® AccuColor EFX® was exposed to these products. Its high-temperature formula is approved for surfaces subject to extreme heat or steam cleaning (up to 350°F or 177°C).
A properly-installed commercial kitchen installation, created with thoughtfully-selected products, will continue to be a safe, productive environment. Your understanding of the unique requirements of these spaces will help keep restaurant employees and patrons alike healthy and happy.
For more information about TEC® visit tecspecialty.com.
The TEC® brand is offered by H.B. Fuller Construction Products Inc. – a leading provider of technologically advanced construction materials and solutions to the commercial, industrial and residential construction industry. Headquartered in Aurora, Illinois, the company's recognized and trusted brands – TEC®, CHAPCO®, Grout Boost®, Foster®, AIM™ and others – are available through an extensive network of distributors and dealers, as well as home improvement retailers. For more information, visit www.hbfuller-cp.com.
TEC®, Hydraflex™ and AccuColor EFX® are trademarks of H.B. Fuller Construction Products Inc.