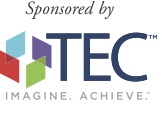 Encountering steel trowel-finished concrete floors that do not have a fine broom finish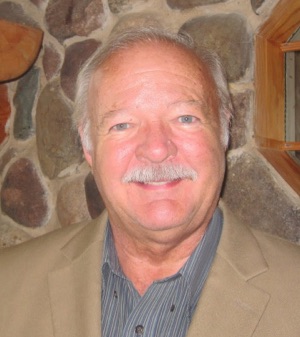 By Tom D. Lynch, CSI
Every thin-set, applied-tile installation method over concrete substrates found in the TCNA Handbook for Ceramic, Glass and Stone Tile Installation calls for floors to "have a steel trowel and fine broom finish free of curing compounds." When encountering floors that do not meet this criteria, a myriad of unanswered questions immediately arises:
What process should be used to scarify the floor to make it comparable to a fine broom finish, e.g. acid etching, grinding, or shot blasting? Is there an industry-acceptable alternative to a fine broom finish? If so, what is it? There is also the issue of possible residue left from curing compounds, which the concrete contractor may or may not admit to using. Lastly, who is to pay for prepping the surface to comply with the architect's specifications and the TCNA Handbook?
(Ed. note: NTCA, in conjunction with ASCC, NWFA and FCICA issued a joint position statement: Division 3 versus Division 9 Floor Flatness Tolerances, Position Statement #6. This statement addresses some of the questions raised in this story. It is contained in the 2015/2106 NTCA Reference Manual, which can be ordered at www.tile-assn.com)
Good questions all, but why do floors scheduled to receive ceramic tile hardly ever have a fine broom finish in the first place? There are many possible answers to this question. The fine broom finish requirement appears in the 09300 tile specifications, but one must usually refer to the selected TCNA method of installation to see it spelled out in writing. Concrete contractors most likely do not read the tile specs when bidding a job and they rarely own a TCNA Handbook. Many times room finish schedules calling for vinyl composition tile or carpet that do not need fine broom finishes may get upgraded to ceramic tile long after the concrete has been poured. Another scenario might be that slabs get poured in large open spaces long before interior walls get erected, so mapping out areas that are to receive tile becomes difficult and time consuming for the concrete contractor. No matter what the reasons, a fine broom finish must be applied to freshly-poured concrete and that means it is/was the responsibility of the concrete finisher to apply; not the tile contractor.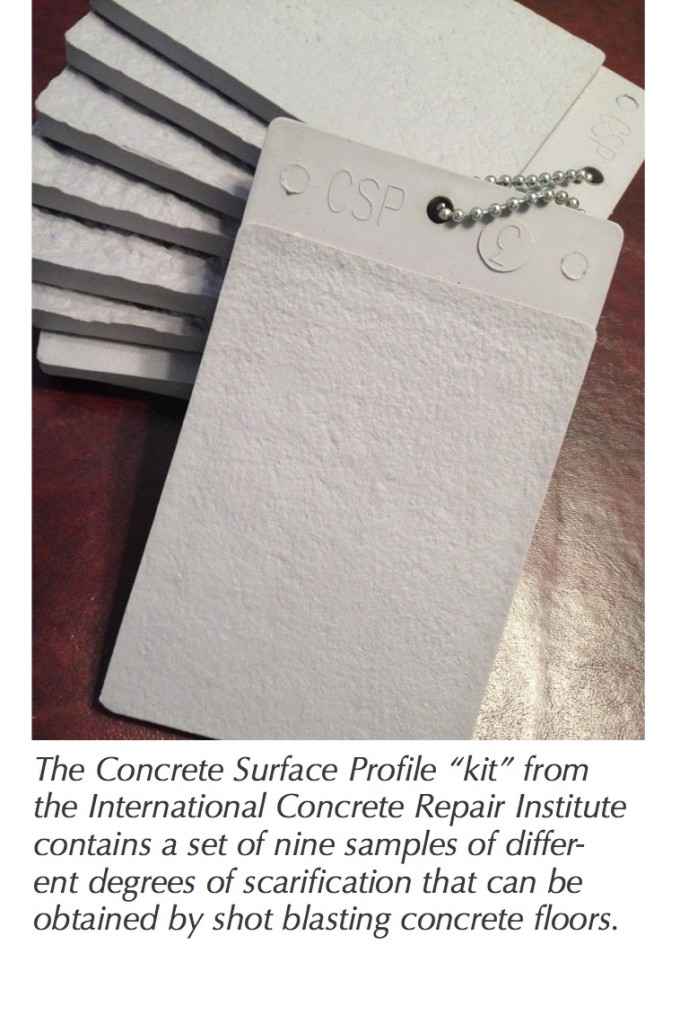 Let's get back to the issue of what can be done to make a smooth steel-troweled finished slab acceptable to receive tile. I have a suggestion. The International Concrete Repair Institute (ICRI) has developed a Concrete Surface Profile (CSP) system to shed some light on concrete surface preparations. The CSP "kit" contains a set of nine samples of different degrees of scarification that can be obtained by shot blasting concrete floors.
Shot blasting machines can utilize different-sized steel shot that get blasted onto concrete floors under varying degrees of force for different lengths of time to develop a desired profile.
Slab texture is of paramount importance to enhance good bond performance for thin-set mortars and my experience has shown that a CSP-3 profile closely resembles the texture that a fine broom finish on freshly poured concrete will provide. As an added benefit, shot blasting can remove curing compound residues that might be present on the surface of the concrete.
Concrete Surface Profiles are currently being used to prepare concrete floors for many types of floor finishes such as trowel applied epoxy resins. These CSP profile ratings are something that can be architecturally specified, so maybe it is time to get our industry involved and officially include them in thinset-applied ceramic tile installations. It would definitely reduce installation failures, and that is really what this article is all about!
Tom D. Lynch is an experienced and accomplished technical consultant to the ceramic and stone tile industry. Honored to be one of the first Recognized Industry Consultants by the NTCA, Lynch now has 53 years of experience from which to draw. He can be reached at 181 Sunnyside Park Road, Jefferson, NC 28640 or by phone at 336-877-6951. Website is www.tomlynchconsultant.com. Email at [email protected]