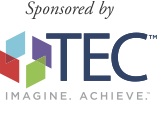 Summertime exterior installations from start to finish
By Tom Plaskota, Technical Support Manager, H.B. Fuller Construction Products
The arrival of summer often inspires (or requires) homeowners and building owners to beautify their outdoor spaces. A new tile installation can freshen up a pool area, breathe life into a patio or update a building's façade. While the summer sunshine sparks imaginations, turning your clients' exterior visions into reality requires special expertise.
Whether remodeling an existing exterior tile installation or starting from scratch, substrate preparation is key. Concrete is the ideal substrate for exterior floor installations, while other firm substrates, including backer board or concrete block walls, can be used for wall installations. When setting tile on existing concrete, make sure you address any liquid-membrane curing compound residues. These products can prevent proper bonding of mortar to the concrete surface, so should be removed through scarification or covered with an appropriate primer.
Laitance – a thin layer of hardened, yet weak, cement – can also affect the substrate's bonding potential. If laitance exists, the concrete's surface layer may appear strong and stable, but actually risks causing bond failure. Laitance can be identified by scraping the concrete with a razor or knife. If the concrete scratches or powders, laitance may exist. Formal testing can then be undertaken by measuring the tensile strength of the concrete surface with specialized equipment. The remedy for a weak layer of laitance is removal, which is often done by sandblasting.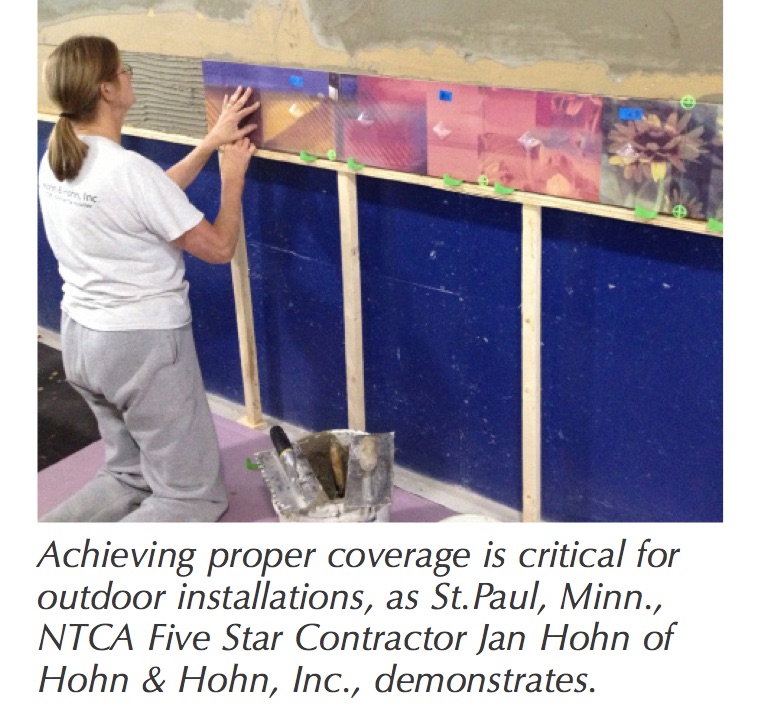 Prepare substrate for a solid foundation
After these preliminary steps, any variation in the substrate should be corrected. Use an appropriate patching compound to flatten the substrate surface. Exterior floors, decks or patios should be sloped to allow for drainage. Concrete on grade should also have a gravel bed or other means of drainage below the slab. Drainage is particularly important for installations subject to freeze/thaw cycling, snow and ice accumulation and/or where snow melting chemicals are used as these conditions can cause degradation over time.
Exterior installations may be subject to changes in temperature and humidity level. This cycle can put mechanical stress on the substrate – which can cause cracking. Waterproofing and crack isolation membranes can help isolate substrate cracks and keep in-plane cracks in the subfloor from telegraphing to the tile. Their waterproofing characteristics can also prevent moisture changes from affecting the substrate.
Combining the right tile with a carefully-prepared substrate helps make exterior installations last. For outdoor floor installations, unglazed tile with its nonslip characteristics is often ideal. All tile used in exterior application should have low porosity. According to industry standards, tile with a porosity of greater than 5% should never be used in exterior applications.

Be mindful of moisture
When your substrate is prepared, your tile is selected, and you're ready to begin tiling, make sure the installation won't suffer from excessive porosity in the substrate. Before you begin mortaring, splash water on the concrete. If the water disappears in a few seconds, the substrate is very porous. One way to remedy this problem is to dampen the substrate and allow the surface to dry. Mortar should be applied after the surface dries, but before the moisture below the surface is lost. This will prevent the transfer of moisture from the mortar and result in a proper cure and well-bonded tile. A primer may also minimize the pull of moisture from the mortar into the substrate, ensuring proper curing and bonding.
Moisture can be lost to the atmosphere when the installation is conducted or allowed to cure in direct sunlight on hot, dry days. Excessive heat can prevent fresh mortar from curing properly and developing the necessary strength for long-term installation. On hot days, shield the installation from direct sunlight by tenting. Also, avoid storing unused mortar in direct sunlight.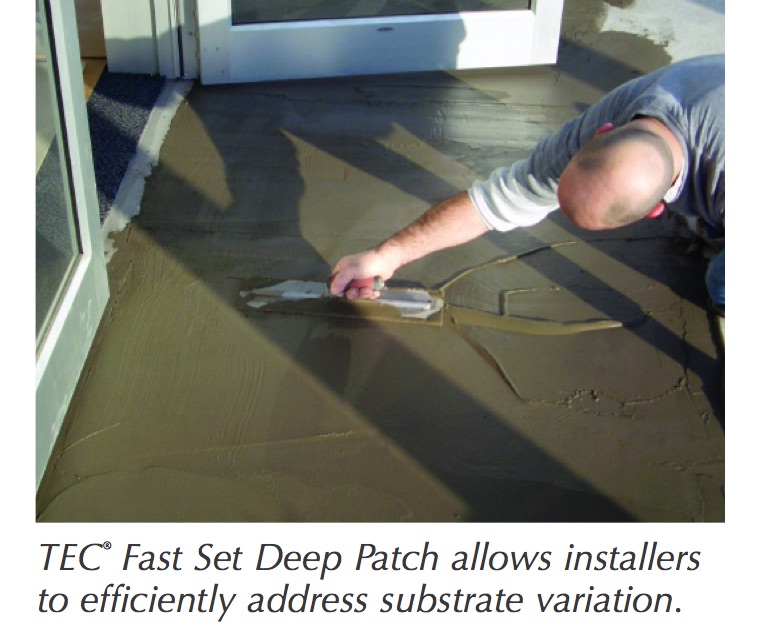 Create consistent coverage
To make all of these precautions worthwhile and keep your installation from slumping, sagging or slipping, be sure to achieve proper coverage with a polymer-modified thin-set mortar appropriate for exterior installations. Outdoor installations require 95% coverage – and this requirement increases to 100% with natural stone. Substrate variation, bonding material, trowel selection, and troweling technique are critical factors to consider when trying to achieve proper coverage.
For outdoor environments, use a polymer-modified grout with low water absorption. Consider the use of a grout additive, which can help provide a grout that is stronger, denser, more resistant to water penetration and more flexible. Sealants and caulks can also prevent external elements from penetrating your installation – without changing its appearance.
When working on exterior installations in the hot summer months, you and your crew should take proper precautions not only with the installation, but also with your own health and safety. Make sure you stay hydrated and take breaks as needed. With a healthy crew, a properly-prepared substrate, carefully-selected products and the right installation techniques, you'll help your clients achieve the outdoor spaces they imagine.
The TEC® brand is offered by H.B. Fuller Construction Products Inc. – a leading provider of technologically advanced construction materials and solutions to the commercial, industrial and residential construction industry. Headquartered in Aurora, Illinois, the company's recognized and trusted brands – TEC®, CHAPCO®, Grout Boost®, Foster®, AIM™ and others – are available through an extensive network of distributors and dealers, as well as home improvement retailers. For more information, visit www.hbfuller-cp.com.