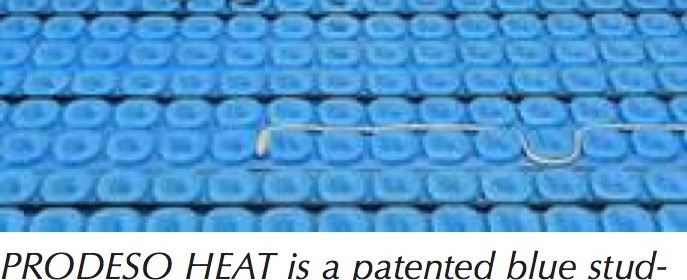 Customers warm to electric-heated floors; WiFi thermostats allow remote-control energy efficiency via smartphone or web
By Lesley Goddin
Years ago, if your customer wanted a heated floor, they needed to invest in a complex hydronic system, with copper water-bearing tubes running beneath the floor and a boiler to heat the water and thus the floor.
Over the last few decades, ELECTRIC floor warming systems have been developed by a number of manufacturers. These systems – which utilize heated electrical wire or cable in a loose configuration, a mesh mat, wire snapped into a lightweight backer or uncoupling mat, or even carbon strips embedded in extremely thin PET film – all provide floor warming under tile and stone that is quick, relatively easy to install, and affordable.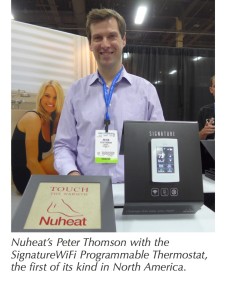 Smartphone control via WiFi thermostats
The latest innovation in electric floor warming (or in some cases, full-house heating) systems is WiFi controls, which enable users to control their heating systems, temperature, schedule and energy consumption remotely through their smart phones or other electronic device. Nuheat (www.nuheat.com) debuted this technology with its Nuheat Signature Programmable WiFi Thermostat. And this January at KBIS during Design & Construction Week, Warmup (www.warmup.com) unveiled a WiFi system as well – the 4iE Smart WiFi Thermostat.
Peter Thomson, vice president of sales for Nuheat was at TISE West. He noted that the Signature WiFi app can control up to 16 thermostats on one app, and it's very zonable. "People are reclaiming their basements with supplemental heat sources," he said.
Martin Brookes, of NTCA Five Star Contractor Heritage Marble & Tile in Mill Valley, Calif., installs radiant heat in about 60% of Bay Area homes, using the Nuheat system. "We really like the WiFi -enabled programmable thermostat. Living in the Bay Area, the clients are tech savvy and want things they can control with an app from their smart phone."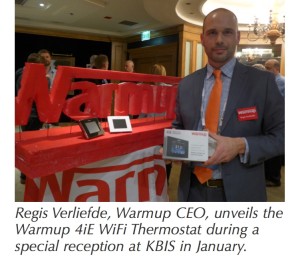 At Warmup, Regis Verliefde, CEO, said the 4iE Smart WiFi Thermostat offers multi-zone and multi-room management as well, in line with Warmup's goal to provide heating for the whole house. In addition to monitoring the energy consumption, Warmup's device makes active recommendations to optimize energy use. All this can be directly managed from smartphones and tablets on the MyWarmup portal. (my.warmup.com)
"We are excited to attend KBIS to show off our latest innovation," said Verliefde. "Warmup is so much more than luxury in the bathroom. It is a heating solution on par with any other one today, but healthier, more silent and maintenance free."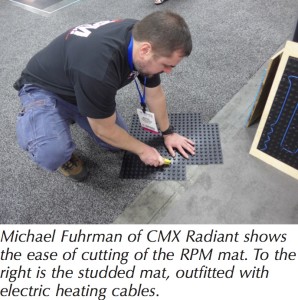 Heating film; multi-function mats hold cables
Other interesting developments in electric floor warming have taken place over the years. Geo Dream (www.geodreamheating.com) encapsulates carbon strips in an extremely thin PET heat film for a system that is zonable, affordable and durable, and heats the house with far infrared waves.
In the last few years, flexible backers to configure wires or cables have emerged, such as RPM mats, which sprang onto the scene in 2006. These mats are studded to accept floor warming cables in any configuration. A new RPM-V1 design has vented studs, that accelerate the drying of the adhesive beneath the mat.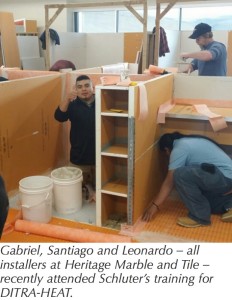 Launched a few years ago is Schluter's DITRA-HEAT, designed to snap heating cables into a studded uncoupling mat. This mat/membrane provides crack suppression, waterproofing, vapor management and helps to distribute loads as well.
"We just did our first DITRA-HEAT project and liked the flexibility of the system," said Brookes. "Rather than having to wait for a custom mat, we were able to get the radiant heat we needed off the shelf. "
Italian-made PRODESO HEAT from Progress Profiles features a patented blue studded mat that can be installed as an uncoupling, crack isolating membrane. The heating cables are installed according to the needs of the project. Tiling can begin immediately. The entire Prodeso Heat system is less than 1/4" thick.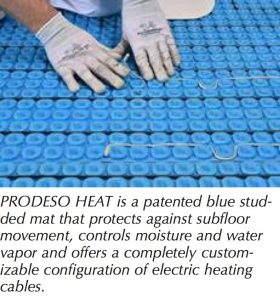 Cautions and considerations
When working with radiant heating systems, technical service is as important as technology to John Cox, NTCA past president and owner of NTCA Five Star Contactor Cox Tile in San Antonio, Texas.
"The most critical item in my book is customer service. When I call Nuheat, I get answers. They have a staff that has been well trained and educated.
"Selling radiant heating has added additional income to our bottom line and added to the distinction of Cox Tile not being your average tile contractor," he said. "We have developed a niche as being the expert in our area in Radiant Heating. When architects' specs say Cox Radiant Heating, we know we have made an impact."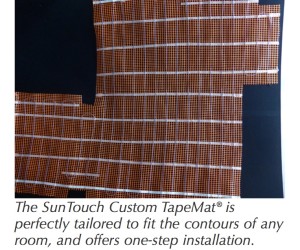 Ricky Cox, of NTCA Five Star Contractors Memphis Tile in Memphis, Tenn., said, "We use Nuheat for the ease of installation, superb customer service, and a long working relationship that has kept us going back for more.  I have installed every system out there and Nuheat blows them all away. The wires are embedded between two layers of fabric that are easily thinset to the substrate.  Other systems are hard to 'flip and roll' and hard to figure out."
Contractors and consultants offer a range of warnings and recommendations when working with electric floor warming.
"Always have the system inspected by a state inspector," said Joe Kerber, owner of NTCA Five Star Contractor Kerber Tile, Marble & Stone in Shakopee, Minn.
"Always test the cable and sensor for resistance and continuity, before, during and after the installation," he said." Be careful when walking on and troweling over the cable so not to crush it or nick it with a trowel. A nick could cause the GFCI to trip when heated. Remember the wires are very fine. The sensor is very fragile so do not step on it.
"There are two types of cable," Kerber continued. "Most are the double-wire cable that goes out from the box and ends at the end of the cable in the floor area. SunTouch Warm Wire and Nuheat cables are example of these. The other is the single wire that has to return to the original box. The Nuheat mat and Flextherm cables are examples of these. The double-wire cables are easier to install because you don't have to get the other end back to the box. However, the single wire cables are much easier to repair."
Jan Hohn of NTCA Five Star Contractor Hohn & Hohn, Inc., in neighboring St. Paul, Minn., added, "I usually prefer to do wires or cables instead of a mat. With the wires, you can really customize the space that you are heating because you can run the wires where you want them, putting them closer together for more heat in a specific area and/or farther apart where there is less foot traffic. Another reason I like the wires is because I float my floors with mud so the wires are buried in the mud bed, which allows for a more consistent floor heat (more mass to heat up, but once it is heated it holds the heat longer and more evenly)."
Hohn cautioned against placing wires or mats under any cabinetry, toilets, or other plumbing fixtures.  "Some systems can be used in showers, but not all, so it is important to determine if the system you want to use can be used in the shower," she said.
"Recently, it has been recommended to install two floor sensors with one system," she added. "If the first sensor stops functioning, you can hook up the second sensor without tearing the floor up. It is cheap insurance."
Rich Goldberg of Avon, Conn.-based Professional Consultants International, LLC (PROCON), noted that "Radiant heat naturally increases cycles of expansion and contraction of a tile assembly, making proper installation of movement joints critical. Butted grout joints with no movement joints in high-end residential stone installations are also a common problem, causing chipping and crushing along stone edges at butted joints."
Often radiant heat is used to "accelerate" the curing, he said, but this can create problems with premature drying, and expansion stress on the thinset before the bond strengthens. Rapid drying of underlying wood framing in new construction and cement backers can telegraph movement to the tile assembly and result in cracking.
He also warns that cable trays can create dividers in mortar beds that encapsulate the system and crack the mortar, and eventually the tile. They can also prevent mortar adhesion, so PROCON favors systems that "employ the heating cables within a reinforcing mesh so that the system can be properly encapsulated by mortar top and bottom, and the reinforcing distributes any heating/drying/expansion/contraction stress evenly in the mortar bed.