Tile Council of North America's (TCNA) Product Performance Testing Laboratory is pleased to announce several new services designed to meet the industry's growing and ever-changing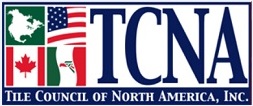 needs for relevant, up-to-date product testing.
ISO Testing
In addition to TCNA's full ISO 13007 cementitious grout and adhesive testing capabilities, TCNA just added ISO 10545-5 "Determination of Impact Resistance by Measurement of Coefficient of Restitution" to its standard ISO testing offerings.
ASTM Testing
TCNA's lab can test all tile and stone products to the new DCOF AcuTestSM method referenced in ANSI A137.1, as well as traditional ASTM C1028 coefficient of friction testing.
Additionally, TCNA continues to offer modified ASTM C666: "Automated High Cycle Freeze/Thaw" stone testing, making it practical and cost effective to test stone to hundreds of cycles, as well as ASTM C1721: "Petrographic Analysis of Dimension Stone" testing, which determines a specimen's important physical and chemical characteristics, such as mineralogy, texture, and composition.
New Green Testing
TCNA staff recently developed a first of its kind method for testing the hypoallergenicity and cytotoxicity of coated surfaces.  TCNA also added lead and cadmium testing to its existing menu of green testing:
Photocatalytic testing
Antibacterial testing
Expanded fungus and microorganism testing
Volatile Organic Compounds (VOC) testing
Solar Reflectance Index (SRI) testing
ANSI Testing
TCNA is pleased to add glass tile testing per the criteria found in ANSI A137.2, the industry's new glass tile specification.  It also tests to every other existing ANSI tile industry standard.
As the largest tile and stone-only testing facility in the U.S., TCNA's Product Performance Testing Laboratory offers confidential product and performance testing conducted in a state-of-the-art laboratory.  The TCNA lab offers a wide range of tile, dimension stone, and installation materials testing per ASTM, ANSI and ISO standards and can also provide custom testing services on request.  TCNA's lab can also provide larger-scale testing and research conducted via partnerships with the National Brick Research Center and Clemson University.