To fill or not to fill, that is the question
The pros and cons of using natural
travertine on floors and walls
By Lesley Goddin
Our stone story originates from a dilemma from a homeowner who purchased high-end, travertine stone flooring with a "very natural, pitted surface." The vendor provided a list of suggested installers, one of which the homeowner selected. The installer set the travertine tile and grouted the pits in the travertine floor as well as the joints between tiles, filling in all the natural holes with grout.
The homeowner was livid. "I spent the extra money to buy the natural pitted stone and this installer has altered the product, making a unilateral decision to grout the entire surface, doing away with the pitting effect," he said. "I understand that it is simpler to grout the entire surface than to only grout the seams. But, this was not my expectation at all. Can you help me understand if there is a way to remove the grouted pits without damaging the original character of the stone floor? Or, do you have any other suggestions or opinions about these unexpected actions?"
This question came through the NTCA technical department, and the answer was not what the homeowner expected.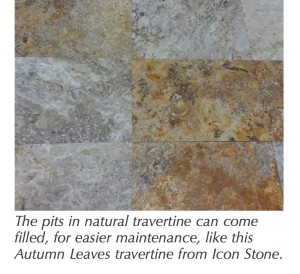 Michael Whistler, NTCA presenter and trainer responded that he had encountered this situation many times during his years as a tile contractor. And though he agreed the tile contractor should have consulted with the homeowner before grouting the entire floor, he took the contractor's part in the wise decision to fill the holes with grout.
He explained, "My company was asked many times to leave the faces of unfilled travertine ungrouted, and in all but one case we were able to convince the client that this was a very unwise decision.
"Most travertine comes filled (with a cementitious or epoxy filler) from the factory for a good reason," he added. "Except in very unusual situations, tile receives traffic or use of some sort that requires cleaning. When trying to clean unfilled travertine, all those voids become contaminated and eventually filled with dirt or other unsanitary (and unsavory) stuff.
"In the case of our very insistent client, we bagged the joints masonry style and left the faces unfilled," Whistler continued. "This project was very high-end and included over 4,000 sq. ft. of unfilled travertine flooring. Within three months of owner occupation, we received a call that there was a problem. Cleaning of the floors had begun with standard mopping practices, and then been stepped up to mopping followed by a wet-vacuum. The pits in the travertine were unable to be cleaned, and were quickly filling up with soap residue, which unfortunately attracted the dirt more quickly. Since we were at this point unable to grout over the contaminated stone (because grout won't bond to soap or dirt), we had to move all the furnishings, protect all the other finishes (walls, baseboard, etc.) and steam clean and wet-vacuum all the floors before re-grouting.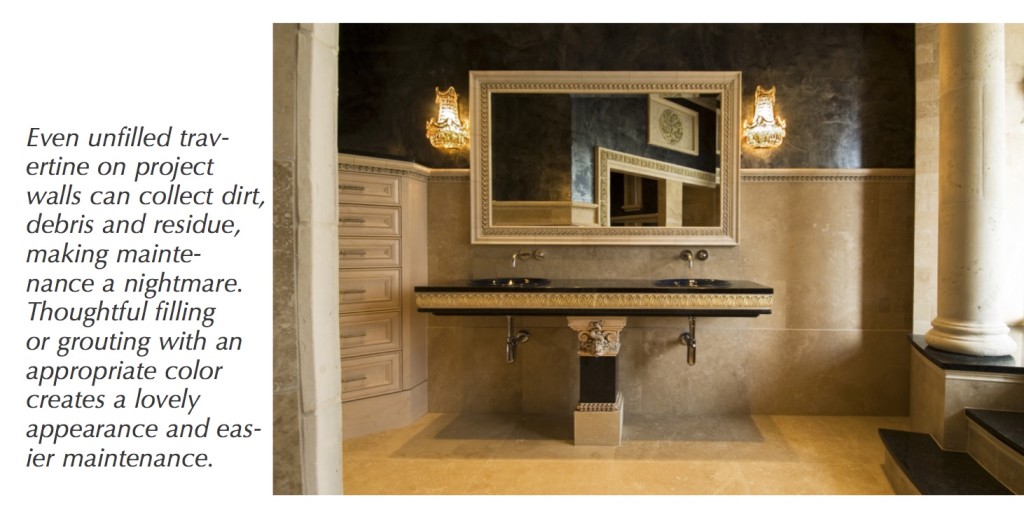 "As you can probably imagine, going back and properly cleaning and filling the faces of the tiles with grout matching that in the joints added up to quite a sum," he said. "I think you actually got lucky that your installer was smart, and couldn't imagine that you would want your tile any other way."
To further investigate this situation, TileLetter requested the expert opinion of Rod Sigmon, CTC, CCTS business development manager, Technical Installation and Care Systems for Custom Building Products.
He explained that most clients are looking for easy-care floors, and a travertine floor that is left unfilled "is not a great choice for most customers, as maintaining it is very impractical," he said, echoing Whistler's perspective. "Dirt and other common contaminants will fill the voids once placed into use and will become unsightly and virtually impossible to clean short of a pressure washer and truck mounted system that large cleaning and maintenance companies use."
Sigmon suggested using care to fill the pits in travertine. "In essence the grout ties in the joints with the fill and it looks more consistent," he said. "I have literally seen pinkish/red fill used on cream-colored travertine many times for whatever reason." Because of this, he said, "unfilled travertine sometimes is installed to avoid this type of potential issue."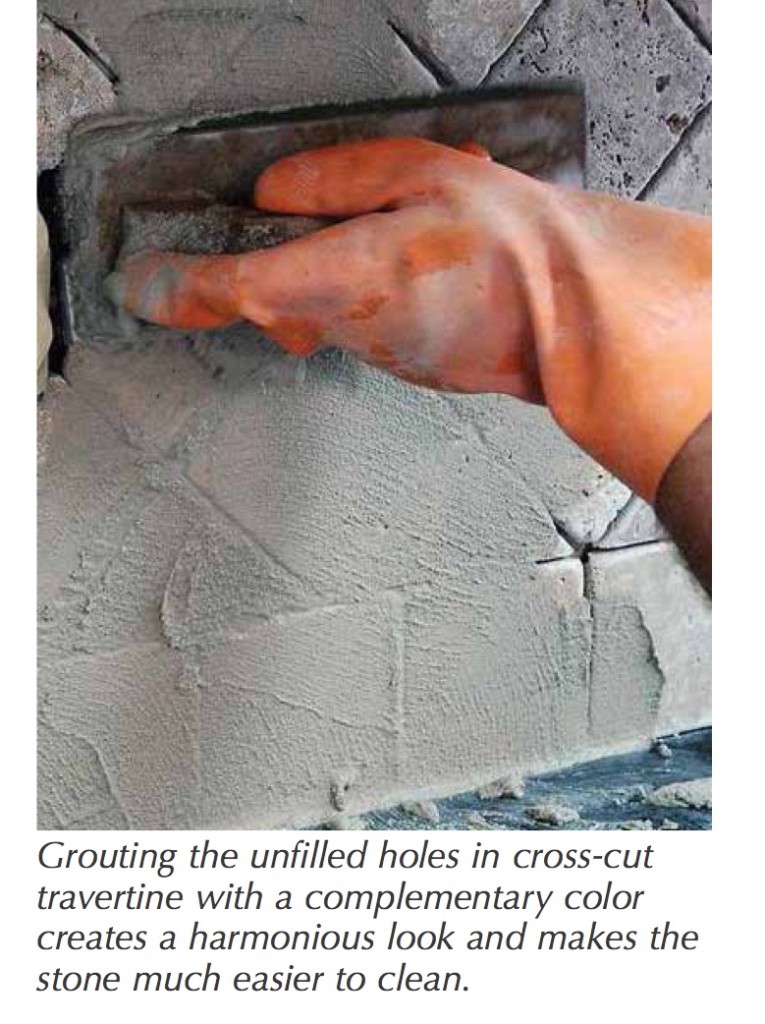 There is another option to unfilled travertine, and that is having the pits filled with a clear epoxy or resin material, then sealing the stone. But Whistler reiterates, "In my experience, all filled travertine tiles I've seen were filled with a colored material, mostly well-matched to the stone, others quite poorly. The only times I have encountered travertine filled with a clear epoxy was in 2cm or 3cm slabs. This was only occasional though, as most of the travertine slabs we bought were filled using the same material as tiles. On one project, we actually special-ordered the slabs and tiles cut from the same blocks and specified that the same batch of filler be used on all material since the client was VERY picky."
In the case of walls, Whistler said, "Walls do not receive the extensive traffic that floors are subject to, but walls do become soiled and require cleaning."
One thing is clear from this discussion – talk to the client about the maintenance and installation particulars of unfilled travertine, ideally before purchase, but certainly before installation. Communicating with your client will eliminate shocking surprises and lead to exceeded expectations.