Stacking the deck: manufactured/natural stone veneers pros and cons
By Lesley Goddin
A couple of years ago, at a local Albuquerque NTCA Tile & Stone Workshop, NTCA presenter Michael Whistler told the assembled group of tile contractors about a great opportunity just waiting to be grasped. That opportunity was installing masonry or manufactured stone (concrete) veneers over backer board using a tile-setting method. Traditionally, these products – as well as stacked natural stone veneers – have been installed with a masonry lath-and-mortar method. But the masonry method has been subject to bond failures, so using a cement backer board, liquid waterproofing membrane and thin-set mortar so familiar to tile installers – has proved to be a superior method and profit opportunity for some tile contractors.
Manufactured stone is "great stuff," said Whistler. "Tile setters should have embraced it wholeheartedly, but they gave it to the masons. A few smart guys are installing it – it's easy to do."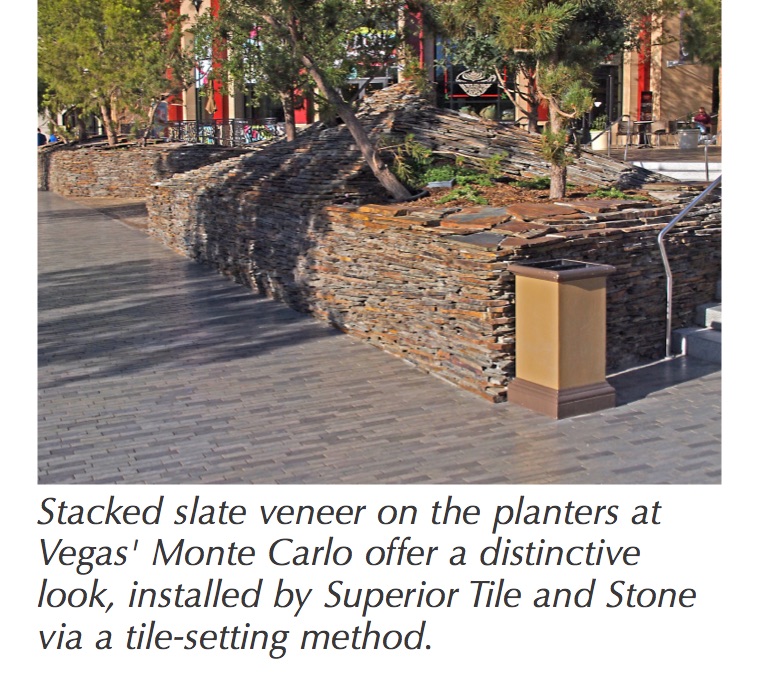 Whistler said that the masonry method involves paper and wire lath, then it's covered with type S standard masonry mortar, which has very little bond strength. "This is made for stacked block or bricks on top of each other; it's not made for gluing one thing to something else. "
In contrast, he pointed out that "thin-set mortar is made to glue an object to a substrate. The tile guys put up cement backer board and waterproof it completely with a completely waterproof membrane – not just a vapor barrier or retarder, like tar paper or Visqueen that may be nailed to the substrate, creating a breach in the waterproofing. Then the veneer is installed with thin-set mortar on top of that, which actually makes the veneer stick to the wall."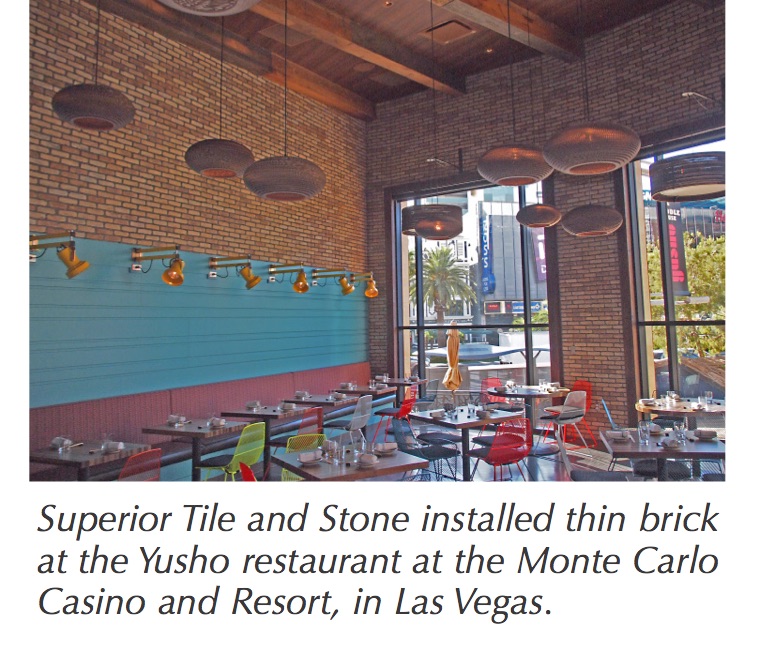 Whistler noted that all major tile setting manufacturers produce a system of products that are geared towards installing manufactured stone veneers.
"LATICRETE and Custom Building Products have modified some packaging for products to address this installation specifically," said Brian Pistulka, business manager, Tile & Stone Installation Systems, MAPEI. "At this time Mapei hasn't pursued this approach."
But MAPEI has supported this market category with specifications and two reference guides – one created in conjunction with Daltile and its now-discontinued line of masonry stone veneer, and the second for the wholesale distribution market. "Both guides featured existing branded products MAPEI tested and recommended as systems for this category," Pistulka said. "The guide contained installation systems for various substrates and conditions."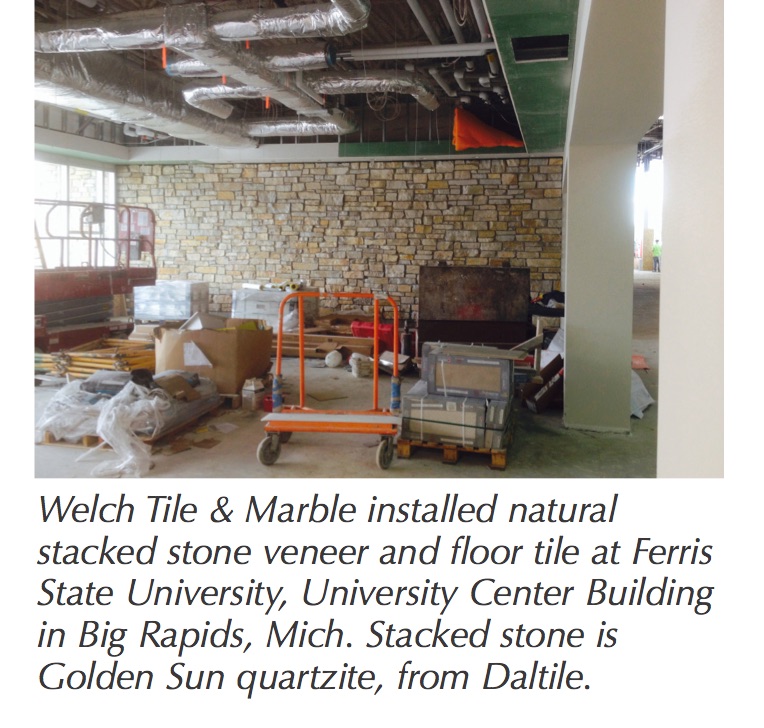 Working with a single-source system like those offered by setting material manufacturers affords these installations with a warranty, another benefit of the tile-setting approach, he said.
The problem is, this profit center hasn't fully caught on with tile contractors yet, and for several reasons.
Masons' purview
Dan Welch, NTCA president and a NTCA Five Star Contractor said, his company, Welch Tile & Marble, out of Kent City, Mich., doesn't do much manufactured stone veneer installation since it's not in its bid category.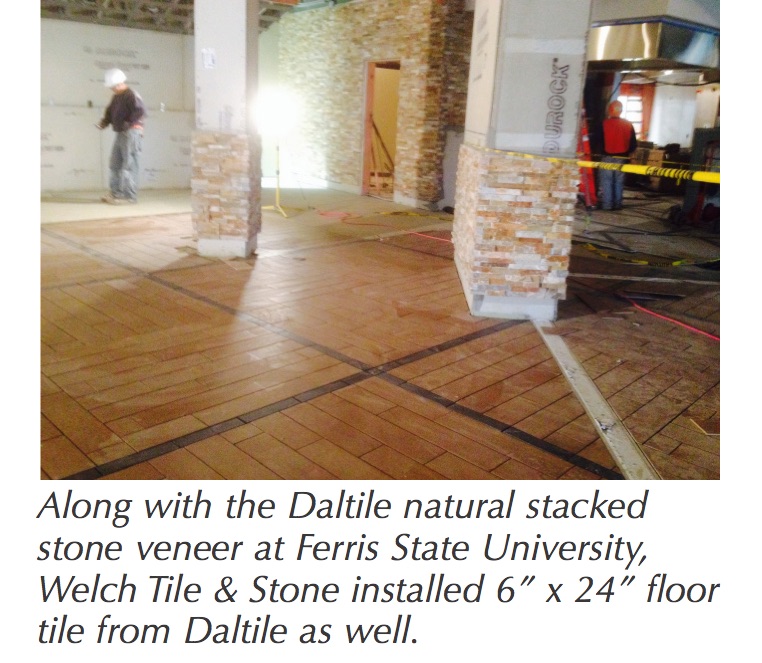 "Masons would have manufactured stone veneer on their contract," Welch said. "We would have to go into their category and subcontract to the mason." Similarly, Welch said, in Michigan, granite countertops are in the cabinetmaker's scope. "We would have to bid through the countertop guy," he said.
Tommy Conner, CEO of NTCA Five Star Contractor Superior Tile & Stone of Oakland, Calif., agreed. "From a union perspective, masonry veneer stone is mason's work," he said.
In addition, licensing statutes may preclude tile setters from setting manufactured stone veneer, Conner said. License parameters vary from state to state, and often the licensing board is focusing on the composition of the material. Since manufactured stone veneer is generally concrete, many licensing boards consider this the mason's territory. Tile contractors like Superior are more focused on the "tile-like unit" being installed and HOW it is installed, regardless of composition.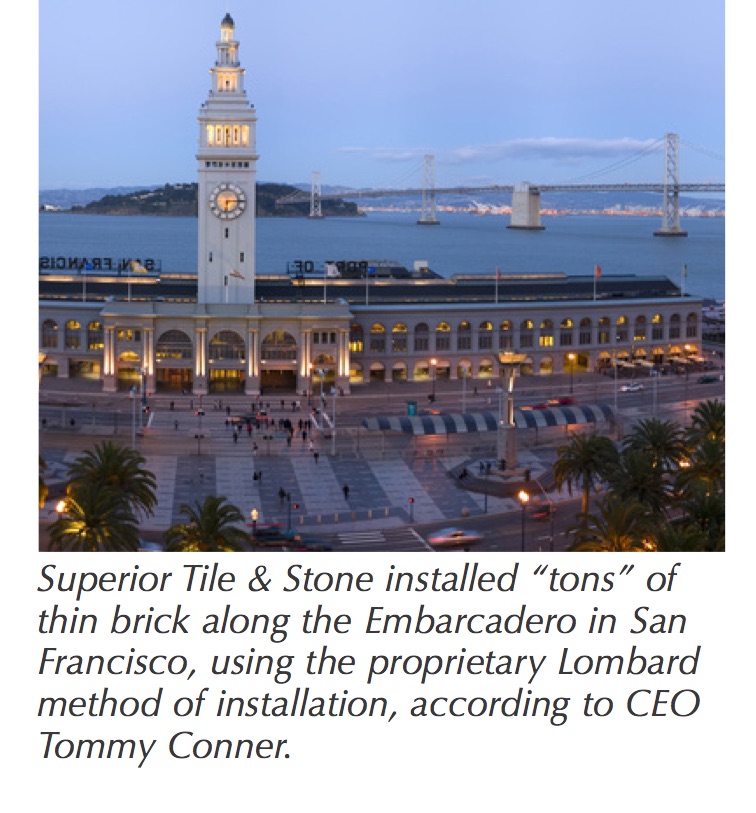 Elizabeth and Dan Lambert, of Lambert Tile & Stone in Eagle, Colo., another NTCA Five Star Contractor, prefer to invest their energy into the tile portion of the project. "We have done maybe one or two stone veneer jobs in the past five years," Elizabeth Lambert said. "Since the homes in our market area are so big, we feel all our focus should be on the tile installation. We don't feel a need to branch out to stone veneers, as there aren't enough tile installers to keep up with the demand in our area."
Occasionally, Lambert will install PetraSlate's natural stacked ledgestone veneer on fireplaces and wainscots in 6" x 24" formats or veneer from Robinson Brick.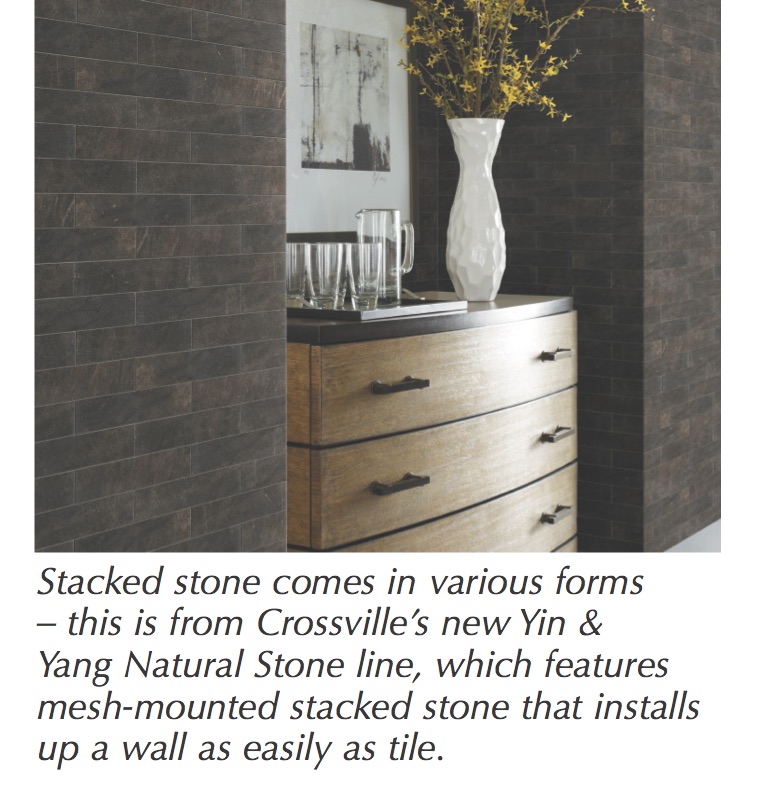 In addition to setting material manufacturers supplying product to install these materials, they are keeping their eyes on the possible evolution of this market. "Most of the business is still serviced by the masonry contractor, but it is evolving to premium systems and products to address failures with original methods," Pistulka said.
Thin brick and veneer installs
This being said, Conner commented that his company has done "tons" of thin brick and cut-stone veneer and even developed a proprietary method of installing these products that "reduced failures to nothing," he said. This "Lombard Method" reduces the thickness of back-buttered mortar and mortared substrate so it doesn't glaze over in warm weather and thus lose bond and create sagging. Superior installed thin brick using this method throughout the Embarcadero in San Francisco and also in many thin stone applications in Las Vegas projects. Conner said his company considers thin brick, stacked stone, and stone veneer bonded to a substrate to be "tilework."
At Welch Tile, when it is within the scope of their work, the company installs a lot of stacked stone – typically interior work, such as veneers around a fireplace, in universities, casinos, and some bigger residential jobs and colleges, Welch said. It is installed using a tile setting method. We "stack them up like tile and thinset to a backer board," he said.