Industry-recognized certifications: a matter of pride and professionalism
Heritage Marble & Tile boasts two installers with recently-obtained ACT certification
By Lesley Goddin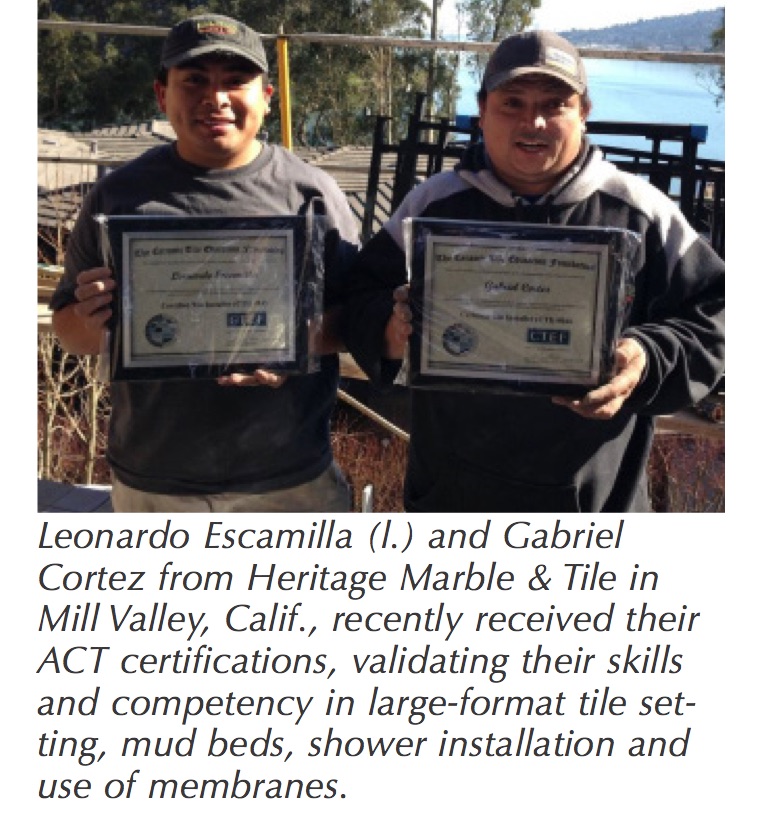 Since its inception in 2009, more than 1,000 tile setters have gone through the Certified Tile Installer (CTI) certification evaluation offered through the Ceramic Tile Education Foundation, validating their skills and providing credentials to potential customers and general contractors.
The latest certification is the Advanced Certifications for Tile Installers (ACT), which is offered through the combined efforts of six leading organizations in the tile industry: the Ceramic Tile Education Foundation (CTEF); the International Masonry Institute (IMI); the International Union of Bricklayers and Allied Craftworkers (IUBAC); the National Tile Contractors Association (NTCA); the Tile Contractors' Association of America (TCAA) and the Tile Council of North America (TCNA).
The intent of the ACT certification program is to provide a level of consumer confidence for tile installation procedures that exceed ANSI standards and TCNA guidelines for floor and wall. ACT certified installers represent the pinnacle of performance in the tile trade and maintain a level of excellence superior to non-ACT certified installers.
Two of the most recent ACT graduates are veteran tile setters with Heritage Marble & Tile in Mill Valley, Calif., a contracting company that is already a NTCA Five Star Contractor. Gabriel Cortez, who has worked for Heritage for 15 years, and Leonardo Escamilla, who has worked for Heritage for 13 years, completed the ACT certification earlier this year. It all started with a conversation with Heritage owner Martin Brookes a few years earlier, when CTI certification was launched.
"He brought it to us and talked to us about it," said Cortez "We figured that it was going to help us in the long run and allow us to show our credentials to customers." Cortez talks about the value in studying for the first wave of CTI certification years before."
"Before that – I hadn't read the TCNA Handbook for Ceramic, Glass and Stone Tile Installation, but now I read it to explain what we are doing to customers," he said "We also learned a few things about different methods, such as doing the subfloor preparation."
Added Escamilla, "Now we can show people we know what we are doing. We can show the certificate – that shows we know what we are talking about."
ACT certification was the next logical step in credentialing work for Cortez and Escamilla. In fact, Escamilla said that although some general contractors are only looking for the cheapest workers, "some contractors really care, and feel that you should know what you are doing," he said. "They will test you and ask questions."
Cortez noted that though it was a challenge to complete the tests in the time allotted, studying for the course again helped him learn the importance of some of the methods and referring back to industry documents and the Handbook. "It was hard but in the end, it paid off," Cortez said. "I know where I am and what I can do."
Advanced certifications in mud bed, large-format tile installation, shower installations and use of membranes helps generate confidence and assurance for both general contractors and homeowners.
"When you talk to contractors and homeowners, you can tell them a better way to do things; if things are wrong, you can tell them how to do it right," Cortez said. "You can show your credentials, and if someone questions how I know what I know, I can say, 'I went to this certification and that's what I learned.' It's a way to prove why you are doing things the right way, and how it should be done.
As an employer, Brookes has "found CTEF and ACT to be beneficial in the way I market and sell the jobs we are invited to bid. We are able to demonstrate that we are active within the industry in techniques that are required in today's complex tile installs. Keeping my workforce current on standards and methods and having them certified gives the customer peace of mind that we are the right company for the install."
In addition to the benefits in business, the certifications are also a matter of pride. "Gabriel and Leonardo are very proud of their achievements, and with the ACT program are able to build off their skill set to demonstrate to the tile world they are vested in their own careers as master tile setters," Brookes said. "We look forward to future certifications that the ACT program will have to offer to build on the certifications that we currently have."
For more information on Certified Tile Installer certifications, visit http://tilecareer.com/courses/certified-tile-installer/; visit www.tilecertifications.com for ACT certification information.