CTI, ACT testing at TISE West elevates respect for trade
Showgoers esteem certification as useful in raising the bar for tilesetters
By Lesley Goddin
[LAS VEGAS, Nevada] – At the recent The International Surface Event (TISE) West held at Mandalay Bay Convention Center here the third week of January, there were two industry-recognized certification classes taking place on the show floor.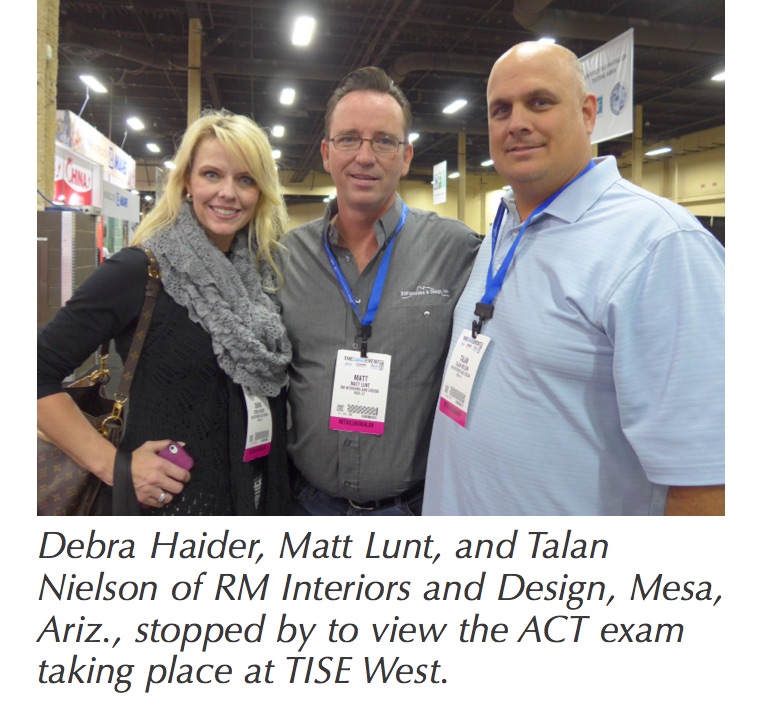 The first was the Certified Tile Installer hands-on test. Scott Carothers, certification and training director at the Ceramic Tile Education Foundation (CTEF), which conducts the test, said, "Testing experienced installers at the show yields two benefits. The first, of course, is that an experienced tile installer is demonstrating his or her hand skill in hopes of passing the test and becoming a Certified Tile Installer (CTI). The second benefit allows show attendees to view the intensity of the CTI test, demonstrating that it is not a 'show up and get a certificate' program.  It is a tough test designed to separate the qualified tile installer from those who are not able to pass the test or think that they don't need it, when actually, they do."
Earlier, all participants had taken a written exam about tile setting basics online.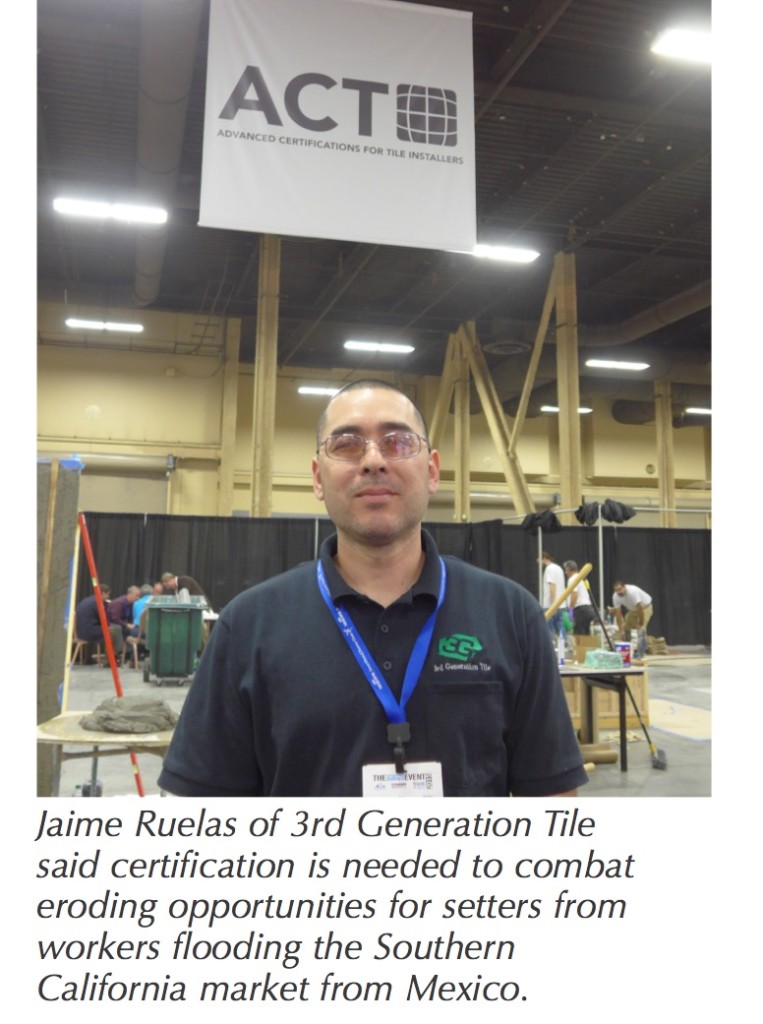 Also being held at TISE West was the Advanced Certifications for Tile Installers (ACT) hands-on exam. Six participants – three open shop and three union installers – were tested for their proficiency in setting large-format porcelain tile and subfloor preparation, mud walls and floors, showers and membranes.
​Carothers added, "At the upcoming Coverings show, we will debut our two newest ACT tests: Grouts and Thin Porcelain Tile (TPT), which expands our testing program to a total of seven. ACT will continue to grow the program, adding new tests as needed. Our goal is to provide the marketplace with installers who meet and exceed the requirements of qualified labor as found in the TCNA Handbook and in the specifications being drafted by many architects. The demand for quality by the consumer, whether it be residential or commercial, is growing and the ACT program meets the challenge."
Jaime Ruelas of 3rd Generation Tile, a family-owned business in San Diego, Calif., stopped by to observe the process. "We need certification," he said, explaining that work opportunities are being eroded by a combination of workers coming over the border to Southern California from Mexico to set tile, and big box stores giving the impression that setting tile is a snap. "Electricians and plumbers are certified – why not tile setters? Just having a license doesn't mean much of anything," he said.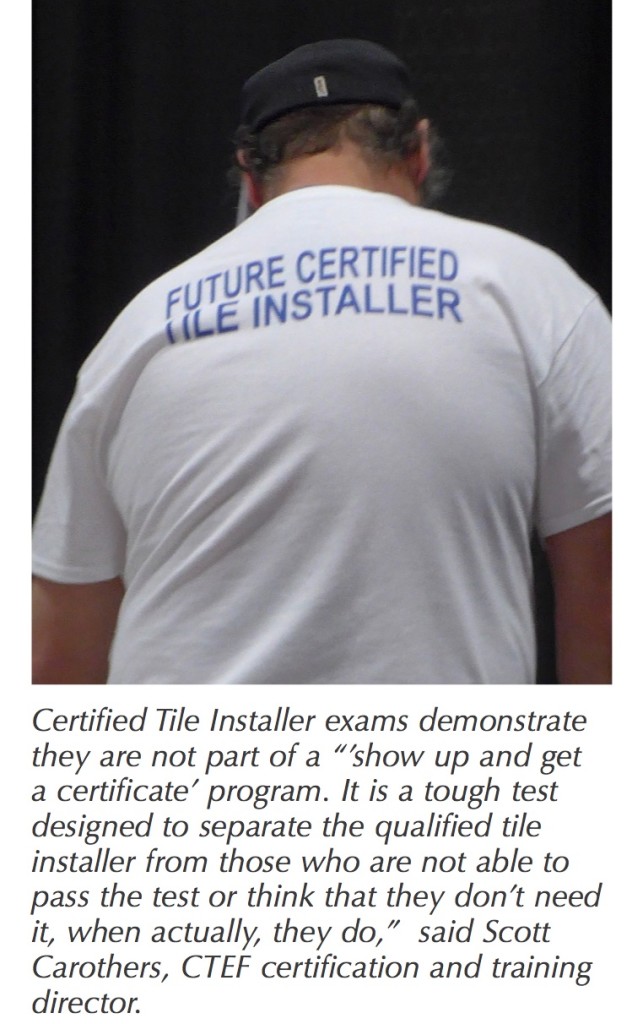 Talan Nielson, sales manager for RM Interiors & Design, Inc., in Mesa, Ariz., also took some time to watch the test unfold. "The trades across the board are diminishing, so any time you can get certification, it's excellent," he said. "Since the quality of work is going down, you need a tool to set you apart from the next guy."
Nielson echoed Ruelas' comments about Mexican nationals and an influx of Chinese workers who he saw as "driving down labor prices."
"We sell and install tile," Nielson said. "We sub it out to licensed and bonded installers. It would be nice to see that they have certification too."
For more information on becoming a Certified Tile Installer, visit http://tilecareer.com/courses/certified-tile-installer/. For information about ACT, visit www.tilecertifications.com.
Another class of hands-on exams for CTIs and ACT-certified installers will take place at Coverings 2015 in Orlando, at the Orange County Convention Center, April 14-17. Contact Scott Carothers at [email protected] or call 864-222-2131 if you are interested in taking the CTI or ACT exams.