By Bart Bettiga, NTCA executive director

I am sure all of us have experienced the challenges and strains that our economy has put on our individual companies, but I am pleased to report that the National Tile Contractors Association (NTCA) continues to thrive and expand its influence every year as a leading association in the tile industry.
In August, the NTCA Executive Committee traveled to Grand Rapids, Mich., for three days of strategic-planning discussions. This resulted in what we think is a great direction for the association mov- ing into 2014 and beyond. The NTCA Board of Directors then met at Total Solutions Plus in October, expanding the program direction generated by the Executive Committee, resulting in a clear vision for the staff moving forward.
The cash position of the NTCA is healthy as we head into 2014. As we develop our following Strategic Plan, we expect the association to continue to grow in influence and to increase its value to our members.
Membership
One of the main contributors to our financial success has been the steady increase in our membership. This year was the fi fth year in a row we have increased our totals – in a year when our member investment increased from $500 to $600. In fact, we have now exceeded our goal of 800 members, established three years ago. We are now focusing on reaching 1,000 members in 2014.
Strategic Planning
For the past several years, the Executive Committee has been involved in the process of strategic planning. When we talk about strategic planning, we try to look into our future longer than just one year. An example of this is thin tile panels, which have exploded onto the tile industry scene and have raised a lot of interest and challenges to our members. We have been involved in discussions on developing standards for these products, and also trying to position our association's members to benefit from these efforts. This is part of a strategic planning process. Following are our objectives for 2014:
#1 Objective: Saving members money and getting them work
We have identified saving our members money and getting them work as our most important association objective. It is not an easy task. Getting NTCA members specified on projects also includes promoting and further developing our Five Star Contractor Program. Our staff will use their many means of communication to promote Five Star and the advantages of contracting with NTCA members, as well as promoting member benefits that can save you money.
#2 Objective: 1,000 members
By the end of December, we expect our membership to exceed 900 companies. We have a healthy ratio of 85% contractor members, and 15% associate supporters. We are setting the bar high for next year, and our staff is working extremely hard to reach 1,000 members for the first time in our history.
#3 Objective: Tradeshows
NTCA is an owner in Coverings, and also receives income from Total Solutions Plus. Although we want to continue our support of these shows, we don't want to depend on their profi t for the success of our association. Several years ago, we were concerned about what would happen to NTCA if tradeshow revenue were to disappear. So we have established this goal of evaluating tradeshows, and our staff has worked hard to find alternative sources of revenue that our association can more easily control. We have had excellent success in this effort.
#4 Objective: Board of Directors
Our fourth goal is to focus on getting our members to become more active. By developing our State Director Program, and by actively recruiting more member involvement, our Executive Committee and staff now discuss all of our potential new leaders, and work closely together to recruit these people to our committees, Board of Directors, etc. We think having more people involved in the NTCA will only grow our association and expand our influence in the industry.
Training programs
At the Executive Committee meeting, we identified that key staff direction would be to focus on training for our members. I am pleased to report that the NTCA Workshop Program is being revised to provide more technical training to our members and their installers, and we are also ready now to offer on-line business training as a member benefit. To do this, the NTCA is partnering with Wally Adamchik, of Firestarter Training and Speaking. Wally is a well- known business trainer and speaker and has a proven track record of success. We will report more on both of these programs in the first quarter of 2014.
Thank you to our volunteer members
At Total Solutions Plus, we voted in our new board members in their respective regions. Last year, our Executive Officers were voted in, and will remain in this position for the next year. This is a hard- working Executive Committee, and I would like to personally thank them for their dedicated support of the association.
Dan Welch: President – Welch Tile & Marble; Kent City, Mich.
James Woelfel: First Vice President- Artcraft Granite Marble &Tile Co.; Mesa, Ariz.
Martin Howard: Second Vice President – David Allen Company; Raleigh, N.C.
Nyle Wadford: Chairman of the Board – Neuse Tile Services; Youngsville, N.C.
John Cox: Board Advisor – Cox Tile Inc.; San Antonio, Texas
Four new Regional Directors were recently elected to the NTCA Board of Directors. Our four outgoing directors in these regions have all served two terms, which are the maximum years allowed by our association by-laws.
In Region 1, Dennis Wigglesworth of Filling Marble and Tile in New Jersey has fulfilled his term, and is being replaced by Jon Donmoyer of JD Tile in Anville, Pennsylvania.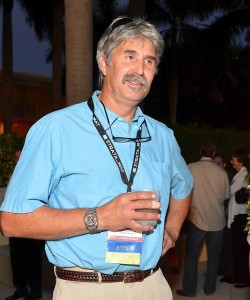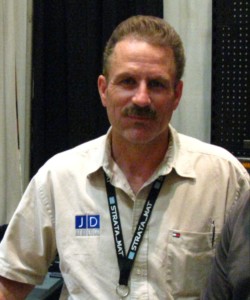 Region 1 director Dennis Wigglesworth of Filling Marble and Tile in New Jersey (l.).
Wigglesworth has fulfilled his term and is being replaced by Jon Donmoyer of JD Tile in Anville, Pa.
In Region 6 we have had the good fortune of the support of Ricky Cox from Memphis Tile and Marble these past four years.  Ricky has been extremely supportive of all of our programs in his region. We have elected Mike Sanders of Sanders Hyland in Mobile, Ala., to join our Board of Directors.
In Region 7 we have been blessed with the support from two great contractors in the Twin Cities of Minnesota. Jan Hohn of St. Paul, Minn., is leaving the Board, but will stay on our Technical and Methods and Standards Committees. JoeKerber of Shakopee, Minn., has been on both of these commit- tees for several years, and will now join the Board of Directors as a Regional Director.
We filled our final directorship  in Region 8. Anthony Jung of Victoria, Texas, will remain on the NTCA Finance Committee, but is leaving the Board of Directors. We voted in Tave Baker of Holmes Tile and Marble in Jonesboro, Arkansas, to fill this important position.
In Region 11, which covers Northern California, we have experienced outstanding membership growth the past two years, and we have Martin Brookes of Heritage Tile and Marble to thank for that, along with our staff. He has really supported our programs in the area, and we approved him for a second two- year term.
I want to personally thank all of our volunteer members who support the association. The NTCA has more active support than ever before, and this is the main reason for the explosive growth in our membership. It is becoming evident at every conference and tradeshow we participate in. The overwhelming support we get from volunteer contractors and associate supporters is humbling to our entire staff.
Speaking of the NTCA staff, I am incredibly proud of their efforts over the years to make us the vibrant and effective association that we are. To illustrate this point, the following quote was excerpted from our Board Minutes at the meeting held recently from Total Solutions Plus. It came from Chris Walker, vice-president of David Allen Company in the Washington D.C. area, and chairman of the NTCA Methods and Standards Committee and the ANSI A108 Committee.
"I want to personally congratulate the NTCA staff for its management of revenue to get its programs accomplished and maintain a good financial position. The ability to fund and execute the programs it does and maintain a creditable financial position is remarkable. There is no comparison between NTCA and other associations."
As we approach the end of a successful year, I would like to personally thank all of our members, volunteers, staff and subscribers to TileLetter, and wish you all a wonderful holiday season.