Perfection desired, not required
How you handle mistakes affects your customer's perception of your service quality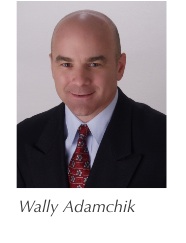 By Wally Adamchick, Firestarter, president, FireStarter Speaking and Consulting
The other day, I facilitated a panel discussion on customer service. The audience was a group of operations managers and field supervisors, and the panel included three of their actual customers. So, these audience members served these customers.
Over the years I have been involved in a number of sessions like this, and the results are always very positive. Not necessarily positive in that the customer says everything is great, but positive in that both sides come out of it with a higher level of mutual understanding and an increased respect for each other. There is something about these panels that creates candor. And that's important, because at no other time do we ever really ask customers what they think, and if we do, they never fully tell us what is on their mind.
When a customer makes a purchase of just about anything, they are entitled to a reasonable expectation that the product or service will be delivered correctly and in accordance with a given set of specifications. In fact, that is why they have selected you. The buyer believes you will complete the job – as purchased, on time and on budget. If you fail to deliver, you lose their business. But over time, you probably do a consistently good job, so you now have a repeat client. This is something any business should strive for. If the customer is not in a position to buy again, then certainly they are in a position to refer you to someone who is in the market for your service.
At some point, something is going to go wrong. An order could be late, an installation might be of poor quality, or one of your employees might be rude to the customer. There are plenty of ways we can disappoint clients, especially if we have done the right thing for an extended period of time. But here it is – that moment of truth when you have to fix the mistake. This was one of the key conversations in the above-mentioned panel discussion: your customers expect nothing to go wrong. They really are looking for perfection; they want it right the first time. However, they also know that mistakes happen, and so it is how you recover from a mistake that defines their perception of you.
In the restaurant business, this is called service recovery; in the airlines, it is called irregular ops. In both cases, we are talking about a situation where something has gone wrong. In restaurants, the customer's perception of the quality of service is actually higher in a situation where something went wrong and was then fixed quickly and correctly, rather than the situation where everything went flawlessly!
At the airport, when my flight gets cancelled, it is very reassuring to get a call from my airline telling me I have already been rebooked. They have just saved me the trouble of having to wait in line to negotiate for another flight, and the stress that goes with that.
Your people are trained to deliver the specified level of perfection. If they weren't, they would not be working for you. Ideally, they would be trained in how to handle a situation where the customer is not happy. Unfortunately, this is often not the case. Usually, a manager needs to get involved to resolve a sticky situation made worse by an employee who handled it poorly. Now you have a doubly ticked-off customer. It all comes back to training:
Are your employees taught how to do the job correctly in a variety of settings – not just in the isolated environment of a training room?
Do your employees understand your philosophy as it relates to quality and service?
Do you regularly communicate this philosophy?
If you answered "No" to any of those questions, you are placing your company at risk of a bad client experience that was then resolved poorly. Remember that old statistic about how an unhappy customer would tell nine other people about the poor service they received? Well, with the internet being ever-present today, "nine" can easily become 9,000 – or more. In fact, if the message goes viral on social media, millions of people will read it within days. And that's not the kind of publicity you want for your business.
Whenever a business faces risk, it usually refers to the potential for lost profit. The customer-employee interaction is a point of risk. Rather than saving money by cutting corners on training and education, you might be better served by investing money to create the skills and mindsets in employees to prevent and correct negative customer situations in the first place. Technical skills are a start, but they are not enough. What you do is important. How well you do it – and fix any mistakes – is equally as important.
NTCA has partnered with Wally Adamchik to bring his interactive virtual training system at www.firestartervt.com to NTCA members. Contact him at [email protected] to learn more about how the NTCA/FirestarterVT partnership can save you training dollars while improving your leaders at all levels.