NTCA makes apprenticeship and career development a top priority with web-based Learning Management System
By Dan Welch, Welch Tile & Marble, NTCA Apprenticeship Committee chairperson (Ed. note: This article is a follow-up to the story about the expansion of NTCA educational efforts with CEFGA and MiCareer Quest as reported in May TileLetter's Benefits Box section. That May story introduced the idea of a Career Development Matrix, which is explained in greater detail here.) The daunting task of updating the existing NTCA apprenticeship manuals and transferring the information to a web-based Learning Management System (LMS) is under way. This Apprenticeship Committee began in San Antonio, Texas, at Total Solutions Plus where I again opened my mouth during a Training and Education Committee meeting and found out that this thought was a common concern and needed a chairperson. As the newly-appointed chairperson I set out to find an easy way to transfer information from the elder employees to the new millennials.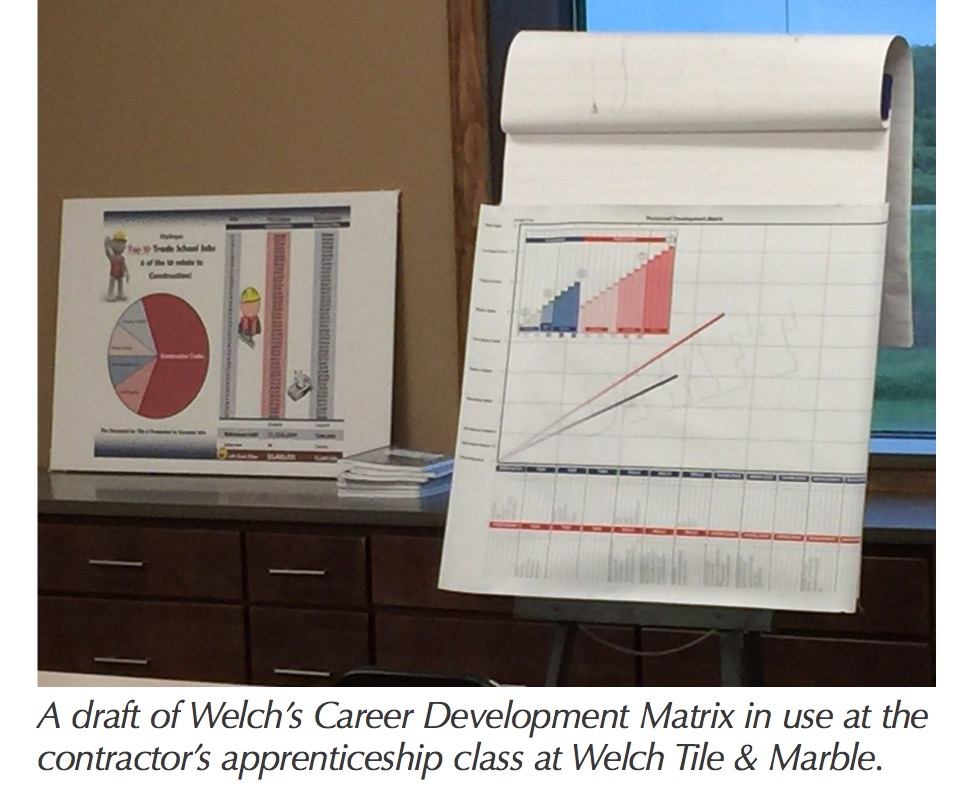 A Career Development Matrix idea was spawned during a post company-meeting event. The basic idea was to build a path easily understandable to the young men and women in our trade, linking the job title to the job duty and connecting it to a value or wage increases. The matrix is categorized by Orientation, Task, Skill, Knowledge, and Management. It can be used for personal career growth by an individual, or for a company to use to develop its people and personnel. A matrix shown to me on a YouTube video that night (Crazy/Hot Matrix) fit what I was thinking and the rest is history. Currently it's in draft stage and is being honed and perfected.
Why an LMS? Apprenticeship development within a working company is tough to implement, and there are several obstacles to overcome if you plan to execute this within your organization. Welch Tile & Marble started a Department of Labor-approved program in 2005 with the help of DMI from Birmingham, Ala., and updated the program in 2008. The first class to go through the program was eager to learn and to improve their earning potential, but the energy it took to set up a class at night and come up with the lessons and hands-on training was exhausting. These are some obstacles to a traditional apprenticeship program:
Time out of busy schedule
Canceled class time
Lesson-plan development
Employee engagement
Absent employees
Out-of-town workers
Make-up class
Outdated materials
Multiple classes needed Apprentice 1, 1a, 2, 2a, 3, 3a training at the same time
Cost
Employee financial reward upon completion
Economy
The LMS is a must-have for two reasons. First, Welch Tile & Marble has 10 years of experience proving that implementing an apprenticeship program isn't easy. Secondly, the new generation uses the internet for everything and grew up with instant information access. The vision and mission of the Tile Contractors Apprenticeship and Career Development Program is as follows:
Vision: A dedicated investment in developing tomorrow's leaders .
Mission: Communicate, educate, evaluate, compensate, and cultivate the future generations of tile professionals through safety, productivity, passion and critical thinking.
Course Description
The Tile Contractors Apprenticeship and Career Development Program is an organized process designed to:
Communicate position descriptions, requirements, duties and responsibilities, measures of performance, and expectations.
Establish wage and benefit expectations nationwide.
Define career paths for all areas of the tile trade.
Develop tasks, skills, knowledge, and management modules to install tile successfully.
Provide educational tools, limit risk, and maximize productivity through technology and a positive environment.
Evaluate using training modules and certifications.
Cultivate passion and culture.
Pay for performance
Pay for performance has always been our belief: provide a good day's work for a good day's pay. So how do we provide this pay and who is going to identify what is good? Each market segment, region, work category, and job classification offers a different set of guidelines for what the market will bear and what each company's core project business operations can offer. This draft is just that, a draft of what an average could be with a market that is diversified. For a company offering a service that is considered a commodity, the cost of doing business is very slim. The workforce is well trained to provide a limited skill with very little flexibility in what they can make available to the end user outside of the core competency. The result is lower pay. For a company offering a service that is considered a specialty, the cost of doing business is larger. The workforce is well trained in multiple areas and has the ability to do projects that are challenging and outside of the norm. The result is higher pay. I hope you are as excited as I am with the Tile Contractors Apprenticeship and Career Development Program and our industry's attempt to attract new talent, build on their strengths, and move this industry forward. Stay tuned for periodic updates on the progress of the web-based Learning Management System, The Tile Contractors Apprenticeship and Career Development Program, and the refinement of the accompanying Career Development Matrix.