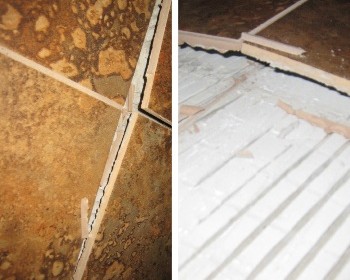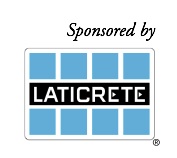 QUESTION
I have a question about a new home constructed in 2012. We have porcelain tile over cement backer board over LP 3/4 floor decking. The backer board was installed with thinset to the OSB and screwed down. Tile was then thin set to the cement backer.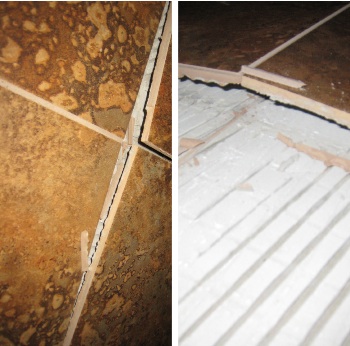 I have issues with loose tiles in two areas: kitchen and master bath. An engineer has assessed the I-joists and beams and found no movement or deflection. The contractor wants to blame the radiant floor heating, but I have hundreds of square feet of tile unaffected by the radiant heating. Any thoughts? Attached are a couple of interesting pictures.
ANSWER
Thank you for including the pictures. They make this an easy diagnosis. Your tile installer did not include movement accommodation joints (or insufficiently-sized joints) in your tile job.
Tile expands and contracts, and at a different rate from the substrate below. Every method shown in the TCNA Handbook for Ceramic, Glass and Stone Tile Installation requires movement accommodation joints. Interior dry areas need joints no more than 20'-25' in each direction; exteriors, wet areas and interiors exposed to sunlight (i.e. where south-facing windows occur) 8'-12' maximum. Glass tile and any radiant-heated tile need reduced distances, and in all areas, perimeter joints (where tile meets walls, cabinets or any dissimilar plane or surface) must be left open or filled with a flexible sealant. Even if the field distances are not exceeded, not including perimeter joints can cause this failure.
Many tile installers do not know the industry standards or have never experienced this failure, because it does not ALWAYS occur, but unfortunately for you, this is part of the learning curve for your installer. It generally does not take but one or two of these failures for an installer to learn the importance of including movement accommodation and spending the time up front to educate his clients (because there is generally an additional fee to perform this step within a tile project).
And please note that the thinset type is not a factor as long as it is suitable to tile and substrate. Even if there was a thinset that was 50 times stronger, the forces exerted by expansion cycling would still overcome it. Typically the thinset itself shears, but if it were stronger thinset, it would likely change the shear point to the substrate surface or the thinset/substrate interface.
The requirement to include movement accommodation joints is included in each installation method within the TCNA Handbook, and the specifics on placement and construction of joints is in section EJ-171. The TCNA Handbook is available on our website at www.tile-assn.com for sale. It is really a standard that every tile installer should own.
– Michael K. Whistler, NTCA presenter/
technical consultant