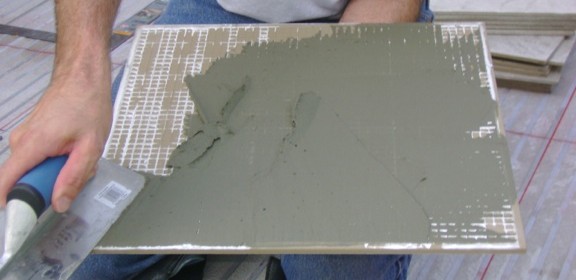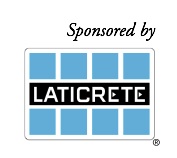 QUESTION
I am emailing to find out when back buttering the back of larger porcelain tiles started as a standard, and in what edition it was first published.
ANSWER
I would have to physically look in each book but it goes back 15-20 years. ANSI A108 says:
2.3.4 Average contact area shall be not less than 80% except on exterior or shower installations, where contact area shall be 95% when not less than three tiles or tile assemblies are removed for inspection. The 80% or 95% coverage shall be sufficiently distributed to give full support of the tile.
2.3.5 If 95% coverage is specified in the project specifications, back butter each tile with bondcoat; or select a notched trowel sized to facilitate the proper coverage. Key the mortar into the substrate with the flat side of the trowel, and comb with the notched side of the trowel in one direction. Embed the tile in the mortar by beating-in, pushing in a direction perpendicular to the combed ridges, or other means to achieve specified coverage. The method used should produce maximum coverage with the corners and edges fully supported. Periodically remove and check a tile to assure that proper coverage is being attained."
The TCNA Handbook for Ceramic, Glass and Stone Tile Installation suggests directional troweling may help avoid the need to back butter. The requirement is coverage, not how you get it.
– David M. Gobis CTC CSI, Ceramic Tile Consultant,
answering on behalf of TCNA
QUESTION
Is it against industry standards to install 16"x24" tile by using thinset on only the tile – without that same application to the concrete floor (post-tension slab)? I just had an installation done that way – all over the house. Now, I have a few hollow areas and grout that "droops." I assume the "drooping" grout is due to settling into the spaces under the edges of the tile where no thinset was applied to the floor first. I am assuming it is because of the installer trying to take advantage of me via bad shortcut practices. Please advise – I am going to turn him into the Registrar of Contractors for a bad job – and I need to know if this type of tile installation violates industry standards.
ANSWER
Keying the mortar into the substrate is an important part of the bonding process. On post-tension construction, the selection of the appropriate thin-set mortar, movement accommodation joints in the tile work, and/or use of a membrane system are equally important for longevity of the installation.
– David M. Gobis CTC CSI, Ceramic Tile Consultant,
answering on behalf of TCNA
It is amazing to me how many times I have seen this practice. Quite a few "journeyman installers" I hired over the years would install in this fashion, until I caught them at it and instructed them in the correct and only allowable method. I have also seen this in many installers taking the CTI test. Notch troweling the back of the tile and applying to bare concrete (or any substrate) is not approved. Standard practice is to key mortar onto substrate with flat side of trowel, add more mortar, comb notches, then apply tile. With natural stone you are also required to key mortar onto back of tile (back buttering). It would be okay to key in and comb the back of the tile as long as you also keyed into substrate, kind of a reverse process (installers sometimes do this when installing cuts at a perimeter of a project), but applying to a bare substrate is asking for a failure
– Michael Whistler,
NTCA presenter and technical consultant