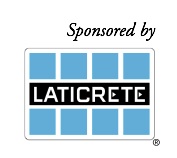 This month's conversation is between a knowledgeable female do-it-yourself tile setter and Dave Gobis, CTC CSI Ceramic Tile Consultant. It illustrates the vast amount of misinformation that's passing as expertise at point-of-sale. It's a classic tale of buyer beware, and know-your-stuff.
QUESTION
My shower is almost complete, having installed my cement boards over a wood structure covered with plastic sheeting. I have used 100% silicone to seal all joints including those between the cement boards and my mortar bed. I am also going to waterproof all the cement boards with a waterproofing membrane. I know I'm supposed to use latex thinset for the floor. What kind of mortar do I use to install the tiles on the walls of my shower? As per the TCNA, I'm supposed to use latex thinset for the walls as well but a tile dealer I work with has told me that I can't use latex-modified thinset for my walls because it will take three months to cure on account of the plastic I put on my wood structure. I would be much obliged for your help. Thank you.
ANSWER
Your tile dealer is misinformed. Your waterproofing membrane would be even less permeable than the plastic which has holes in it from fastening the board. There is truth that a longer drying period is required when installing tile with latex over a waterproof membrane. The thinset will use about a third of the water for mixing the thinset in growing a cement matrix, the rest will have to evaporate through the grout joints. Leave the joints open a few days before grouting and you will be fine. Cement grout is porous and will allow any residual moisture to pass if needed.
– David M. Gobis CTC CSI
Ceramic Tile Consultant
QUESTION
Thank you for your reply on the latex thinset; I just didn't know who else to turn to and was getting exhausted with the different input I was getting from my tile suppliers.
In the same vein, should I wait three months to install glass doors on my curb tiles? Not that I mind; if I have to wait, I will. Furthermore, if I have to wait weeks to grout, I won't mind either. At this point, being so close to finishing, I don't want to mess up anything.
ANSWER
What was the reason for waiting three months on the shower door? Have never heard anything remotely close to that. Biggest thing is to not puncture the waterproofing. If you could let the tile set up for a week to 10 days that would be good enough.
– David M. Gobis CTC CSI
Ceramic Tile Consultant
QUESTION
You've just answered all my questions. The three-month cure time was told to me by one of the two tile stores I bought my tiles from. Based on that information, I started asking myself about the glass shower doors on the curb. Such is the nightmare of having no experience! Thank you so much for your prompt answers. Have a great one.
ANSWER
The misinformation out there is abundant. It's sad that people know so little about their chosen line of work. It certainly keeps me busy, but it's a hard way to make a living when all you sell is what you know. The tile setter I was with when I got your three-month email chuckled and said something about a knucklehead.
— Good Luck, Dave
QUESTION
I've been doing my own tile work for 20 years, but had never undertaken a shower from drain pipe to shower head. It became clear to me as well that misinformation was rampant, even amongst the professionals showing how to do it on YouTube. I could not get proper instructions on the internet or YouTube until I got hold of the ANSI code and the TCNA instructions. Even if you do decide to follow the code, as I decided to do, most stores don't know the code and/or don't follow it which has made my project that much more difficult as products are not always available. I feel like I'm speaking a foreign language to these people. You should've seen the hardware store reps when I asked for wet sand. Not to mention that some of these reps have tried to sell me gypsum or thin cement boards (3/8") for my shower walls. One of these reps at a big box store actually told me – with Oatey pan liner package in hand – that I didn't have to do a mortar bed after putting my PVC pan liner on my pre-pitch; I could put the tiles directly on my PVC pan liner and save myself the trouble of doing a mortar bed (!?!?). He even said, with certainty, that this was up to code (after I told him it wasn't).
Tell your tile setter that he is right; knucklehead it is. Now, all I have to do is go back to the knucklehead and put in a special order for my latex thinset because they don't carry these products in their stock room.
Again, Dave, much obliged.  I will sleep better tonight knowing that I now have the proper information.