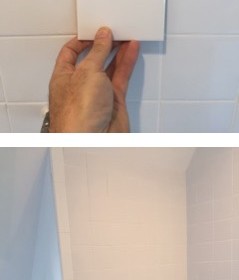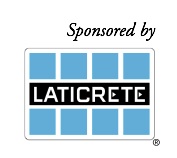 QUESTION
We have a contractor who used two different tiles. He bought the 4" x 4" tile elsewhere but after installation it appears to have changed color. The tile he bought from another source at the bottom, stayed looking like it did prior to installation. What could have caused this?
ANSWER

The color of some tiles can change with grouting, for example this can occur with soft, natural stones and unglazed, honed or polished through-body ceramic/porcelain or quarry tiles (and/or if grout release wasn't used).
It appears the tiles shown in this installation are glazed ceramic. You stated the two sizes of tile were procured from two different distributors. It is possible that even if the tiles are from the same manufacturer they may have been manufactured on different dates or in different lots. That being the case, the glaze may have a slight variation between the two. The glaze also appears to be different on the bullnose tile.
If spare, uninstalled 4" x 4" and 3" x 6" tiles from this job, new from their cartons, are placed side by side, I suspect you may notice the difference in color between them. Have you checked to see if the two tiles are from the same manufacturer and what their date of manufacture and manufacturer lot numbers are? This information should be available on the end flaps of the tile cartons. If the manufacturer, date of manufacture or lot numbers differ, there may well have been a difference in glaze color out of the box that wasn't noticed until the tiles were installed and grouted
It is important to verify that all of this information aligns between all cartons of tile before beginning the installation.
– Mark Heinlein – CTI #1112, NTCA Technical Trainer/Presenter
QUESTION
I need to know what the TCNA standard for slope in a commercial kitchen is.
ANSWER
The minimum slope for floor drains is 1/4" as specified by ANSI A108.01 2.2, which directs compliance with ANSI A112.21. The Universal Plumbing Code also specifies minimum slope of 1/4" per 12".
The mortar bed is to be of a uniform thickness. ANSI A108.01 2.6.1.4 and 2.6.1.5 include a chart and discussion of minimum and maximum mortar bed thicknesses based on the service rating of the floor. For a commercial kitchen rated as Extra Heavy/Heavy, the bed thickness is 2-1/2" minimum to 3-1/2" maximum. Appropriate size and gauge galvanized welded wire mesh (i.e. 2" x 2" 16 gauge) must be suspended as reinforcing wire in the mortar bed. If the mortar bed will be in excess of 3-1/2" thick, heavier reinforcing, larger aggregate, richer mix and greater compaction may be required and must be detailed by the specifier.
To keep the mortar bed from becoming too thick or the slopes to a drain too long, multiple drain locations should be planned based on the layout of the kitchen.
– Mark Heinlein – CTI #1112, NTCA Technical Trainer/Presenter