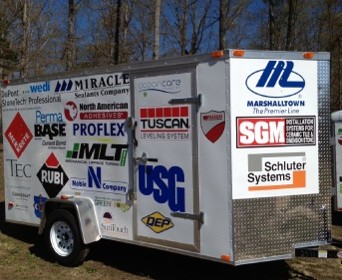 Whoever thought that NTCA Tile & Stone Workshops are all work and no play, well, must never have been to one.
Yes, it's true that for over 30 years, the NTCA's "road show" – one-stop, one-evening training events – free of charge to the trade – have been wowing contractors, helpers, salespeople, and A&D professionals with news of the industry's latest developments, technical information, materials and installation methods. NTCA technical consultants Gerald Sloan and Michael Whistler travel around the country to 70+ locations, supported by industry experts and sponsors, bringing an evening of information, food, fellowship and fun.
That's right, I said fun. Whether it's Michael Whistler throwing sponges into the audience for those who give the right answers to his technical questions, to host sites that go the extra mile, these NTCA Tile & Stone Workshops are a thoroughly enjoyable and valuable experience.
In doubt? Take a look at the hardworking attendees literally pictured at a "Fun Box" – a modern version of a photo booth – set up at Daltile in Boise, a recent host of a NTCA Tile & Stone Workshop on February 19. "I thought that it would be a great way to create a lasting memory with our customers, vendors, and employees," said Justin Carr, sales representative for the Daltile Boise location. "I think that it worked too because now I'm seeing them in my customers' offices and around Daltile. It was a very fun night!"
"Some locations get extra creative in making our event a real success," added Jim Olson, assistant executive director, NTCA.
And that's not all – this year, at each workshop, NTCA will give away a free one-year membership. If you have already paid your 2014 dues then you will receive 2015 for free. Also, tickets will be handed out at each workshop and a drawing will take place to be eligible for all-expense-paid trips to both Total Solutions Plus 2014 (TSP) and Coverings 2015. NTCA will draw one name at each workshop for the chance at a free Total Solutions Plus giveaway and one for the chance at the free Coverings trip. Those winners will qualify for the trip giveaways. The first drawing will take place at the end of August to announce the winner for the trip to TSP in San Antonio, TX at the end of October. The second drawing to announce the Coverings 2015 winner will take place at TSP. For more information contact Jim Olson, at [email protected]
Those of you attending workshops on the eastern side of the country may see this trailer soon – it's Gerald Sloan's brand new workshop trailer, which he pulls with a Ford F-150 to all the NTCA Tile & Stone Workshops in his region. This is a well-supported program, as evidenced by the logos of all our generous sponsors, emblazoned on the trailer sides. Visit www.tile-assn.com and click on Training & Education to see the next workshop located near you!