Higher Standard Tile & Stone
Lahaina, Maui
www.higherstandardtile.com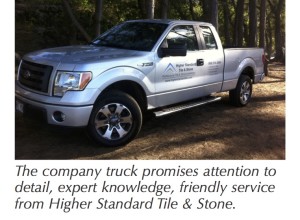 In the 1990s, when he was 19, Isaac Homza traveled from his home in rural Goochland, Va. (near Richmond), to Brooklyn, N.Y., to volunteer doing construction work on the World Headquarters of Jehovah's Witnesses. Homza didn't have a construction background, but was willing to assist where needed. Eventually, he was assigned to a tile crew, and worked with people from around the country and Canada to renovate many historical buildings in the Brooklyn Heights neighborhood that were used for residential and office purposes.
Homza started out as a helper with his first crew of tile setters, which was mostly female. "They were very detail oriented and trained me well," Homza said. The volunteers had to do their own maintenance and repairs, so they quickly learned to follow industry guidelines and not cut corners, he added.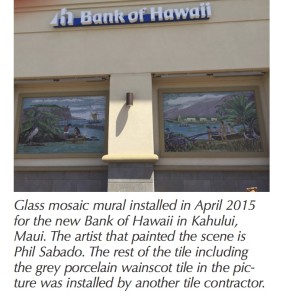 Homza received some training programs in-house during this project, and learned via seminars by LATICRETE and TEC, but mostly it was on-the-job training. "I ended up learning the tile trade and now use it to support my family." Homza is the owner and lead installer of Higher Standard Tile & Stone in Lahaina, Maui, and has been a member of NTCA since 2009.
Homza's destiny as a tile setter was also influenced by his mother – an accomplished artist, and his father, a meticulous craftsman – as well as the enduring artistry of destinations in Italy, France, Korea, and India that he has traveled to with his wife. There he witnessed how true craftsmanship and artistic ability can lead to beautiful tile and stone installations that can last for centuries.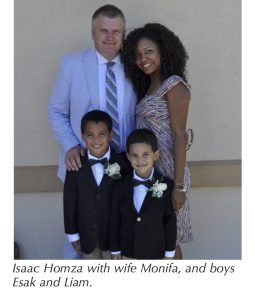 Fast forward to current day: Homza moved to Lahaina, Maui and has been installing tile and stone there since 2006. Homza got his business up and running in March 2009, in the eye of the financial storm. He admits it was "Not exactly the best time to start a tile business. But I think starting when times were tight helped us make good decisions." This included doing the job correctly and not succumbing to low bidder mentality. "This has helped us attract the clients that appreciate our work and refer us similar clients today," he said.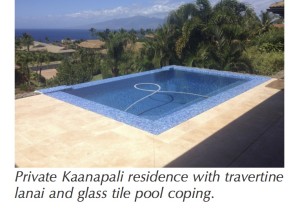 These clients are 80% residential, with a 50/50 mix of work directly for homeowners and general contractors, and 20% small-to-midsize commercial. Much of the residential work is for vacation rental properties, which requires Higher Standard to keep a strict schedule to avoid interfering with client's rental income. The company also does condo projects for individual owners or general contractors, which are part of larger properties that require Higher Standard to strictly follow the association work rules and working hour requirements. In all, clients come from Maui, at least 14 states in the U.S. mainland, three Canadian provinces and Japan. Higher Standard keeps off-island clients informed on work progress with pictures sent via email or text.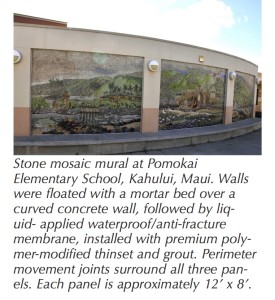 Higher Standard and its crew of four people specialize in custom homes with lots of exterior stone tile. It also installs beautiful custom mosaic murals designed by local artists, like one that was just completed for a local elementary school, a glass mosaic mural for the new Bank of Hawaii in Kahului, Maui, and an upcoming large exterior glass mural for a public school in upcountry Maui.
Doing the job correctly is tantamount to Higher Standard's philosophy (hence, the company name), a philosophy the company states on its website:
1. Use the highest quality tile and stone installation materials.
2. Use TCNA, NTCA and ANSI approved installation methods.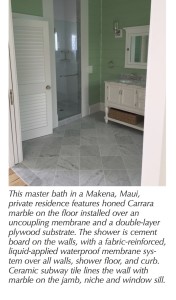 3. Provide superior, friendly customer service.
4. Be nice to everybody!
"We are not the low-priced option but specialize in doing the job correctly, with attention to the details, doing our best to meet TCNA guidelines and ANSI standards," Homza said. "Whether our client is a corporation or a homeowner, we try to make the installation process as stress free as possible. I think our biggest asset is our crew; they are very friendly and professional. Clients always compliment us on our work but more importantly on our people."
NTCA: "best tile contractors"
Homza, who is now the NTCA State Director for Hawaii, joined the association in Spring, 2009, after reading positive comments about NTCA on the John Bridge Tile Forum.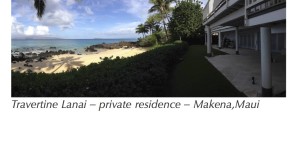 "John Cox, who was NTCA president at the time, reached out to me and spent a lot of time on the phone explaining why he found being an NTCA member helpful for his company," Homza said. "I appreciated the time and personal interest he showed. I realized that some of the best tile contractors are NTCA members, and I wanted my company to be a part of that and help support the organization that supports the tile contractors who care about doing the job correctly."
Homza also values the ability to get feedback and "expert advice" on questions or problems from the network of "best tile contractors" who make up the NTCA.
Homza has extensive technical training provided by LATICRETE, Custom, Schluter, TEC, NTCA, TCNA, ANSI, and the John Bridge Tile Forum – and he's a CTEF Certified Tile Installer since the October 2012 test at the NTCA event at Daltile, Honolulu. It's part of what he uses in his proposals to explain how Higher Standard Tile & Stone differs from the competition. (For a list of other ways the company sets itself apart, visit http://www.higherstandardtile.com/content/WhyDifferent.html)
"Being a tile contractor is a lot of hard work but the best part is seeing the smile on our clients' faces when they see the finished product, and the satisfaction you get when you work together as team to complete a difficult project," Homza concluded.