New Five Star Contractor Phil Kozey and Stuart Tile Company in Macomb, Mich.

Family pride sets foundation for excellence and passion
The Kozey family has a long history in the tile industry – over 45 years, according to Phil Kozey, project manager at Stuart Tile Company (www.StuartTileCo.com), in Macomb, Mich. The

company now installs mostly commercial projects, specializing in assisted living facilities, car dealerships, and large commercial, as well as some residential projects.
The company prides itself on its ability to complete projects with very difficult time schedules, but not compromising quality by cutting corners.
"The greatest feeling is when we have worked for weeks — sometimes months — on a job, and finish before the deadline," Phil said. "I love seeing the happy faces of the owner/GC. It makes me feel accomplished when I see the finished project."
Stuart Tile Company is composed of mostly family members. "This makes it unique and very personal to me," he said. In addition to Phil himself, it includes his parents, Janet and John Kozey, as well as two uncles, and some cousins and other highly valued employees.
Kozey noted that Stuart Tile Co. is in fact owned by his mother, Janet Kozey, making the outfit a minority/women owned business.  "She is mostly in charge of the administration end of the business," he said. "My father and I manage onsite day-to-day production."
Phil started out watching his father in the industry since Phil was a toddler in the early 80's. He even remembers his dad mixing up thin-set mortar with Portland cement, silica sand, and liquid latex.  "My father always took great pride in the quality of his work, and watching him over the past three decades has made me a perfectionist when it comes to the detail of our work," Phil said.
Stuart Tile Company rejoined NTCA three years ago after a hiatus, and since then has been going strong in the association.
"Joining the NTCA and becoming a Five Star Contractor has relit a fire in my passion for the industry," Phil said. "Tile has been a huge part of my life since I was a small child. I am a second-generation tile installer, but to be honest, I was starting to get burned out on the tile business entirely. Approximately three years ago I started researching NTCA, and it kind of helped me look at the whole industry in a new light. It taught me how and why the products work, and how they are made.  It offered great opportunities to talk with people with similar passion and interest. The NTCA has definitely opened a doorway to keeping me in the loop with ever-changing technology, products, and methods and standards. Since Joining the NTCA I have gained knowledge — and even confidence — in my methods, via the TCNA Handbook and NTCA Reference Manual. I have discovered a community of like-minded professionals that actually care about the installation, and this is something I plan on being a part of for as long as I am in the tile industry," he said.
Stuart Tile has recently been awarded and now recognized as a NTCA Five Star Contractor. "It is a great honor to recognized by an organization that has such high standards," he added.
The company has two Certified Tile Installers, but aims to have all its setters be certified. "I can see that our Certified Tile Installers are proud of their certification, and they should be — it's an accomplishment," he said.
Not immune to occupational hazards of working in the industry, late in 2015, Phil started having respiratory issues and was diagnosed with a form of COPD. "I believe this is from all the silica/cement dust I was breathing through all the years of mixing, grinding without proper dust mask protection," he said. "This is why I feel so strongly about proper dust containment/equipment. I will not even prep a floor without a mask now."
Phil considers it an honor to represent NTCA as a Michigan State Ambassador since 2015. "It has been because of the NTCA I have formed lifelong relationships and friendships with individuals at some of our top suppliers," he said. "I am very grateful to the NTCA for the different educational and social events I have been able to attend all over the nation."
Stuart Tile Company installed colorful tile in the brand new Madison Elementary school, the first new school in the district in nearly 40 years. The bright colors on walls and floors of this technology-centered school keeps kids alert and engaged. Stuart Tile Company installed two radius mosaic walls, 15 bathrooms and hallway tile. For more information, visit www.fox2detroit.com/news/184579-story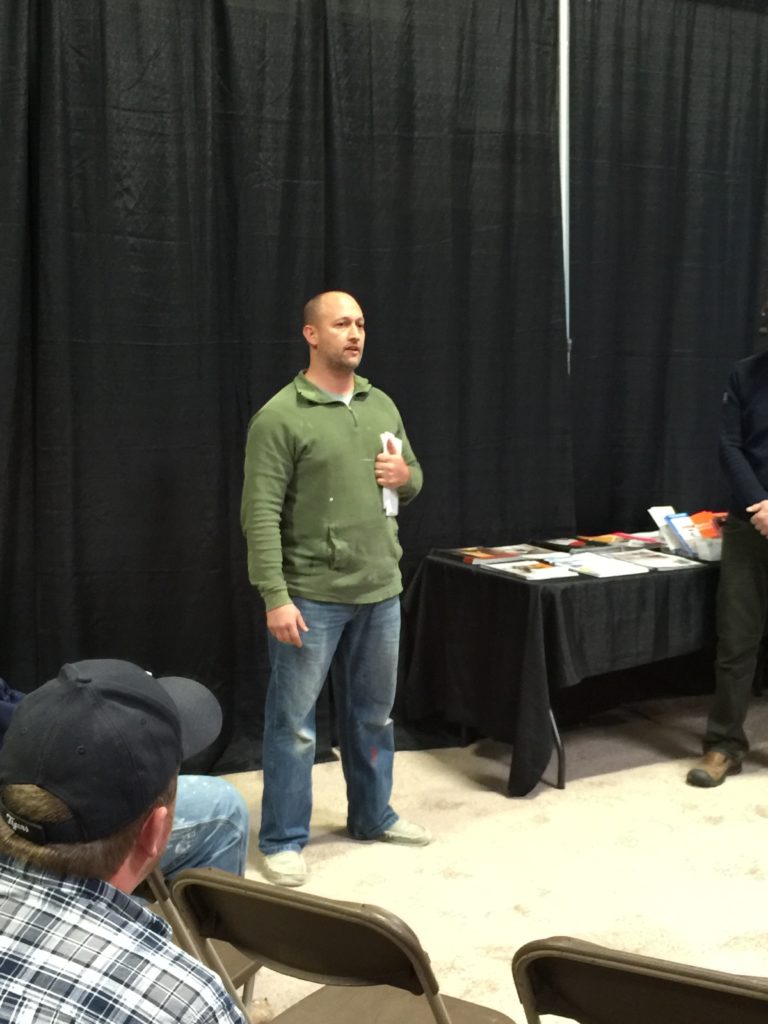 Phil Kozey, speaking at his first NTCA Workshop with Mark Heinlein at Daltile in Farmington Hills, Mich.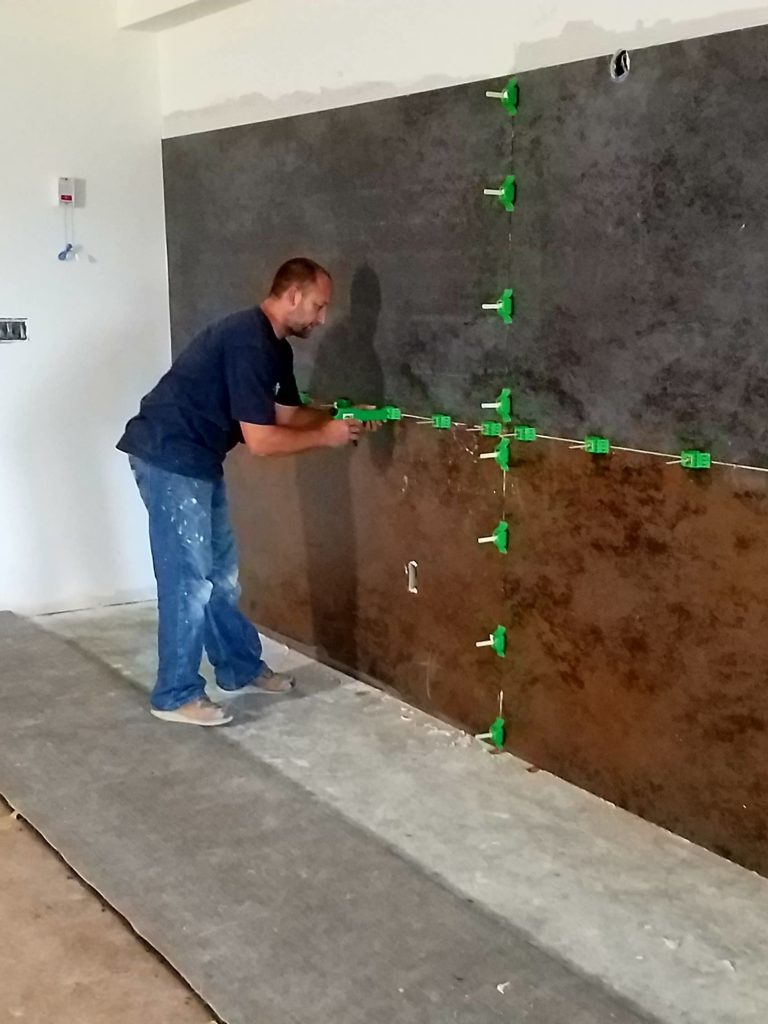 Phil Kozey uses the Mechanical Lippage Tuning System (MLTS) to reduce lippage on this gauged porcelain Laminam wall tile installation.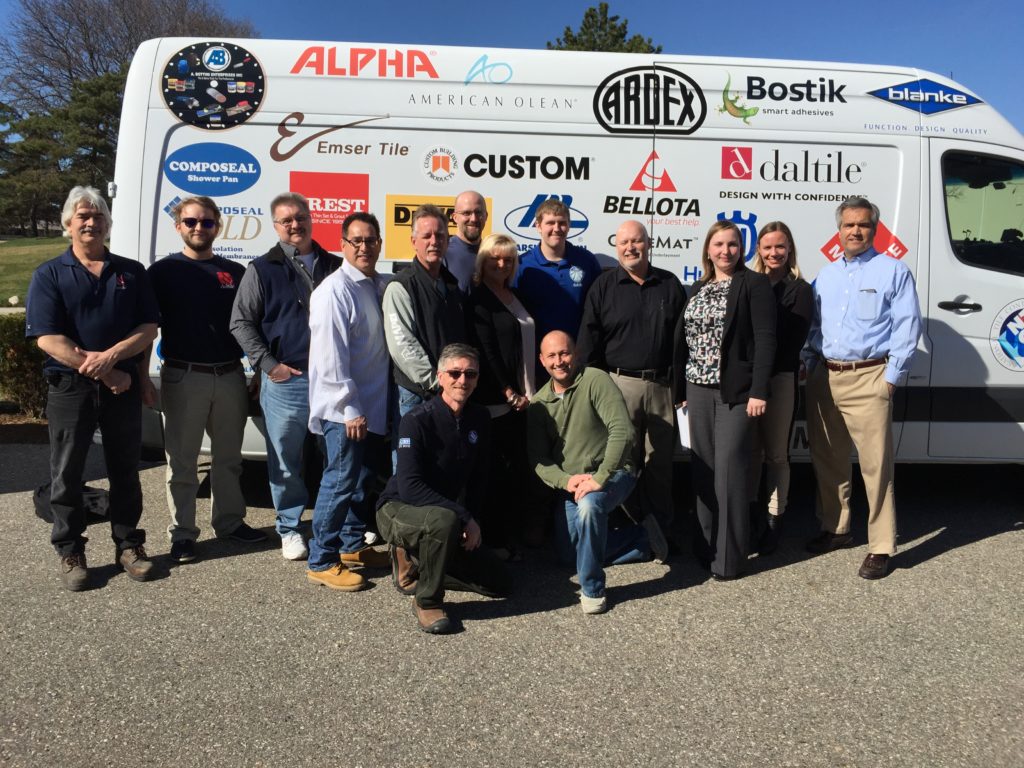 At the NTCA Workshop at the Farmington Hills Daltile, Phil Kozey (front right) poses with Mark Heinlein (front left), and other Daltile associates in front of the NTCA van.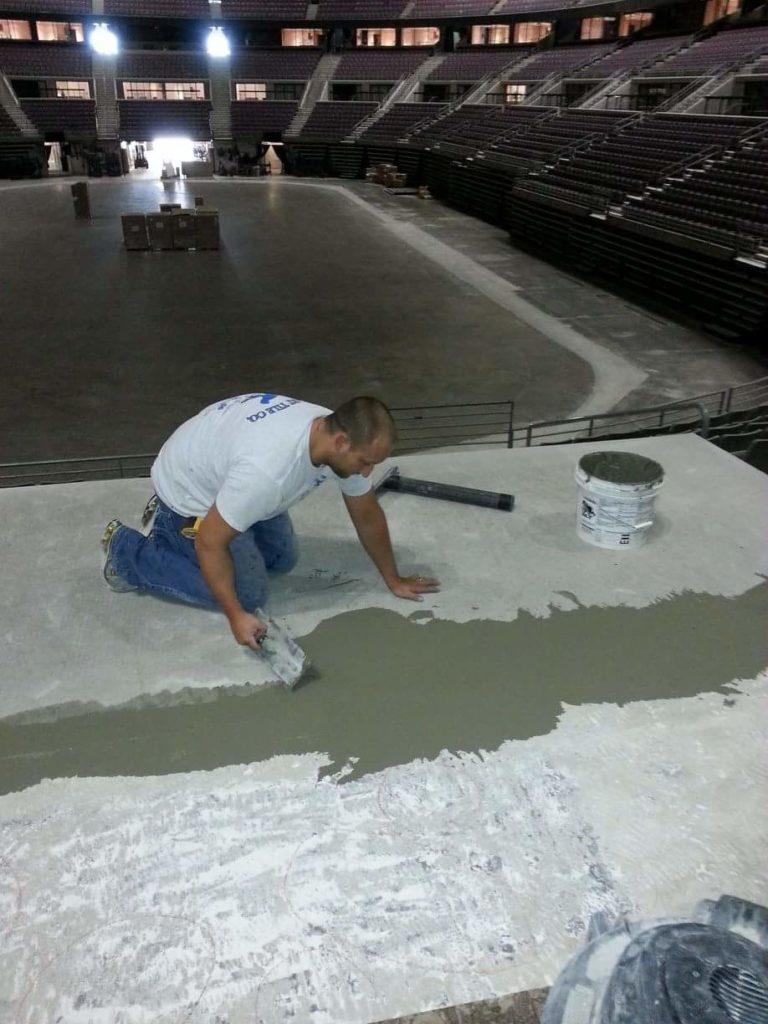 Phil Kozey preps the floor at the Palace of Auburn Hills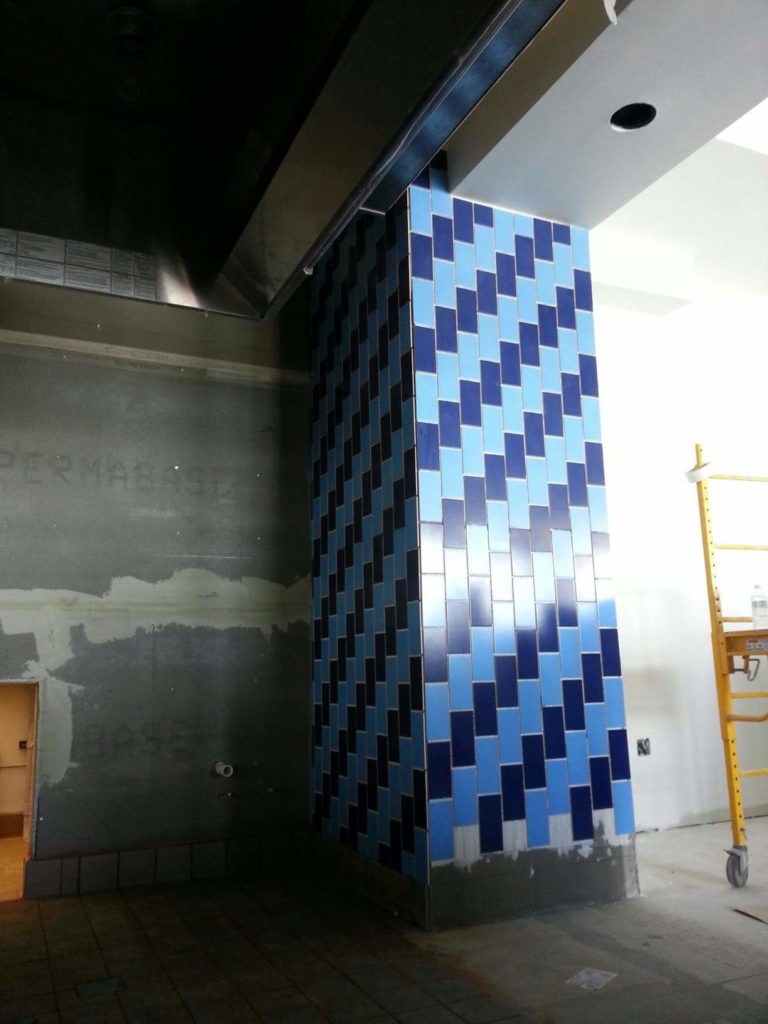 Work done at Elevation Burger restaurant.