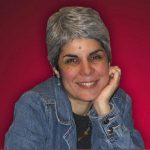 Unless you have been living under a rock, you've been besieged lately by a torrent of political news — even more intense than usual since we are gearing up for the presidential election. The GOP have already held two televised debates, and the Democrats are working on generating enthusiasm through personal appearances and addresses. No matter which side you are on, one thing is for sure – there is a lot of NOISE going on about the conditions we are dealing with and how we'd like to see it change, evolve or grow.
Sometimes, amidst the volley of opinions on Facebook or television or the editorial section of the newspaper, I stop and wonder just how much power and influence average citizens actually have. Are we just treading water with our outrage and outspokenness? We have the power to gather and protest and voice opinions – and most importantly to VOTE – but without a fat bankroll with which to feed the lobbyists, sometimes it feels like our opinions fall on deaf ears. We just want to have a voice.
Well, good news – NTCA gives you that voice. No, it doesn't give you a voice in Washington, but it gives you a voice in the progress and direction of something that affects you every day – your livelihood as a tile setter or a member of the industry. NTCA is powered by people just like you – and your participation is more than welcomed, it's encouraged. When you are involved as a member of the NTCA, you have direct influence through participation on committees – including the NTCA Technical Committee — board membership, or directorship at state or regional levels.
NTCA isn't called "The Voice of the Contractor" for nothing. You aren't a nameless, faceless entity. You count. You are KNOWN. And you have access to decision makers, experts and leaders who are working alongside you to actually make the industry better. If only Congress took some lessons from the tile industry and the harmonious working and cooperation of associations like the NTCA, TCAA, CTDA and TCNA, we would all be in better shape.
When I watch the rhetoric that is inherent to the political process, it can be disheartening. There seems to be so many layers that actually stand in the way of someone making a direct impact on policy and conditions that affect their immediate world, their livelihood and their families. I encourage you, in this pre-election year, to take advantage of the influence you have as a NTCA member and get involved. And if you aren't a member, step up and join the groundswell of interested and engaged industry leaders that shape your future.
A special note for those of you with a NTCA Tile & Stone Workshop coming to your area – from now through the end of the year, join for $500 at a workshop and get the rest of the year's membership as well as 2016 membership included, with Partnering for Success vouchers for 2015 and 2016 to boot. Don't let this opportunity pass you by. Step up and cast a vote for a prosperous future by joining NTCA today.
God bless,
Lesley
[email protected]