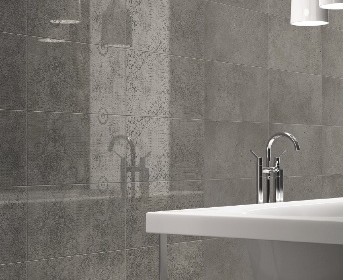 Cersaie generates new products; NTCA Five Star Contractors review the show
By Lesley Goddin
The 30th edition of the annual Cersaie show attracted a record number of international visitors to Bologna in late September. Some of those international attendees were four NTCA Five Star Contractors who traveled to Bologna to tour the Laminam plant and powwow with Crossville and Laminam personnel. These contractors gave jobsite perspectives on installation methods and approaches to the new Laminam by Crossville reduced-thickness/thin tile Crossville is importing exclusively into the U.S. (see related story in the January 2013 issue).
One couldn't be in Bologna and miss the show, so our four contractors – Dan Welch, Welch Tile, James Woelfel, Artcraft Granite Marble & Tile Co., and Martin Howard and Chris Walker, with David Allen Company (DAC) –toured Cersaie, as well.
Contractors were thrilled with the opportunity to experience the international show, and to visit factories that produce innovative tile technology.
"I love going to Cersaie because I love Italian food, wine, cheese, cars, the countryside and history!" said DAC's Martin Howard. "Oh yes, and then there are the beautiful tile, colors and design options that can turn one's mind loose with creativity.
"Cersaie is definitely a buyers show, but the networking and contacts one can make are very beneficial," Howard added. "It is possible to get an advance look at the next big look that's coming or research new technologies like thin tile or ventilated façade systems."
Another benefit of the show was the ability to compare construction similarities and differences as they relate to tile installation. DAC's Chris Walker appreciated "the opportunity to view the work in progress modules being performed by skilled tile setters, which reinforced the difference between the U.S. methods and the European methods, since almost all substrates in Europe are mudbed."
Dan Welch, a first-time visitor to Cersaie, was intrigued with lighted pre-manufactured expansion joints, as was James Woelfel, another first-timer, who said, "This could help in the U.S., as they add an architectural ingredient to necessary movement joints." Of the show itself, Woelfel remarked, "I was very excited to go to Cersaie for the first time. The tile booths were more lavish than Coverings, as the show is much bigger."
Trends
Seen on the Cersiae showroom floor were these major design trends, coming soon to a showroom near you:
Mix and match: patchwork tiles and varying color, size and material in one collection.
Antibacterial/self-cleaning and eco-friendly
Encaustic and majolica looks: bold solid colors and large sizes, patchwork effects and vintage encaustic looks, now created by high-tech printing
Planks: wood and cement looks dominate in this trend
Ceramic fabric and textile-derived aesthetics: plaid, silk, lace, tweed, damask and more can all be evoked by today's tiles.
Installation made easy: new installation systems included clip systems for 2 cm thick porcelain tiles, quick-laying floors and monolithic porcelain slabs,  thick 20mm tiles which offer an incredibly high breakage load (up to 2,000 pounds) and can be dry-laid on grass, gravel, dirt, and cement without grout or adhesives.
Size matters: reduced-thickness/thin tiles and giant slabs are proliferating at an accelerated rate as acceptance of this new technology grows.
Digital printing: ink-jet technology continues to expand the possibilities for surface decoration.
Celebrity designers: artists, graphic designers and material architects are working with tile's graphic potential and synergy with fixtures and accessories.
The next Cersaie show in Bologna will be September 24-28, 2013. Visit www.cersaie.it/eng/ for more information about the show.