Coverings reflects 62% increase in installer/contractor attendance from 2014 event
NTCA gains over 25 new members at the show
By all measures, Coverings 2015, held April 14-17, 2015, at the Orange County Convention Center in Orlando, Fla., was a rousing success.
The show logged its largest attendance since 2008, said Karin Fendrich, Coverings director. More than 25,000 industry professionals attended the week-long expo, reflecting a 10% increase from the 2014 show in Las Vegas and a 12% increase from 2012, the last year Coverings was held in Orlando.
Similar hikes in segment attendance resulted since 2012: contractor/installer, fabricator, and architect/ designer segments experienced noteworthy increases compared to 2012, with increases of 11%, 8%, 8%, and 6%, respectively.
But what's even more impressive for the contractor/installer segment is that compared to the 2014 show in Vegas, contractor attendance surged more than 62%, reflecting both regional interest and strengthening of the economy.
In addition to impressive attendee growth, Coverings 2015 experienced a surge in the number of exhibitors showcasing innovative new products. In total, Coverings hosted 1,094 exhibitors from 41 countries, representing a 12% growth from 2014. Exhibit space spanned 440,000 net square feet – an 18% increase in show floor space from last year.
"We're looking forward to building on this year's achievements when the show moves to Chicago in 2016," Fendrich said. Coverings 2016 will be held April 18 – 21 at McCormick Place in Chicago.
New NTCA members praise show, NTCA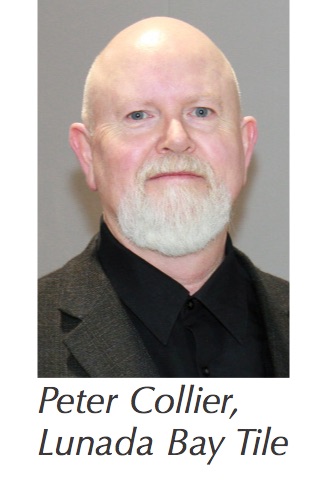 For NTCA, the show was a rich source of new members, with over 25 companies joining the association at the show.
"As a manufacturer, we are aware of the need for proper handling and installation of our tiles," said Peter Collier, Canadian sales and lead technical advisor for Lunada Bay Tile, who joined NTCA at Coverings. "We are able to provide standardized and consistently accurate information provided by NTCA, to better assist our dealers, contractors, and their clients." Collier, who has attended about 20 Coverings expos in the last 25 years, said "the most overall industry value" went to the "ongoing demonstrations on the TCNA demonstration stage."
A close second were the other installation/education related activities, he said. "This is the needed strengthening of the industry foundation, having work done properly and by current, educated professionals."
Hoang Giang, partner and business development director of VITIS Joint Stock Company from Ho Chi Minh City, Vietnam, attended his first Coverings in April in Orlando. He was impressed by the vast number of conferences and opportunities to network with individuals at the show as well as the speakers themselves. The company joined NTCA and CTDA at Coverings to "network with all associated members of both associations …acting as a 'trade link' between the U.S. tile contractors/distributors and tile producers in Vietnam after the Trans-Pacific Partnership (TPP) to be signed by both countries," Giang said.
Contractors/installers were intent on discovering the newest tools, adding to their knowledge with the conference program and networking. Edward Garay, a tile setter from Houston and new NTCA member, visited Coverings for only the second time in 2015, seeking good pricing in tools, learning how to recycle water for the company's granite fabrication, and how to use the industry documentation. "My deciding factor on becoming a member is that our industry is changing rapidly and we need to keep up to date in the different methods," Garay said.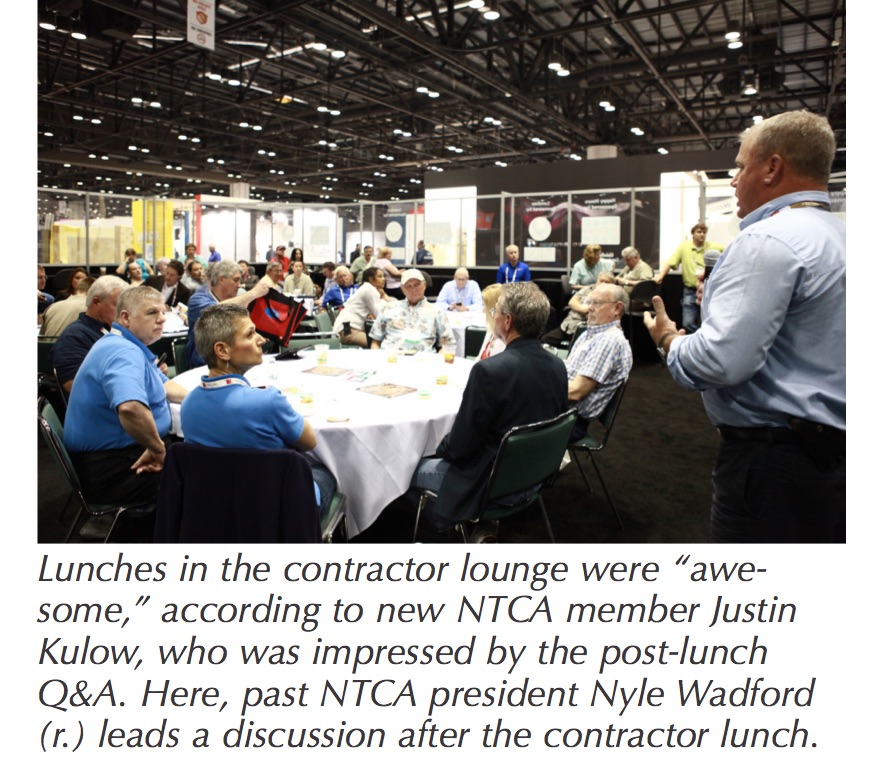 Coverings first timer contractor Justin Kulow, of Custom Tile Works in Plymouth, Wis., wanted to see the "newest, coolest stuff from around the world." Kulow praised the seminars, and walked away knowing, "the importance of contracts," he said. "I have not used them in the past, but moving forward into the future I definitely will be using WRITTEN contracts to cover myself legally should any dispute arise. "
In addition to the conference program, Kulow said, "the NTCA booth lunches were AWESOME!" Kulow was impressed by the post-lunch Q&A, which involved many knowledgeable installation veterans, yet he was able to participate "having only done tile and stone installations a relatively short time in comparison. The main takeaway I got from the show was that education is a HUGE asset to myself and will separate me from those not as up-to-date with the newest techniques and use of the latest products." Kulow plans to return to Coverings 2016 in Chicago.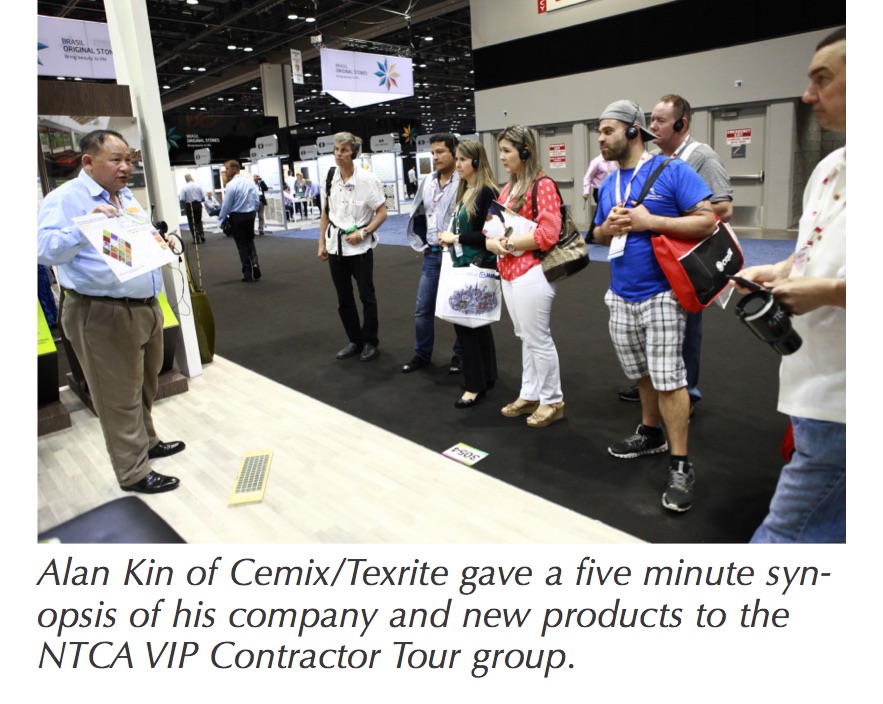 NTCA again led a number of contractor events including VIP Tours to selected exhibitors in the setting materials/affiliated products category, introducing many contractors to 10 or more new suppliers and new products to enhance their businesses within the space of an hour. Also popular were the contractor lunches and happy hours, which gave people a chance to network and relax.